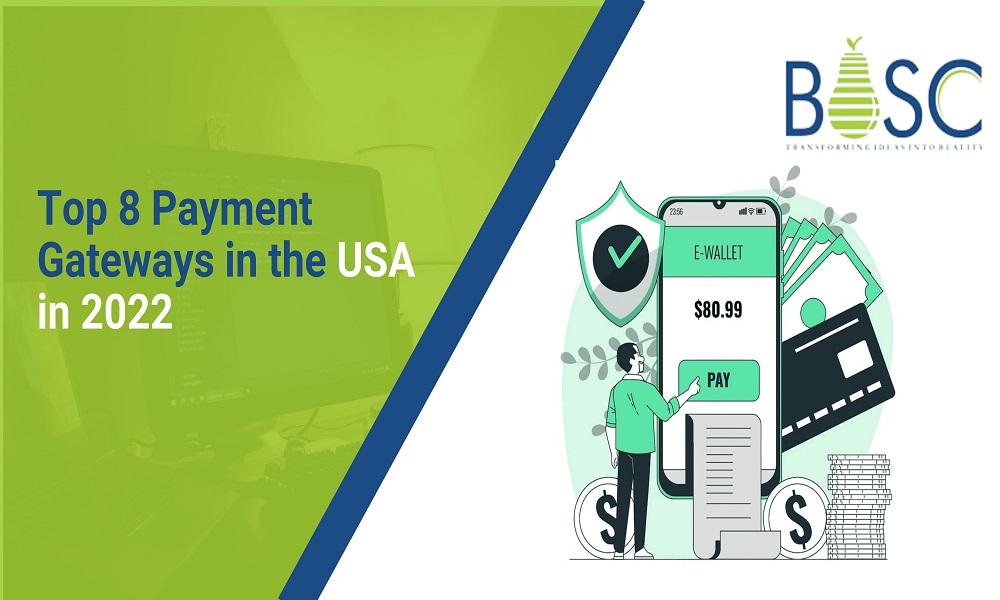 Which is the best Payment Gateway in the USA in 2022
The recent development of mobile application in online payment demonstrates the necessity of a payment gateway for your business. Payment gateways are the services that will handle card transactions for your organization. It enables secure and efficient transactions and reduces loss due to late payments. A payment gateway will facilitate mobile payment for consumers and companies, facilitating a payment ecosystem. If you are an online merchant, you do not require expertise in the payment gateway in USA, but it's good to know how an online payment moves from your client to a bank account.
Growth of Mobile Payment
P2P mobile payment is dominating the US mobile payment market. The total transaction value from the P2P mobile payments is expected at $983.9 billion in 2022, which is 25.3% higher in comparison to 2021.
This payment method's convenience is that analysts expect more consumers to adopt it. Hence, the total transaction value is forecasted to rise over the next few years, exceeding $1 trillion in 2023. By the end of 2024, the total transaction value of P2P mobile payments in the US is assumed to be $1.26 trillion.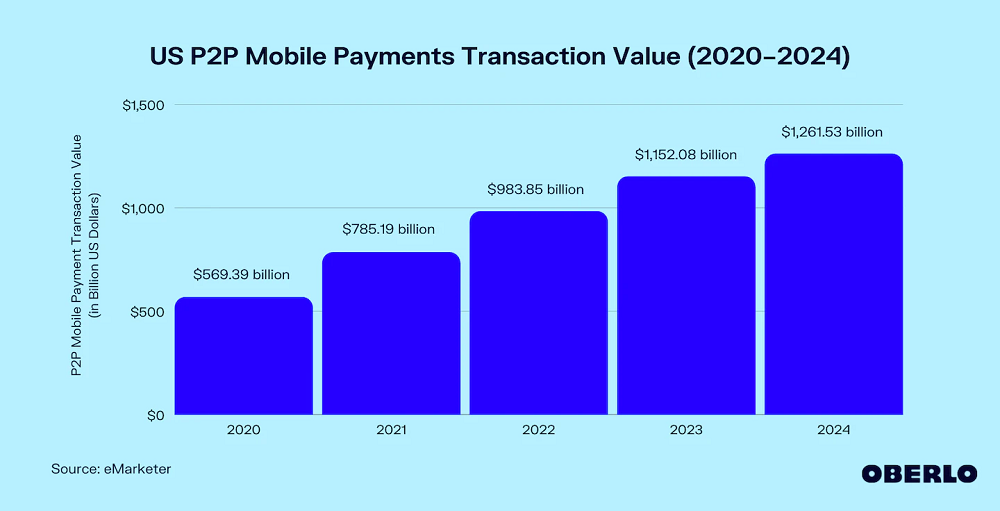 Image source:oberlo.in
What is a payment gateway?
The system captures and transmits the payment data from a client to an acquirer. After that, it transmits a payment acceptance or refusal status back to consumers, known as the "payment gateway." It is the third-party service that verifies a client's card data and available funds and will ultimately make it possible for merchants to get paid.It will work as an interface between a merchant's website and the acquirer for that business. It protects any customer-sensitive card information by encrypting it and guarantees that it will safely send it from the merchant to an acquiring bank on behalf of the customer.
Conversely, a payment gateway will act as the go-between for client and merchant; it ensures that a transaction is carried out in a secure and timely manner within the e-commerce stores. A procedure of the merchants that implement an appropriate software that is easier by utilizing online payment gateways in the USA. A gateway will act as the intermediary between an acquirer and merchant during a payment mechanism, and it is responsible for managing the sensitive card data of the consumers.
How does the payment gateway work?
When a consumer chooses the desired product or service and goes to a payment page, it offers several customization options for the payment page.
1. Hosted payment page
It is the pre-built payment gateway to which consumers are moved further when they are ready to complete their purchase on an e-commerce store. A payment gateway will receive the transaction data securely and safely before transmitting it to an acquirer. If you do not gather or keep the cardholder information on the server, the hosted payment gateway page decreases a PCI compliance burden for the e-commerce stores.
2. Implementation of two servers
A server-to-server integration is referred to as direct integration as it gives the facility to communicate between the two servers: the merchant server and the payment gateway server. The transaction may be started immediately by asking for the card information on the payment page. Merchants are expected to have a great design and layout of the payment page as the customers don't have to leave their site to complete the transaction of the card, which will speed up the checkout process and improve the user experience. The server-to-server architecture is appropriate if you gather and keep the payment data before transferring it to the payment gateway.
3. Client-side encryption
It, also known as the encryption-at-source, involves the encryption of sensitive data on client-side devices before transferring it to the merchant's server. It facilitates a simplification of the PCI compliance needs for a merchant. In other words, you take a payment from a consumer directly on your site while securing their card data using a payment gateway's encryption library.
On a payment screen, a customer enters their credit or debit card information, which consists of the cardholder's name, expiry date, and CVV number. His data is safely sent to your payment gateway based on your integration.
Before sending any card data to the acquiring bank, a payment gateway tokenizes or encrypts card information and conducts fraud checks. An acquiring bank will transmit information to the card scheme in a secure manner. These card schemes submit payment data to an issuing bank after the advanced level of fraud screening. The issuing bank will authorize a transaction. An accepted or denied payment notification is returned to an acquirer from the card scheme.
The acquiring bank will return tha approved or denied status message to the payment gateway, which is then shared with the merchant. If a transaction is accepted, an acquirer will get payment from issuing banks and keep it in your merchant account.
The procedure of depositing funds into a merchant's account is called settlement. Depending on the terms of the merchant's agreement with a payment gateway, a settlement will occur at a specific time. Based on the text, a merchant may either view a payment confirmation page or request an alternative payment method from a customer.
Also Read: Integration of Payment Gateway with Mobile Application

Which are the leading payment gateways in the USA?
When companies hire mobile app development team to design the app for an e-commerce site, they want to implement one of the best payment gateways. Look at some of the prominent online payment gateways in the USA.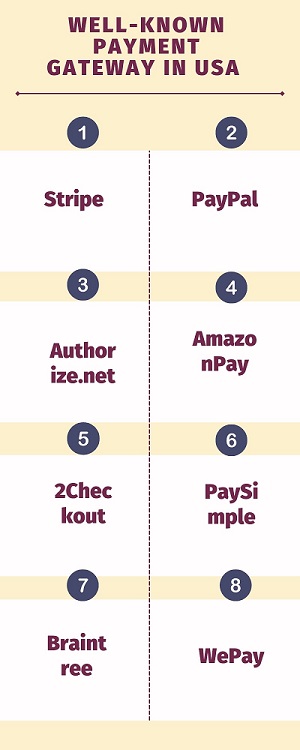 1. Stripe
Stripe is one of the best payment gateways in the USA. It is located in the United States and is accessible in over 25 counties. However, it is most probably used in the UK, Australia, and Canada. It offers several payment systems for billing clients, establishes the market palace, and accepts payment. It was founded in 2010 and has achieved $ 20 billion in a brief period. The integration of Stripe in your ecommerce store aids you in enhancing the optimization rates and expanding the worldwide reach.
2. PayPal
PayPal is a payment gateway that delivers its services worldwide. It is a great payment option in the US and offers consumers a 180 days return option founded in 2002. It allows international payments in various currencies. Many businesses refer to PayPal for several reasons, including brand awareness and security, which is simple too. It is well-known among small enterprises and startups. The development of an app is only completed with a payment gateway. However, PayPal is free for purchasers, who may use a debit or credit card to do the shopping, as there is no need for startup costs, monthly fees, or gateway fees, as safety is assured.
3. Authorize.net
It is well-known for its developer-friendly API, and it can create a personalized and excellent user experience. It also permits you to conduct the transactions as you view them. An extensive service offers all the possible payment methods for your business. While building the e-wallet app development, businesses usually seek assistance from industry players. Authorize.Net is the best sought-after online payment gateway in the USA, as the startup price is $ 49 and the $29 monthly fee. An extensive selection of services has every viable payment option for your e-commerce firm.
4. AmazonPay
Amazon launched its services in the market in 2007, facilitating transactions on this platform. It enables customers to pay the merchants on Amazon and securely on other websites and applications.
Users may use their current Amazon account to make payments without leaving a shopping window site. Amazon pays as a checkout option will enhance the likelihood of purchases and decrease shopping cart abandonment. It is the fact that Amazon is an e-commerce website, and a payment gateway is created to accommodate any of the payment issues a user may have. Fraud detection and customer verification have the extra Amazon Pay capabilities to assist your company.
5. 2Checkout
This payment method is accessible in 87 countries. It accepts all the major credit cards, including visa, Mastercard, and American Express. It will simplify and modernize commerce solutions and will facilitate effortless payment. It provides financial stability, scalability, resources, and market potential.
6. PaySimple
PaySimple is a cloud-based payment gateway that lets business owners capture payments, manage customers and automate billing processes. It provides online, in-person, credit cards, and mobile payment modes. It can generate businesses by capturing payments using online storefronts and payment forums. In this, it is possible to set the schedules for recurring bills for customers who visit the store physically.
7. Braintree
It is one of the leading payment gateway companies in the USA that specializes in web and mobile payment systems for e-commerce companies and was acquired by PayPal in 2013.
It has a set of tools for accepting and processing cards, wallets such as ApplePay, and many more. It presents fraud and helps to manage the security of data.
Data security is the most crucial factor taken care of by the Braintree vault, where the payment information is stored securely. It will help even in identifying and will reach potential threats. This app provides a facility to save the data for repeat clients to automatically take information for each billing cycle by utilizing recurring billing.
8. WePay
It is recognized more for its crowdfunding services than for its e-commerce offerings. API and the services are being optimized for this form of payment and are geared toward crowdfunding websites.
WePay is mainly built for companies to make quicker and more manageable payments. It has introduced innovative and dependable integrated payment banking solutions. It was established in 2008, and a payment gateway simplifies and streamlines the payment operation.
The clients may focus on their primary strategy by collecting the flexible, integrated payment gateway via the APIs like referrals and white labels. It offers fraud and protection services via the method for risk prevention. Scale data sets and machine learning algorithms aid in identifying fraud.
Conclusion
Now, you have a detailed guide to selecting the best payment gateway in the USA. Decide your needs for the business and budget, and choose the best payment gateway in the USA that gives your customers a secure and easy-to-use payment gateway.
If you want to develop a payment gateway mobile application for your business, get in touch with a well-known mobile app development company for your next project.
Frequently Asked Questions (FAQs)
1. How many types of mobile payments are there?
There are three mobile payment types, and it provides convenience to small businesses and their customers.
1. Mobile payments with a card
2. What are the effective methods of payment?
Payment is made through cash, cheque, wire transfer, crest, or debit card. Many more methods of payment types leverage the internet and digital platforms.
3. How does a payment gateway work in mobile apps?
The gateway forwards data that the user adds to the bank. An issuing bank will legitimize the purchase and ensure that a buyer has enough money to cover the purchase. If verification is successful, then the confirmation of payment is sent back through a payment gateway to the app.
Book your appointment now