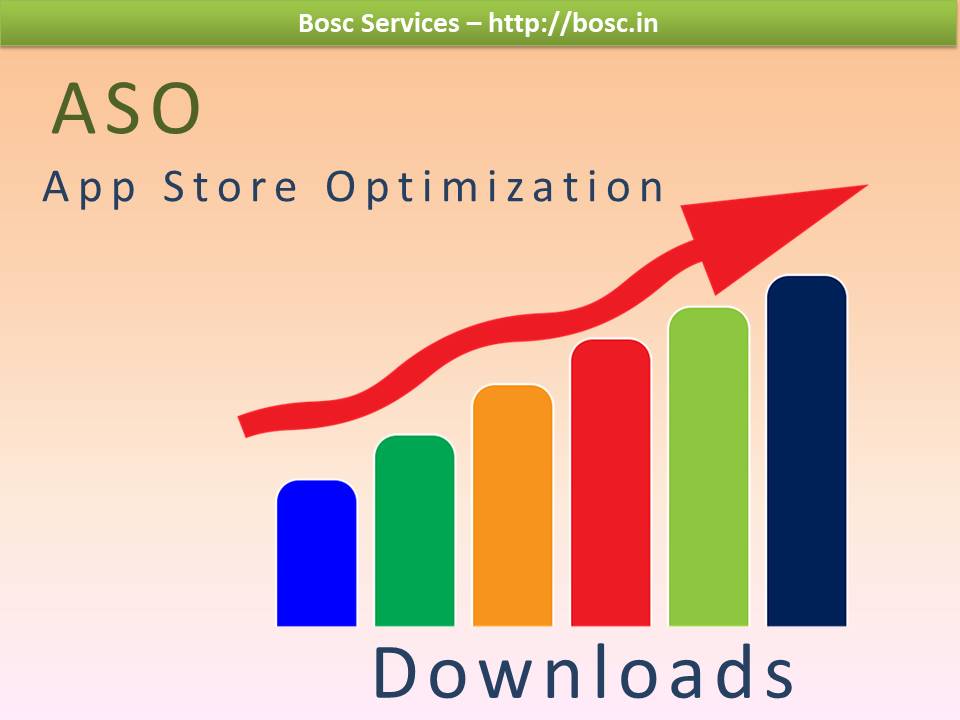 All you want to know about ASO – App store optimization
What is ASO?
We are familiar with the word- app. There are more than 2 million apps on the store. Your app is a drop in the ocean of applications. All you have to do is to be found and downloaded. You have heard the word- SEO or search engine optimization. ASO is similar to SEO.
ASO stands for App Store Optimization. It is like Search Engine Optimization which is for websites while the App Store optimization is for mobile apps. It is a special process to improve the mobile app's visibility in an App Store.
This special process includes process of ranking apps via keyword search in an app store and pushes it in to top. With this process, your app will rank high in search result. This clear means your app gets more downloads.
There are too many app stores like App store for IOS, Google play for android, BlackBerry world for BlackBerry and windows store for window phone.
In short, this process ranks apps and pushes it in top which is now more likely to drive more installs.  It is a process of improving the visibility of a mobile app in app store. Thus, ASO ensures that your app meets app store ranking criteria and rises to the top in search result page.
How Important ASO Is?
Now we know what App Store Optimization is but why is it important?
First of all app isn't a small business. Now days it is not only a big business but it is an industry.
When a person search for an app, he/she mostly scroll up to 10 to 15 apps down. The person thinks that these 10 to 15 apps are relevant for my search. He/she is also forced to believe that the apps shown on top are better than the apps shown at bottom. Thus, ASO makes credibility of your business/app.
Users are actually happy searching different apps in app stores. As per one research half of daily active users search for one or other apps at least for a single time in a week or trice in a fortnight. More and more people are turning toward mobile or handheld devices for making searches, purchase and business transactions. Most of businesses set their self on app because of changing behavior of customer trend.
To grow your business, you must be found easily. Now a days, traditional ways of advertising is not enough. Businesses must adopt new ways of to be found easily in field. Apps and social media are necessary ways to keep your business found easily in the field. Mobile users  just search and scroll to download any app. So it is compulsory for you to be at the top for the higher chances of to be seen. ASO is the tool which ensures that your app is visible at the top.
You cannot reach to every person and it is useless and costly and time consuming to try to approach every person. So any business entity must try to reach to the most relevant users. Every business has a specific target of people. ASO ensures that your business reach to most relevant users.
ASO ensures more visibility of your app. More visibility drags more download and more downloads engage more customers. More customer means development of your business and you can earn more profit.
First impression is the last impression. ASO make sure that your app marks and that too, a long lasting mark.
That's clear!
Isn't that clear you to give some important to ASO if more than the half apps are discovered through app store searches?
I think it's clear now why is ASO important still let we discuss some plus.
In the list of app store your app will be improved on search result.
It brings immediate app comprehension.
It gives an app the opportunities to increase ranking through recommendation.
An app will easily fall in category and sub- category.
It will help in branding recall.
It increases conversation.
It gives an app rapid app comprehension.
It increases app sales.
And last but not least fast search discovery.
Why need of ASO?
To make the app more easily available to users on the app stores.
To rank an app higher than others (competitors).
For top chart impressions.
To get higher ranking in specific keywords.
To optimize app store assets to rise install conversation rate in store futures.
To increase keyword searches.
To increase visibility in the app store.
To get higher rank in Google's semantic search with back linking.
You surely know that more than two third apps are effectively visible while the others are effectively invisible. So it is clear that without ASO our app will fall in list of deemed app or Zombie apps. It is batter to invest time in to optimization if you don't want to see your app as deemed or zombie app which rarely appears in the top 300 lists on the app store.
How it works?
We have seen what app store optimization is and why it is important.
We all know app store has an app ranking criteria like the Google has ranking criteria for the websites listed on its search engine result pages.
That is the reason we can optimize our app in the app store. Just we need is to find a right app store keywords and make an app appear high in search result.
If a person doesn't pay attention on SEO for his website no one can find his site the same applies with our app. If we don't pay proper attention on optimizing the app no one can find it like a website without SEO.
To optimize an app focus on two factors, the first is the title of an app and the second is app store keyword searches. These two factors lead towards successful ASO strategy.
Name of app and your app store optimization keywords are so important.
Title and App store Keywords:
App store keywords of choice for any app should be within both the title and description of an app.
It needs a proper research to ensure you are using right keywords.
Ratings and reviews in ASO strategy
No one can control ratings and reviews, but one can still influence one's app ratings and reviews by right keywords and perfect description of an app.
Number of downloads
It also affects the rank of app. This tells people how popular your app is, and it drives more and more downloads.
Get into mind of your target audience and customers
It is most important step for any successful app store optimization strategy.  Do some market research and find out who can benefit the most from your app.  Market research makes you know the demand for your app which affects its chances of being downloaded in store.
Design a perfect app icon
We know the images on website can increase conversation the same principle can be applied in the app store.
Feature screenshots
Feature screenshots are most important factor in visual app optimization.  An app is visual being and app store is a visual medium and in this visual medium screenshots of an app are actual advertisements of any app.
Appeal to the customers who are beyond English
The whole world isn't speaking English (mostly in India there is a strong need of an app which can appeal to consumers who isn't English speakers.)
Indian language has a vast market, why one would neglect this potential market for an app?
Maintain your App Store optimization
If you are familiar with SEO, you know it must be constantly maintained. The ASO is also the same, you have to constantly work and must keep it monitoring to sustain app ranking.
Mind just one thing your competitors never rest, they never neglect ASO, and so you also don't if you don't want to see them suddenly overtaking your app.
And the other factor is everyday new apps are coming in market with new features; you must not compromise with ASO to not be overpowered by new app.
Remember App Store Optimization is the one which is crucial for any app's success.