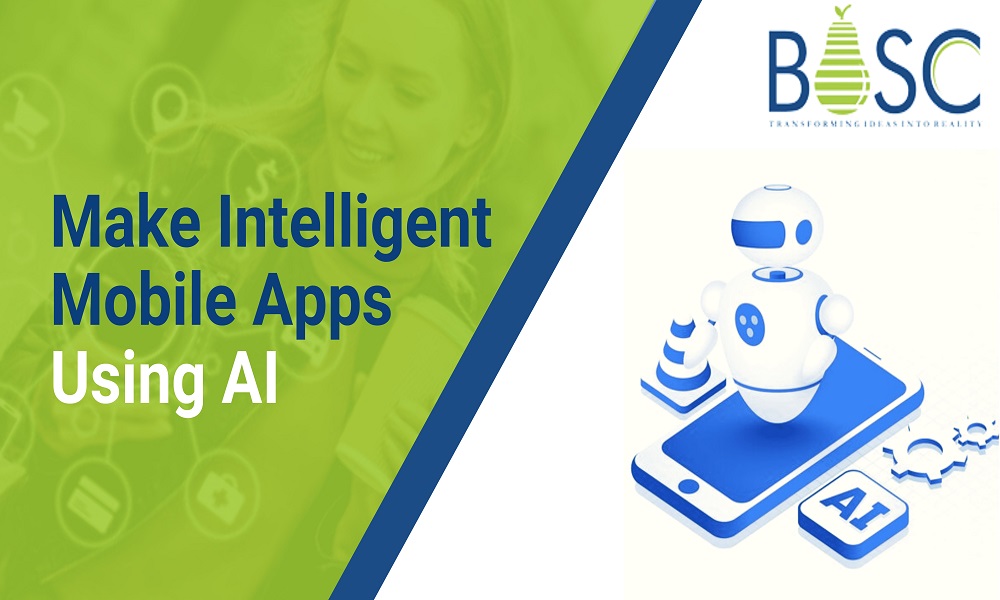 A quick guide to artificial intelligence in mobile development
AI has been a blessing in providing benefits to the current market competition and the growth of the mobile app development industry. However, the global artificial intelligence market has been rapidly increasing over the years, and due to this, many entrepreneurs are looking forward to implementing artificial intelligence in mobile app development.
What is Artificial Intelligence
Artificial intelligence is the simulated version of human intelligence which will think the same as human beings and copy their behaviour and actions.
As per the AI researchers, artificial intelligence recognizes its surrounding environment and can take actions which will increase its chances of achieving its goals.
AI has been used in computer programs for a long time. But, now, it has been applied to many products and services, particularly in mobile app development.
Performance of AI in Mobile App Development
AI plays an essential role in all mobile app development processes, which offers creativity and innovation. Artificial Intelligence technology in mobile applications can understand the machines and respond to the stimulation, which will best smooth and flexible user experience.
The main aim of using AI in mobile apps will save the daily problems the users face, making life more convenient and comfortable. This framework can gather important data from mobile phones, such as contacts, location and day-to-day actions, enhancing user engagement and solving complicated issues.
AI-enabled applications will collect and save the data by analyzing user behaviour and how the users interact with the application. In other words, it is said that artificial intelligence lets you integrate AI-powered mobile apps, which will ease human needs.
Why develop AI Integrated Apps in Business?
Let's see how developing AI in business will provide a competitive edge in the market and answer the question of many entrepreneurs who are still confused or do not have a clear vision.
Automating the business process to achieve the high ROI
With robotic process automation technology, AI in the business will support you in automating your day-to-day physical and digital tasks such as back-office work, data entry and financial activities. You can use the best AI frameworks and tools to represent some of the complicated operations.
The robots behave like the people performing the tasks. It may provides some of the following functions:
Collecting or transferring the data from one system to the records
Update the data or the customer files with the new modifications or the service conditions effectively
It can immediately reach into multiple systems to update records if, in case, an ATM card is lost or replaced
It uses natural language processing to read legal and contractual documents that extract the provision easily.
Robotic process automation is the best way to bring a rapid and high return on investment. For example, in the HR department, 90% of the task is achieved without the interface of humans. So, AI is the advanced level of intelligence that facilitates human requirements.
Enhance the quality of your service via data analysis
AI technology uses algorithms to detect patterns in a huge amount of data to interpret its meaning and use them to enhance the quality of the offered services. Implementing a machine learning app in your enterprise helps in:
Prediction of what your users are expecting from our services
Fraud detection in real-time and resolving the issues early
Offer personalized service to every user
Gives better insights into identifying safe and quality problems in the manufacturing industry
Get the most accurate, precise and brief report on insurance and banking information
Using the best machine learning platform, you can also create data-intensive and detailed-oriented machine learning applications. It is easy to make the apps which make the prediction with the new data and improve the quality of the service to get a competitive edge in the market.
Engage more customers by applying AI-based technologies
AI helps enterprise mobile app development will engage their employees and customers by using several technologies like natural language processing, chatbots, machine learning and intelligent agents.
Intelligent agents made it possible to stay connected 24/7 to address the issue, from changing simple data to answering all the technical questions
It is recommended for custom products and services, improving retailers' sales and increasing engagement and personalization
The Healthcare development system and the treatment recommendations for the individuals will leverage customized care panels dependent on their medical history
Apart from that, some advantages that smartphone users achieve from the artificial intelligence mobile app of your business.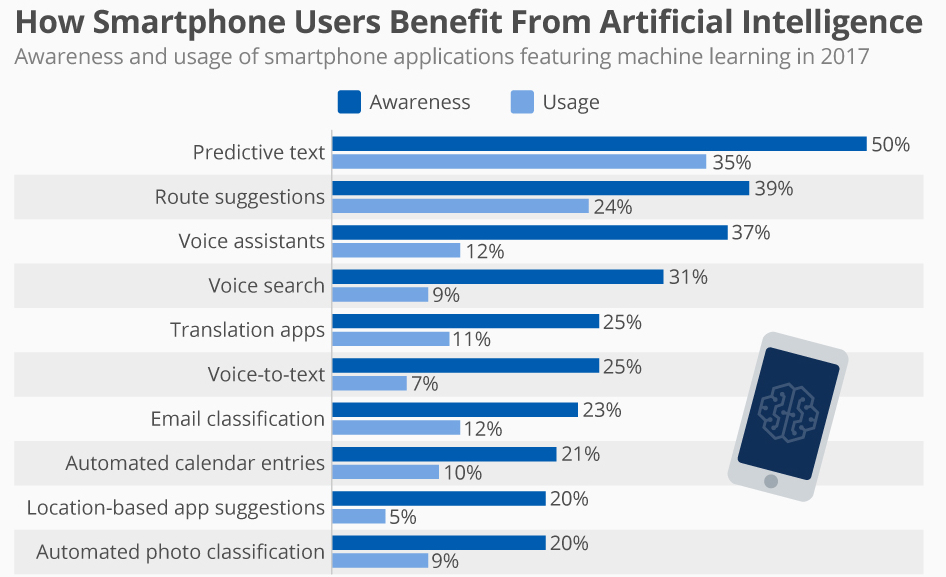 If you are convinced you should develop the AI app, schedule a call with an experienced app development Company like Bosc Tech Labs to discuss your app requirements.
Advantages of using AI in the Mobile application development
AI has come up with several benefits which help you to construct AI-powered mobile applications. Let's look at some of the benefits of using AI technology with its description.
Study User Behaviour Patterns:
Machine learning is implemented with natural language processing which delivers realistic interaction based on the user behaviour. A study of user behaviour and the pattern will help identify what the users are looking for. It will help you to provide personalized service to your valuable users for long-term engagement.
Automated Reply Function:
It helps you to communicate with a gadget effectively. For example, Google has added this benefit, known as a smart reply. It will automatically determine the sentiment of the message and will provide the answer suggestions accordingly.
Completes the Monotonous Task rapidly:
Artificial Intelligence assures that you can eliminate tedious and monotonous tasks from your job. It is easy to complete these tasks rapidly and efficiently with an AI. Hence, you will get a lot of time to do something innovative for your business and solve real-time problems.
Real-Time language translation:
With AI technology, you can implement the AI-enabled translators into mobile applications, which will work in real-time and offline mode. These types of apps help people to communicate across the globe without any problems.
User authentication and app security:
Mobile apps must stay ahead in the technological advancements in providing security and user authentication. To prevent user information from hackers, AI reduces the threat perception and vulnerabilities. It allows smooth user authentication without being nervous about getting the data leaked.
Emotion Recognition:
AI can read human emotions but needs advanced image processing and audio data interpretation. It captures the human sense and voice intonation and will recognize facial expressions to understand the emotions of a human.
Conclusion
This article has helped you with the ins and outs of AI technology related to mobile application development. Now, you know the role and benefits of utilizing AI for creating your next application.
If you are searching for a reliable app development company, you can contact us with your requirements, as we have 10+ years of experience in application development.
Frequently Asked Questions (FAQs)
1. How can AI impact the user experience and mobile app development?
AI is a simulated version of the app, which is booming in the technology market nowadays. It can impact the application and the user in the ways such as with AI, you can create self-learning mobile apps and implement the logical reasoning to apply automation.
2. Which are the top-most mobile app technologies in AI?
Chatbots
Speech recognition technology
Machine learning
Image recognition technology
Voice recognition technology
Natural language technology
Emotion recognition technology
Text recognition technology
3. Is it possible to generate the money using my app?
Yes, Of Course! It is possible to make money by using your application. Also, if your app doesn't give the facility of e-commerce, then there are other ways to generate revenue using your app.