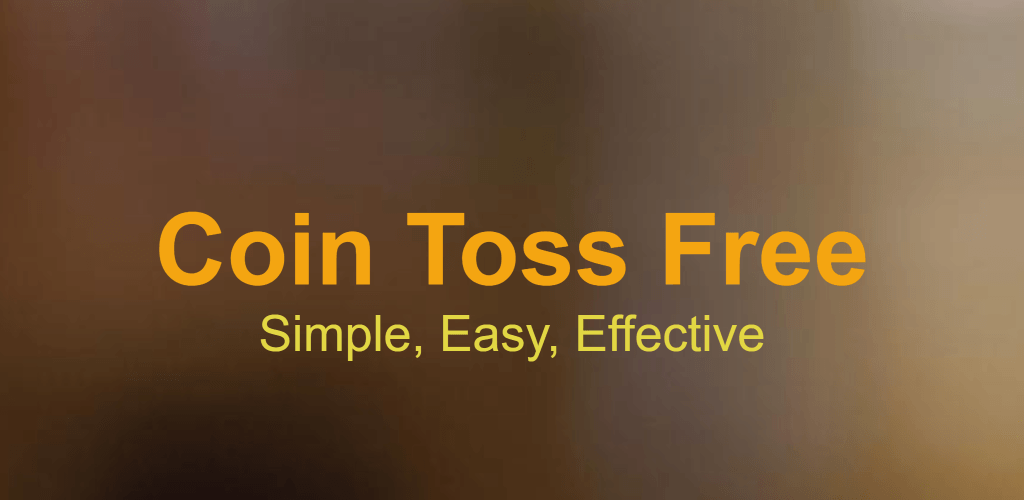 Coin Toss (Coin Flip) Simple, Easy, Effective
This week we have released our Coin Toss application both in Android and Web platform. The app looks simple, easy to use and very effectively doing its job. The team did a great job in developing this application in no time. The amazing Coin Toss application we have kept FREE for everyone. No in app purchase.
Purpose of App
Whenever we play a sport in the beginning we always need to check our pockets to get the coin to toss.      Guess what?
Nobody has the coin.That's bad but this may happen. Coin Toss app would solve your problem, just carry your phone and have this app on your phone. Use our Coin Toss app to toss the coin. Simple, isn't it?
Two friends Mr Tom and Mr. Jerry are fighting on who would eat the last slice of pizza. They agreed to toss the coin and whoever win, will eat the last slice. Use Coin Toss app in this situation instead of finding coin. Isn't it cool?
Mr Bond is confused in taking decision to go left or right. So, he decides he will toss the coin, Heads comes he will go left and Tails comes he will go right. Instead of finding coin he will use Coin Toss app to toss the coin.    Wow, this simple app can be used to take decision in tough situation. I like it!!!!
Wait, what will happen that even if tails come Mr. Bond wants to go right.Use our Adjusting Time feature to delay the result, so that you can hear yourself of what you want to do. Its psychology to understand what your heart wants to do.

Don't want to take decision in first result? No worry, Coin Toss app has cool feature of selecting Best of 3, Best of 5 or any. So, you can decide based on majority of results.
Features
Simple flow, Easy to use, Effective in its purpose.
Speak out and Vibrates on result.
Adjust time as per your need.
Best of three, Best of five options.
FREE, you don't have to anything for this.
How we Developed
We developed this application with in no time as the first application of our firm to get started. Even if Coin Toss app is simple application with limited scope, we took so much care while designing to make it look pleasing but to keep it simple.
The development team make sure that the Coin Toss application would not fail into our quality benchmarks. To achieve that they followed best practises of software engineering and tested thoroughly.
We also make sure that the app size should remain below 10MB for that we applied several optimization tricks to achieve that.
You can download our android app by clicking on below android badge and you can also use web version of it by this link Coin Toss Web Application