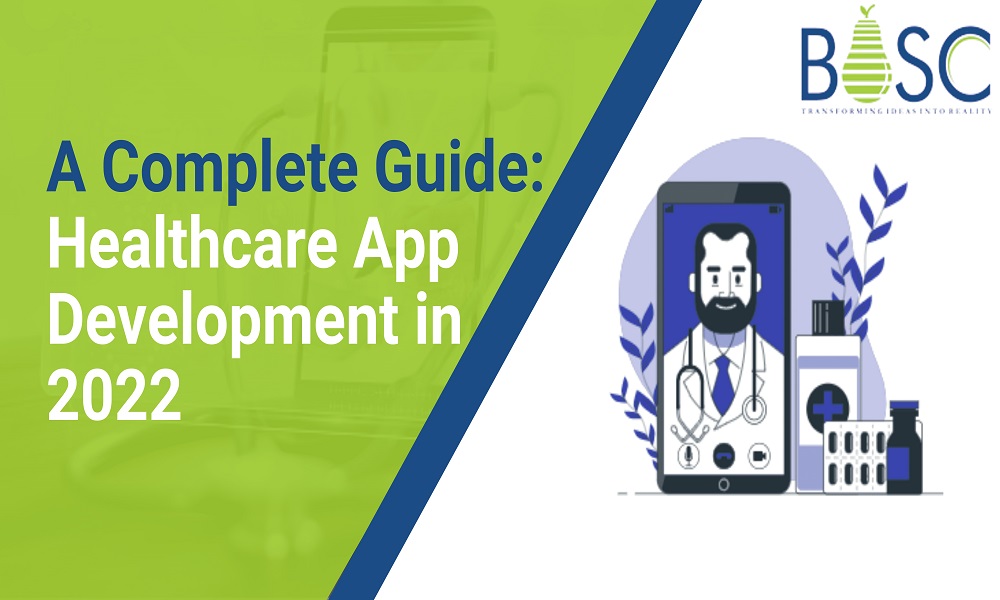 A complete Guide for Healthcare app development in 2022
Digitalization brings about changes across all industries, which is also true in healthcare. By giving a variety of improvements in medical services that apps may offer, the creation of mobile application development services is a great method to simplify the lives of physicians and patients.
Healthcare applications may improve collecting health data, offer patients timely care regardless of where they are, lower medical mistakes, and save costs for patients and hospitals. Additionally, they enhance patient-doctor communication and raise customer participation and satisfaction.
Healthcare apps are created to provide users with a mobile device interface for better tracking their medical requirements, fitness objectives, hospital appointments, and insurance premiums. This app includes monitoring medication and appointments, reviewing test results, and more.
Health care development application
Creating digital goods for mobile devices that enable consumers to request and get verified medical advice for their health issues in real-time is referred to as healthcare app development.
As an alternative, these web-based tools can assist doctors in managing their employees, planning appointments, and tracking the health of their patients to support their daily workflow.
Accordingly, when you refer to "healthcare app development," you are referring to developing an application for one or more beneficial platforms to deliver healthcare services.
What are the benefits of Healthcare apps?
Healthcare applications provide so many benefits that they surely contribute to the progress of medical treatment. But how can users of these medical applications benefit as patients and healthcare professionals?
1. Reduction in medical costs
Most of the time, patients are prevented from seeking the right care by the thought of paying medical costs. Medical advice costs have increased as more private hospitals and clinics have popped up, taking on patients as they please.
The development of healthcare applications benefits individuals in this area by reducing several cost variables. It helps customers to compare prices from many healthcare providers and choose the one that is most cost-effective. In addition, it lowers the price of traveling, scheduling appointments, etc.
2. Easy access to health care
The ability to supply coverage as fast as necessary is one of the finest services a health system can offer. Health applications give a remedy for this and it opens the way for on-demand therapy.
With the help of your medical applications, you may locate qualified practitioners no matter where you are in the nation, what time it is, or what kind of health issue you are experiencing. With only a few touches, you can handle anything!

3. Minimizes errors in clinical diagnosis
Patients will suffer severe injuries due to even a small mistake made by doctors in the medical field. Incorrect diagnostics has previously brought on several issues. Applications in the field of health provide several strategies to reduce these flaws.
One of them entails offering a patient's healthcare records in an integrated database. Access to a patient's data enables a physician to avoid mistakes brought on by conjecture or an absence of data. Utilizing technologies like data analytics and artificial intelligence is one more strategy for producing intelligent diagnostic apps with high accuracy and common mistakes.
4. Customized treatment
Every patient receives a unique course of treatment. Each person has unique medical issues that need specialized care. The medical records will differ, and medication reactions won't be consistent under these conditions. This technique could be challenging in a medical setting with a sizable patient population.
Maintaining all patient records, retrieving them as needed, and quickly finding the right data is challenging. However, medical applications provide quick information storage, access, and trustworthy searching. Personalized care is thus made possible via healthcare app development.
5. Regular monitoring
People may now take care of themselves due to these healthcare applications. People prioritize health care more seriously to prevent sickness.
Smart gadgets, activity trackers, and other technologies help with this period by routinely measuring wellness. Fitness apps urge you to track and manage your nutrition, exercise, and other physical activities to keep your body in shape.
What is the distinction between healthcare and medical app development?
The objective of healthcare mobile application development is to provide health-related solutions for all types of smartphones and communication devices. For instance, apps for:
Physical activity tracking
Nutrition
Yoga and meditation
Search for nearby medical assistance
On the contrary, medical app development creates software solutions on mobile devices which doctors can apply to regulate their medical services. E.g., apps for:
Remote Patient Monitoring
Chronic disease management
Telemedicine
Patient data collection and management
Differentiations
Healthcare mobile app development
Medical app development
These apps are developed for the general public, and anybody can use them
Medical apps are usually developed for medical professionals
These apps focus on the prescription and the medical information based on the particular health condition
These apps concentrate on the diagnosis that is dependent on the analytical data
These apps give access to daily healthcare tracking data
These apps deliver support and access to medical devices and information like EHR
Mobile healthcare application development is cost-effective because of its various factors
The development cost is high in comparison to mobile healthcare apps
What are the important features of the healthcare app?
The user and the physician or other medical expert employ several interfaces. Let's attempt to list the characteristics of each of them.
1. Patient-oriented application
Applications for patients are used to maintain the health of clients or people in general and to stay informed about better lives. The following qualities are essential for patients in a health care app-
1. Setting schedules:
a task that calls for choosing a professional to consult, scheduling a consultation, and getting approval.
2. Reminder:
Reminders for drinking water, working exercise, etc. should be tailored to the patients
3. Health tracking:
Vital indicators like blood pressure, pulse, sugar levels level, etc. should be tracked by a patient's app.
4. Feedback:
Letting patients share their consultation experiences with other patients would help other app users locate the best doctors for their requirements.
2. Doctor oriented application
Doctors and other medical professionals utilize doctor apps to improve treatment. Included features must contain the following:
1. Managing appointments:
A crucial tool that enables doctors to access, schedule, and amend all appointments is appointment management.
2. User data:
This function shows the doctor a comprehensive list of the patient's symptoms all at once. Information like the patient's medical history, current prescriptions, additional notes, such as an asthma diagnosis, etc. Are provided.
3. Reference library:
Medical professionals gather information in a database to provide greater context on various diseases, treatments, and symptoms.
Types of mobile healthcare application development for the professional and medical facilities
A healthcare app is assumed to bring value to the medical staff, facilities, doctors, and physicians. They are being developed more complicatedly with advanced and reliable features.
Below are some healthcare mobile app development types for professionals are: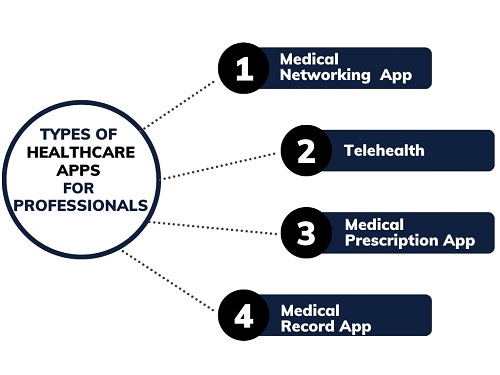 1. Medical networking apps
Medical experts and staff are somewhat busy with consultations and patient services, and they must communicate with other medical experts and share knowledge to improve the overall communication process. This communication is done through medical networking apps.
2. Telehealth
These healthcare apps help doctors schedule appointments and allow medical consultants to use in-app messaging and video calls. Telehealth app development is convenient for doctors and patients as they eliminate the need for physical contact.
3. Medical record apps
A medical record app development is done to simplify collecting and updating the patient's medical data. These records include blood pressure, temperature, medical examinations and diagnosis, and many others to track medical health.
4. Medical prescription apps
Prescription healthcare apps aid professionals take the correct drugs for their patients and managing their usage and time. Even some medical apps permit printing the prescriptions for the patients to view in the nearby pharmacy.
Types of mobile healthcare application development for the patients
The name itself understands it. These healthcare apps and software are designed to assist patients and the users of the app to make their lives easier. With essential medical assistance, these healthcare apps are simple and have a broad range of wellness aspects.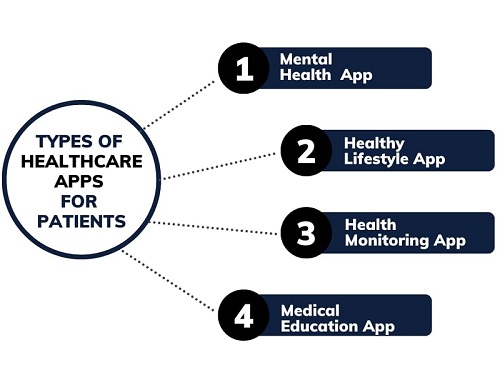 1. Mental Health apps
These apps aim to make therapy more accessible and flexible and give efficiency to its users. It helps you fight anxiety, depression, and insomnia with the support of multiple pre-recorded sessions, games, breathing exercises, etc.
2. Health Monitoring apps
Many businesses in mobile app development invest in healthcare monitoring apps. It aids in keeping track of and managing chronic conditions like diabetes, blood pressure, etc.
3. Medical education apps
A primary objective of medical education apps is to maintain a reliable database with up-to-date medical information for doctors, students, and medical users.
4. Healthy lifestyle apps
This mobile healthcare application development is for patients. It will bring together various applications, such as fitness apps, weight loss apps, and many more, which will help you to achieve a lavish and healthy lifestyle.
Conclusion
The fast spread of the COVID-19 virus has created digital health applications with new vigor. As more people use apps, the number of healthcare alternatives is increasing. You can create a world-class healthcare application that will help you grow your business by following some simple steps, Or you could engage with the mobile app developers who you in creating your healthcare app.
Frequently asked questions (FAQs)
1. Why do you need healthcare app development?
Healthcare app development manages a user's medication, tracks the disease, establishes healthy habits, and shares data with healthcare professionals.
2. What is the cost of developing a wellness app?
A wellness app usually costs around $57,000 to create. A wellness app with minimum features is known as the Minimum Viable Product, and it is affordable to a startup enterprise.
3. How much does hiring an app developer cost?
We can not give the correct estimation, but a rough idea of the hourly rates for an iOS developer is $5-$75 per hour, whereas an android developer costs about $25-$85 per hour.
Get a free consultation