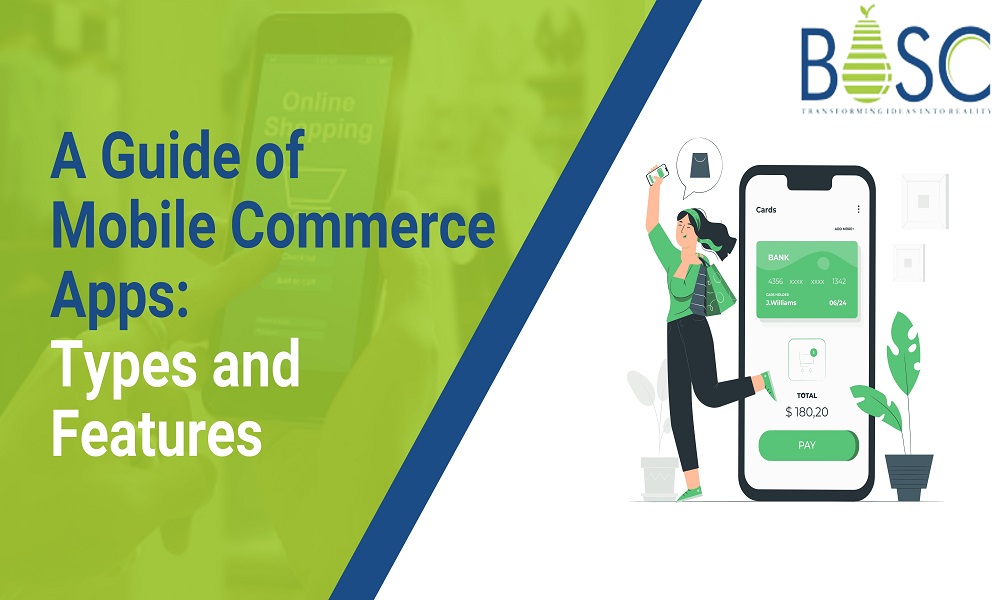 Mobile Commerce App: Types and Features
Retailers' relationships with their customers have changed due to the mobile uprising. No need to rely on billboards and print ads when mobile app development services are creatively used.
The customer's purchasing patterns have also been significantly impacted by mobile augmentation. With only a swipe on their cellphones, they can now compare rates, look for alternative service providers, monitor items, and read reviews from other customers.
Companies have started to see the benefits of m-Commerce as the cost of creating mobile apps has decreased. The market is currently flooded with various mobile services, including e-commerce, small business, and retail apps.
Mobile device shopping has solidified as a popular customer trend and will continue to grow in the future. That is why a large portion of the population thinks that m-commerce will replace e-commerce in the future.
Introduction to Mobile commerce
The use of mobile devices to access online purchasing platforms is known as mobile commerce (m-commerce). Mobile commerce, or m-commerce, exchanges products and services via wireless portable devices like smartphones and tablets.
M-commerce examples include in-app purchases, mobile banking and applications for virtual marketplaces. Content distribution via wireless devices has improved speed, security, and scalability over time.
M-commerce retail sales will be about $359.32 billion in 2021, which will rise by 15.2% in comparison to 2020. By 2025, retail m-commerce sales will double and reach $728.28 billion, with an increase of 44.2% in retail ecommerce sales in the US.
How many types of the M-commerce apps are there?
M-commerce products come in various sizes and shapes, but three are the most common models the business is being developed by the business today.
1. Mobile banking
Mobile banking apps are the same as online banking applications. However, some transaction types are limited or restricted on intelligent devices. Mobile banking has become a dedicated app that gives customers a great experience and high security. Some financial organizations are adopting this method with the chatbot and messaging functionality.
For example, the Chase Bank app helps you to manage bank accounts, investments and credit card points in its app. It also helps you track credit score points and use mobile check deposits. There are around 4700 branches and 16,000 accessible ATMS around the US.
2. Mobile shopping
M-commerce is a variant of e-commerce. It refers to an online retail store which is accessible via mobile phones. Enterprises wishing to enter the app market have created well-optimized websites, invested in the applications, or implemented social media platforms like Instagram or Facebook.
3. Mobile payments
Its objective is to concentrate on the vast range of mobile payment options available to consumers.
What are the features that will step up your retail business?
Mobile devices may appear less useful than desktop computers since they are smaller and less powerful. Compared to standard e-commerce shops, retail mobile applications provide a richer collection of capabilities. Customers can utilize enterprise mobile app for shopping at home and while traveling, and in-store is by far the largest benefit. But it's only one of many strong points.
1. Product evaluation
Previews are frequently used for internet buying, but they may also be helpful for physical establishments. For instance, a customer could wish to view how the item appears unpackaged, but the store cannot permit packaging damage and does not have a live model on-hand. Android developers may develop retail mobile apps to provide many product previews, such as 3D or AR models or static visual previews.
The app's ability to provide customer reviews from other users makes it even more useful. In this approach, a consumer may browse the reviews posted by other shoppers while in the store and look at the preview of the item they wish to purchase.
2. Coding
A retail smartphone app may use a camera to scan a barcode or QR code on any item in the shop. The app will display further product information, such as pricing, previews, customer reviews, currently valid special offers, and quantity left, after instantly decoding the code and locating the item in the database. A shop and a customer can save time and money by using a feature like that.
3. Mobile transactions
A client can utilize mobile payment to buy goods from a virtual store, then go to the actual store and pick it up. However, after placing their desired things in the actual cart in a physical store, clients can utilize mobile payment as a checkout. Customers and shops may avoid painfully long lines and save time thanks to this service.
Also Read: A Step-by-step Guide to Mobile App Development in 2022
4. E-promotions
Using and producing coupons is made simple by retail shop applications:
Users can receive customized coupons based on their past purchases' mobile search history.
It costs merchants minimal time and money to create and roll out special deals for a mobile app, whether personalisation is used or not.
All users need to activate a coupon in their mobile app; they may either display it to the checkout clerk on a screen or press a button to unlock a coupon for mobile payment.
5. GPS and Beacons
GPS and beacon technologies can personalize retail offerings even further. When a customer's smartphone is near a beacon—a tiny sensor installed in a store—actions in the store app are initiated. Usually, pre-established guidelines or requirements govern the activity.
The communication range between a business and its customers is much wider using GPS than within the store. When consumers are close by, a store may identify them and give them notifications about promotions or discounts that might catch their attention, enticing them to stop by.

6. Social media integration
Implementation of social media is the primary priority feature necessary in the retail tech world. Integrating into your business app will aid the users with the login, registration and sharing of the details of the products.
Also, with this, the end user can share its discounts and the gifts they got from you while shopping with you. With this, there are chances to get more sales, making people aware of your brand.
7. Ratings and Feedback
The most common feature of m-commerce apps is the rating and feedback. The feedback you get from your app will assist you in making your app work better. So, while developing the app, the point which is kept in mind is user satisfaction which will prove beneficial in the long run.
Additional features
The marketing division of your company is another area that may gain a lot from a bespoke mobile app.
When companies go mobile, the first obvious benefit for digital marketers is having direct access to customer data. Your marketing initiatives can benefit greatly from the information gathered from service requests and app access points.
An app enables you to offer content to your consumers more efficiently than conventional marketing channels once your strategists have all the data they want. Regardless of your marketing objectives or strategies, becoming mobile enables you to put the finest deals right in the hands of your customers.
Conclusion
Apps for retail stores may enhance buying and selling in various ways. Customers may use apps to pay without standing in long lines and to receive more details about every item, including the price, previews, and reviews.
Retailers may customize special offers and foresee when a customer needs a push to complete a transaction by collecting data from their customers' mobile devices, beacons, or GPS. All these options make shopping more effective and enjoyable for both consumers and owners of retail businesses.
Frequently Asked Questions (FAQs)
1. Explain the mobile commerce
Mobile commerce is also referred to as n m-commerce, which involves using wireless handheld gadgets like tablets and cellphones to do commercial transactions online, purchase and sell goods, do online banking, and make bill payments.
2. What is the objective of an M-commerce application?
M-commerce is buying and selling products and services via wireless handheld devices like mobile phones and tablets. M-commerce is a type of e-commerce through which users can access the online shopping platform without using a PC or computer.
3. What is the future of mobile commerce?
Nowadays, 80% of purchasing decisions are influenced by product research on mobile devices. Almost all retailers have their mobile app via which consumers can shop.
Connect with us