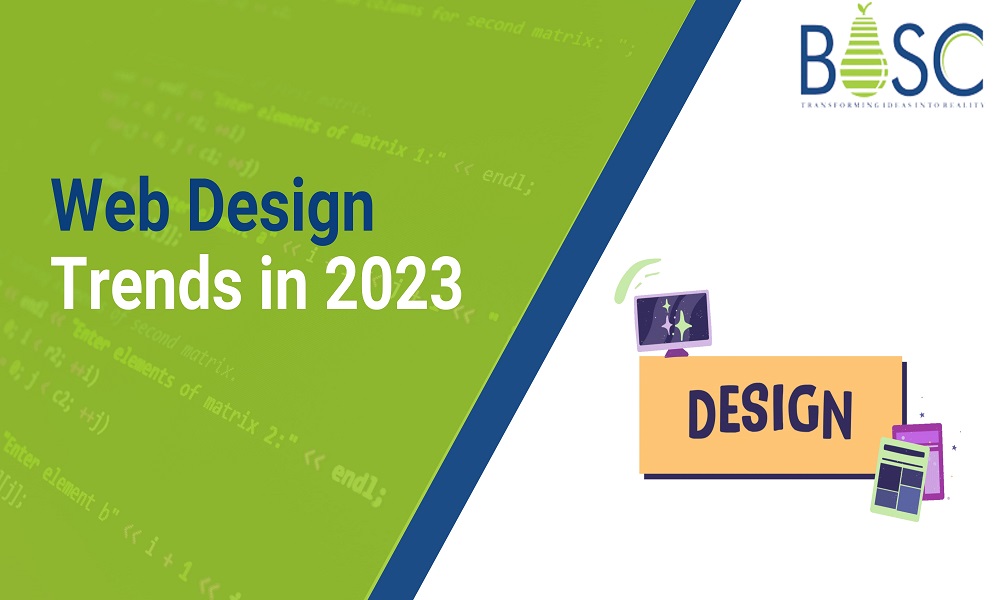 Web design trends in 2023
Technology is changing at a breakneck pace, and with this, website design trends are no exception in it. The design elements and website features have been overdone in recent years with the new functionalities. However, the main reason that website users are losing their interest and the conversion rate is that the website needs to be updated and include crucial web standards.
Web design is the most powerful tool businesses can use to influence visitor behavior. In online businesses, entrepreneurs search for methods to attract an audience via websites. Hence, the most attractive route is to have a fantastic website design. However, a website design follows a specific trend. On the other side, businesses are looking for the trending website design elements they implement.
In 2023, the organization's organization's objective is to satisfy consumer needs and keep them engaged with web design. Hence, continuous website design delivery will give a great user experience that permits them to convert into sales.
Hence, the latest and advanced website design trends will create highly functional and easy-to-use websites which perform extensively. Therefore, this blog will describe the latest web design trends in 2023.
What is web design?
Web design is the art of planning, conceptualizing, and arranging the content and elements of access and sharing it online. It will define the overall functionality of a website, including the user interface design on the web and mobile app development.
Web design handles the look and feels of the website, telling a story to increase the user experience. It also concentrates on the functionality of a website by doing the tasks like testing websites, optimizing websites, and ensuring the websites run smoothly and efficiently.
What are the benefits of website design?
If you are looking to create a website for your business, then it is necessary to have a professional website design.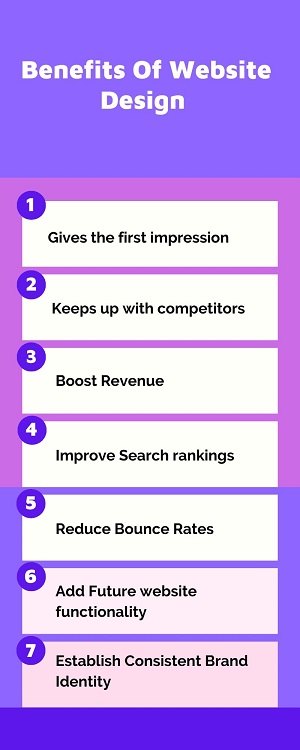 1. It gives the first impression
A website that is professionally designed ensures that your site will deliver the visitors a good first impression. Amateur websites have proven less credible and have an unprofessional web design.
2. Keeps up with competitors
To stay with your competitors, you require a website acquired with advanced design trends, achieved via professional website design.
3. Boost Revenue
A well-defined website design will attract more visitors to use your services, and as a result, it boosts revenue.
4. Improve Search Rankings
Outdated and unprofessional websites will hinder search ranking performance, and it is better to move forward with advanced website design trends to keep your website ranking in well-known search engines like Google.
5. Reduce Bounce Rates
A fantastic website design will attract visitors, keep them in their position, and explore your business.
6. Add Future website functionality
If you wish to add some extra functionality to your website, then the professional website design will provide accessible features to do this task.
7. Establish a Consistent Brand Identity
It is essential for creating credibility and trustworthiness and having a professional website that helps you communicate the brand's brand's story more effectively.
What is the difference between web design and graphic design?
The significant difference between the web and graphic design is the medium in which they are used. Web design is making the design for the web and online use, whereas graphic design is primarily created for print. Graphic design needs to gain knowledge about programming, speed, and the various technical matters involved with web design. While we may use graphic designs on the website, the overall functionality of the graphic designs is dependent on the web designer. Let's see the difference between them:
1. Technical skill level is different
Web designers must be familiar with the various programs and programming languages that support web building. Graphic design does not require knowledge because, for the most of its part, the graphic design remains permanent. However, you can customize the software or mobile application design without any limitations like the web design.
2. The web is dynamic; the Graphic is permanent
Graphic design is less interactive than web design. At the same time, the graphic design only changes if it is animated. Web design requires users to interact with a design by clicking on the buttons and the other navigation to explore its functionality.
Also Read: Which are the Leading Web App Development Trends For 2023?
3. Requirement of File size
If someone is designing a graphic for web development, then the pixels and DPI become the significant factors. Images for the web application must have a particular size and pixel guidelines, but for the web, the image needs more pixels to display it correctly. Web design has to focus on technical aspects such as the loading time and size of the file to keep the website functioning properly.
4. Typography limitations
As there are various advances in web designing, there are some restrictions to typography. If the user browser does not recognize any typeface in the CSS, the font will be different from the initial design. In comparison, a web designer might have the font on their PC and utilize it in the design, as it could cause an issue if it is not the standard font. In graphic design, if you have the font on your desktop, then use the typeface to print and design, as everything comes out the same.
5. Use Different software
Web designers use programming and web-building tools, while graphic designers use tools such as Adobe or Canava to make their creations.
What is the website design trend in 2023?
Website design trends will make your brand stand out from the crowd and will make a lasting impression with a website design. Let'sLet's check out the latest trends following in 2023 and beyond.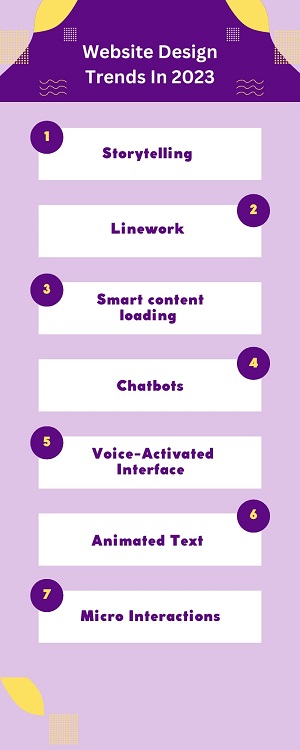 1. Storytelling
Storytelling is an effective marketing technique that always stands ahead of time. For this, website designers add storytelling in their website design and refer to it as scroll telling. However, a web designer makes a linear structure that triggers a sequence of animated texts and multimedia content.
All this page will often tell a story of how a specific organization has come and done its milestone events. This website design trend will be discovered on the homepage in 2023.
2. Linework
Alterations in line between old classics and modernism are the linework. However, a web designer will utilize the lines to divide the sections, paragraphs, galleries of products, and headers on the website for additional visual weight and style. The line work is an excellent approach to develop the grids that modify and are used all over the webpage. With the lines and grids, a static website looks and feels more like the development of mobile apps because of their appearance and setup.
3. Smart content loading
You might be guilty of having the resource with vast websites with various graphical elements, and the third-party implementation will slow down the working of your sites. Although, there are many other ways to create intelligent websites which only download the content you view and require.
Lazy loading and infinite scroll are different from the brand-new technology. Social networks have been using this method for many years, especially regarding infinity scroll. However, this approach is well-known with one-page websites.
All websites must consider how to integrate one or two technological approaches, which may aid them in outperforming their competition. Hence, these features will help you to improve the user experience for the website visitors, which improves the conversion rate and ranking.
Lazy lies to ensure that a web browser will download the content viewed on screen without wasting valuable server resources, and it's the TIME to load the offscreen content that is never seen.
4. Chatbots
A chatbot is another feature that has been famous for a few years and will constantly be relevant in 2023. As artificial intelligence and machine learning are constantly getting more sophisticated, we expect these chatbots to become a norm for accessible customer service requests and "personal shopping."
For instance, if a consumer visits your website looking for phone support and a chatbot knows they have an available free phone upgrade, it will inform them. Hence, it leads to a positive experience for a client and saves the business customer support cost associated with talking to a live person.
5. Voice-Activated Interface
The way of accessing information is changing, and instead of typing into the Googe, we ask the question or make the demand. It means that web designing is adjusting to keep up with the prevalence of voice chatbots and virtual assistants. A voice-activated interface is not commonplace for websites, and this merging trend is going nowhere in the future generation. Hence, more and more websites will integrate the voice search option in their web development.
6. Animated Text
Animated text is the well-known web design trend in 2023. However, it comes in three primary animations: entrance, exit, and emphasis. The animated text is mandatory in the website design. This text is included in the various sections besides the basic animations.
The latest website design changes the text and font into multiple text or images. It makes use of a text converter that is on the news and finance websites. To get a more creative look, a designer will take it to an advanced level and convert it into circular motion to follow a shaped path.
7. Micro Interactions
On the website, micro-interaction is the slight animation that gives feedback to the users. The most commonly used micro-interaction is viewing the link and changing the colors when the user clicks over it. With the focus on micro-interactions, a similar experience is given more attention to stand out. For example, gradient slowly hues as you scroll down the page, or it will pop off color exploding from your nose after you click an element. Therefore, these are the primary examples of elevated micro-investment, which you will see more often.
Conclusion
Therefore, you are now aware of the recent and latest web design trends which are coming in the future. Hence, the next step is to hire mobile app developers to develop an innovative and unique app. It will improve your digital presence on various platforms and keep up with what is coming next.
If you want more information about web designing, connect with Bosc Tech Labs!
Frequently Asked Questions (FAQs)
1. What is the central issue faced by web designers?
Some typical web design includes making your site user-centric, responsive, and mobile-friendly and finding the perfect balance between functionality, accessibility, and speed.
2. What is the future of web design?
The future of web design is to push the boundaries of what was previously thought possible. Sites are static now, and it has come with interactive elements and new technology. Designers will work with the HTML and CSS styles to create a unique and attractive design.
3. How do you explain the trend analysis?
Trend analysis is collecting data from the other various sources before plotting and data on the horizontal line for review. Hence, you can find the patterns and project future events by comparing the data over a period.
Talk with Our web Designers