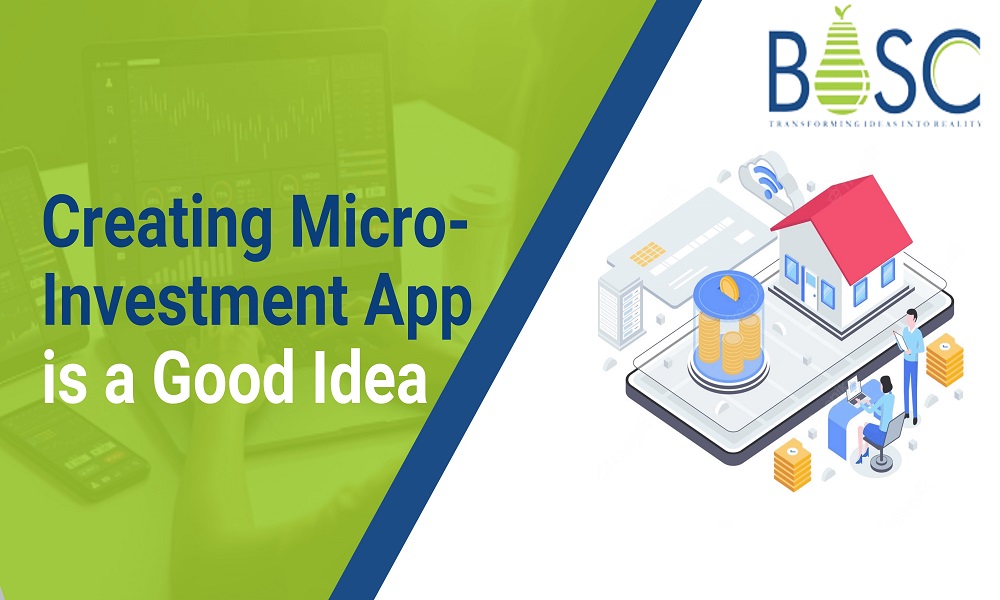 Why is it better to create a micro-investment app?
Micro-investment is an advantageous concept for solving this universal issue. Rather than investing a huge amount at once, the micro-investment app allows you to invest the penny amounts more frequently. You can set frequency and amount criteria per your preferences, and this money will be constantly deducted and funded as per their choice.
If you want to know about the some information of mobile app development, then click here. After reading this , you will get to know what is micro-investment app and how it is useful for you.
What is Micro investment?
The concept of the Micro-investment app is nothing but a medium to get engaged in the idea. This app will track end-users spending and take the amount out of the account to invest in the preferable source of the customer. The prominent role of this app is to invest without letting the user know. This type of investment is very helpful in custom mobile app development.
Business Model of Micro-investing apps
This app needs financial resources to keep itself updated and equipped with the latest features. Suppose micro-investment apps follow various business models to get a better income stream. Let's see some of the business models utilized by most fintech apps.
1. Subscription charges
Most probably, the app often integrates the subscription fee for the users to stay with them with their services. Investment is a lengthy procedure, but if done monthly, quarterly or annually, it gives the app admin good revenue. However, you must also ensure that the app is timely updated and add new functionalities to keep the users engaged.
2. Data sharing technique
It is not convenient for all users, and it is a fact that many apps and platforms make money by selling the information of their customers. This app tracks the spending habits of its users, and they get to know a lot about its customers. They also share this with other businesses, which helps them to sell their products to the users. As a result, a good commission is obtained by the customers.
3. Selling the Products
The micro-investment apps with excellent investment potential and product range utilize the user data in selling their products. It may also charge a subscription fee. Hence, users on this platform help to secure multiple revenue sources for the platform.
Features of Micro Investment App
Fintech apps are simple for the consumers except for a smooth user interface experience and usability at the same time. Many fintech applications are in the market, making it challenging for each other to grab their targeted audience. Hence, this app's features will help stay in the competition. Some of the features which are primary to the Micro Investing app are listed below:
Personal Accounts:
In every app, there is a personal account feature where the users have the opportunity to track and manage their investments. The account is accessible with the ID and password.
MultiCurrency Account:
There are limited apps that allow investment in multiple cryptocurrencies, which will aid in engaging more users.
Transaction management:
This feature will only manage all the transactions in the app. It might include changing the investment amount, pausing investment, changing the frequency of investment, etc.
Cryptocurrency trading:
Besides mutual funds and the stock market, cryptocurrency has also attracted users. Hence, many micro-investment apps make cryptocurrency trading available for users.
AML and KYC Integration:
This app makes safe and secure investments and trading transactions with the KYC practice and AML, which delivers a smooth user experience.
Analytics Dashboard:
A user must analyze various investment options to make the decision. Therefore, micro-investing apps show this information within the app to make it easy for the users.
Automated counsellors:
it depends on the investment and spending habits; few apps provide an automated counsellor feature in that a bot provides you with some of the primary suggestions for taking your investment a step further.
Investment calculator:
It is expected that every app has an investment calculator which assists the users in performing required calculations to gain a specific financial goal.
24*7 assistance:
The top-most apps in the market offers 24*7 support with a chatbot, calling back option, or hire the support team which will work round the clock.
Real-Time Alerts:
A micro-investing app gives real-time alerts connected with the stock market and crypto market updates. It will help the users invest more enormous amounts when the price is down.
Back Integration:
In the financial management application, bank integration is the core functionality. With this, an app should be able to connect and work with the central banks to enlarge its targeted audience landscape.
Example of Micro Investment Application
Some of the excellent apps which have the experience of an investment to an advanced level:
1. Robinhood
With around 12 million downloads on the Google Play Store, Robinhood is ruling the micro-investment market. Since the first day, this app has made the best investment experience smooth for people. This app didn't charge any fee for opening an account or moving funds from a bank to an app and vice-versa. You will also get various investment opinions like stocks, cryptocurrencies and ETFs without the commission fee.
2. Acorns
This app is downloaded by only a maximum of 5 million users from the Google play store. You can invest manually by entering an amount and details of your bank account. You have the feature of linking a debit or credit card that ensures a round-up investment. The changing criteria in this app are also very minimal, which will not hinder your saving or investment decision.
Advantages of Micro-Investing App
The micro-invest apps provide several pros to the users; see some of them below:
Fosters an investment habit
Taking out a high amount of investment may not be affordable and convenient for all. Hence, the micro-investing app allows you to make the investment in small pieces, which is convenient and affordable. These small pieces will add up to the excellent investment that comes into the hand.
Convenience
This app takes an amount out and will invest it automatically without you knowing. Hence, it makes an investment more comfortable for you rather than a manual investment.
Ease of investment
Users without the proper knowledge of the market and investing it with the correct understanding of that gives the benefit to end users. The platform invests money in a diversified portfolio that reduces the risk and gets the secure reasonable interest.
Affordable
Most investment platforms ask for hundreds of dollars from you, but a micro-investing app will only ask for a small amount. It makes the investment more affordable to you.
Low charges
Some of the leading apps in the category will charge a very minimal fee for their services. Hence, it is very cost-effective to begin with, a micro-investment.
Monetization models
Every app is developed to generate money, and various apps use several models to monetize the facilities.
Advertising
Digital advertising is the core monetization practice for websites and applications. The app attracts many users; this ad offers a great deal, putting a handsome amount of money in the app-created owner's pocket.
Freemium
Some basic features are free for all users, but it also offers premium features at a specific charge. The paid-fee features are created to enhance the investment experience. Similarly, freemium costs also brought marvellous income to an app.
Affiliate Program
In this program, you will represent a client's services on your page, which is connected with a link. Clients will pay you for the leads they have achieved via the link on your page. It is referred to as the commission-based monetization model.
Conclusion
It has been a trend that people are now concerned about investing money in the proper resources. We have also created one of the best investment calculator app which is getting the great revenue for our valuable client. For example, around 3.6 million people bought cryptocurrencies in the year 2022 in the U.S. alone. It has been estimated that this market will increase significantly in 2023 compared to this year.
Bosc Tech Labs will help you to step into this digital business journey with its talented and experienced developers. We have developed various mobile apps similar to this for our valuable clients. If you have any doubts regarding this idea, we provide a free consultation with our project manager. Discuss all the queries to make a correct decision.
Frequently Asked Questions (FAQs)
1. Which APIs are used to develop the investment app?
Some basic APIs used to create an app is Plaid API, Alpha stock trading API, Alpha Vantage, E*TRADE and many others.
2. How will the app principal benefit your mobile app?
This app will track your investment app's daily habits and help you engage in savings without any bothering.
3. How much does it cost to develop a micro app?
The app development cost is never fixed as it is highly varied. Usually, it depends on the features, platform and technology stack you used in the development.