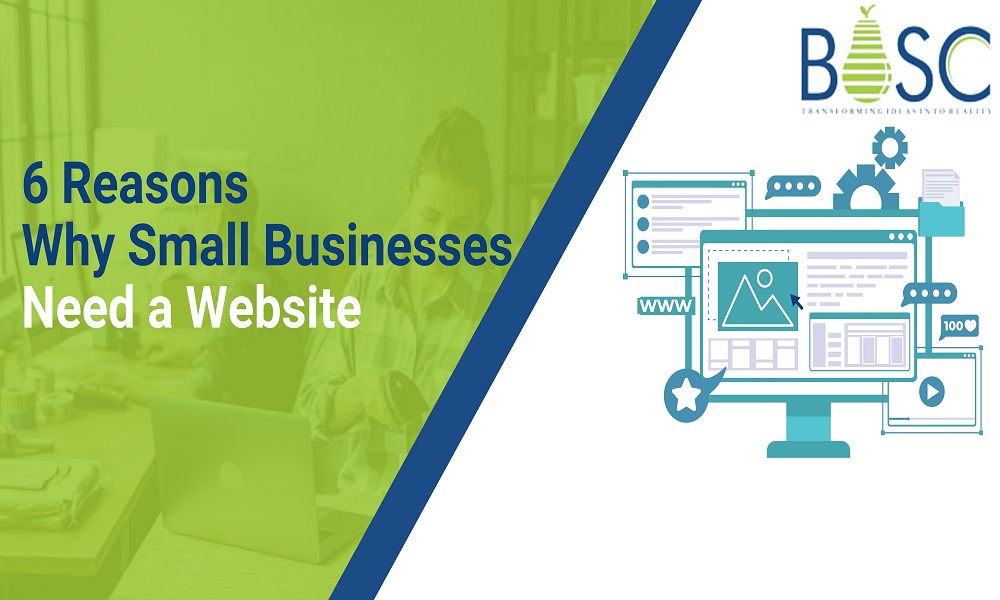 Why Does a Small Business Require a Website to Grow its Business?
A website is one of the mediums to explore your brand nowadays. But, various small businesses think that it is not an essential expense for their business, and they prefer not to create a website without knowing their advantages for their firm. Many believe that social media platforms like Facebook, Instagram etc., are enough to maintain their online presence, which is incorrect. Despite this, a website is essential for each business, regardless of company size. It helps you to highlight your business services.
A professionally designed website is not an unnecessary expense but a small investment to grow your business. In this technological world, most consumers buy products through a company website. People like to shop from websites with good consumer reviews and reputations in the online market. If you have a good and responsive website, then it is much for the customer to build trust in them.
Six reasons why every small business requires a website
After this pandemic, everyone understood the importance of the online platform for business. Cultures are now expanded beyond borders, and people are reaching several corners of the world to purchase the items of their choice. For this, it is essential to have an excellent website to promote your business globally. You must also know a targeted audience to reach them easily. You can hire a web development company to develop a website for your business. Let us see different causes why small companies require a website to explore their business.
1. It makes you credible and professional
A professional website always helps you to stand out from the crowd with competitors who are providing similar services to you. Customers always look at professionally designed websites and find them genuine and trustworthy. Websites are more flexible and straightforward to understand what you are offering compared to social media pages.
After the research, it has been noted that the enterprise you have on social media pages is less credible than a company with a helpful website. In the end, the customer gets connected with those they trust, and it is an excellent website with the customers' trust.
2. Expands your business
A small business could have many clients now; every organization usually goes via client turnover. You require a website presence if you want to gain new clients for your small business. Various website performance optimization improves an devices that will push your site to be viewed by a crowd.
There is a point when individuals have an issue; they will go and research the solutions. At this point, your business website can jump in front of them, sparkle and grow by delivering the answers through your services. Therefore, building the website will cost a little bit but eventually return your investment by helping your business expand and race to a targeted audience.
3. Improve work performance and saves time
A small business has an on-deck situation on its hands. But, sometimes, some incoming calls are not answered due to distracted staff and may be due to unhappy or unsatisfied customers as this is not good for your industry. Hence, your organization requires a website to save you from getting into such trouble. Therefore, a website will help you to respond to each call from your consumer and offer them a satisfactory solution.
Some of the frequently asked questions are mentioned on the website, which you know very well every customer will ask, like location, operational time, products, etc., which are appropriately answered on your website. The website lets you track all the customers you receive throughout the day. A website can accommodate customers 24*7, giving you more time to focus on your essential services and products. Hence, the website saves time and has the advanced benefit of providing you with better customer service.
4. Display products and services with clarity
Your business website works as the online brochure with all the information mentioned and fully updated videos, images, etc., that all grow the website. The customer, before buying, goes into a visual description of the product and, after that, decides to purchase product.
Your small business will require sharing all company updates for this, and a website is the best solution. New products are launched, and the kind of deals and offerings are displayed on the website in real time. Websites are almost beneficial for local businesses.
5. Gain competitive advantage
It has been seen that 95% of U.S. consumers utilize the internet for their research before purchasing. Consumers need to be informed about their purchasing decision before buying any goods. Without a website, there is risk of losing customers to businesses that have already taken advantage of the online marketplace. If you are directly competing with another company with a website, your competitor has clear benefits- mainly if they are effectively marketing their website. A website can help level the playing field.
6. Affordable to create a website
A good and professional website is the bread and butter of any business today. Hence, creating a custom website and its solutions is not so confusing nor expensive.
Before you begin, select your domain name
Before developing a website, your first step is establishing an address on the web. In this digital age, your website address is central to online activities, so be careful when considering a domain name. Decide which domain extensions such as .com or .net will serve best for your business. The other step is to choose a memorable, descriptive name, and not trademarked by any other company.
Some examples of business website
a. Women's Fashion: Newton Supply Co.
Newton Supply Co. designs and handcrafts perfect waxed totes and bags in the USA. Moreover, this small business website layout is simple, clean and straightforward. It makes excellent use of the company's store.
b. Jewelry: Bluboho
It is an online jewelry store, and this small business website example pairs strong branding with practical functionality. The images are stunning and perfectly showcase gorgeous designs. As visitors scroll down the homepage, they are prompted to sign up for the Bluboho's mailing list. A product page features several details and images. Also, the site is optimized for mobile devices.
Conclusion
After reading this article, you understand the value and importance of a small business that requires a website. Various web development companies are available in the market and will aid you in developing an excellent website for your business. If you already have a website and want to update it as per the market's demand, then you can reach BOSC Tech Labs, a well-reputed web and app development company.
Frequently Asked Questions (FAQs)
1. How is the business website beneficial for the business?
A website helps a business to increase its flexibility, branding, control and credibility. Eighty-four per cent of U.S. companies believe that a business with a website is much more credible than a social media page. Website development is plausible and attracts new clients, and a website makes a difference.
2. Why are domain names cost-effective to buy?
Domains are cost-effective as you are not purchasing the domain name; you are renting the domain name from a domain name registrar. The amount you pay for your domain covers the cost of routing the domain name from their domain name servers to yours. They are also scarce because of a cost-effective feature.
3. What is website performance?
The website's performance is how quickly your pages load and view in the web browser. Optimization is a practice to improve website performance by multiple methods, and faster websites are known as high-performing websites.
Get a free consultation
>