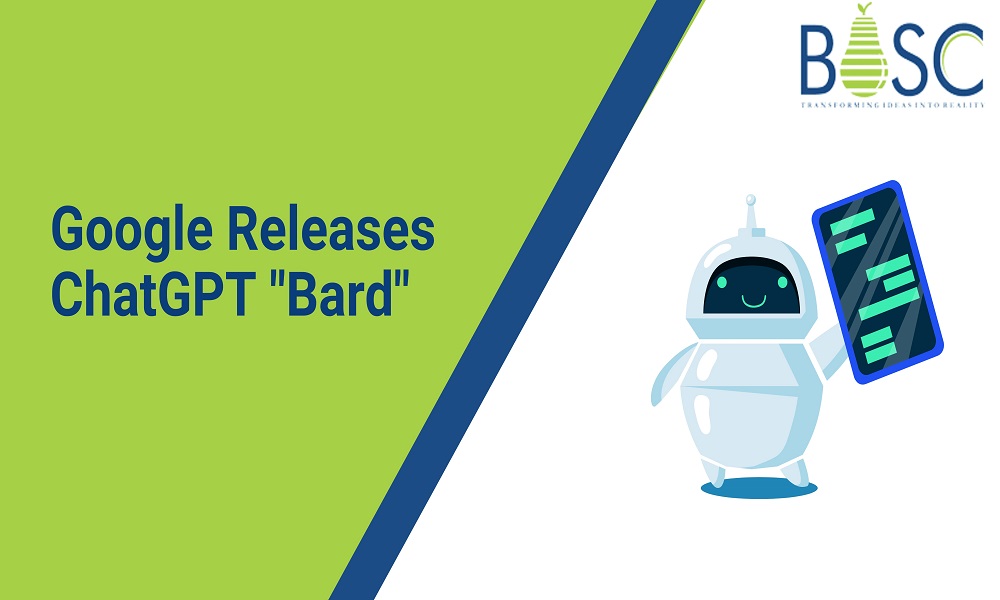 Google Launches ChatGPT 'Bard' To Take on Microsoft in Bid
On February 6, 2023, Google announced Bard, the AI service that will catch up with the well-known chatbot chatGPT from a Microsft-backend company OpenAI. The CEO of Google, Sundar Pichai, writes that this service will be initially accessible to trusted testers before giving access to the general public in the upcoming weeks.
What is Bard?
Bard is the latest and most advanced artificial intelligence service, which a small group is testing during its company conference, which was held last week. This statement comes as a Microsft because, in the technology sector, another major player has invested $10 billion in the startup Artificial Intelligence (AI) research lab OpenAI and wishes to implement the AI capabilities across multiple software products, including the Google rival, Bing.
AI chatbot Bard utilizes information from the web to give recent news and updates. Bard will respond to its in-depth query of a user inquiry like comparing the two oscar nominated movies, nearby location for tod o lunch, etc. It will work the same as the ChatGPT. Google will make Bard available, allowing app developers to develop its existing AI models.
In the next month, businesses, organizations, and individuals can test the Generative language API that LaMDA will initially power with support for the additional language models.
Google has launched the ChatGPT-Rival, but its knowledge and data are limited to internet data up to 2021. Hence, this service may benefit from responding to inquiries about occurrences.
Also Read: Top 10 Benefits of ChatGPT In Customer Service in 2023
What are the Features of Bard?
A new experimental tool known as Bard gives textual answers to the questions users submit using the data collected from the web. Pichai also provides the readers with a sneak peek at the latest search engine capabilities that will use AI to respond to user inquiries and has announced that it will make some of its AI programs that are present to third-party developers.
Google will use the request from a user to Bard to give the brief about recent discoveries made by NASA's James Web Space Technolgy in a manner that a 9-year-old might find engaging, is an example. Hence, the Bard will give the answers as talking points.
In contrast to rival programs, such as ChatGPT, that will create made-up material in response to user queries. Google officially claims that it must be faster and more careful with its products and services.
The executive of Google claims that they must evaluate the latest tools to ensure they do not view prejudice and will prevent misuse, and many academics echo the worries. Like ChatGPT, an AI research company, the openAI will be formally unveiled in late November. Therefore, the Bard is dependent on a sizable language model. However, these models are trained on massive web data sets and will generate exciting responses to a user signal.
Google CEO Influences On Bard
Pichai has also emphasized how the firm modified its focus to AI 6 years ago and has been utilizing AI to enhance its search engine for multiple years. It is because more individuals turned to Google to understand complex subjects more deeply than trying to research themselves.
"People usually require to investigate and search several viewpoints or beliefs. AI is helpful in your findings when there is no correct answer to the topic, "said Pichai. He also said that people would soon view the AI-powered features in the Google search engine that will filter the complex data and has multiple perspectives into easy-to-digest formats so that they will rapidly understand the image and learn it from the web.
"Whether its applying chatGPT AI to transmit the services or items radically or to build these powerful and robust tools, all are available to the common public and will constantly be bold with innovation and creation, and it is responsible in our approaches and strategies, "Pichai said. Google's cloud division will work with a company that is Canada-Based AI startup Cohere and NYSE- listed AI software firm C3.
In the various internal email, Which The Wall Street Journal was able to view, Pichai stated that Google's entire staff would have access to the Bard in the following week to give feedback as part of "company-wide dogfood.," which is the slang for utilizing or testing the one's items or products in the tech industry.
Also Read: 8 Ways SEO Pros Are Using The ChatGPT
What is ChatGPT?
ChatGPT works depend on the neural networks that will make sense of writing and use that knowledge to become excellent and knowledgeable with words. The complete information and guidance of chatGPT will give better results. The invention of Google's new products conflicts with some statements by the rival Microsft related to its use of the OpenAI-developed AI capabilities.
In response to Microsft's disclosure, investors have complained that they have invested in the technologies used to develop the tools like ChtaGPT. But Google must move more swiftly to expose its internal AI capabilities.
Bard vs ChatGPT
Google launched ChatGPT-Rival and has reportedly accelerated an effort to assess and will make it available to general public artificial intelligence programs. We have also reportedly assigned a team of engineers to perform novel methods to implement the new advances into areas such as core search experience.
Bravely shares the experiences grounded in these principles with the world and wrote about a Pichai in its recent blog post. We are dedicated to safely and securely developing AI. He also stated that a Bard would give the replies which would satisfy Google's requirements, and a new external testing phase for it will be paired with internal research.
Microsoft has also said that it will spend billions of dollars on OpenAI. The latest app development trends with technology will be incorporated into Microsoft's products. In addition, it is asserted that Microsft wishes to include it in Bing, its search engine.
Google has reportedly said that a Bard gadget depends on the experimental artificial intelligence program, LaMDA (Lnagauge Model for Dialogue Applications). In the last year, Google suspended the engineer who contended that a LaMDA had become the sentiment, a claim which scientists in the field mostly reject.
When the OpenAI released a ChatGPT in the previous year, has become a viral sensation. An underlying and the latest technology has supported the Bard for a while, despite not being readily available to the common public.
A regulator in the U.S., the European Union, and many other countries is paying close attention to Google. The new AI rule might mandate that enterprises app development to do risk assessments before releasing the new tools that the legislators are considering in the EU.
Last month, Microsft announced that it had invested multiple years and billions of dollars in the San Francisco AI firm. It also announced that it would permit app developers to create its tools and incorporate them into the services like the Bing Seach engine, possibly creating a new threat to Google Seach's dominant position in the industry.
Also Read: How ChatGPT Can Help Your Business Take its Content Marketing to the Next Level
Conclusion
Google's new chatbot, Bard, is the most powerful tool which aids you in communicating efficiently and effectively. However, with the help of advanced natural language processing and its ability to identify complicated conversations. Hence, the benefit of Bard makes communication smoother and more efficient. Thus, it's the direct competitor to Microsft's well-known ChatGPT, making it an essential asset for Google in the bid to take on the Microsft firm.
In addition, the new chatbot technology revolutionizes mobile app development by giving a powerful alternative to Microsft's ChatGPT-Rival. It will faster generate automated responses to complicated queries and has a user-friendly interface. Therefore, it is a valuable tool for the mobile app development company and helps them improve customer experiences.
Frequently Asked Questions (FAQs)
1. How can I use the Google Bard chatbot?
If you are selected as the beta tester, all you have to do to use the Google AI chatbot is open the Google app on your device and click on the chatbot icon. Just like the ChatGPT, enter your prompt and hit enter.
2. How will the chatbot work?
Chatbots will perform routine automated tasks dependent on particular triggers and algorithms and simulate human communication. A bot is created to interact with humans via chat interfaces or voice messaging in mobile or web app development. A user will communicate with another person.
3. How will chatbots make money?
Chatbots are used to make money with affiliate marketing. When the user interacts with a chatbot and it inquires about where to search for particular items, you can refer a user to the affiliate link. If they made the purchase, you could earn the affiliate commission. Hence, assistance is available 24/7.
Consult Our Experts