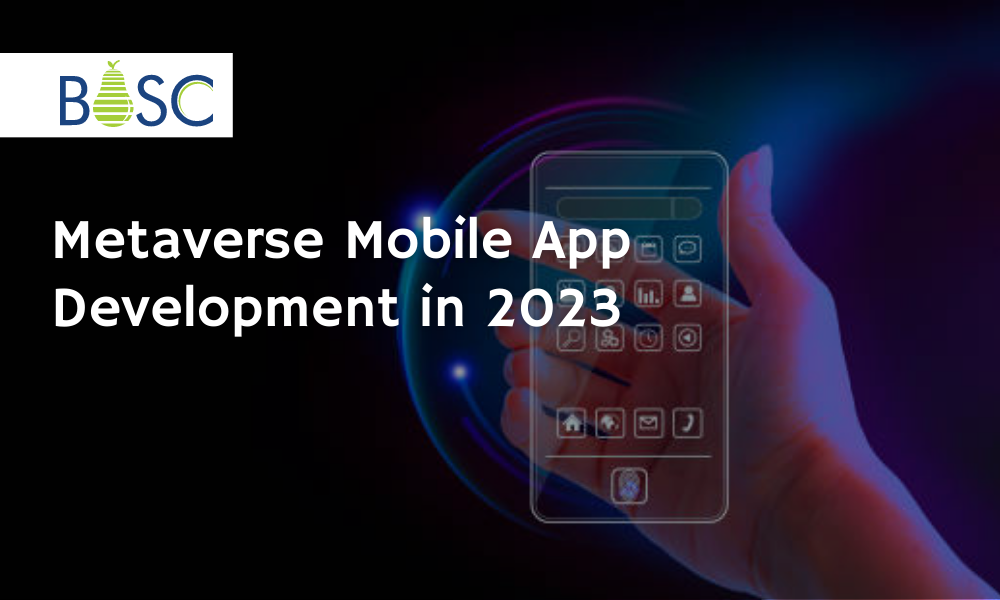 Metaverse Mobile App Development
Technology has become the most vital part of everyone's daily life, and companies related to technology like to remain updated and highlighted all the time. It's giving tough competition all the time. Recently facebook's founder, Mark Zuckerberg, has been the centre of attraction for technology-related newspapers and magazines. This time he is stealing the new feature and the whole platform Meta. Yet, the world is still in awe of the future promises made by Metaverse, and a lot of software and mobile app development firms have started to introduce new development methodologies, tools, and technologies.
What is the Metaverse?
If you have viewed the movie Matrix, you must get excited about it as Metaverse promises to bring it into real life. It is a platform developed to give users a great virtual and augmented reality experience for the advanced social connectivity.
The purpose behind the Metaverse is to design and develop new technologies and tools that support a human plan for the future since humans wish to live in a world full of AR and VR. Metaverse aims to allow developers to develop apps with these features and functionalities. You can expect to see some apps that give a virtual world with a little AR technology. These apps will show real-world objects with the minimum elements from our imagination, promising a better user experience. Hence, it focused on making app development easier, faster, more efficient, and even better.
Also Read: Impact Of Voice Search Technology In Mobile App Development
What Are the Features of Metaverse Mobile Application Development?
While developing the metaverse application, many factors are considered to create a successful and immersive user experience. Let's see some features to consider while developing a business Metaverse app.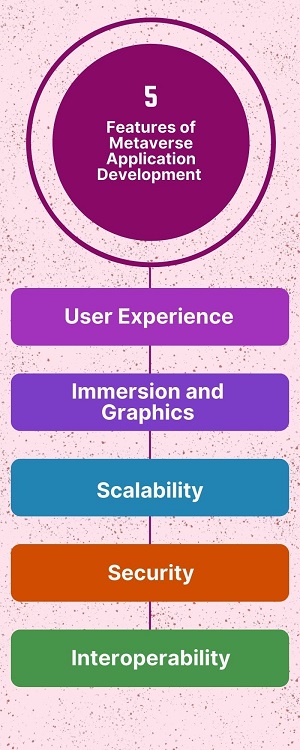 1. User Experience
It is paramount in any app, particularly in the Metaverse applications where an app user spends a significant amount of time. Thus, it is necessary to make an intuitive and user-friendly interface app which is easy to navigate.
2. Immersion and Graphics
Building a successful and progressive Metaverse application ensures realistic and immersive graphics. It aids you in creating a sense of the presence of users and makes them feel that they are in the real virtual world.
3. Scalability
Considering the scalability while developing mobile applications, you require much user support. So, it is vital to use efficient algorithms and data structures which handle and control a massive amount of data.
4. Security
It is the most important concern when you have sensitive data in your applications. Integrating measures to protect your data and prevent unauthorized access is necessary.
5. Interoperability
Applications for the Metaverse must be able to communicate with a variety of other programmes and services. Hence, it is necessary to use standard-based protocols and interfaces to ensure compatibility.
What Does Metaverse Provide?
Metaverse is a new buzzword, and everybody has little knowledge about it up to some extent. The majority of people are aware of its features and the way it is going to change the world for future generations. Most people are not aware of what it means in the real world. If you have no idea, here are the few things you expect the Metaverse to deliver.
1. Persistency
Expect the constantly great virtual world experience without resets, pauses, or ends.
2. Synchronous and Live
One pitfall of real-life experience is the lag, unscheduled events, and the self-containing events happening around us. It will not exclude these events but gives consistency to each user in real-time.
3. No Cap on Concurrent Users
An infinite number of users becomes part of the Meta experience without interrupting anyone's experience. Everyone will get a sense of presence while participating evenly.
4. Easy on Budget
Metaverse is promised to be open for everyone by providing an economic plan for enterprises and individuals. However, participants will develop, invest, own, and achieve great rewards.
5. Connected and Flawless Digital Experience
People believe it gives a flawless digital experience. In reality, it will provide the experience that connects the digital and physical worlds perfectly.
Metaverse and Mobile App Development
Many people expect a change in their way of living and the world around them. However, Metaverse can not do it alone; instead, it plans to ripple of modification and collects the organizations around it to support its initiative. As per experts, app development tools and technologies which Metaverse has introduced in future will affect mobile app development in several ways.
Few people recommend engaging the only features of mobile apps currently in the market. On the other hand, many believe how mobile apps are developed will be modified forever and for good. Here are some major ways a Metaverse can affect the procedure of development of mobile apps.
1. Virtual Reality
Nowadays, virtual reality is only used in games and meetings. However, these apps allow people to connect with their loved ones or spend their free time in fun and enjoyment. But with the support of Metaverse, many goods are expected to be updated in the mobile app development industry.
With this new and advanced trend, virtual spaces will not be limited to only meeting rooms. Apps in the future is predicted to support showrooms, malls, stadiums and virtual factories for the in-home and real-time experience. Hence, app developers are increasing their skills as the demand for apps will increase shortly.
2. Augmented Reality
Including augmented reality in mobile application development is low. However, it wasn't very easy to support augmented reality as programmers either did not have proper tools or were under-skilled to utilize these tools at their access. Metaverse is taking control of many mobile app development companies by introducing new tools and technologies.
Metaverse is expected to deliver tools which make it easy for engineers to add augmented reality in one way or another n the applications. The tools introduced are easy for developers to learn, so they would not have to worry about learning before practicing their skills.
Recently, Metaverse has introduced the Horizon Home as its home base app. In its early stages, this app still gives users the feeling of being at home while they are kilometers away. Hence, various family members can sign in by wearing their headsets and feel in the comfort of their homes to watch movies, play games, or listen to music altogether.
3. Smart Glasses
Metaverse's smart glasses promise to give users the extraordinary experience of virtual and augmented reality, and many people are expected to get hooked on them. It is the gadget which almost everyone will be wearing in the future. This will affect the demand for the mobile apps supporting these glasses. Eventually, companies will have to begin the launch of mobile apps supporting smart glasses.
It makes the Metaverse mobile app development process complicated and time-consuming as developed apps must be compatible with smart glasses. Mobile app developers must begin preparing themselves for this new addition to the procedure, as the future is not very far away.
4. Delivery Time is Faster
Metaverse has introduced new technologies and tools, decreasing app development time. With the help of these new technologies, developers will be able to finish their work with ease. It is also believed that these tools will include some imported libraries to implement the appropriate modules in the mobile app rather than the functionality.
5. Payments and Metaverse
Metaverse's objective is to benefit from the real world and take payments. A virtual economy revolves around goods and currency that exist only virtually, so transactions should be easy and cheap. Hence, it makes the application more attractive for people to shift to the virtual world.
With the increasing popularity and usage of Metaverse, mobile apps will be expected to support a virtual payment system for smooth transactions. Therefore, it increases the scope of virtual currency, and much development is expected in this domain.
Also Read: Which is the best Payment Gateway in the USA in 2022
What is the future of Metaverse Mobile App Development?
As it is seen that the world is increasingly becoming digital, the demand for immersive 3D experiences will only continue to grow. The technology behind the Metaverse app development continues to evolve, expecting something new, amazing, and innovative apps to be created.
Some well-known uses for Metaverse apps include gaming, training, education, and social networking. As technology advances, you can expect to see more uses for Metaverse apps emerging.
For instance, with the advent of augmented reality, the Metaverse app is used for everything from marketing and advertising to engineering and architecture.
The possibilities are endless regarding the future of Metaverse app development. So, if you want to get engaged in this growing and exciting field, then it is the perfect time to do as the demand for Metaverse app developers will rise.
Conclusion
The need for mobile applications created with Metaverse tools and technologies is growing and is anticipated to grow. In the same scenario, most organizations are looking for development companies that turn your app ideas into reality since it will take the mobile app development companies time to upskill their engineers, as ideas are not implemented as early as expected.
Bosc Tech Labs is a leading-edge IT solution provider with a decade of experience delivering innovative and cutting-edge solutions to its clients worldwide. We employ a group of experts with years of experience in the newest techniques and trends in mobile app development. A team of dedicated and passionate professionals who is always ready to take on challenges and deliver the expected results.
We also provide a wide range of services which includes Metaverse app development, AR/VR app development, and so on, as we have the essential skills and expertise to develop high-quality apps which meet the certain needs and requirements of the clients.
Contact us today and share your project requirements with us.
Frequently Asked Questions (FAQs)
1. What is metaverse app development?
Metaverse aims to build a separate virtual world for users dependent on its thoughts and augmented reality. Metaverse employs 3D avatars for users to represent themselves in its virtual world through VR to create an alternate world for the users.
2. What is the future idea of the Metaverse?
A grand vision of Metaverse is still built on a single integrated ecosystem, much like the internet. Establishing independent Metaverse platforms with unique economies and the capacity to transfer assets and objects between worlds is anticipated.
3. Which new technologies will shape the future of the Metaverse?
The new frontier of converging technologies shaping the Metaverse tomorrow, which is immersive and interconnected to the 3D world, is Virtual Reality, Augmented Reality, Blockchain, Cryptocurrencies, and Artificial Intelligence. Thus, it will define how we live, work, and socialize.
Book your appointment now