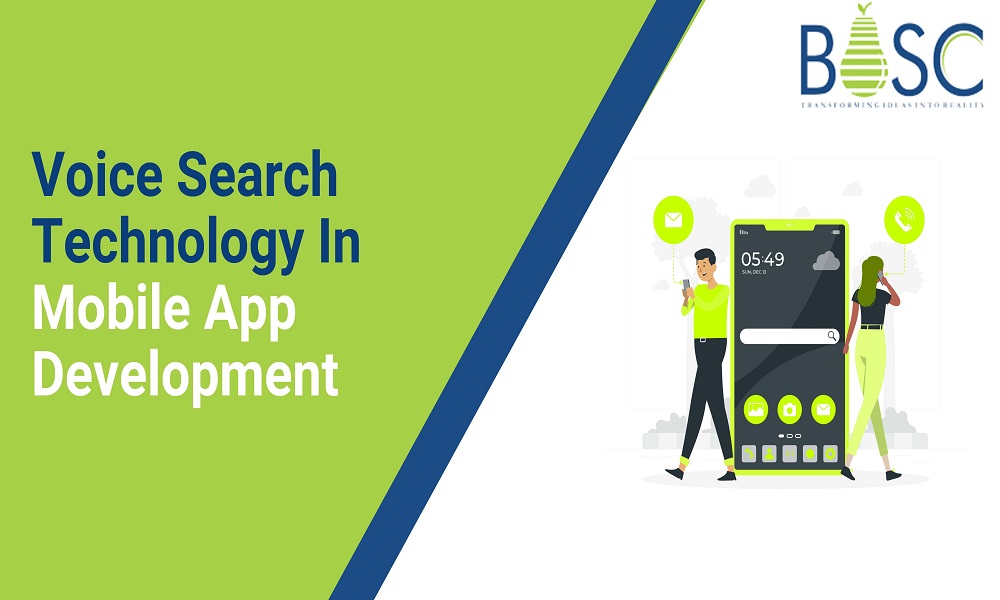 Impact Of Voice Search Technology In Mobile App Development
Nowadays, technology has been evolving at its fast pace. However, searching has become simpler with voice technology and smartphones have achieved these objectives. Approximately 80% of smartphone users utilize a voice to accomplish tasks and do potential research on the internet. Voice search is the most convenient and advantageous for multitasking individuals on the go.
Voice recognition technology paved the method for different voice-search technologies. Many technology giants such as Amazon, Microsoft and many others have implemented voice search technologies within their services and products. However, voice search integrated with gadgets has enhanced the ability to search across the internet in a streamlined manner. Voice search has improved the Google algorithms of the search engine to upgrade.
This blog will focus on the immediate prospects of voice search technology and how it is responsible for mobile app development. Implementing these latest voice search technology has enabled distinct business domains to stay competitive.
What is the importance of voice search technology in mobile app development?
As the years pass, voice search technology is becoming well-known in the digital environment. Multiple devices can run the same apps within the digital ecosystem for better functionality. However, these smart home devices can also run these apps on mobile phones. For example, if you are listening to music on Spotify on your mobile phone and desires to listen to it with an intelligent home speaker, then you can give them the command to play your playlist easily. Note the apps emphasize sharing great user experiences. Distinct social media apps like Instagram, Facebook and Twitter are mainly created to rule on social media platforms, which can be implemented with a voice search to provide better experiences.
Also, the market size was forecasted by global voice recognition to increase from 10.7 billion U.S. dollars in 2020 to 27.16 billion dollars by the end of 2026. Therefore, the estimated CAGR from 2021 to 2026 rises to 16.8 per cent.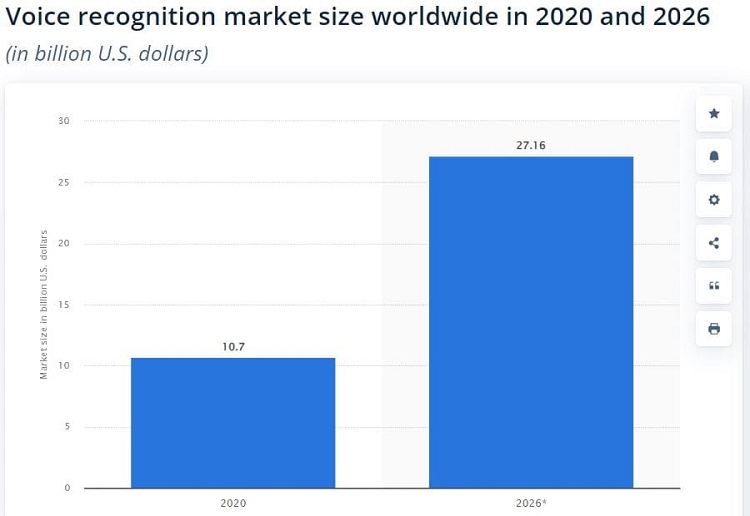 Image source :statista.com
Why is the implementation of voice search technology into mobile apps essential?
Based on market data analysis, we have multiple reasons that help you to why voice technology has significance in mobile app development services.
1. Convenient and easy
Many of the users do the voice search for the time when they are driving, cooking or involved in some other activities. Hence, it helps people in these cases, which is very simple and convenient and saves time.
2. Technology is Growing Fast
In comparison to other intelligent technologies, voice search is improving every day after enabling the integration of Artificial intelligence in the mobile app. Many businesses are doing the investment in voice recognition technology to makes mobile app utilization fast.
3. Voice searches are mainstream
When the point is to select between traditional search and voice search, then voice search becomes the fastest-growing technology as it merges into mobile apps. In the case of multitasking, it is time-saving and convenient to use.
4. Assists senior and disabled people
However, the support of voice recognition technology aids disabled and senior people to access anything on the internet. As they can not write this way, the voice technology has become a boon for them. Therefore, it makes their search effortless and convenient.
5. Supports Multiple Languages
When we talk about voice search technology for languages, one can add as much s languages as possible. As a multilingual format, voice search can view the data to the users in different methods in their native language. Hence, it delivers better information to individuals.
Benefits of Voice Search
Let's see the advantages of voice search technology below.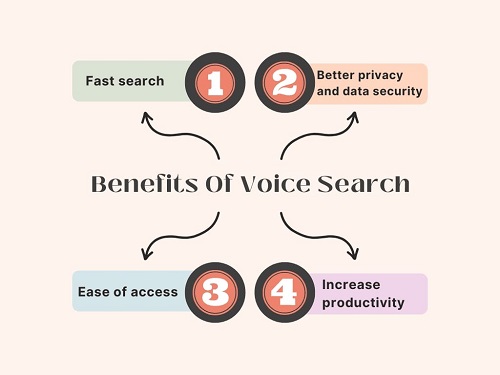 1. Fast Search
As of now, no one wants to waste even a minute because of busy schedule searching things on the internet by typing the characters, which is a daunting process. However, as time moves on, new solutions and shortcuts are released to cope with these solutions, as the answer is in the voice search.
However, a voice search's search results are accurate compared to traditional search results. For instance, the benefits of voice search in e-commerce businesses are unimaginable. They give the clients an option to browse via an inventory and will view the correct item without typing anything on the search bar.
2. Better privacy and data security
Earlier was the days when everyone was worried about the privacy and security of data. Still, voice search technology has taken safety to a new and advanced level.
3. Ease of access
Android and iOS operating systems have a relevant voice assistant for easy accessibility; hence, all your apps are just one command away. Thus, phone calls or booking tickets is possible with voice search.
4. Increase Productivity
With voice recognition technology you can take your business productivity to the next level by managing multiple tasks. It will bring efficiency to your life as you will save time typing and searching on the internet, and rather than speaking to the phone's mic, you will view all the results at a glance.
How to implement voice search technology into your mobile app?
To merge the voice search technology in your application, you must look for multiple things, including deployment models, third-party SDKs, etc. You can get the best app development services to do all this complicated stuff for you professionally. Here are the two development models and SDKs available right now.
1. Cloud Model
The cloud model is easy compared to the embedded model, as everything will happen on the cloud server. However, the users have to only connect to the internet to access all voice search features on their small-screen devices. Hence, this model will decrease the data load on smartphones without compromising the functionalities and features of technology.
2. Embedded Model
Embedded models are suggested for regions with an unstable connection to the internet so the users can access all data without connecting with an active internet connection; there is no delay in the embedded model as the whole thing is saved on the gadget besides the cloud. But to implement this model, you are required more space, and most of the area is needed by users.
Also Read: Best frameworks for Mobile App Development
Selecting an SDK is the necessary step in the whole integration procedure, and below are some options you can consider in voice search application development.
1. SAP Conversational AI
SAP features bots which indulge you with your consumers via messages and are available for various channels.
2. Google Cloud Text-to-Speech API
This feature has more than 100 voices from around 120 languages. App developers can use this SDK to synthesize natural-sounding speech in mobile apps.
3. Rasa Open Source
It is a python based framework with all the essential features to make an end-to-end voice search solution.
4. Aimybox
Aimybox is the latest framework to develop a virtual voice assistant for your mobile app and can be implemented in minimal steps. Thus, it supports voice assistants for robots and intelligent toys.
5. Aimylogic
Help you to make voice assistants and chatbots for natural language communication with customers.
6. JAICF
It is the kotlin based framework for the conversations, which you can customize per your needs. It comes with artificial intelligence, so you do not have to do much work implementing the voice search into your app.
However, voice search technology in the market is growing and makes everything easy. But for that, you need the best mobile app development company in USA to get your things done perfectly and give the project's desired outcome.
How has voice search technology revolutionized the business?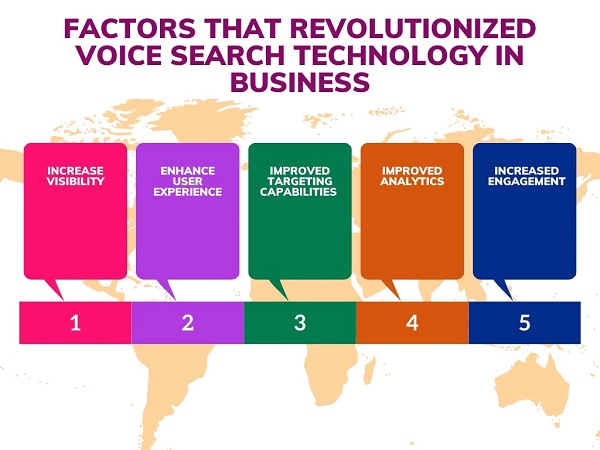 1. Increased visibility
Voice search technology has made it easy for businesses to find online. However, it has enabled them to raise their visibility on the search engine result page and on voice-enabled platforms like Google Home and Amazon Alexa.
2. Enhances user experience
It has significantly improved the user experience by giving quick and accurate results. In this way, businesses can engage more effectively with their customers and will deliver a more personalized experience.
3. Improved Targeting Capabilities
Voice Search technology has enabled businesses to target customers more precisely by giving them relevant search results tailored to specific needs.
4. Improved Analytics
Voice search technology has helped businesses to get better insights into customer preferences and behaviour. It enables them to improvise and target strategies and make them effective marketing campaigns.
5. Increased Engagement
With the help of voice search technology, businesses can engage with their customers more effectively. Hence, it results in high conversion rates and customers are more likely to interact with companies that understand their needs.
Conclusion
When we implement the mobile application, our objective should be to make it user-centric. It focuses on user experience and establishes a foundation of the app Voice search has become significant in mobile applications available across various platforms. Hence, adapting to the mobile app development trend is relevant to stay important for the audience.
Bosc Tech Labs will give custom-quality mobile applications to various industry verticals. The app developers and years of expertise in making high-quality and feature-rich mobile app development for businesses.
Feel free to connect with us!
Frequently Asked Questions (FAQs)
1. What is the effect of voice-activated technology?
Using voice-over and traditional access methods have been grown in sectors like gaming, banking, education, warehouse, healthcare, and eCommerce. It has improved the buying experience for eCommerce customers by helping them to place the raiders online.
2. What is the future of voice technology?
Technological advances make voice assistants more capable, specifically in A.I., natural language processing (NLP), and machine learning. To develop a robust speech recognition experience, the artificial intelligence behind it must improve at handling challenges like accents and background noise.
3. How will voice search work?
Voice search technology will work via an automatic speech recognition system (ASR) to transmit the voice signals into text. Voice recognition technology allows savvy device users to search by simply using their devices. Hence, voice search technology will help to translate spoken words into text.
Book your appointment now