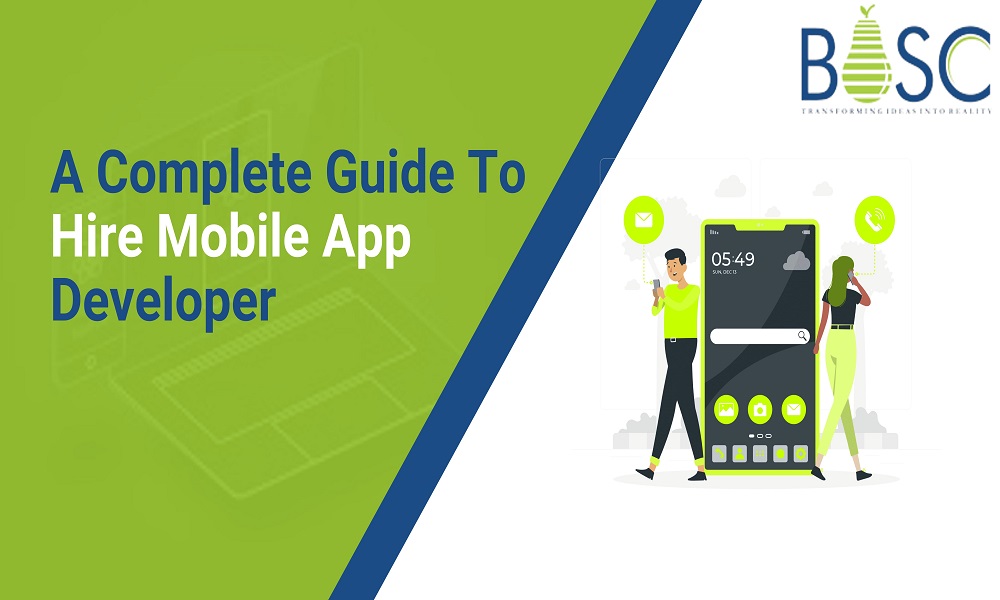 Step-By-Step Guide to How To Hire Mobile App Developer
Are you a startup founder, project manager, investor or entrepreneur looking to hire mobile app developers? Do you want to develop complex or simple apps? Do you wish to explore your current business or start a new company that wants app development?
Be clear about this, as it will affect the cost of hiring mobile app developers with the project timeline and budget for your product. The business needs to analyze the timeframe your project will take to develop and the budget for the mobile app development services.
Mobile apps are a necessary part of our life as they help us pay bills, shop, watch movies, and much more. Due to this, many industries have the idea of app development but need to learn how to hire an app developer which will be described in this article and will clear all your confusion.
It is seen that the total revenue in the app market is projected to reach US$108.10 billion in 2022. It is expected the annual growth rate of CAGR by 8.77%, which will result in a market volume of US$151.30 billion by 2026. Hence, the average revenue per download recently is approximately US$7.43.
What is mobile app development?
A step-by-step method of mobile app development is the mechanism to create mobile applications that will only run on mobile devices. These apps are either pre-installed or downloaded and installed by an app user later. The devices use the network capabilities and work with the computing resources remotely. Thus, the mobile app development procedure needs to make the software that can install on the device, enable the backend services to access the data via APIs, and test the app on the targeted devices.
What are the benefits of developing mobile apps?
Developing a custom mobile application development will aid your enterprise in staying relevant to the latest technology. Let's take a look at why developing the mobile app is necessary, which is listed below: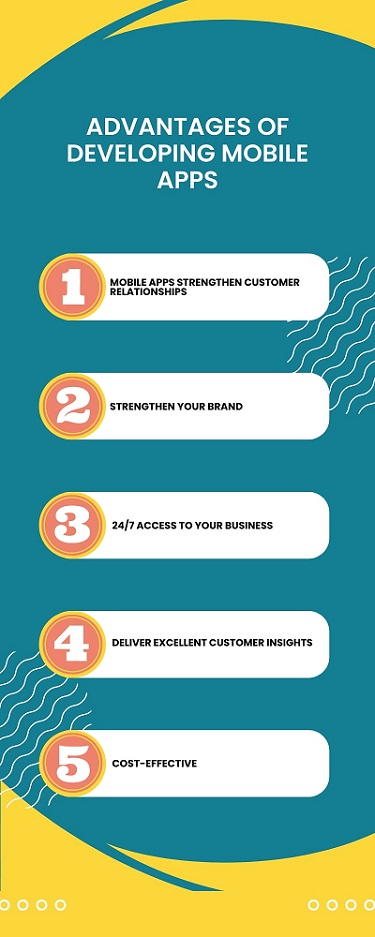 1. Mobile apps strengthen customer relationships
Most customers prefer shopping with their mobile apps as it saves time.
Consumers do not want the websites to load as they desire fast and easy access to your business services at the touch of a button.
The mobile application is an effective way to provide customers with information and services which they want immediately.
However, mobile apps are the most powerful engagement tool. Many brands only give app-only campaigns and deals to encourage engagement. These loyalty programs are an amazing way to attract and retain clients.
Therefore, all these methods will work together to create and strengthen your customer relationships.
2. Strengthen your brand
Many small, medium and large-scale businesses are now following the mobile app trend, knowing how effective the mobile app strategy is and developing mobile-friendly applications.
A mobile app will give credibility, familiarity and trust to the consumers. Its light loading speed and ease of use give a seamless experience to the app users.
3. 24/7 Access to your business
Mobile applications deliver 24*7 online services to their clients and access your products and services anytime.
With their target messaging and information, apps are much more convenient than websites and customers can have their questions answered at any time of the day without doing the communication with the actual service representative.
So, the convenience of mobile app development is incredibly valuable to consumers and will establish your brand as a reliable resource for customers, turning them again and again.
4. Deliver excellent customer insights
The mobile applications will enhance your need for marketing communication.
Like messaging, contact information, and engagement tools such as contests and campaigns managed from the application and can be branded with logos, taglines and colors.
5. Cost-effective
Mobile applications eliminate a need for tangible marketing goods and will cut down marketing campaign costs.
Apps will boost efficiency by raising engagement, improving communication, and streamlining the data, and, businesses will earn money from their apps with the ads targeted to in-app purchases.
In addition, they did not need the different infrastructure for the app development, which saved them money. You can hire a mobile app development team from other locations.
That team will work remotely with an app development company method which is also cost-effective in terms of development.
What are the features of mobile app development?
Once you have the basic idea, layout, and color scheme, you are required to think about what the consumer wants, and if it meets their requirements, you can retain your business. You must have the mobile app features, which include: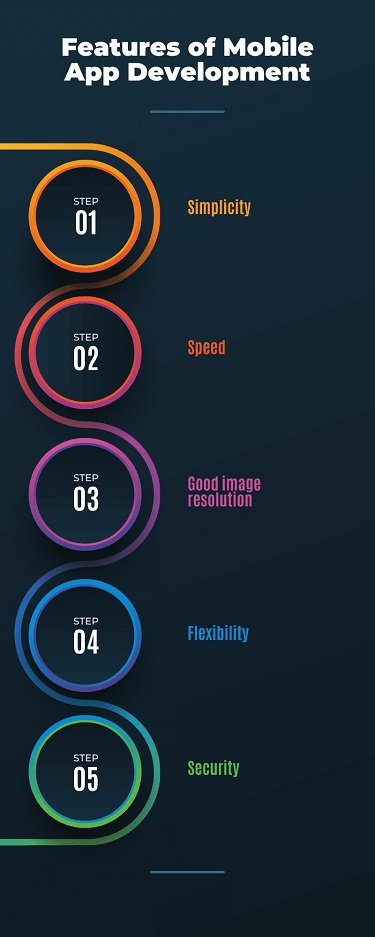 1. Simplicity
Many people have a short time, and they will lose interest if you make your app difficult to navigate.
If your client does not access your services easily and quickly, then there are chances that they will start using your competitor's app.
Therefore, clear the uncluttered screens that will improve customer experience and motivate them to continue using them.
Hence, make the app simple in terms of development and user experience so that more users can visit your app again and again.
2. Speed
The fast loading screen is necessary. No one likes to wait; when the screen load symbol is there, it becomes frustrating and does not give better results.
By reducing an app size and by optimizing the images and screen size it will increase the speed of the mobile app development.
By eliminating the bugs and errors from the app before a public release will help to improvise speed of the app.
Therefore,if the app takes more than 5 seconds to load then you must remove the issue.
Also Read: Enterprise mobile app development complete guide 2022
3. Good image resolution
Balance the application speed against the functionality and the resolution and ensure that what you have on the screen is sufficiently detailed, making the user experience valuable.
A user interface needs the great best images which attract the users to your application.
The sound images' resolution will also help earn revenue from a mobile app.
4. Flexibility
Usually, there are three types of mobile operating systems -iOS, Android and windows. It must be available on all these OS to get the best out of your application.
Android applications are easy to upload on the play store, but, in comparison to that, iOS apps are first tried and tested by apple, and if they permit, can be successfully uploaded to the apple play store.
Hence, make sure you are dealing with the various screen sizes and resolutions, so you must test both systems before uploading.
5. Security
Internet security is a growing issue, and it applies to your application.
Many apps store personal and sensitive information or credit and debit card information, so security is necessary.

What challenges do you face when you hire Mobile App Developers?

While hiring a mobile application developer, you need to be prepared to overcome the three following challenges:

1. Budget

Budget is the major concern of many businesses that want to develop mobile apps. The cost of to hire mobile app developers is totally up to you. If your project has a huge number of innovative features, then you will need a skilled and experienced programmer. Hence, you first determine the budget for your application development.

2. Time Zone Gaps

It faces problems while hiring mobile app developers in the time zone. It means that remote teams are not all time accessible, and it automatically delays the project milestone. They are dependent on project management tools like Trello, etc. And the conversation tools such as Slack, etc.

3. Lack of in-person communication

When you recruit mobile app expertise from another region, you feel a conversation gap. You can not view the work in progress or wish to share fast feedback when the coders are working live on your project.

4. Cultural differences

Businesses in the United States and Europe ultimately outsource their mobile app development. It gives rise to cultural and geographical differences because of the physical distance between your organization and the expertise working remotely. A company that operates and delivers its services to consumers may vary depending on the culture and holidays they follow due to religious preferences.

How many steps are there to hire mobile app developers?

We will help you select the perfect mobile app developers with the skills you need, industry knowledge, and experience to deliver a successful app. Let's see the process for hiring mobile app developers that give huge success.

1. Understanding requirements:

We will first do in-depth research, analyze your precise requirements connected with mobile app development, and recommend the best hiring models.

2. Screening the candidates

Depending on the needs and intelligence, we will shortlist the appropriate candidates as we have a talented pool of resources.

3. Conduct Interviews

After the candidates are finalized, we will conduct interviews and tests to finalize your project's mobile app developers.

4. Finalizing the developer

The results of the interview will help to get the best mobile app developers who will do the work on your project.

5. Onboarding

We will support you in onboarding the finalized mobile app developer and guide them via the company protocols, policies and work methodologies.

6. Monitor the performance

We will continuously keep an eye on and monitor the mobile app developer who is working on your project and ensure that you will get the maximum ROI from your investment.

Why hire mobile app developers from Bosc Tech Labs?

We are the first preferable choice of the users with our ability to provide high-quality solutions.

1. Dedicated to support

We not only focus on delivering mobile app development services but also aid our customers to grow in their businesses by providing complete support.

2. The experienced and talented team

Our mobile app developers have developed more than 100 apps for various domains without compromising their quality.

3. Smooth and Flexible app

Hire dedicated mobile app experts with experience in every programming language needed to create the mobile application.

4. Lead in industry

Having so many years of experience, we have learned the various methods that make your clients happy, along with our solutions and development.

5. Flexible Design

Our skilled mobile app developers make the fluid design and user interface easy and simple, making our app easy to use.

6. 10+Years of experience

We deliver talented and experienced mobile app builders in a manner to achieve success in your business in this competitive market.

How many engagement models are there to hire mobile app developers?

Being an award-winning mobile app development company in the USA, we give flexible business hiring models from which you can hire the best app developer or team for your project.

1. Hourly hiring

It works 8 hours a day, five days a week.
The project's deadline depends on the app's functionality and features.
An app payment is made monthly, weekly or daily.

2.Full-Time hiring

The experienced and dedicated experts you hire will work only for your mobile application.
It works 8 hours daily for your project and will update the status of your application.
The payment is made every month.

3. Part-Time hiring

In this model, the developers will work only a few hours on your application development.
During the day, they work 4 hours and 8 hours in the one month.
The payment is made primarily, and an app's deadline depends on the application's complexity.

Conclusion

Mobile applications are gaining popularity globally, so mobile app developers are in great demand. Before hiring a mobile app development company like Bosc Tech Labs, you should have a clear idea about your mobile application and the expectations of mobile app developers.

By combining all the above-discussed factors, you must take the decision which benefits it and boosts your economy. Beyond that, you should also consider important factors like time zone, location, experience, etc.

Frequently Asked Questions (FAQs)

1. How long does it take to develop a mobile application?

It normally takes 4 to 5 months to develop a successful application ready for public release. But remember, this time frame does not include a product definition or the designing stages of creating a mobile application.

2. What is the objective of mobile app development?

The mobile app development has three goals they should achieve: User Growth, Brand awareness and Engagement of users. With this, they make their app successful in the market.

3. Why have mobile apps become the future?

Mobile applications are mostly used because they can interface with sophisticated and complicated technologies like AI, ML, IoT, etc. The Internet of Things is considered the future of mobile app development.


Book your appointment now