Mobile App Development Trends For 2023
Mobile app development is where you can transform your ideas and move towards innovation. It is an industry which is growing bigger, immense, and providing the hub of endless opportunities. To stay out in this competitive and digital world, you must become familiar with the different mobile app development trends.
To bring innovation in your mobile app development Bosc Tech Labs delivers a satisfactory customer experience. In this article, we will give the idea about essential facts which you can assemble as an effective strategy to lead an industry.
If you want to succeed in the marketing strategies of the mobile app development procedure, then you should remain updated with the latest app development trends in your marketing approaches. This article will delve deep into the recent mobile app development trends which are going to be useful in the year 2023.
Benefits of mobile app development
Mobile apps have become the necessity of every business, whether it is a small or large-sized business. And as a business owner, you can not ignore the benefits of it. Let's see how it is beneficial for business.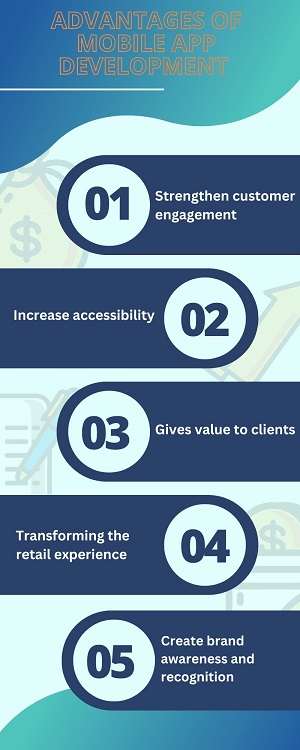 1. Strengthen customer engagement
It is the most vital benefit of mobile apps to its businesses. It will help in making a direct marketing channel between an enterprise and its consumers that gives them direct and effective communication. With the help of your mobile app, you can install and send push , in-app notifications to as many customers as possible. If your notifications carry the relevant information, then the customers will get attached and opt for you whenever they need it. Hence, it will create your brand awareness and it becomes loyal all over the world.
2. Increase accessibility
It allows a business to send a notification about what is new or what has modified their services or products. It will build a strong customer relationship with the clients, which will create a genuine customer base and strong loyalty. Businesses are also trying to establish a strong relationship by providing special discounts to their old clients within the mobile app.
3. Gives value to clients
With the help of mobile apps, it is possible for you to digitize any loyalty programs for your consumers . Instead of using the traditional method of cards, they can get their rewards via mobile apps. Hence, it would result in a greater number of downloads and return more consumers.
4. Transforming the retail experience
Mobile applications development guide help the retail experience to transform, which gives them an opportunity to stay ahead of the competition and give a great customer experience to its users. It has also cut down store costs and increased profitability. Hence, there are multiple businesses which are developed and are totally dependent on mobile apps.
5. Create brand awareness and recognition
Mobile apps are an effective tool for making recognition of the brand and its awareness. The purpose of the mobile app development is to link their customers to their selected products and services. If you have satisfactory services or products in your app, then there are chances that more customers will use it and also give reference to their friends and relatives. So, make sure that your mobile app is attractive and give more clients. Hence, in return, you will get the most ROI for your business.
Also Read: Integration of Payment Gateway with Mobile Application
Which are the leading mobile app development trends that are going to dominate in 2023?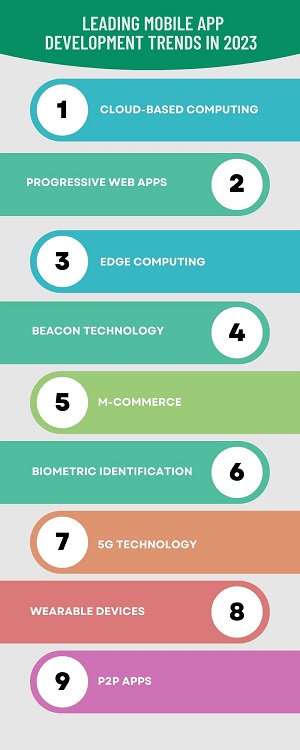 1. Cloud-Based Computing
Mobile devices have limited memory and storage, and it is necessary to centralize the source of the data on the cloud. This has led to the explosion in cloud services that offer from large names like AWS, Oracle, IBM, Google, and Microsoft Azure to many small companies. Hence, the mobile apps of the future need the cloud backend to store and access data and computing power from the cloud.
As the faster advancing computing power will create and analyze huge data sets, the future mobile apps run advanced algorithms with AI and ML.
2. Progressive web apps (PWA)
PWA is a combination of mobile apps and websites. The most important benefit of web applications is that they need a minimal time to develop in comparison to conventional apps. It also gives them more functionality and you can preserve them on your PC.
During the pandemic, the importance of the web app has increased, due to a significant rise in the online buying activity of people. Many of the B2B and B2C enterprises have noticed an upsurge in interaction, conversion rate and revenue.
These apps are also flexible and smoother than the native apps as they do not confuse consumers to make the complicated decision. Also, users can not see any standard setup procedure. Hence, by tapping a single button, the shortcut is seen on the desktop or home screen. Web apps have taken up some space with the necessary files but they are far less than the native software or apps.
3. Edge Computing
Nowadays, many businesses are getting the benefit from the cloud, and it is rapidly increasing. Edge computing is one of the finest approaches for delivering assurance on the network. It has a centralized information system structure in which the client data is managed as the initiating sources as feasible at the network's edge.
Edge computing has changed the billions of IoT and machines generate, store, process, examine and transfer data. The major objective of edge computing is to decrease the cost of data incurred while moving the basic information from its origin to the cloud computing infrastructure or cloud. An emergence of legitimate apps which demand low waiting times, like the autonomous cars , has executed this concept.
4. Beacon Technology
Beacon Technology is the other mobile app development trend for 2023. It is a bluetooth gadget which sends messages to other bluetooth systems, like mobile phones.
However, it sends one kind of notification number to inform a listening machine that the beacon is adjacent to it. Whenever the mobile app comes in contact with a beacon, it will interpret beacon information, determine what activity is provided for data and will perform that activity. Hence, due to this, the beacon technology has grown dramatically.
5. M-commerce
M-commerce is applied to any of the commercial trade that is performed via apps or mobile websites. It is generally defined as the subgroup of e-commerce or the mobile site of e-commerce.
The mobile commerce application division is increasing quickly and the distribution of online shopping has been possible after the smart mobiles came into the market. The mobile sales are handy and more individuals across the globe access mobile phones and tablets and the ability to do mobile shopping is continuously increasing.
Mobile commerce is usually related to the e-commerce stream on the desktop in which a consumer crawls your websites, clicks on the site and tends to make the purchase decisions. As it is usually done via dedicated mobile apps.
Hence, there are various methods for making m-commerce acquisition and e-wallets are growing rapidly.Instead of entering credit card information in each app an user wallet is equipped and payment is completed with a simple tap of the button.
6. Biometric identification
App development trends in the case of safety are becoming substantial and more complicated. Hence, biometric technology has the need for a privacy protection feature for payment gateway. It enhances security multiple times, but enables quick verification and procedure. The facial recognition and fingerprint reader is the most popular example of this technology. Hence, this type of mobile app trend will substantially enhance the security of client's data.
7. 5G technology
5G technology has great impact on mobile app development. The wireless network is in great demand for all industries. 5G is giving the great connectivity standards to mobile apps with the desired features and purpose without affecting their overall performance. Hence, by integrating this technology, the app development process emerges.
As per the latest study by Global Wireless Solutions, about 5G usage says that more than half of the U.S. consumers accessed 5G networks in the year 2022. However, GWs found that this number grew by 43% in 2021 to 61% this year.
"It means that approximately 42% more clients are accessing 5G in 2022 than 2021, a necessary rise in the 5G network by the single digit, i.e, 7%. GWS says that 83% of consumers live in an urban area. That is an increase of more than 35% from 2020 to 2022 which is really impressive."
8. Wearable devices
These devices are trending everywhere in the world. We have been utilizing smart watches, fitness bands, and smart wearable devices. All these devices have modified their interaction with smart gadgets.
However, every wearable gadget requires a variety of platforms to run the services. For example, Apple smartwatches need the iOS system and android smartwatches need the android system to run and execute their services. Mobile app developers have the option to implement apps with wearable devices.
9. P2P apps
P2P applications are the new forms of digital payments which are being worked on in the network. As it is seen that the number of mobile phones and their abilities are rising day-by-day. The mobile is a multi-purpose gadget that allows access to various functions which make your life convenient and simpler.
The most recent technology and solution is the NFC module. Mobile development can be employed as the payment method. With the help of peer-to-peer mobile apps, money can be exchanged between clients without the need for an NFC module.
Peer-to-Peer apps are third-party applications which permit you to put in your bank data and do the transactions. In this way, consumers can ignore ATMs and cash withdrawals by conducting all digital transactions. Therefore, these apps are user-friendly and easy to use.
Conclusion
If you are searching for the next big opportunity in business or want to transform your business digitally, make sure to include the latest mobile app development trends for your overall strategy. Mobile apps will give access to newer markets, help you to reach closer to users and engage directly in the transactions.
The app world is revolutionizing at a very fast pace. However, mobile users are changing their tastes all the time and new technology is popping up every day. If you want to develop an app with unique and innovative features, then consult the best mobile app development services in USA who are ready to assist you and give you the best.
Frequently Asked Questions (FAQs)
1. What is the purpose of mobile app development?
It is the type of application software designed to run on a mobile device like a smartphone or tablet computer. These apps frequently serve to give users similar services to those which are accessed on PCs.
2. What is the most essential thing in the application development process?
Research is the first and most important part of developing the app. Create every detail of a project only to see that someone else is either doing the same in a similar way. So, you should do this research carefully so that you do not pass out even minor details.
3. What is the future of app development?
The apps of existing technologies and the integration of advanced technologies will continuously foster and grow the mobile app development industry. Hence, the motivation of an app developer is to get into the action.
Book your appointment now