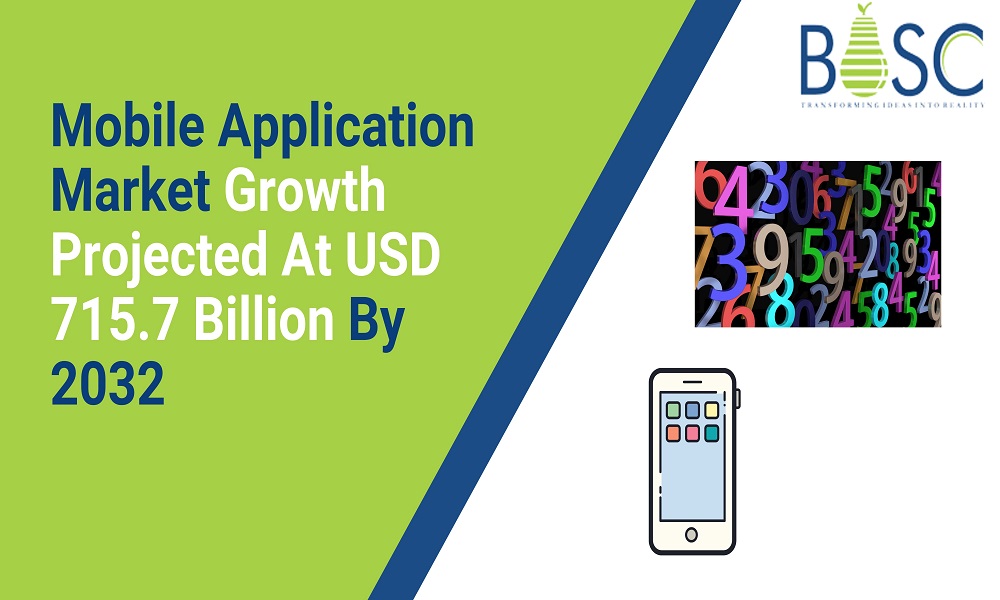 Mobile Application Market Size to Reach USD 715.7 Billion in 2032
The global mobile application market size in 2022 was USD 208.5 billion in 2022, and it is assumed to reach USD 715.7 billion at the end of 2032 with a CAGR of 13.2%.
Overview of the Mobile application market size
The mobile app market has experienced a considerable rise in recent years, driven by the massive adoption of smartphones and tablets. Over 6.5 million apps are available across different platforms, including iOS and Android, and this market has become highly diverse and competitive.
From social media to management system app development, mobile apps are now available for various purposes. Unique applications, such as those for mental health, language learning, and personal finance, have emerged and offer users innovative ways to improve their lives.
The market's growth has been driven by various factors that add to the increasing demand for mobile gadgets and the availability of low-cost app development tools. Hence, the industry is projected to cross the trillion-dollar mark and make it the most lucrative sector in the tech industry.
However, to succeed in this competitive market, mobile app developers build functional and unique products with factors like user experience, marketing, and monetization. The mobile app market is continuously evolving and expected to grow with new and noteworthy apps that change how we live and work.
Market Application Market Research Report Statistics
The worldwide mobile application market size in 2022 was USD 208.5 billion, and it is expected to reach USD 715.7 billion by 2032, with a CAGR of 13.2%.
Social Media apps are the famous category on Google Play and App Store, followed by gang, entertainment, and education.
A trending messaging app across the globe is Whatsapp, with 2 billion monthly active users.
The mobile app market is showing no signs of slowing down, with constant growth projected in the future.
Thus, the mobile app market is dominated by the major players, including Google, Apple, and Facebook, which have the most popular app stores and social media apps.
What are the trends in the mobile application market?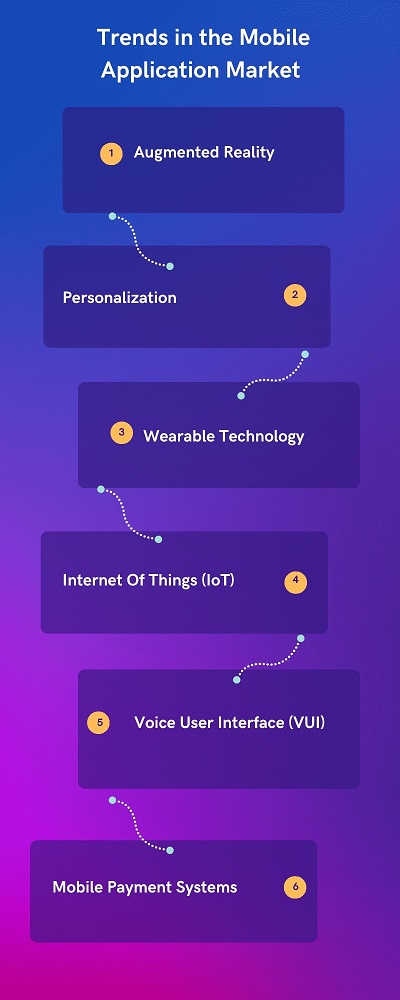 1. Augmented Reality
AR technology is achieving popularity among mobile app developers. An app that implements AR technology, like Pokemon Go and Snapchat, gives users a unique and interactive experience.
2.Personalization
Mobile apps allow users to customize an experience and make it more popular. Personalization ranges from simple things like modifying a background color to huge complicated features like personalized recommendations dependent on user behavior.
3. Wearable Technology
With the rising popularity of wearable technology, mobile apps are created particularly for wearable gadgets, which are becoming more common. However, these apps give users hands-free access to essential data like fitness, weather, and news updates.
4. Internet Of Things (IoT)
Mobile apps implemented along with IoT gadgets, like smart home devices, are becoming much more popular. These apps allow users to control their intelligent appliances from their smartphones and create home automation more accessible.
5. Voice User Interface (VUI)
The use of voice commands to interact with mobile apps is famous, and apps like Siri and Alexa have become mainstream. An app integrated with VUI technology allows users to perform tasks hands-free.
6. Mobile Payment Systems
With the rise of mobile payments, mobile apps implemented as payment systems are now standard. However, these apps permit fees directly from their smartphones, making the transaction faster, easy, and more convenient.
Which are the factors that restrict the growth of mobile applications?
1. Market Saturation
As the number of mobile apps in the market rises, it becomes increasingly complicated for the new apps to stand out and attract the user's attention.
2. Limited Resources
Creating a mobile app needs vital resources like time, money, and technical expertise. Small businesses and independent developers might need more resources to develop and market the apps effectively.
3. Platform Fragmentation
Different mobile operating systems like Android and iOS app development will make it challenging for programmers to ensure compatibility across all platforms, which may lead to consistency in user experience.
4. Security Concerns
Mobile apps have become more sophisticated and vulnerable to security breaches and data theft. Hence, it leads to the loss of user trust and affects the whole industry's reputation.
5. User Acquisition Costs
Millions of mobile apps are available in app stores; it is challenging to attract new users. However, engineers must invest tremendous money in marketing and advertising to get visibility and attract users.
Also Read: Steps for iOS Developers to Submit an Application to Apple App Store
6. Poor User Experience
If the app is complicated or has a poor user interface, users may rapidly lose interest and uninstall it. An expert must prioritize the user experience to retain and get a broader audience.
7. App Store Approval Process
This procedure can be lengthy and complex, delaying the release of new apps and updates. Hence, it can be challenging for small businesses and independent programmers with limited resources.
8. Device Compatibility
Mobile apps must be compatible with a massive range of devices and OS and will make the technical complexities for coders. Hence, compatibility issues may result in a poor experience and negative reviews.
9. Limited Monetization Options
Developers may need help monetizing their apps beyond in-app purchases and advertisements. It is complex for developers to get revenue and sustain their businesses.
10. In-App Purchase Frauds
It generates revenue for the experts and can be targeted for fraudulent activities. Hence, the experts must ensure that their in-app purchase systems are secure and user-friendly to prevent fraud and maintain user trust.
Also Read: Impact Of Voice Search Technology In Mobile App Development
Mobile Application Market Dynamics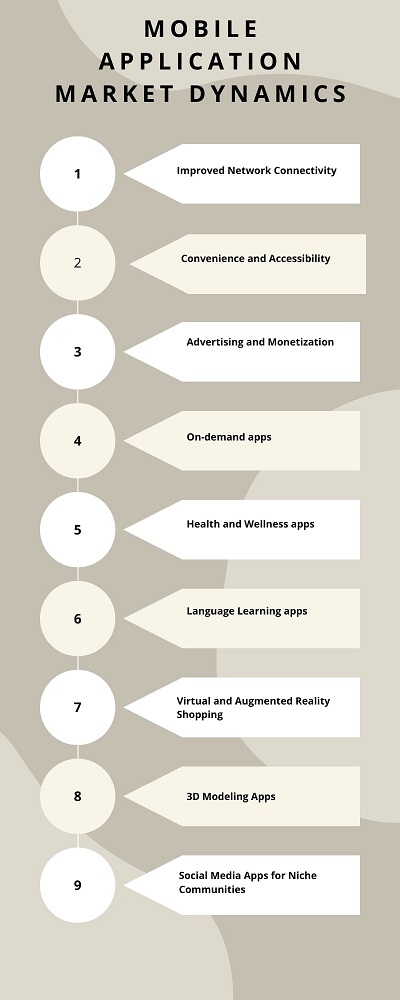 1. Improved Network Connectivity
The availability of high-speed internet and 5G networks have made it easy for users to download and use mobile applications.
2. Convenience and Accessibility
Mobile apps give users a convenient and accessible way to access information, products, and services.
3. Advertising and Monetization
Provide opportunities for enterprises to advertise their services and products and generate revenue through in-app purchases and subscriptions.
4. On-demand apps
On-demand apps like Uber and DoorDash are becoming more popular and giving users easy access to services on the go.
5. Health and Wellness apps
This type of healthcare app development provides health-related information; tools are becoming standard for ordinary people.
6. Language learning apps
Apps like Duolingo and Udemy are popular and give users a convenient and cost-effective way to learn new languages.
7. Virtual and Augmented Reality Shopping
An app like IKEA place allows users to virtually try on clothes and place the virtual furniture in their homes.
8. 3D Modeling Apps
It allows users to develop and manipulate 3D models on their smartphones.
9. Social Media Apps for Niche Communities
Social media apps for niche communities like Nxtdoor and meetup are becoming more popular and allowing users to connect with like-minded individuals.
Mobile Application Market Size Overview by Region
North America's mobile app market share is rapidly growing globally, characterized by a high degree of innovation and competitiveness. The world's leading technology companies like Google and Apple have dominated the market with their respective mobile OS, Android, and iOS. This region has a vast user base and has driven mobile app development across various industries like healthcare, finance, etc. In addition, the North American market is also hugely receptive to the latest and emerging technologies like AR and VR, which have opened doors of new opportunities for developers and entrepreneurs.
Asia-Pacific region mobile app market share is the largest. This region is also characterized by diversity in language, culture, and regulatory environment, giving chances and challenges to mobile app developers. For instance, the gaming market in Japan and South Korea is developed and lucrative, with mobile games like PUBG and Fortnite providing billions of dollars in revenue. E-commerce, mobile payments, and social media growth drive Southeast Asia's mobile app market.
Europe is the other key market for mobile apps, and significant regional variations in user behavior, regulatory environment, and market maturity mark it. UK, France, and Germany have well-developed mobile app markets with a powerful emphasis on user behavior and data protection. The mobile app market in Eastern Europe is in its initial stages, with limited consumer adoption and a need for regulatory checks. However, this region has tremendous growth potential in social media, mobile games, and e-commerce.

Conclusion
By reading this blog, the mobile app market size will constantly grow significantly in the next decade and reach USD 715.7 billion in 20232. Hence it provides excellent opportunities for businesses to focus on increasing the demand of their users related to mobile apps. Thus, investing in mobile apps is likely a wise and accurate decision.
However, by viewing that mobile app market is constantly booming in the market. To develop a new mobile app for your business, connect with an app development company like Bosc Tech Labs (www.bosctechlabs.com) for your following enterprise apps. Feel free to connect with us!
Frequently Asked Questions (FAQs)
1. Do mobile apps create money?
While the app is free to download, you can still earn money depending on interactions or advertisements viewed within your application. The in-app advertising revenue model is primarily considered and found to be profitable.
2. How much time does a developer take to develop an app?
An estimated time to create an app with Discover, design, development, and deployment takes around 7-12 months. Hence, if you have a larger development team, then it speeds up the development procedure.
3. What is mobile app development?
Mobile app development is the process of making software apps that run on mobile devices and utilize a network connection to work with remote computing resources.
Book your appointment now