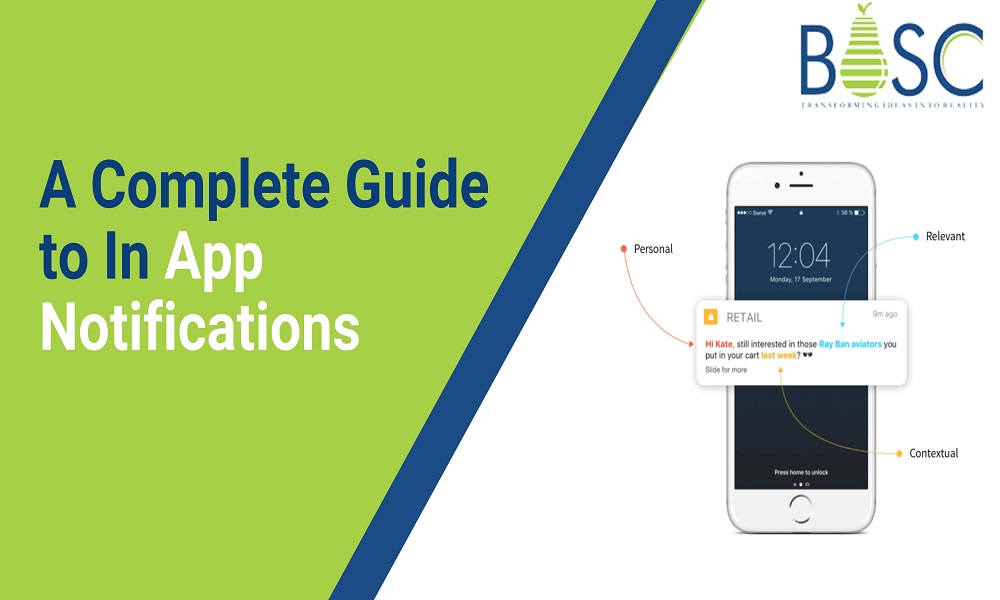 Everything to Know About: In-App Notifications
Suppose you are the app owner and want to keep your user engaged. Then, you must convert your user to a paid user. However, you require the in-app notifications to educate the users and inform them about any new updates and help them while using an app. As the app owner, you must understand in-app notifications, the best tool to engage users.
Now, let's see the in-app notifications in brief through this guide. We are the leading mobile app development company in USA, and we also know how in-app notifications work and how you can benefit them to involve existing and new users and get revenue and profits.
What are in-app notifications?
The in-app notifications are the notifications that view within the app to onboard the new users and encourage the app user to take more action and drive user engagement to boost sales.
For example, a social media app will notify when any new comment or like is received on the post, enabling the user to display and interact with the comment or like without leaving an application.
The in-app notifications are also helpful in announcing new features, promoting offers, and guiding users with new features and functionality.
However, these in-app notifications come in the form of small screens, pop-ups, or small overlays based on the mobile app development user interface. Hence, these notifications help in user retention.
Also Read: Which Are The Best Practices For Android Mobile App Testing In 2023?
Importance of in-app Notifications
In-app notifications come with several advantages. Hence, sending the in-app notification is necessary to market the app to get profits by moving forward with the user journey and marketing segments. Let's see the pros of the in-app notifications below.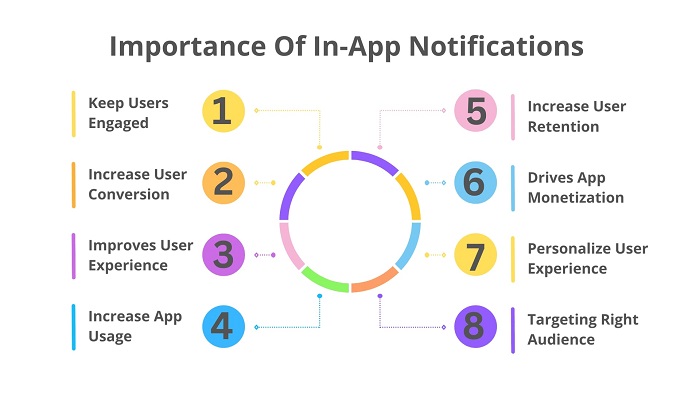 1. Keep Users Engaged
In the in-app notifications, it aids a user in keeping engaged with an app by alerting them to new or significant events or the padres within the application. Hence, it helps to keep user retention and encourages the constant use of the app. Thus, you will need step-by-step understanding of mobile app development to keep users engaged with your app.
2. Increases user conversion
It is utilized to encourage the users to take a particular action within the app, like making a purchase or finishing a task. Hence, by reminding the users of the necessary actions they need to take, the in-app notifications help to increase user conversion and drive the desired behaviors within the application.
3. Improves User Experience
When you have an idea about the demographics and behavior of your users, you can enhance the experience for users with personalized in-app messaging. For instance, messaging apps such as WhatsApp make use of in-app notifications to alert users about new messages and will make it easy for them to remain in touch with their relatives.
4. Increase App Usage
When the users take action after viewing any notifications, it will usually raise the app usage. For instance, social media apps such as Linkedin make use of in-app notifications to alert users about any new comments or likes on their posts, which will encourage them to be involved with followers and make relationships within the app.
5. Increases User Retention
In-app notifications are a great way to bring users back to an app by giving them discounts and sales updates. Hence, it is helpful for those apps which the users need to use regularly, and it supports them to keep the app in mind for the user.
6. Drives App Monetization
It is used to promote in-app purchases or encourage users to take particular actions which are part of your app monetization strategy.
E.g., Gaming apps such as CandyCrush make use of in-app notifications to alert users about any new levels of challenges available for the purchase or to remind them to watch an ad in exchange for the in-game currency.
7. Personalize User Experience
It is tailored to the specific preferences and interests of the particular users, which helps personalize the user experience and make the app more relevant and engaging for each user.
8. Targeting Right Audience
In-app notifications are tailored to various segments of users depending on behavior, demographics, location, and various attributes. It helps to deliver the right message to the right user at the right time and increases the chances of conversion.
What are the various types of in-app Notifications?
Now, let's see the mobile application development in-app notification types, their description, and their best usage.
1. Notification Bars
It is also called the announced bars, is small and colorful, and will make the users aware of flash sales, discounts, updates, and new services.
2. Modals Notifications
These notifications are huge and pop up whenever the app is open. It is most probably used for user onboarding, signup, and display of new feature launches.
3. Tooltips
It is the fast notification type that helps you to communicate with users and accept their exceptions. It is utilized in announcements and updates on new features.
4. Hotspots
It comes with a concise message with the use of a beacon. This notification type is used in signup onboarding flows and the login pages.
5. Microsurveys
The set of particular questions is carried out to take instant surveys from the users. Therefore, it is used in the personalization of mobile application development.
Also Read: Impact of 5G on Mobile App Development
Best Practices of In-app notifications
Let's see the practices of in-app notification and how you can increase the engagement rate of mobile application development with the top trends.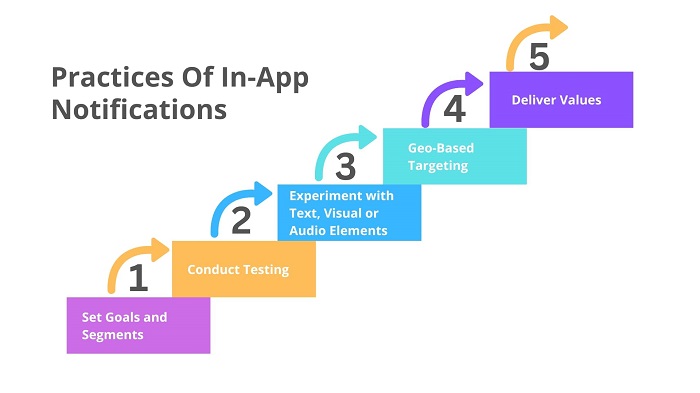 1. Set Goals and Segments for Different Audiences
It is evident that every user is unique, and you have to identify customers based on their persona to build various messages to target each user. It should be rolled out at the correct time, and the perfect moment is to get the most out of an in-app notification.
2. Conduct A/B Testing
Messaging is the most critical part of in-app notifications to make the users feel about your product or service. However, users should realize that a product is essential to them and should go for it.
In addition, the most critical thing while sending the in-app notifications is the perfect timing. The best words will only aid you when your time is good. Otherwise, in-app notification is avoided. Thus, this is where A/B mobile app testing for the in-app notification comes into existence.
Hence, send the two notifications to 2 different separate groups to know what is working in your favor and what is not. These notifications will help you attract more users and analyze the CTR and feature adoption rates.
3. Experiment with the Text/Audio/Visual Factors
Nowadays, images engage the audience rather than the text. You have to keep on experimenting with various styles of visual, audio, and text elements. So when you are implementing the text and images, ensure the design is clean and straightforward.
In the design, you can utilize emojis, a notification bar to make your content visible, and CTAs. However, with the help of CTAs, users can take action. Hence, make the CTA button bold and write only 3-4 words internally to make it particular.
4. Use Geo-based Targeting
If you have app users worldwide with multiple time zones and cultures, consider the geolocation data of your targeted users. Send them updates on a timely basis, attracting consumers and increasing conversion rates.
5. Deliver Value
If you do not deliver quality services, then no matter what you have done, people will not trust your in-app notifications. Hence, before sending the in-app message, ask whether your design supports your primary goal.
Also Read: Impact Of Voice Search Technology In Mobile App Development
In-app Notifications vs. Push Notifications
If you need clarification about the in-app and push notifications and how they differ, it is explained in the following table with some significant differences.
In-app Notifications
Push Notifications
This notification will work inside the app, which means you can view a notification after opening an application.
This notification will work outside an app. It means you will get a notification anytime, whether you open an app or not.
The aim of the in-app notification is used to navigate and guide the app users.
The intend is to bring inactive users back on the app.
It is for active users or audience.
It is mainly created for disengaged users
An Internet connection is not mandatory.
Internet connection is mandatory.
The product team has the authority to determine whether a user can disable them or not.
Users have a right to disable push notifications.
The best use cases of in-app notifications will streamline an onboarding procedure, collect feedback and give recommendations.
A great use case of push notifications to provide transactional updates, offers, deals, and app updates.
Conclusion
In-app notifications are an effective way to grab the users in your app and keep them informed about essential updates or changes. It alerts users about new features, sales, and offers or even reminds them to take action. With the ability to reach users in real-time, they are a valuable tool for app developers. However, it is essential to consider user preferences while integrating in-app notifications and will strike a balance between delivering valuable information and being unwanted. So, in-app notifications are the most powerful way to keep users engaged and informed, but it is essential to use them wisely and be mindful of user preferences.
Hence, if you are thinking of building an app with innovative and incredible in-app notification features, consult Bosc Tech Labs, an award-winning app development company that will look after your requirements and develop a robust and feature-rich mobile app.
Frequently Asked Questions (FAQs)
1. What is the notification method?
A notification is a message that Android views outside your app's UI to give the users with reminders, conversations with other people, or other timely data from your application. Thus, users can tap the notification to open their app or take action directly from the notification.
2. What are the modes of notification?
Usually, there are two primary ways to send notifications: internal or external. Internal notifications are also called in-app messages and are sent to users within the service or product. External is known as push notifications, short messages sent to users while not using an app.
3. What are the kinds of in-app notifications?
These in-app notifications come in two types: transactional and non-transactional. Transactional notifications are set to display automatically to give guidance and help the users master the app. Non-transactional messages include flash sales offers and new feature announcements.
Book your appointment now