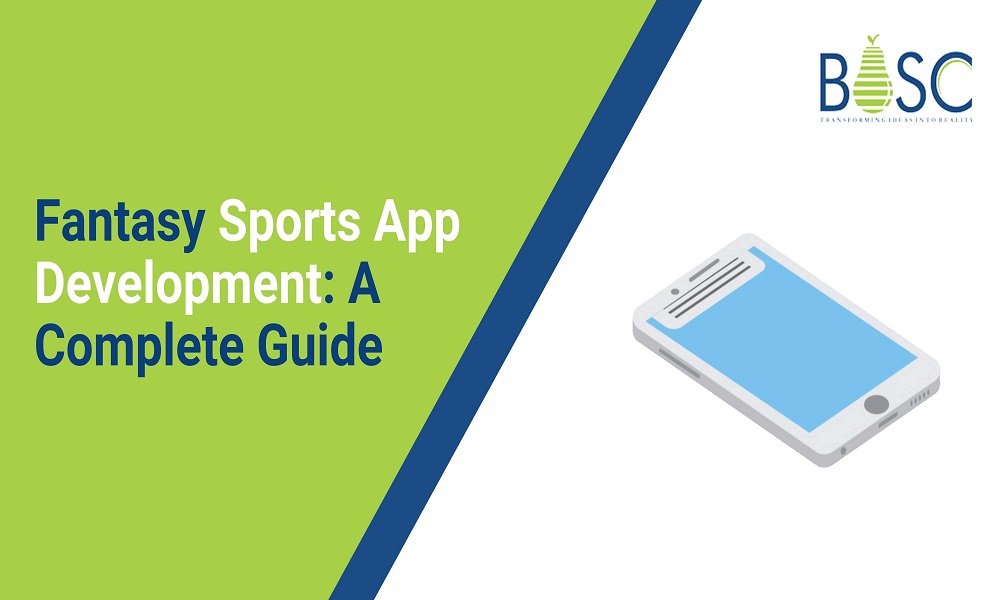 Fantasy Sports App Development: Advantages, Process and Features
There is an excellent desire for fantasy sports app development, which is growing daily. However, these apps connect real-world players via a digital interface, but it's not a video calling app that connects celebrity players with random folks.
Hence, they are primarily operate as the online skill-dependent betting platform where the users can participate in sports leagues via interactive games.
Therefore, These apps have got the significant attention of users who are enthusiastic about sports as fantasy sports apps leverage cutting-edge technology t make sports streaming as it is fascinating and immersive for users online.
However, millions of users across the globe are actively participating in fantasy sports apps, and it booms that fantasy sports organizations are visible. Thus, it seizes an opportunity as recent trends further drive this organization forward.
This article is a detailed guide and will provide complete information on fantasy sports app development.
What are fantasy sports?
Basically, fantasy sports augment a user craving for fantasy gaming applications in the online market, and the immersive experience is majorly blamed for that.
Fantasy sports are prediction games that are played online via a smartphone app. This mobile app development brings the players together whose performance on the field decides an outcome in fantasy gaming.
A gamer will attract more points if a real-world athlete performs awesomely. In other words, you will be betting on the players, giving you some rewards in return.
While in a fantasy gaming application, you will not be betting on real-world athletes. Still, also you will be competing against another user of the application.
However, all these players are competing on the application dependent on its statistical performance, and their performance is converted into points.
So, the significant objective of a fantasy sports game is to develop it more personalized and immersive for people who might be more interested in a certain sport, which can be football, basketball, and many other sports. Thus, fantasy sports are mostly enjoyed on smartphone devices as they give players the flexibility to play online.
Sports App Market Size
The global sports app market reached USD 3.5 billion in 2021 and is expected to explore at a CAGR of 9.4% from 2022 to 2028. Hence, it was create to a growing demand for video streaming-base apps in the U.K. surge in the adoption of cloud-based technology worldwide is anticipated to boost the market growth.
Moreover, the increasing demand for smartphone gadgets in Asia is the sporting market growth.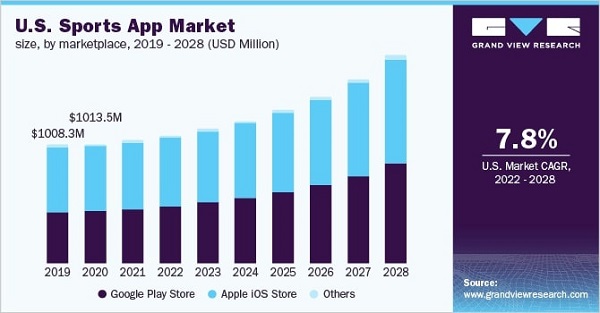 Image source : statista.com
The need for user-friendly and high-features digital sports platforms in the U.S. is projected to bolster market growth. Highly interactive software app for sports app with a high-definition of live streaming support market growth. However, sports apps' high subscription renewal costs are exploring market growth. The key players are concentrating on adopting the several access that enables sports apps. Thus, the market is expected to grow significantly during the forecast period.
Advanced dashboards, loyalty programs, and gamification are the must-have features of fantasy sports. A concern for live chatbot, GPS functionality, and AI-based winning prediction are the tools exploring market growth. A player in the market is giving a consistent analytical approach for a sports app with the assistance of Android and iOS-based platforms. Additionally, Real-time analytics and various payment systems will turn to refuel market growth.
How will Fantasy Sports Mobile App Work?
A fantasy sports application will attract millions of app users by utilizing experienced athletes as references. Athletes featured on these fantasy rosters are presented with an original name, performance history, and skills o achievements.
Players are given the flexibility of choosing their favorite athlete according to their provided qualities and placing the real-money bid on them. However, there is no limitation on sports type because any sport, whether football or cricket, can be enjoyed by playing with players online.
Let's see the whole ecosystem of the Fantasy Sports app. Let's see in detail how it works.
1. Selecting Match
Since most matches held on fantasy sports applications are dedicated to sports games app with several players, you must make an ideal solution. Fantasy sports application is equipped with several sports games, so choose correctly.
2. Forming a Team
If you have ended up opting for a game that matches your interests level or the game of which you have a fair understanding, you can begin by inviting players t join your team. Hence, the team is anonymously built, or invite your favorite people to join it.
3. Team Management
Until a deadline for the sports, users are allowed to modify or adjust their team as per their requirements. Some of the apps have the feature of even a tracking tool which gives a captain a whole report of an adjacent player.
4. Deciding on a Team Captain
Vice-captain and captain are also essential in fantasy games; otherwise, there is no fun and excitement in playing fantasy sports apps.
5. Developing Multiple Teams
Users can make multiple teams besides creating one according to their interests or strategy requirements. However, terms and conditions shall apply.
6. Reward Distribution
It is an essential part of fantasy sports development. These games work on point systems and are distributed based on points earned by each team.
Also Read: A Guide Of Taxi Booking App Development
Which are the well-known types of Fantasy Sports Apps?
These applications run on prediction-based games whose point system is massively reflected by a real-world performance of sports events that do not happen daily. The app is split into different categories.
1. Daily and weekly games
Some fantasy sports help the players to bid on athletes regularly. Such sports games can be more imaginary than realistic, as the sport does not happen daily.
2. Games Based on Scores
Some fantasy sports rely on an athlete's scores in the real world, and it varies significantly.
3. Different conceptual games
Conceptual-dependent games drive the scores by representing various concepts to players, and they vary significantly.
4. Multiple League-based Games
Fantasy Sports gaming applications will operate on a massive scale as several players participate in this gaming application.
5. Season-Long Fantasy Sports
Some fantasy sports games can stretch over several weeks and months and are referred to as season-long fantasy sports.
Also Read: Travel App Development: Market Size, Benefits, Features and Cost
Which are the top sports propelling Fantasy Sports App Domains?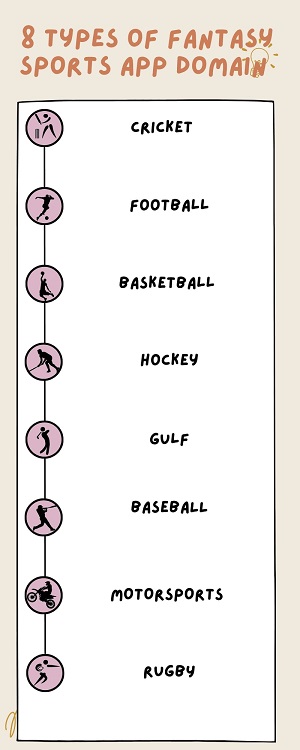 1. Cricket
The leading game in fantasy sports application territory is cricket. The game has two different teams. A team with more runs will win the game in the end.
2. Football
It is the most popular game; the exact words are use for fantasy football. A game is played between two teams on a rectangular field by players who try to develop a goal by passing, running, and kicking the ball.
3. Basketball
It has growing popularity in the fantasy gaming applications niche. A sports app is a compromise of two teams competing against each other to protect goals by putting, bouncing, or dropping the ball in the basket.
4. Hockey
A team-based fantasy sports game in which you may require to invite multiple players to the team. However, it is also based on the game format to examine whether or not you are required to play the game.
5. Golf
It is a peaceful game mainly played on an expansive green lawn, in which the players use numerous clubs and do their all efforts to hit balls in the desired direction. In contrast, the ultimate goal is to get a ball directly into holes without just taking various strokes.
6. Baseball
Baseball is analogous to cricket, but it might have various rules. U.S. players massively enjoy the game, and it gathers two different teams, where the first is a baller, and the other is a batter, who is trying to get or stop a score by touching the four bases on the field.
7. Motorsports
Also known as motor racing, it is another famous fantasy sports game category that people majorly enjoy. The game is about a racing competition between players fighting for individual wins.
8. Rugby
The rugby union game is also played with a ball where several people are divided into two teams. They run with a ball by picking it up in their hands to drop it off at the goal pit, which will achieve a specific score for each team.
Also Read: Impact Of Voice Search Technology In Mobile App Development
Why Develop Fantasy Sports Mobile App Development?
Fantasy sports give lots of fun, excitement, and entertainment. The mobile app developers who are developing sports apps must know their benefits.
1. Increased User Engagement
If you are running a business venture seeking a more audience in its network, fantasy sports apps are the finest way to do that. More athletes are making fans in the real world; sports apps are the finest alternative to create a particular following among these users.
2. Multiple Revenue System
Once you surpass a minimum user base limit for a respective revenue program, you will expose yourself to various revenue streams. Hence, you will start generating revenue from the in-app ads, banner ads, and many more.
3. Data Collection
Most app developers are about to create their business empires thanks to the data gathered from fantasy sports apps. Hence, this info can come from the user's email address or phone number, which they give while registering for a season-long fantasy app.
4. Improved Relationships with Sponsors
One significant benefit is that you can build better relationships with sponsors willing to pay more for your site's user base and retention. As it has a targeted user base, then there are more chances of sponsors that they come back.
Features of Fantasy Sports Mobile App Development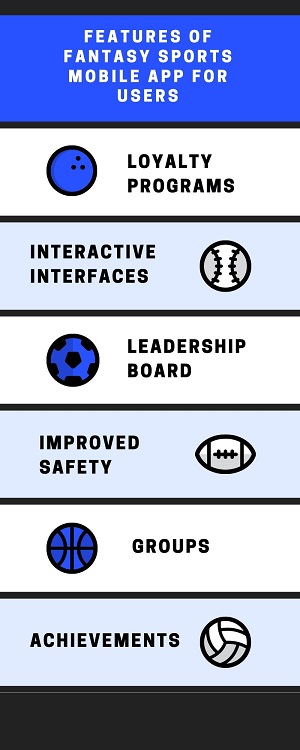 User: Feature List for Fantasy Sports App Development
1. Loyalty Programmes
It keeps a user engaged, and since they are rewarding, there is the likelihood that players will also get to earn something unexpected from the app.
2. Interactive Interfaces
It makes app users feel that they are connected to mobile apps. Suppose you are paying a vast amount; they will submit it in their app only.
3. Leadership Board
Which group wins and loses in the tournament sports events or who is currently first in the seasonal sports is highlighted on these apps.
4. Improved safety
These apps are entirely secured and encrypted by expert app programmers, giving sports players improved safety for their data and money.
5. Groups
Users will get an opportunity to make a personalized group that enables them to play on fantasy cricket apps with their family members or friends.
6. Achievement batches
It's offered to fantasy players, which gives them a unique identity or special recognition in the industry.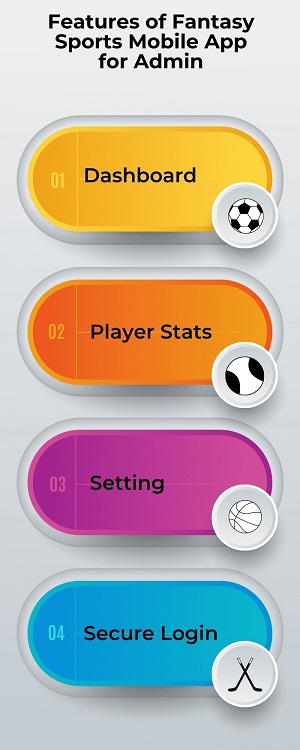 Admin: Feature List for Fantasy Sports App Development
1. Dashboard
There would be one dashboard for the users and a second dashboard for the admin, where they will manage all their tasks interrelated with an application.
2. Player stats
In this app, to view the app's performance or a current tweak, the statistics feature is enabled on almost every fantasy sports gaming app, which directs the admin for strategic judgment.
3. Setting
Besides minor settings, some of the massive settings are also given to the admin and come into play when the request for the forced start or stop of the certain element of the app ideas.
4. Secure Login
Secure login gives admins security that only original users can log in to the mobile app.
Also Read: Best frameworks for Mobile App Development
What are the advanced features of fantasy sports app development?
However, there are a few advanced features that fantasy sports app developers consider to make their apps more attractive and unique from other sports apps in the market.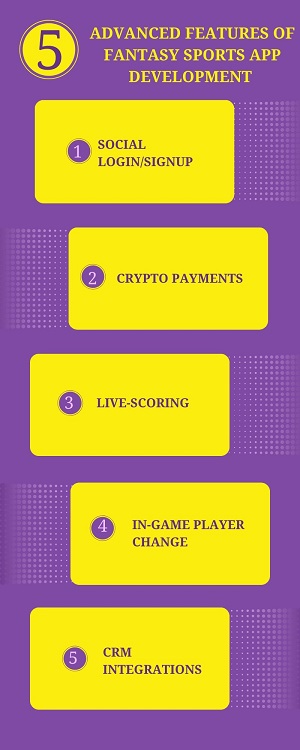 1. Social Login/SignUp
Nowadays, almost every person has a social media account. Due to this, an fantasy sports app comes with a social login or signup feature that keeps users connected.
2. Crypto Payments
Most people prefer to pay with cryptocurrency, so they must be give this option on the app.
3. Live-Scoring
Live scoring will improve user retention. A player is more likely to play the games for a long if they get real-time reporting of its gameplay.
4. In-Game Player Change
It allows users to let someone play on their behalf or use their position, ensuring the continuity of the tournament.
5. CRM Integrations
Customer-relationship management software can also be implemented with the sports app development if you want to operate it on a vast scale.
Conclusion
It is the best time to launch the fantasy sports app as worldwide users are looking for such apps. People love to spend time playing multiple sports. All you have to do is develop an app with the best and unique features and functionalities. However, the sports app guide discussed above is to implement a full-fledged app with the new and latest features.
Bosc Tech Labs is a leading mobile app development company with a proven track record. We have created and delivered over 100 apps and have a team of dedicated mobile developers with relevant experience and expertise. Let's start!
Frequently Asked Questions (FAQs)
1. How will a fantasy sports app development make money?
Fantasy sports app platforms organize the contests and give the users a chance to win NFL-sized payouts, for which they charge a participation fee. Hence, they take some part of cash-prize contents, which is enormous and numeric.
2. How much does it cost for a fantasy sports app development?
So, basic features and cost to create a Fantasy Sports App like DraftKings. You must spend around $35,000 – $45,000 to make iOS and Android apps. Hence, the budget of $10,000 – $15,000 is much more to construct a web admin panel.
3. What is fantasy sports software?
Fantasy Sports market app is just like any gaming app like e-sports. Here participants will make virtual teams that compromise real players. The teams users create on fantasy sports apps then compete depending on player's statistical performances in real-time games.
Book your appointment now