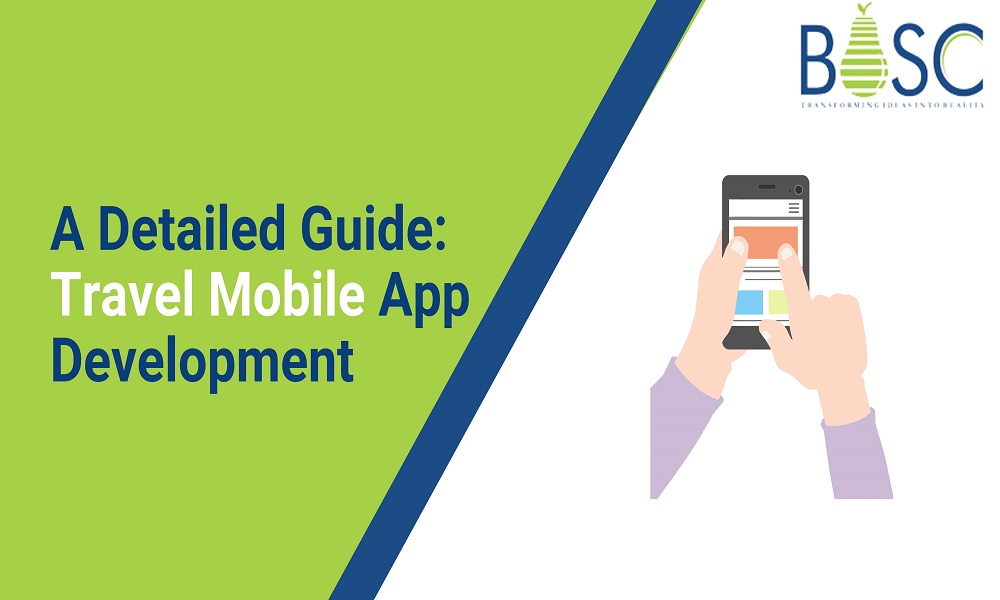 Travel App Development: Market Size, Benefits, Features and Cost
When people decide to travel, they go beyond the boundaries. However, exploring new places and the unknown is also exciting, and with that number of activities comes along with it. But last few decades, travel app development has played a significant role. It's booking tickets, choosing accommodation, planning meals, and more. Hence, these travel apps have brought convenience to your palm. Thus, you must get all the information from your couch before leaving for the holiday.
How do mobile apps transform the travel and tourism industry?
No doubt traveling apps are catalyzing the travel and tourism industry. However, these traveling apps have made all this feasible by eliminating the time taking procedure of booking tickets and roaming in the new city in search of hotels. Now, people do not have to think twice before planning a trip. Hence, with the help of your smartphone's app, you can select the best hotel to stay in, book flights, train or bus tickets, and much more.
However, this data has yet to be achieved correctly and accurately. Nowadays, various apps are available that make the traveling app experience sleeker. Transport ticket booking apps will provide their services, while hotel booking apps develop the accommodations service provider. Management and tour scheduling apps will guide the travelers, whereas the fintech apps will make the local currency available.
Travel App Market size
The global online travel booking service market was valued at USD 519.1 billion in 2021, and it is expected to explore a compound annual growth rate of 9% from 2022 to 2030. This growth of the market can be changed as per consumer behavior, the growing influence of social media, and the rising inclination toward adventure travel across the globe. Moreover, the increasing number of travelers worldwide is driving the industry in a few years. According to statistics published by the UN World Tourism Organization and IMF staff calculations, the number of international tourists has risen by more than 1.5 billion by the end of 2019 from 680 million in 2000.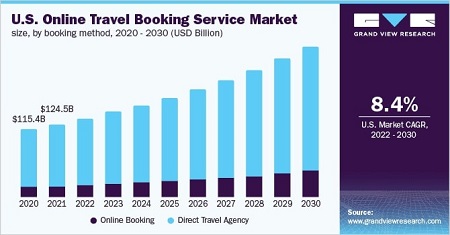 Image source :grandviewresearch.com
Online travel agencies' primary services worldwide are accelerating the growing industry. Moreover, the high inclination towards group traveling among youngsters is expected to accelerate industry advancement. Working professionals and millennials prefer online travel booking services over offline methods. Consumers' demand for authentic and individualized travel experiences is expected to propel industry growth during a forecast period. Hence, the growing digital innovations, continually shifting consumer expenditure behavior, and rising urbanization are collectively projected to drive market growth.
Travel technology enables the consumer to access travel-related services more conveniently and cost-effectively than traditional offline services. It is expected to accelerate a growth industry during a forecast period. Furthermore, travel agencies are launching quick, mobile-friendly websites which are simple to use on smartphones. Hence, it is expected to accelerate the growth during a projection period.
Benefits of Travel Apps for Business
Tourism is a growing firm with a good CAGR. However, with the changing consumer behavior, it has now become digitization. However, tourism is getting digitized much faster than other industries.
Mobile app development for your business can deliver many benefits for you. Therefore, some of its pros are listed below: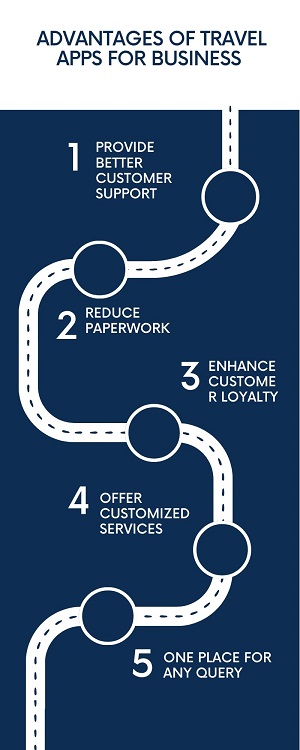 1. Provide Better Customer Support
Whether you are running a hotel, restaurant, or a traveling enterprise, our service support will bring clients. Mobile apps are a great source to transfigure the quality of client service you deliver. Hence, communicating with your customers via an app, solving their queries, taking their ratings and feedback, and more.
2. Reduce Paperwork
Paperwork is one of the factors which forces one to think twice before planning a trip or selecting services. Hence, with this app, you can deduce or eliminate the paperwork from your process. Hence, filling their entails while sitting in the comfort of home will satisfy users. Thus, it gives convenience to consumers and converts them into loyal clients.
3. Enhance Customer Loyalty
Retaining customers has always been simple, with hundreds of similar businesses in a similar market. However, this challenge brings a solution, and the solution is that it is going to become digital. Many startups prefer mobile app development, which will increase the loyalty of our customers towards the business. Hence, it remains connected with a client base, keeps sending them attractive offers, and keeps them invited for a visit.
4. Offer Customized Sevices
It will make customers feel special by delivering customized services. You will get the customers' particular requirements in advance through the application and will fulfill their expectations. Hence, it builds the necessary arrangements in their room and will give your customer the best seat in the traveling van and much more.
5. One Place for Any Query
It provides information and insights about your service on one platform. It aids the customers in opting for the service by enhancing the user experience. It will make it easy for their customers to make decisions.
What are the must-have features of Travel App Development?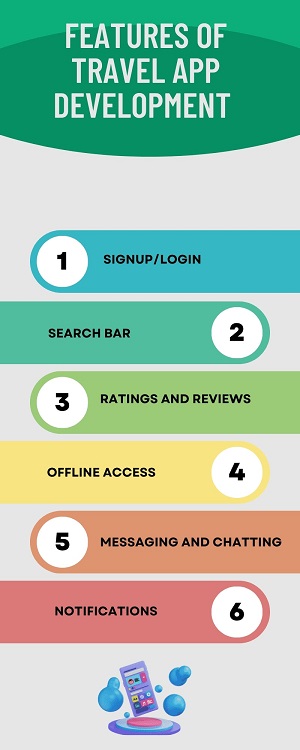 1. Login/SignUp
Every app development should feature a profile-making feature. Customers have distinct interests and will make a profile that aids an application in taking care of them. Moreover will significantly maintain the identity of every user on the platform.
2. Search Bar
Whether it is a flight booking, navigation, traveling booking app, or any other app, it must carry a search bar. Hence, this feature plays an enormous role in enhancing user experience with the app.
3. Ratings and Reviews
Customers can share their experience with the apps and services. It is a necessary medium to inform the new services about quality. Hence, irrespective of the type of the app, ratings, and review features must be there in the app development.
4. Offline access
Finishing the functioning without internet connectivity is impossible, but every app should be sued similarly, even without network or connectivity.
5. Messaging and Chatting
It is the form of communication that must be integrated into the app. A user can talk to the driver een if it is a transport application. In the same way, if it is a hotel booking app, the people can talk to the reception in case of any query.
6. Notifications
Various apps give hot deals to their consumers, but it is also impossible for the user to remain available on the application. Thus, the app must have the functionality to inform users about offers and deals through push notifications and in-app notifications.
Also Read: Impact Of Voice Search Technology In Mobile App Development
Steps to Create a Travel Application
Step 1: Identify an objective of your application
Multiple travel app categories will serve various purposes. So, while developing the application, you must first define the goal of an application and know about the problem you are trying to solve.
Step 2: Conduct in-depth Market Research
Do in-depth research and find the competitors, services and areas of the competitive advantages you can concentrate on. Also, be aware of the mobile app development trends and expectations of customers that will build a solid case.
Step 3: List out Features and Services
Once you are done with the market research, the list of the features that are delivered by your competitors and functionality that is your USP. Hence, you must provide extra and unique functionalities to attract an audience.
Step 4: Hire an app development company
You to hire a team of developers so you can build the application for your business. The skilled team will charge the extra dollars, but you do not have to compromise with the team. Hence, the app's quality depends on your hiring a mobile app developer.
Step 5: Coordinate with the Team
Rather than being the owner, be a part of a team. But make sure that everything is done as per the plan and also check the prototype efficiently and recommend changes to clear your doubts.
Step 6: Get an app uploaded
Once the mobile app development process is finished, upload it to the right platform.
Step 7: Marketing
The most vital step in app development is to tell the users about an app. Use various resources and mediums for marketing. However, Social media marketing, advertising, and promoting are some of the methods. Hence, all these will bring the clients to your applications.
What are the revenue models for the application?
Apps are meant to generate income as they need a good amount of investment to develop the application. Hence, if you have managed to build a versatile application and attract a good audience, the application has various income streams. Well-known income sources in the application are as follows: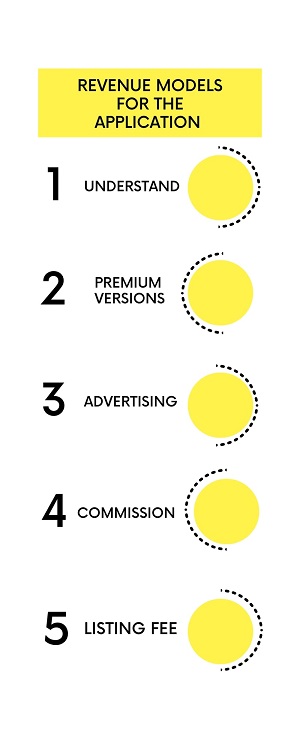 1. In-App Purchases
Many applications keep some of the features locked in the basic versions, which the users can access for in-app purchases. Hence, this purchase brings great income to the app development.
2. Premium versions
The premium versions are a great way to generate income. By delivering the basic version for free, experts will attract a targeted audience towards a premium version at a particular price with the latest features and accessibility.
3. Advertising
If an app has managed to attract a huge audience base, giving the space to advertisements will generate a handsome income for the application.
4. Commission
Most travel and tourism apps rely on the commission business model. This application will charge a specific commission from a service provider in exchange for the consumers as they bring it to business.
5. Listing fee
The listing fee is an alternative to the commission business model. Besides applying the cost on every deal, some apps only charge the listing fee from service providers to get their names listed on the application.
Costs to develop Travel Applications
Several elements and factors decide the cost of application development. A cost is based on the following:
Country from where you are hiring the developers
Features which you want to integrate into the application
Developers take time to build an application
A platform on which you want to build the application
Time to launch the application
Theme type you want to use
Experience and pricing of an app development team.
However, the approximate cost of developing the basic travelling application varies between $40,000 and $60,000.
Also Read: Impact of 5G on Mobile App Development
Conclusion
By following proper rules and guidelines regarding traveling, people are now excited to break the pause between international and national trips. How people use the services has changed drastically. Hence, everything is preferred online, so planning and booking app development has come into existence.
However, booking tickets, choosing hotels, and everything is now being done online. Thus, if you are a service provider in the tourism industry, you must integrate all services in your app to get more customers. Hence, the customers are going to reach you through the online presence.
Developing the mobile app will give the excellent passive income if you are not engaged in the relevant firm or industry. Just develop a mobile with Bosc Tech Labs, a leading mobile app development company that will equip you with the necessary features and will work on the application with dedication and hard work.
Feel free to contact us for any queries or further discussion!
Frequently Asked Questions (FAQs)
1. How many components are in the travel industry?
There are seven components in a travel firm: tourist boards, travel services, attraction and tourism services, conferences and events, and accommodation services. Hence, many components of tourism have made up the industry.
2. What is a travel chatbot?
A travel chatbot is an automated software with a conversation with your prospects to capture and qualify the leads in digital marketing campaigns.
3. Who is the target audience for travel app development?
The audience segments, like business travelers, family, groups of friends, and international explorers, always plan their trips differently, and travel brands can connect with them via effective target marketing at various stages of their planning cycle.
Book your appointment now