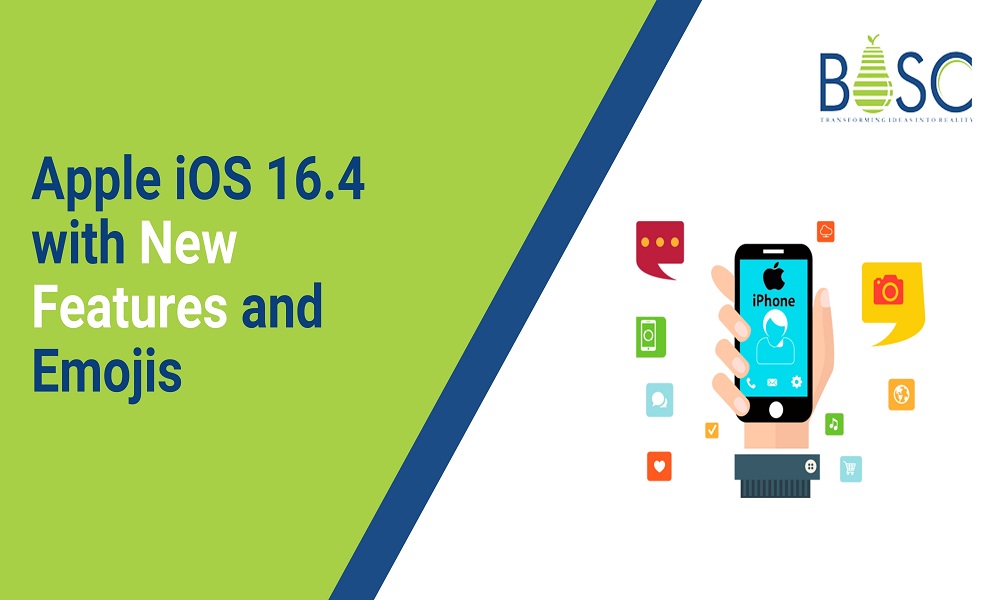 iOS 16.4: All the New Features to Update iPhone & iPad
Apple has recently launched iOS 16.4 updates to its users, including emojis, voice isolation for calls, website push notifications, and more. However, users can update their latest version by going into Settings > General > Software Update.
While iOS updates will readily fix security flaws or adjust minor settings, ones that include new emojis or investigate feature that is frequently more well-liked by users are often more beneficial, leading to a high demand for download. It means you have to wait a while to install the latest updates on your device.
With iOS 16.4, users will get the new 31 emojis. However, the new additions are:
A shaking face
A long-awaited pink heart
Two pushing hands
Others include several animals and objects
These emojis were approved by the Unicode consortium the previous year, and it was later declared in February that they would be included in the most recent iOS release.
Looking for New iOS 16.4 emojis? Click here!
What's New in iOS 16.4 Features to Check?
IOS 16.4, the latest version of Apple's OS for iPhones and iPads, has brought users new features and improvements. However, this update will focus on giving security and privacy and introducing new features related to emojis, music, etc. It also has bug fixing and performance improvements. Let's see some of its features below, which have been given to an iOS system.
Voice Isolation
The new functionality in iOS 16.4 is voice isolation for cellular calls, which will support you to prioritize your voice and block out the ambient noise or voice around you. It will make it easier to make clearer phone calls, as you will be able to listen to the voice of the person speaking and not whatever is running in the background, such as the noises from other people or sounds from an environment. This feature has already been available for FaceTime Calls and other VoIP apps, but not for cellular phones till now.
To use this feature, you must open a control center while on the call, tap on mic mode, and then opt for voice isolation from the list.
Web Push Notifications
Last year at Worldwide Developers Conference (WWDC), Apple viewed the feature allowing coders to send push notifications to end users on a web base. A company launched out this functionality for Safari 16.1 with an update to macOS Ventura. It lets an iOS app developer notify the user when they pinned a web app to its Home Screen. This feature could be immediately useful to new Twitter rivals such as Post and T2, which haven't yet created the native iOS versions of its app but still wish to alert a user's app to a necessary conversation.
It also provides a way for Apple to counteract claims that the App Store is the only way to reach mobile consumers, which could help it fight off the antitrust regulations and other laws and rules.
Apple Books Update
Page-turn curl animation is reversed in Apple Books with the updated iOS 16.4 version; after that, it was erased in its earlier iOS update. Before, when you turn the page in the eBook on your iPhone, the page will slide to one side of your screen; otherwise, it will disappear and be replaced by the next page. Hence, you can still select their page-turn animations to its curl animation.
Also Read: Apple iOS 16.3: New Features Need To Know
Apple Music App Changes
A music interface has been a little bit modified in iOS 16.4. But, when you include a song in your queue, a small banner is visible near the bottom of your screen rather than the entire screen, just like the pop-up in the previous versions.
Also, if you go into your library music, then you can organize the library by artist and click on the artist, a cross of your music page. A search bar used to be at the top of the page. Tap on the artist's icon, and you will be moved to an artist's music page.
Apple Podcasts Updates
In iOS 16.4, you can access the channels or platforms tab in your Apple library, which displays the networks you follow. Then, press on each channel, and you can view the shows you have subscribed to and the other shows that channels generate.
Focus Mode Filters
iOS 16.4 helps you to enable or disable an always-on display option with specific Focus Modes in iPhone 14 Pro or Pro Max. While developing a new filter, scroll down to the button of the edit page, tap Focus Filter, and then touch Always-On Display to on or off the display for Focus Mode.
Apple Wallet Features
You can include the three new order tracking widgets for an Apple wallet into your home screen with an iOS 16.4. Each widget displays the tracing data on the active orders, but widgets are of various sizes, small, medium, and large.
Shortcuts
There are options for developing shortcuts for workflows, which lock a screen device and will control an always-on display. Plus, there is the option to enable or disable a state manager on the iPad automatically. Apple also has the option to have Siri announce the Notification as an action that can be incorporated into the shortcut. There are many shortcut actions, and many more actions have been updated.
More Updates of Apple 16.4
An updated release note, which is also the reference of a few other tweaks and fixes and includes the following:
The duplicate album in Photos explores support to identify duplicate images and videos in the iCloud Shared Photo Library.
VoiceOver support for the maps in a weather app.
Access the settings to dim video automatically when it flashes of light, or some of the strobe effects are detected.
A keyboard now supports native languages such as Chickasaw and Choctaw. Apple has also included support for translating Punjabi, Gujarati, and Urdu keyboards.
It fixes the issues where it asks to purchase the request from children, and it might fail to appear on parent devices.
Addresses problems where the matter-Compatible thermostat can become unresponsive when paired with Apple Home.
Crash Detection and bug optimization on iPhone 14 and iPhone 14 Pro models.
Fix the security issues for 16.4.
Comparison Between iOS 15 vs. iOS 16
1. Live Text
Live Text is one of the most attractive features added in iOS 15. It will get further enhancement in iOS 16. You can also check the exchange rate of the goods directly with a camera. You can copy, translate, and query Text in the video, but this feature is only supported in gadgets with an A12 or high chip like iPhone XR, iPhone XS, and later models.
2. Photos
Photos in iOS16 will get updates. The first is that it detects and deletes duplicate photos, and due to this, there is no need to install the iPhone Cleaner app to clean up the same photos on the device.
The other upgrade in photos is the one-click image matting. You have to tap and hold on to the subject, and then the subject will be "cut off," and it's pasted in notes and other interfaces at will.
The third is the new feature known as iCloud Photo Library. Users will make a photo library and can share it with the family. It will work like the shared network drive; other members can edit a photo. Another important thing is that deleted and hidden albums in iOS 16 can not be accessed unless a Face ID is verified, which means that you can set the password for the hidden photos on the iPhone easily.
3. Mail
iPhone users usually prefer using third-party mail apps besides Apple's Mail app. With the launch of iOS 16, many users have changed their minds and have integrated new features into the mail app.
It allows users to set the scheduled emails so that an app user can send an email at a certain time. It will send the Notification to users before a scheduled message is sent. Users can move the received email back to the top of their inbox. But, when you try to send an email, it will automatically scan and alert you to something important, like when the attachment is missing.
4. Messages
The other big update to iOS 16 is the ability to edit and delete already set messages. However, there is a 15-minute time limit for retracting messages. If a recipient's iOS version is lower than the iOS 16, then a recipient can still view the retracting content. Additionally, messages cannot be replied in one time, must be processed at another time, and can be marked as unread.
In iOS 15, any content sent from your friends, like music, movies, articles, etc., is automatically placed in the relevant app. To verify, you must close a messaging app and open other apps. In iOS 16, you are not required to go into the other apps to verify any content your friends have sent. You can check them directly in messages and play content while chatting.
5. Maps
The maps app in iOS 16 has been redesigned with new features. Compared to iOS 15, the interface is much safer, and the function is more powerful and robust for iOS app development. iOS 16 supports multistep routing in the Maps app. However, users can play the journey up to 15 different stops along with a way. The new transit features will predict the cost of the journey.
How to get iOS 16.4 beta?
Make a fresh backup of your iPhone
On your iPhone, move to Apple's public beta website
Click on the arrow in the top right corner and sign in if you are not logged in
Ensure you stay on the iOS "Guide for Public Betas."
Swipe down, and in the Gets Started section, tap to enroll your iOS device
Now, tap on the download profile
Click Allow to download the profile and select the close button.
Move to settings on your gadgets and tap profile download on top.
Click on Install in the top right corner and enter the passcode if required.
Read the const agreement and thentapInstall two more times.
Your iPhone will prompt you to restart to modify and changes
After that, it will reboot, move to Settings> General > Software update
Now you can see the iOS 16.4 beta version available for the public; tap, download, and install
Conclusion
In a nutshell, the latest version of Apple iOS 16.4 has developed new features that will improve Apple Music, Podcasts, and more. It also has the bug fixing update, page animator, and so on. It will make using an iPhone app even better with the new functionality in the Apple OS. Hence, iOS 16.4 is the reliable version allowing users to enhance their experience with new features and improvements.
Therefore, it is important to work with a trustworthy iPhone app development company that is well-versed in the latest iOS technology to take full advantage of the new feature of iOS 16.4. Their expert app development team will assist you in every manner and take your business to the next level, boosting your brand's growth and reaching the broader audience.
Frequently Asked Questions (FAQs)
1. What does the iOS 16.4 update do?
iOS 16.4 brings new features like web push notifications, voice isolation for cellular calls, emojis, etc. To upgrade to the latest version of iOS 16.4 by Apple, iPhone users must go into their settings, go to General, and then touch on Software Update to upgrade their smartphone.
2. What drains the iPhone battery the most?
The two most important things that cause the most battery drainage in the Phone are its screen and its cellular service. Usually, you know that when you are actively using your device, but your iPhone is doing tasks in the background and even up your screen without your noticing.
3. What is the difference between iOS 15 and iOS 16?
Compared with iOS 15, iOS 16 has a huge change in the style of the lock screen interface. We can modify the new lock screen's fonts and wallpaper and put any widgets on the lock screen. Thus, once a screen is listed, the information is presented on the widget.
Book your appointment now