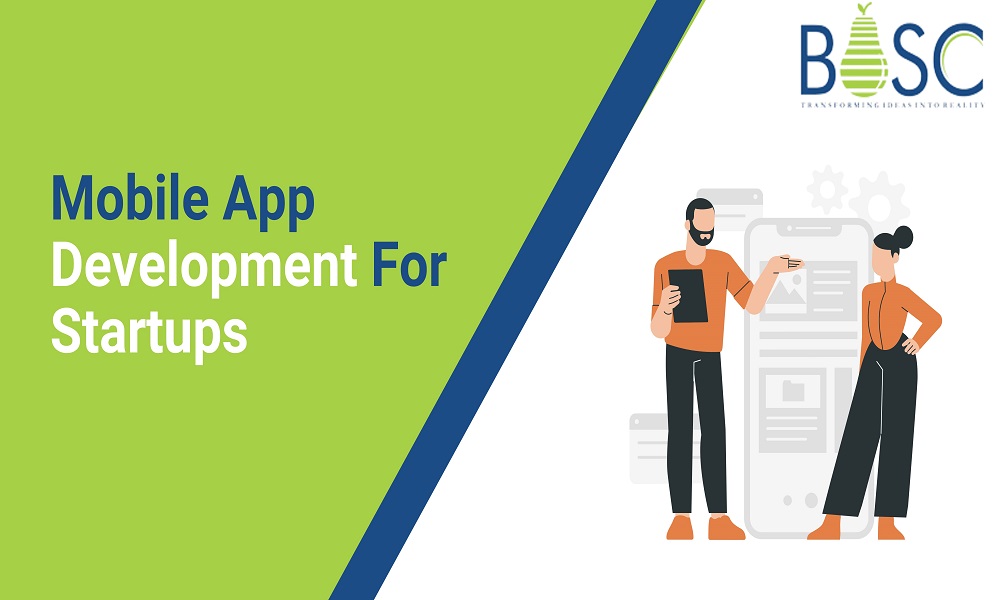 Why Are Startups Investing In Mobile App Development?
Mobile app development is a sphere that has revolutionized all sectors and affects the public's life. However, many startups have boomed worldwide. The mobile app development process for startups has given them the opportunities to strategize operations and interact with the audience.
While discussing product launches, many startup agencies look forward to floating digital products with enormous footprints over other products. Investing in the mobile app with the product development company is a great idea. With a single mobile application, there is a lot a company can achieve. This article will show why a startup agency should invest in mobile app development.
Mobile App Development: Introduction
Mobile app development is the procedure for creating mobile applications which run on mobile devices. These apps are either pre-install or downloaded or installed by a user later. It uses the network capabilities of the gadget to work the computing resources remotely. Therefore, a mobile app development process needs to create software that can install on the device, enable backend services to access data via APIs, and test the apps on the targeted devices.
Mobile App Development Statistics in 2022
Total revenue in the App market is about to reach US$108.10bn in 2022.
Total revenue will approximately view an annual growth rate (CAGR 2022-2026) of 7.53%, that results in a projected market volume of US$151.30bn by 2026.
In-app purchase revenue in the App market is expected to reach US$55.90bn in 2022.
The paid app revenue in the market is expected to reach US$0.75bn in 2022.
Advertising revenue in the app market will reach US$51.43bn in 2022.
The number of downloads in the app market is projected to reach 14,537.7m in 2022.
Hence, the average revenue per download is expected to amount to US$7.43.
Reasons startups invest in mobile app development
The first phase of the startup is to create a product. Whenever we talk about startup product development, then app development is very beneficial to our business. Below are the reasons why enterprises need to invest in mobile app development.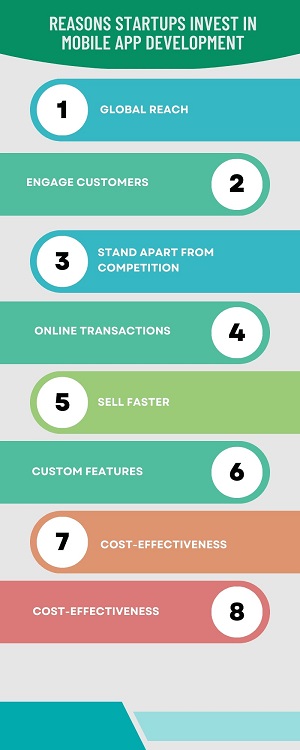 1. Global reach
When the startups select to invest in its growth, its objective is to reach a wider audience. The best way to create space and recognition at the global level is to develop a mobile app. It helps you enter various brands' stores and will raise your app footprint. However, developing the mobile app for the global audience will require a lot of investment.
However, many companies probably develop the apps on a very small scale and upscale them for the global audience. Also, mobile phones are increasing daily, and app users are increasing. So the return on investment in line with the reach and identification of your brand is very high for a startup. A good and great app design will help your startup company to reach the heights and recognize your brand.
2. Engage Customers
You must engage the consumers extensively for further revenue and profits when you are a brand. Customers can select a brand that involves them and give them touch points they feel. There are particular brand values and emotions which your product should trigger. However, offline products will take much more time to reach customers and engage them. Nowadays, many consumers prefer online and mobile modes more than other platforms. Nowadays, people spend hours on mobile apps using the applications. Hence, mobile apps increase your audience and engage them to take more action with your brand.
In mobile app development, you must include exciting content and features that can attract customer attention and keep them engaged. The more consumers are engaged within your app, the better impression your brand will make on them. A correct way of engagement can bring in sales, customer feedback, and referrals in your app and explore your brand.
3. Stand Apart From Competition
Many small businesses and startups have yet to travel into the app sector. Many of the new agencies tend to hold back from putting the money into an app to a requirement that is considered during the entire situation. However, many startups only focus on offline products as they do not want to scale up.
Mobile apps must have a broader vision, and it wants to aim at the constant revenue and engagement of users. Create tailor-made mobile apps that will focus on targeted audiences. You will get the edge over the competition in the competitive landscape by making robust apps that target your audience.
4. Online Transactions
Companies that specialize in sales must keep tabs on multiple digital transactions. Making the multi-faceted app with tracking transactions features helps to keep the records, which will simplify the whole payment process. The incoming revenue is through one channel with a streamlined process and app that is difficult to manage. Nowadays, people like to do online transactions and other activities too. With an app of a similar horizon, you can erase the efficiency of a product development company.
Also Read: Which is the best Payment Gateway in the USA in 2022
5. Sell Faster
For better user engagement and reach, it aids you in making a loyal customer base and selling the products faster. The effects of your startup company are sold faster when they are available in the mobile marketplace like an app. Whenever a person browses the products on the exclusive platform, he is more likely to buy something new.
Moreover, an app is mostly used by loyal customers who generate revenue for your company. Furthermore, you can also take up discounts, offers, and targeted marketing on the app for faster selling. In-App exclusive sales and product discounts offer attention to clients and increase sales and revenue.
6. Custom Features
You can develop a completely dynamic and custom application development for your business. It gives simple internal customizations so you can release the feature-rich program onto the market. With the help of open-source libraries and development tools, you can make interactive apps with an improved user interface. An app with a user-friendly design is more likely to be downloaded from which users draw attention. It also gained more traction in the market. Hence, mobile apps with several features and good usability can improve client satisfaction and revenue.
7. Cost-Effectiveness
Ecommerce software has made it possible to engage with clients more affordably while attracting many new clients. As a result, Startups and SMEs spend less money on traditional marketing and promotion. A enterprise development of app engages potential customers at a very low cost and introduces the company to various new clients. The best feature of mobile apps is that it gives secure and safe ways to make online payments. They also have extremely secure payment channels like UPI ID, Credit Cards, etc. Hence, they are the real assurance of privacy and data confidentiality.
8. Accessibility
An app has increased the accessibility of your business services and products. An app developer will make a portal that reaches customers and provides them with the recommendations and services they want. You can also bring items and services closer to the audience with the help of well-developed impactful apps.
The accessibility of various support services, such as customer service and feedback systems, also rises with the use of the app. A person can tap into the mobile app and take the actions she wants on the products and services. Many companies offer startup product development services that help them build apps with the targeted audience and generate revenue.
Conclusion
Nowadays, all mobile devices add up to maximum traffic from people. As a mobile app development company, Bosc Tech Labs has great experience working with entrepreneurs with new and fresh startup ideas. However, the mobile app sector is also exploring volume and revenue. But, as a startup development firm, you have to identify the aim and prospects of the mobile app that it brings and realize them.
Get in touch with us today!
Frequently Asked Questions (FAQs)
1. Why is mobile app development essential?
Mobile app development is constantly a booming industry, and it is an essential element in the success of any business. Hence, it is easier for the customers to stay connected, get details faster and remain updated with their new offers and discounts.
2. What is the most necessary thing in app development?
User experience is considered the backbone of any application. If you fail to give the users a great experience, then there is no chance they will come back to you and use your app.
3. Why do we require mobile apps?
Mobile apps have changed the way people communicate. However, anyone can reach anyone as they have a mobile phone and internet or cellular connection. It has widened human reach and interactions beyond the border, and in the long run, it has aided countries and economies to flourish.
Book your appointment now