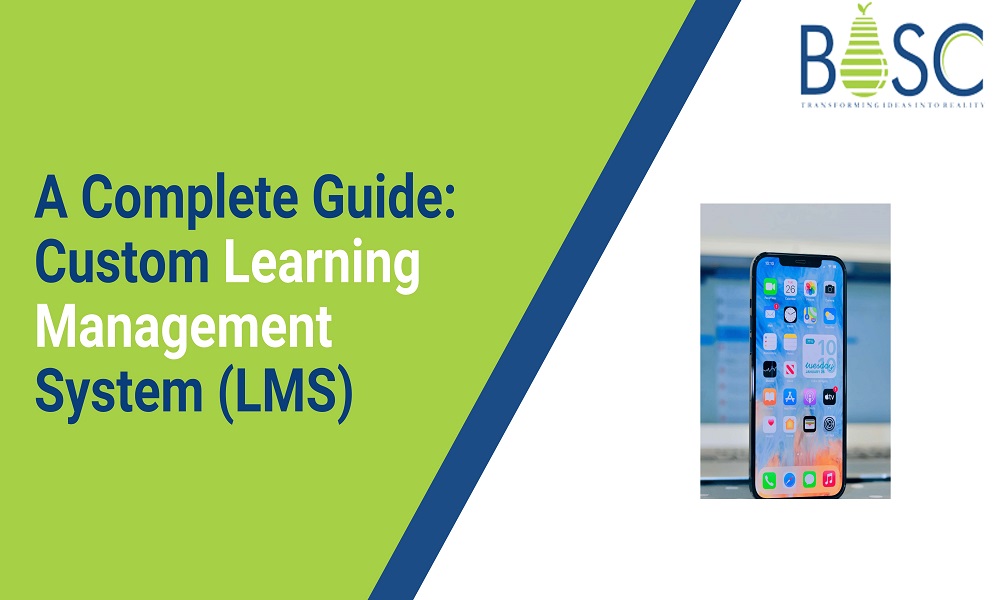 Custom Learning Management System: Features, Purpose, Benefits & Development Cost
LMS is becoming a vital part of businesses, and the primary cause is that it streamlines a procedure, enhances the workforce's efficiency, and sustains growth. This blog will show a custom learning management system, its benefits, and its features.
The LMS market is expected to raise from $9.2 billion in 2018 to $22.4 billion in 2023, with a CAGR of 19.6%. The custom learning management system (LMS) is an effective tool for managing learning and development initiatives is the custom learning management system (LMS). With the help of the LMS, organizations can automate all procedures and deliver all upgrades on time to learners.
As a business, if you wish to migrate easily from one course to another, monitor progress, deliver materials to your clients, and build the training materials quickly, then the one-stop solution is LMS! It can streamline the delivery of employee training, which is essential for any company's success, and the LMS can help you.
What is a Learning Management System?
It is the software that you can use to manage, record, follow, and report on learning and development initiatives. With the support of LMS, businesses can work and automate all processes. It will also make it feasible to give students all the updates on time.
In today's era, it isn't easy to imagine the world without an LMS, as it is helpful in all scenarios and to all users.
A customized LMS is considered a high-end development that professional LMS developers have built. These hire android or iOS programmers are experts in their fields. And have years of experience in software development as they are skilled and proficient in installing, configuring, and managing LMS programs efficiently.
Custom LMS design allows him to tailor it from any aspect, like reporting, sign-up, etc. Thus, you can make it more appealing for the business requirement and the organization's brand identity. Customization is done by giving users convenient features as per their requirements. Thus, the functionalities are customized before the development begins.
Also Read: Super App Development: A Step-by-Step Guide
What are the benefits of Custom LMS?
LMS generates a comprehensive learning environment that supports an employee's journey from providing learning material to testing and evaluating retained knowledge.
This system is used for several purposes in the organization, like employee onboarding, customer training, certification training, and more.
A learning management system is an interactive learning site that replicates a learning experience. It offers extra benefits like 24-hour accessibility and allows learning on the go. It also provides cutting-edge features and functionalities to improve learning, support acquiring new skills, and aid information retention.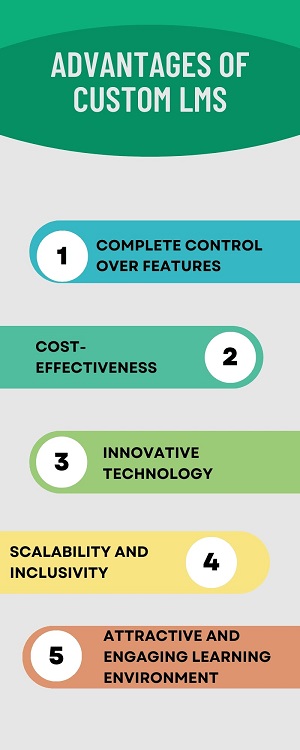 1. Complete Control Over Features
Different courses are taught in distinct formats, and employees learn things differently. Custom LMS aids in making advanced teaching and learning opportunities. It enables making powerful courses with several facilities based on your business requirements.
2. Cost-effectiveness
Creating the custom LMS is cost-effective as it is less expensive than existing analogues. Increasing productivity, efficiency, and time usage only justifies the investment. The number of users, storage capacity, and capabilities will determine whether you pay monthly or annually.
3. Innovative Technology
Using customized LMS will enhance creativity and business performance through efficient processes. Tools such as an auto-question generator, auto-grading system, etc., can be used for custom design techniques depending on the company's needs. It helps to nurture innovation at its peak to enhance creativity and will develop new ideas, which helps to improve the enterprise processes in a much better way.
4. Scalability and Inclusivity
When the number of employees increases, it is vital to scale up the training and skill enhancement facilities. Custom LMS is the ideal solution that provides a vast range of functionalities, features, and tools that can be customized depending on the number of employees. It not just helps in the betterment of outcomes but also gives flexibility and customization that allows you to keep up with the pace of the changes in technology as per the business needs.
5. Attractive and Engaging Learning Environment
With the advancement in app development trends and technology, learning has become exciting and challenging. Custom LMS provides a smooth and simplified integration with videos, images, and e-learning tools, enhancing an overall learning experience.
What are the critical features of LMS?
If you are considering developing LMS, you need to understand some of the features typical for all systems and considered essential.
Now, let's see some of the features a developer considers while creating a custom learning management system.
1. Cross-Platform Accessibility
This capability allows users to access LMS from any gadget besides the operating system or the software platform. This feature makes a learning app's mobile version, LMS mobile app, on the devices. On the other hand, you would require the LMS to be compatible with most browsers, including Chrome, Safari, and others. Hence, it has web-based and cross-platform accessibility.
2. Admin Dashboard
A dashboard can automate the essential LMS functions wherever possible, so admins do not have to spend time on monotonous tasks such as making reports, etc. Quick insights into these areas ensure employees benefit from the learning programs in place. When an administrator notices an unusual pattern in the user's typical learning activity, they can use this dashboard to access a user's panel. It enables a company to determine whether improving the experience is vital for improved performance.
3. Intuitive UI
It is the must-have feature in custom LMS. It helps users to become rapidly familiar with the functionality of the learning management system. A UI must be simple, intuitive, and visually appealing. It creates a simple design that is easy to download on any operating system and provides a stress-free setup process. Users must be able to sign in with only one tap with the help of an OTP or the biometric verification system for the high-security.
4. Tailored Learning Roadmap
With the help of this functionality, you can track the learning process. Your custom learning management system can distinguish between the various learning phases. It is only possible to make the robots course design once we have the whole idea about what our learners require and how to get them into the correct stage of learning.
5. Educational Games
It will boost class participation by creating and making them feel more engaged in the curriculum. In this way, learners can learn better while playing educational games. This feature will instruct them on the complicated material with this functionality. It will also increase retention levels by better retaining the information when presented interactively.
6. Evaluation and Assessment
It is about the performance assessments at various stages of the course. All the students utilize a similar learning assessment. It will save a lot of time while organizing exams and creating the evaluation sheets.
Also Read: Best Cross-platform Mobile App Development Tools In 2022
7. Testimonials
The feature ensures you can do it all for your marketing advantages from only one platform. If your businesses use social media platforms for marketing, it will help them share positive comments from the learners to reach out to more learners. It will showcase the case studies related to the employee's learning experience on an individual basis or in teams.
8. Live Support
In this, you will be able to respond rapidly to all queries. It will eliminate the call volume and will increase customer loyalty and satisfaction. It will increase response time regularly without putting effort into the additional investment.
9. Multiple Curriculum Management Tools
Responsible for training and education materials management. It aids in monitoring current and upcoming courses. Hence, it boosts course planning, reporting, etc.
10. Open-Source Technology
It allows mobile app developers to make their learning management systems robust and scalable. It will save time and cost in creating the custom LMS from scratch. Therefore, it is eco-friendly and involves a lot of research on technology and its dynamics.
11. Advance Reporting and Analytics
It has the ability to manage the different learning materials across all platforms, which is necessary for the business's success. Hence, it will only work once you have access to the right tools which support you with the monitoring and reporting needs.
12. Third-Party Integration
It will improve overall performance and the learning experience of the user. Develop the platform, combined with various platforms, tools or plugins.
13. Compliance with Standards and Specifications
Elearning software is subject to technical standards and needs. These standards enable the development of education materials compatible with multiple e-learning software solutions. If your organization wants to outsource learning materials in the LMS, then you must consider these requirements.
Therefore, these are a few features for custom LMS which you should consider, and it enhances the educational process in your business and increases ROI.
Also Read: Why Does a Small Business Require a Website to Grow its Business?
How many types of LMS?
Below are the multiple types of learning management systems in the market.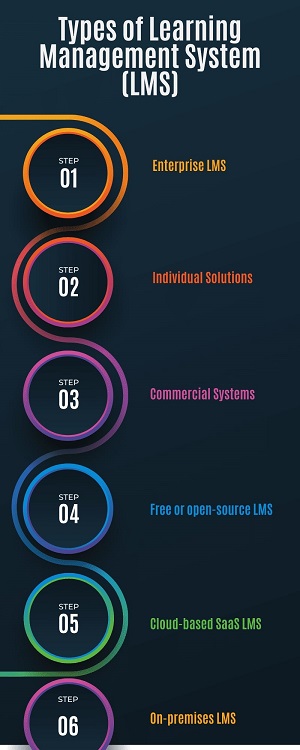 1. Enterprise LMS
A learning management platform is built for large institutions or businesses in this category. It can meet the training requirement of 500 or more users. It also provides a lot of premium inbuilt features.
2. Individual Solutions
An individual learning management system is feature-packed and created for personal or small business use. Many LMS providers have created enterprise-grade platforms but give small businesses and single users an individual plan that suits their requirements and budgets.
3. Commercial Systems
Commercial LMS design targets large learning institutions, providing easy-to-deploy features and robust consumer support.
4 Free or open-source LMS
Several open-source and free LMS platforms are available for individual use. You need the help of technical expertise to utilize them with consumer support. Hence, hire experts to customize an open-source LMS to match your needs.
5. Cloud-based SaaS learning management system
Most of the LMSs use service as a software (SaaS) model to reach their consumers. They are easy to deploy and provide all the required training features, plus free upgrades from the cloud servers. It is scalable and has top-notch support from its programmers.
6. On-premises learning management systems
An on-premises solution is a stand-alone licensed product which sellers install on the buyer's server. LMS solutions may need certain hardware purchases and physical support from the seller. Thus, they are less cost-effective than the SaaS option.
Also Read: Advantages of CRM Software: 7 Reasons to Integrate this Technology
What is the purpose of LMS?
The LMS serves each organization differently. The role of the LMS depends on each organization's objectives, teaching policies, and what they wish to achieve with an LMS. It serves as a virtual hub where learners can access learning resources. Use LMS to identify existing learning gaps by utilizing analytical data and reporting and fixing such issues. Hence, LMS is the virtual hub where organizations and educators can collect, save, store and track data.
1. Educational purpose:
LMS is used by independent tutors and educational institutions to host and track online or e-learning methods. It is used to manage, deploy and track all online training activities. Manages educational activities like developing and delivering course content, evaluating learners and analyzing their performance, monitoring progress, collaborating on multiple projects, and giving feedback.
2. Support remote learning:
LMS can easily overcome any limitation due to geographical barriers. Thus, educators can teach across the world. Also, members of the organization can attend multiple training sessions via an enterprise learning management system from any location or area.
3. Improve onboarding process:
Newly hired employees may need help remembering every detail about an office and its history. If you have the corporate LMS and the perfect online course for onboard training, it is helpful for the new programmers to learn at their own pace.
4. Train customers/ employees/ partners:
You can train your employees, consumers and partners with a corporate training LMS. It aids you in ignoring business disruptions and helps to cut down the cost of conducting traditional training.
What is the development cost of Custom LMS?
The cost of custom learning management system development depends on the end user. It relies on features you want to add, tools you want to opt for, etc. Hence, the development price may vary depending on the features, functionality and other factors. Also, remember that the cost of maintenance and ongoing support will charge extra for any of the additional features you desire to add.
Also Read: Which are the Leading Web App Development Trends For 2023?
Conclusion
In this blog, you have a clear idea and know how LMS is crucial for the growth of the business. With the help of this information, you can make an informed decision for your enterprise application development.
As a leading and trustworthy software development company Bosc Tech Labs, we help you with custom software development services in education or any firm, including banking, non-profit and more. With 10+ years of experience in this niche, our assessments are realistic. The expert development team will provide the best solutions that fit your business requirements, while the tools and their workflows will make a development procedure simple, easy and effective.
Frequently Asked Questions
1. What is the most compelling feature of LMS?
LMS suports to streamline the training delivery by minimizing valuable time which is spent on manual administration tasks. LMSs will make your life easier and enable you to develop, manage and track the training in one place. Hence, it makes the LMS unique and has high features.
2. How to design an LMS system?
An efficient learning management system is achieved when multiple subsystems work together to achieve the desired outcome. Most of the necessary aspects are accessibility, form and content. Design is essential, which holds it all together and is a vital means of strengthening it.
3. What is the difference in LMS and a learning platform?
An LMS software application allows users to make, design and deliver their course content via a website or mobile application. On the other hand, eLearning platforms are web-based apps enabling users to create an online course and then deliver the same to the learners.
Book your appointment now