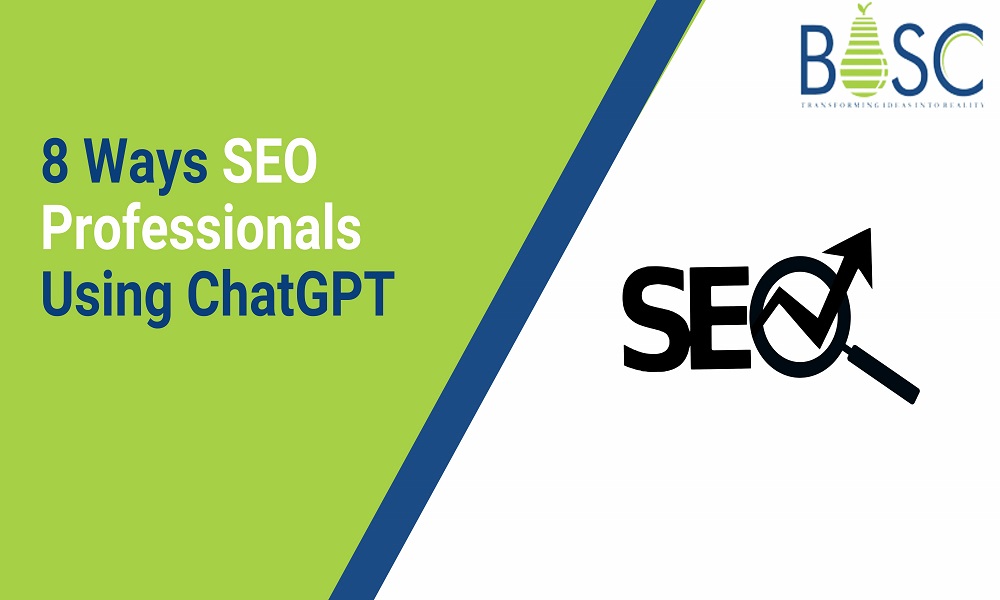 8 Ways SEO Pros Are Using The ChatGPT
ChatGPT is a huge learning model. It interacts with the other users conventionally by giving the answers to their follow-up questions, acknowledging mistakes, and rejecting inappropriate outcomes using artificial intelligence and huge amounts of data.
This openAI-developed chatbot is an alternative for the searches of the users they conduct on the search engine. It will have a significant impact on search engine optimization. It has made the way to use machine learning and artificial intelligence in the SEO and marketing industry. ChatGPT can participate in the discussions and answer your queries just like a human. However, it writes stories, and essays, just like professional writers, without any grammar or spelling mistakes. Therefore, ChatGPT is smart enough to write the meta descriptions and debug the code in addition to the content.
What is SEO?
SEO stands for search engine optimization, which is the procedure of improving your website to raise organic visibility for particular search queries. SEO's objective is to improve the quality and quantity of traffic to your site via onsite changes. It does not mean that you stuff the pages with the relevant keywords, but focus on the core of the web, like speed, interactivity, mobile friendliness, and the content of the web pages.
However, anticipating the consumer's intent, understanding the type of content they like to view, and giving them the best answers are the most important in good SEO. It will simultaneously use the customer reach method, a sales channel for your business, and it permits you to get to know about your customers and their habits.
The major part is to put both technical and strategic elements together. Therefore, simultaneously serving your customer's requirements and delivering them perfectly is attractive to search engines.
How does SEO work?
SEO has everything to do with the quality and quantity of a site. The better your website is on the front and back end, the more traffic you will get, and in this way, search engines will increase your search rankings. Creating SEO works and combining the SEO elements make use of a data-driven approach. Some of the factors include:
Keyword analysis
Backlink building
Content creation
What are the benefits of SEO?
If you want to develop long-term brand awareness, increase your targeted audience, and want to earn more revenue, then search engine optimization plays a crucial role. Let's See some of its advantages below.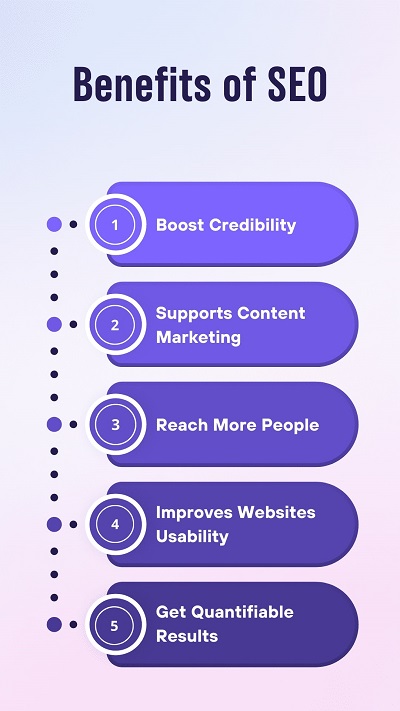 1. Boost your credibility
A site that ranks high on the search engine results is considered high-quality and trustworthy by the search engine, which boosts your business's credibility. Hence, spending time improving and adding content to your site, increasing site speed, and researching keywords aids in ranking the site even higher.
2. Supports Content Marketing
Making helpful and useful content for the visitors that includes text, images and videos will help you to rank your site. SEO supports content marketing efforts also. But make sure that your content is of high quality and has optimized for keywords that you want to rank for.
3. It helps you to reach more people
Marketing campaigns tend to concentrate on the targeted audience; then, the SEO will help you attract anyone with the intent at a given time. If you target the keywords instead of demographics, as you may with the PPC or social advertising, you can attract more prospects interested in doing business with you.
Make a list of keywords that you would like to rank for. Then, utilize the keyword research tool to explore it. Finally, use competitive research to refine the list by examining who your competitors are and what keywords they are ranking for. Also, see where they have backlinks and use this data to make a better SEO strategy.
4. Improves Website Usability
SEO is to make your website search engine-friendly, but it also improves the experience of the customer when visiting your website. Putting the work in will generate useful and high-quality content and make your site faster and more responsive. Adding the backlinks will enhance every page, and you will get an excellent website optimized for search engines. Factors that will improve usability include the robust site structure and navigation, both factors in how the search engines rank a site.
5. Get Quantifiable Results
With the help of SEO, you can track the changes in rankings, conversions, and website traffic. However, platforms like Google Analytics give a comprehensive suite of information. For instance, you can view the website user's buying journey, including the pages with which they are engaged, a keyword used to search, and whether they have completed the specific actions. Therefore, use these insights to adjust and improve the SEO strategy.
How are SEO experts using ChatGPT?
1. Locate and provide relevant keywords
A complete knowledge about ChatGPT allows you to do keyword research easily and quickly. Open the chatbot, enter the targeted keywords you want to rank for, and wait for the list of related keywords. The major benefit is that it suggests the list of keywords dependent on the most recent search results, giving the tough competition.
2. Double-check grammar and spelling
ChatGPT serves as the daily writing assistant, and it is also thanks to the GPT-3 computer program. You can improve your writing style and quality with the help of the chatbot's feedback and suggestions. Therefore, the chatbot will auto-correct the spelling and grammatical errors.
3. Make AI-powered customer service
Effective customer service is the most important for business growth and customer satisfaction, especially when available 24/7. Besides content creation, the chatbot may do linguistic tasks like paraphrasing, summarizing, and answering questions. The major benefit is that it gives personalized responses to each client by ensuring they get the information they need promptly.
4. Create original content
AI-powered chatbots transform SEO and marketing by creating new and advanced opportunities. A chatbot can generate indistinguishable text from human-written material, and all credit goes to the GPT-3an auto progressive language model. Good and high-quality content is the essential SEO strategy for increasing organic traffic and getting the trust of both raiders and Google. In this situation, ChatGPT provides content creation dependent on the most commonly used keywords and phrases.
5. Develop and Manage Analytics Report
Spreadsheets and Reports are the biggest headaches for marketers' professional lives. Companies want the data to view their efforts by making a little difference. In this situation, the ChatGPT is the game-hanger. Furthermore, this functionality assists you in identifying new ranking opportunities which you may have missed. Therefore, imagine that you want to write regular expressions for the analytics reporting, but there is a need for programming experience then the ChatGPT tools become helpful to you.

6. Make Effective SEO Titles
The title is the most complicated thing to write, particularly for SEO purposes. They finally end up with some dry topics like "How To Make Backlinks" or something very low. To make things attractive, we asked ChatGPT for the list of titles for backlinking pages. In return, it gave many more titles in which we found something interesting and attractive that attracted a target audience.

7. Content Creation
Creating the content is a hassle if you do not have a skilled writer in the organization. It is possible, but ignore using it to write web pages and blog posts. In 2022, Google search advocate John Mueller said in his uncertain times that a search engine viewing content made using AI is spam, a violation of the company's guidelines.

Now, Google algorithms identify and penalize AI-generated content, even utilizing anti-detection algorithms. Make use of human oversight while working with the AI tool. Therefore, everyone can safely use the ChatGPT to develop the content for social media posts, email, and landing page copy for PPC, and it is a great brainstorming tool.
8. Keyword Analysis and Investigation
ChatGPT will make the reach of keywords painless. Open the chatbot, enter a few targeted keywords, and then ask for its interrelated ones. However, depending on its understanding of search results, chatGPT will generate the list of the related keywords. For example, to test this functionality, I searched the keywords related to "hire React developer". After a few seconds, the chatbot presented me with a list of keywords and phrases that would have taken me much time to generate using traditional research methods.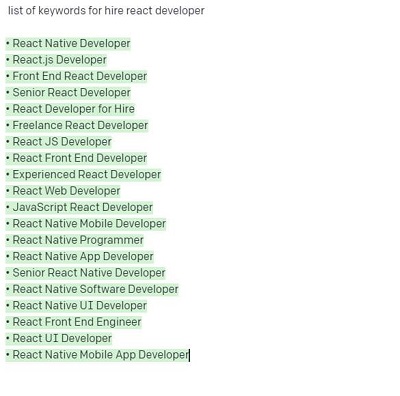 Conclusion
ChatGPT is cool and the latest tool, and it's all its signs indicate that it is only going to do better. It shows the potential to make search engine optimization faster and more efficient in many ways. It will deliver the individual response and will handle complex and open-ended questions. Hence, it is a valuable tool for different kinds of web applications, and its capabilities will make it an amazing tool for non-writers.
If you have any questions about the ChatGPT and want to know how it improves the SEO parallel to it, then reach out to us today!
Give us a call to tell us what you are looking for, and we look forward to connecting with you!
Frequently Asked Questions (FAQs)
1. Which is the most essential component of SEO?
Page speed has been one of the leading SEO ranking factors. Google wishes to improve the user experience of the web, and fast-loading web pages will do that.
2. How will SEO work?
SEO works by optimizing the website's content, conducting keyword research, and the meaning of inbound links to raise a content's ranking and website's visibility.
3. What are the two major parts of SEO?
SEO is separated into two parts: On-page and off-page SEO. On-page SEO refers to the techniques integrated into the website to improve the rankings in SERP. In contrast, off-page SEO is everything done outside of your site to improve the website's visibility.
Book your appointment now