Do you need scalable application solutions specifically optimized for your business needs?
If yes, hire our experienced Android app experts who understand your business issues. As one of the leading mobile app development companies, we provide end-to-end Android development services. So far, we have designed and developed over 100+ custom Android app solutions.
Our Android app developers create elegant and innovative AI-powered business mobile apps using the latest technologies. You can hire our Android application developers, and our Android development team will implement the latest features. And visually appealing user interface in Android app development. Our experienced Android app developers create fully functional enterprise-grade mobile applications for everyone.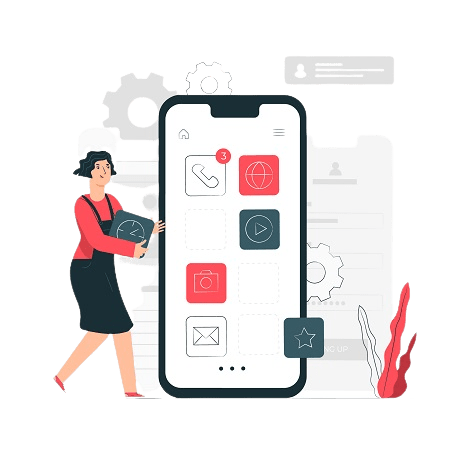 Our Android App Development Services
As a leading app development company, we focus our services on customer-centric development when developing mobile apps. When our teamwork is- completed, you can expect user-friendly, faithful, and well-designed cross-platform applications. In general, we offer our customers a wide range of services.

Android UI/UX Design
Hire our Android app developers and designers who mainly focus on adding UI and UX integrating interactivity, creativity, and aesthetics. Our main objectives in the UI/UX design process of our application are:
Responsive Layout Design
Prototype Design
UI Design
Maintain Application Consistency
User Journey Analysis

Custom Android App Development
Our dedicated Android app developers will meet your unique business app needs in no time. Our Android specialists have a solid understanding of Java concurrency and source control concepts. Below are the technologies we use:
Application Development
Application Optimization
UI Improvement

Hybrid App Development
Hire our dedicated Android application developers to build the best single platform and web apps using the best technology. We have a long history of developing 100+ Hybrid mobile apps using modern technologies. Technologies we used.
Flutter
React Native
Javascript
Firebase

Upgradation & Migration
Our qualified and accredited developers will update your app on multiple versions of Android to improve the user experience. Our professional application developers are- trained to help you successfully migrate your applications. Bosc Tech application experts who know.
Existing App Upgrade
UI Improvement
Bug Fixing
App Store Optimization

Android App Consultation
Need more information about Android apps? We have many years of experience in this field and are happy to advise you free of charge to clarify all your questions. We aim to reshape your organization's market through mobile platforms.
App Development
App Road Map
Resource Planning
Technology Requirement

React Native

Flutter

Java

Node.js
Our Android Application Development Process

Project Requirement Analysis
Clearly defining project goals
Understand customer requirements
Collect market and consumer information
Research on technological requirements

App Development & Testing
Strategy creation and formulation
Manual testing and automated testing
Usability and UI testing
Performance and Security Tests

App Deployment & Support
Application launch and performance monitoring
Record customer comments and requests
Support and maintenance
Why Choose BOSC Tech Android app development services?
BOSC Tech Labs provides high-quality Android app development services. And Android developers with the skills, knowledge, experience, and expertise to build the best app for your business. You can connect with the best technology experts in the IT industry for affordable solutions.
Dedicated Developers
01
We discuss with the client to understand the technical challenges.
Our developers offer high-end business solutions.
We use world-class technologies and frameworks that always deliver valuable results.
We assign a dedicated team and offer clients rich visibility into day-to-day activities and team workflows.
We scale up and down team sizes to best suit your business needs.
Full Agile Process
02
Use agile methods in project management and application development.
Scrum methodology and tools like Asana for project management.
We work day and night as needed to ensure your project is- always delivered on time.
His ability to enable teams to work in small increments and respond quickly to change.
Cost Efficient
03
We offer an ideal combination of favorable rates.
With incredible quality to guarantee the lowest prices in our segment.
We proposition quality services at affordable prices.
It doesn't matter if it's a big or small project- we know how to make it work.
Privacy & Security
04
The main motto of our company is to ensure the complete security and confidentiality of the information of all customers.
We sign NDA to secure it.
Rest assured that your applications are protected.
We implement network security measures.
Open & Transparent Clients Engagement
05
We offer our clients the possibility to choose the best project development model.
The best support services and honest development.
The transparent and clear development process.
Full development progress update.
Flexible Hiring Models
06
Hire India's top Android developers on an hourly or full-time basis.
Our team works with customers all over the world.
Our developers help you take your business to the next level with a great mobile app.
We are committed to delivering high-quality apps.
Solved the issue in literally 5 mins. Awesome contractor !!!!! Excellent Contractor. Complete work in a couple of hours. I Will definitely hire again.
Sabah Owais
BOSC Tech Labs Team is extremely knowledgeable and responsive. They finished the work very quickly – and patiently worked with us as we tested each piece as suitable. The end product is high quality – all thanks to the time and effort from BOSC Tech Labs.
Frive
Awesome experience working with BOSC Tech Labs. Would highly recommend their services!
Isaac Westenra
BOSC Tech Labs has very good developers. they have a very broad knowledge. they understood exactly my concept and helped to make it mature. BOSC Tech Labs supported me all the way to production. You can see the final product in the App Store HipMeal.com.
I will keep working with BOSC Tech Labs in the future.
Said Zejjari
I'm very satisfied With the support une the great job, perfect collaboration until the production. Happy to work with BOSC Tech Labs again 🙂
Said Zejjari
Get Your Project Estimate
Get expert software engineers on demand