At BOSC Tech Labs, we prioritize high-quality software development benefits for clients and keep note of the changing trends and approaches. Our company provides top-notch custom Android app development services for wearables, smartphones, and TV with solid technologies and personalized planning.
Our Android App Development Services
As a top Android app development company, we provide a wide range of services for our clients in different industry sectors.  

1. Custom Android App Development Services
At BOSC Tech Labs, we provide dedicated, responsive and scalable Android apps for clients for native and hybrid apps. For startups, SMEs, and growing companies, we take the time to prepare customized designs with high features and performance quality with the latest technologies.

2. Android UI/UX Design Services
After careful market analysis, there are reliable UI/UX developers at our Bosc Tech who prepare targeted wireframes for the final Android app. Then, we study the necessary consumer requirement and plan a suitable app model with a navigable structure. Then, we create multi-device compatible solutions during our app development for iOS and Android.

3. Android Web-based App Development services
Hire an Android app developer team from BOSC Tech Labs for tailor-made web-based application solutions instead of only mobile-based apps. Our professional app developers would study the business project outline to create reliable, simple-to-install, and fast-performing enterprise-level Android apps from scratch.

4. App Testing and QA Solution
Our dedicated QA team at BOSC Tech Labs consists of testing experts that handle focused app testing processes for bug detection and fixing before the final delivery. We conduct vigorous testing approaches like Quality checking, functional testing, and A/B testing. Further, we optimize app quality, get usability check feedback, and make necessary modifications using error-free coding methods before the final deployment.

5. Android App Development Consultation
One of our primary app development services involves understanding the customer and user base needs. With the gathered insights, the team members can align the app idea with the business requirements for developing an android app. In addition, our consultation experts provide additional input on prototypes, customizations, selecting an appropriate Android system, and marketing.
Our App Development Technologies
For optimized app development for iOS and Android, our team utilizes the best technologies available:

React Native
The developers at our team utilize the React Native framework for JavaScript Library modules and software to create scalable Android apps with intuitive interfaces.

Flutter
This open-source framework helps create robust, native-compiled, and easy-to-use applications. In addition, we use this technology for simple app development using a single codebase.

Java
Our developers work with Java's high-quality old-time programming language and framework to provide Android mobile app development services. We utilize this to optimize app services and driver innovating app performance.
Our Android App Development Process:
To ensure top-range development solutions, our team of developers, analysts, project managers, and designers take each step of the process very crucially.

Research & Planning:
Firstly, the team providing custom Android app development services would study the main client objectives and app requirements to plan an idea. Then, we work with a group of specially selected staff to gather relevant insights, prepare a prototype, refine the planning, and handle technical documentation before the beginning of the development of an android app.

Design & Development:
Next, we focus on the primary app development services. Our experts use modern methodologies that fit the brief and handle complex coding processes. We add elements like graphics, features, and icons as planned in the wireframe and run user acceptance testing. Finally, we prepare a usable app model with continuous checking and server-side.

Testing & Delivery:
We prioritize testing and don't compromise in testing. Our testing experts carefully study the app for any errors in functionality or bugs. After that, we run critical revisions to optimize the smooth performance of the app and make final customizations. Finally, we handle the deployment steps to the Google Play Store following the platform-based regulations.
Perks of Choosing our App Development Services?
The Android development team at BOSC Tech Labs provides dedicated services for developing android applications that guarantee many benefits. 
Better business value
01
At our company, we understand the need of client companies on the final project outcome for higher ROI needs. We help create high-quality app solutions per end-user and company requirements with limited schedule slips, budget overruns, and fewer project risks. Our team focuses on understanding clients' business objectives and delivering the work accordingly.
Total transparency
02
We provide Android application development services to stay about the whole process with our clients. We use high-quality modern quality management systems. In addition, we utilize top-quality KPI reporting tools throughout the planning and application development process to guarantee the best transparency.
Always Updated Ourself
03
We keep note of the new and updated trends throughout the R&D period. We study the different directions related to geographic data systems, object tracking, video data processing, and digital signal processing. After that, we compile the necessary data to make essential optimizations and keep them unique.
Dedicated support after deployment
04
Our work in creating capable Android app development software types does not end after final deployment. We continue supplying ongoing maintenance work and monitoring the app's performance quality. The project leaders assign reliable developers for bug fixing. Moreover, a 24x7 support team can take any service issue queries.
Performance integrity
05
Our developers assure top-grade Android app performance and data management & security with high-quality solutions. Moreover, we offer smooth app integration support with internal systems like API integration and other back-end services.
Agile process
06
The team of developers at our organization is aware of and has to practice handling different software development methodologies. Using Agile framework and other techniques like Scrum, we provide proactive custom app development services for various project types.
On-Time Delivery
07
We understand the need of our clients for quick delivery and aim to provide the right level of support to them. So, we take a proactive approach and deliver all projects before the deadline, working as a team on different app development tasks. The trained experts at our company work to finish all work carefully to avoid schedule slips and emergency work.
Among the different agencies available for custom Android app development services, the experts at BOSC Tech Labs are highly competent and experienced. Our main aim is to ensure the best possible solutions for our clients. Our Android application development specialists have years of experience in handling multiple project management and app development processes for numerous firms globally in different industrial sectors.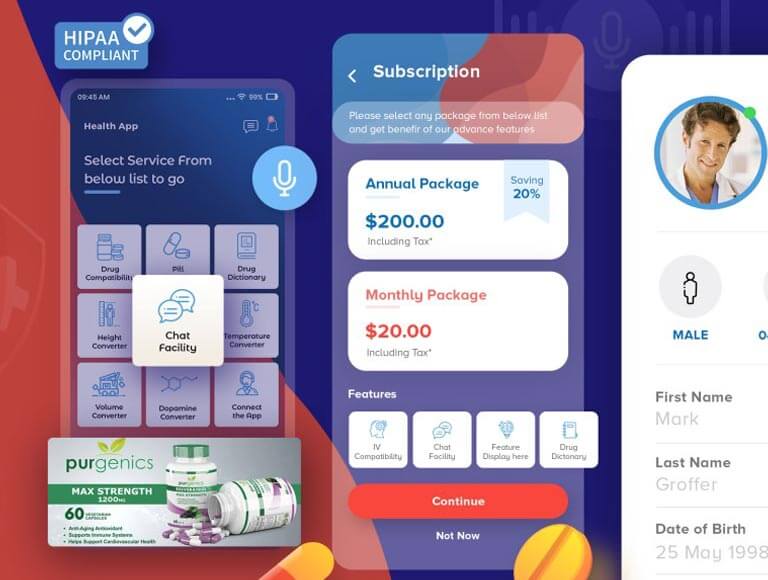 Healthcare
Medication Management By UME:
We have created the robust healthcare and medication management app, Medication Management by UME. The app comes with intuitive and responsive benefits like medicine identification and dosage converter, which are helpful for healthcare professionals, students, and caregivers.
AWS
Flutter
Java
Spring Boot
Solved the issue in literally 5 mins. Awesome contractor !!!!! Excellent Contractor. Complete work in a couple of hours. I Will definitely hire again.
Sabah Owais
BOSC Tech Labs Team is extremely knowledgeable and responsive. They finished the work very quickly – and patiently worked with us as we tested each piece as suitable. The end product is high quality – all thanks to the time and effort from BOSC Tech Labs.
Frive
Awesome experience working with BOSC Tech Labs. Would highly recommend their services!
Isaac Westenra
BOSC Tech Labs has very good developers. they have a very broad knowledge. they understood exactly my concept and helped to make it mature. BOSC Tech Labs supported me all the way to production. You can see the final product in the App Store HipMeal.com.
I will keep working with BOSC Tech Labs in the future.
Said Zejjari
I'm very satisfied With the support une the great job, perfect collaboration until the production. Happy to work with BOSC Tech Labs again 🙂
Said Zejjari
Get Your Project Estimate
For high-quality custom Android application development services, taking the help of the right development team is crucial. Thus, reach out to us at any time! We are always ready to provide top-notch development, design, and optimization work with high business growth and customer react potential. So, let us know your requirements, and we will develop a suitable and efficient app solution for your company!