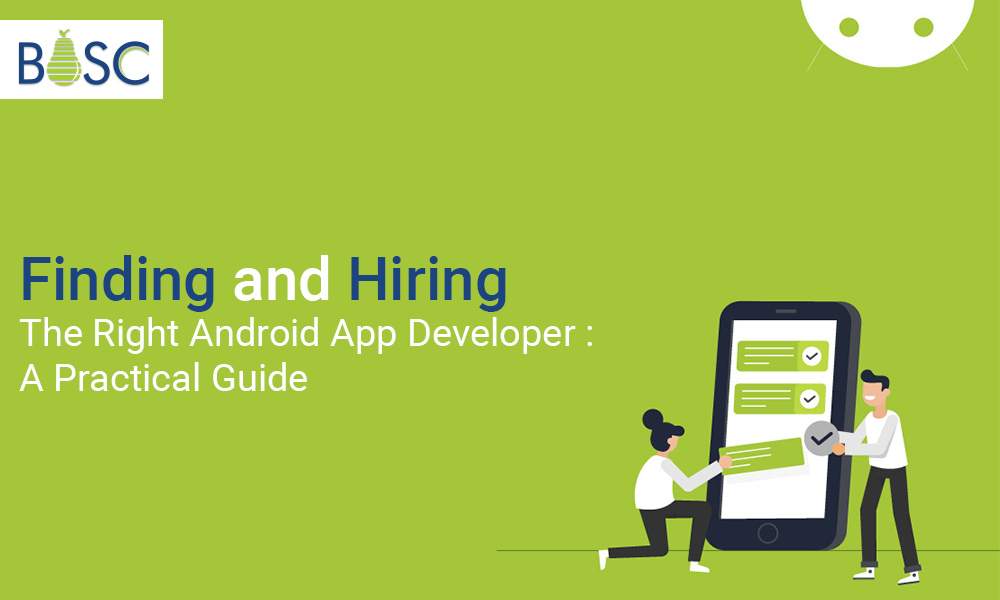 How to Find an Android App Developer: A Comprehensive Overview?
In today's fast-paced digital landscape, Android apps have become essential for businesses to succeed. With more than 3 million apps accessible through the Google Play Store and Android having a market share of more than 72% worldwide, developing a solid and intuitive Android app is essential for expanding your user base.
However, creating a truly excellent Android app requires highly skilled professionals' expertise. Hiring the ideal Android app developer is an essential initial step in determining whether or not your project succeeds. We'll lead you through all the necessary procedures in this in-depth guide to find and hire an Android app developer capable of making your idea a reality.
After reading this guide, you should have the knowledge and skills to make a well-informed decision to put you on the right track for a fruitful mobile app development journey.
The Step-by-Step Guide: How to Look for and Hire Android App Developers
Selecting the right Android app developer to realize your vision is a crucial stage in the process, as developing an Android app has the potential to revolutionize your company. Finding the right developer for your project can be complex, considering the market's excess of app developers and the ever-growing need for mobile app development. The best Android app developer for your needs can be found and hired using the process we guide you through in this article.
Step 1: Identify the Needs for the Project
You need to be very clear about what you need for your project before looking for an Android app developer. Define the app's target market, features, budget, and objective. You'll be able to interact with programmers more efficiently and find the ideal fit for your requirements if you have a clear project scope.
Step2: Determine the Type of Developer You Require
A wide range of skills and expertise are required for developing Android apps. You may need a developer with experience in cross-platform development, native Android development, or specialized knowledge in a particular framework, depending on the requirements and complexity of your project. You can save time and optimize your search by determining the kind of developer you require.
Step 3: Do your research and establish a list of potential developers
Explore internet resources like social media networks, developer directories, and freelance websites to begin your search. Seek developers with a solid portfolio of finished projects, favorable tests, and relevant experience. Remember to take referrals from friends or colleagues in your field.
Step 4: Examine Past Projects and Portfolios
Analyze the selected developers' historical work and portfolios carefully. Evaluate the previous apps' layout and features to ensure they match the design and quality you aim for with your own. You can evaluate the developer's skills and the range of their work by following this step.
Step 5: Look for User Reviews and App Store Presence
Download and try the creators' apps if they have been released on the Google Play Store. You will gain personal knowledge of their work and an understanding of their development methods. Read customer reviews to determine consumer contentment and spot any potential red flags.
Step 6: Interview Candidates and Evaluate Communication Skills
Schedule interviews with the most appropriate candidates to evaluate their professionalism, dedication, and communication abilities. During the consultation, Please discuss your idea in depth with the software engineer, and pay attention to how effectively they grasp your vision and answer your queries. For a development collaboration to be successful, effective communication is essential.
Step 7: Evaluate Technical Knowledge and Skills
Consider giving the developer a brief coding or problem-solving assignment relevant to your project to ensure they have the required expertise. This will let you test their attention to detail, problem-solving, and coding abilities.
Step 8: Verify Work Ethics and Compatibility
Finding a developer that values your work ethic and team culture is just as crucial for successful cooperation as technical skills. Seek out experts who show initiative, dependability, and a sincere desire to see your project through to finish.
Step 9: Talk about Flexibility and the Project Timeline
Ensure you understand your project's projected timetable and talk to the developer about their availability and capacity to work with deadlines. A reliable developer should be able to offer a reasonable timeframe for finishing the project and be willing to make any necessary changes or adjustments while it's being developed.
Step 10: Check Your Budget and Terms of Payment
Although adhering to your budget is crucial, remember that high-quality development is not free. Be ready to spend money on talented developers who can create a top-notch application. Talk about the terms of payment, the development process's standards, and any unexpected costs.
Step 11: Examine contracts and legal agreements
A written contract or agreement describing the payment conditions, the project schedule, the scope of work, confidentiality agreements, and intellectual property rights should be obtained before making a final decision. A legally binding agreement clarifies expectations for the project and protects both parties.
Step 12: Start the Process of Development
It's time to begin the development process after you have selected the best Android app developer for your project and all the required contracts have been signed. Communicate with the developer frequently and use project updates and milestones to monitor development.
How Much Does Hiring an Android App Developer Cost?
The cost of hiring an Android app developer can vary depending on several factors, including the developer's experience level, location, and project complexity. However, you can expect to pay between $15 and $250 per hour for an Android app developer.
Here is the average hourly rates for Android app developers by experience level:
Junior developer: $15-$50 per hour
Mid-level developer: $50-$100 per hour
Senior developer: $100-$250 per hour
The location of the developer can also have a significant impact on the cost. Developers in countries with a higher cost of living, such as the United States and Western Europe, will typically charge more than developers in countries with a lower cost of living, such as India and Eastern Europe.
The project's complexity is another major factor that will affect the cost. Developing a simple app with basic features will cost less than creating a complex app with advanced features.
Here is a breakdown of the average cost to develop an Android app by complexity:
Simple app: $10,000-$20,000
Mid-level app: $20,000-$50,000
Complex app: $50,000-$100,000 or more
Conclusion
In conclusion, finding the right Android app developer involves a strategic approach. Begin by outlining your project requirements, conduct thorough research, and leverage online platforms, forums, and professional networks. Consider developer portfolios, expertise, and communication skills. Obtain multiple quotes and evaluate proposals based on technical proficiency and budget alignment. Choose a developer or development company that aligns with your vision, has a proven track record, and communicates effectively. For top-tier Android app development services, consider partnering with Bosc Tech Labs, a leading development company renowned for its innovative solutions and client satisfaction. Their expertise ensures a seamless and successful app development journey.