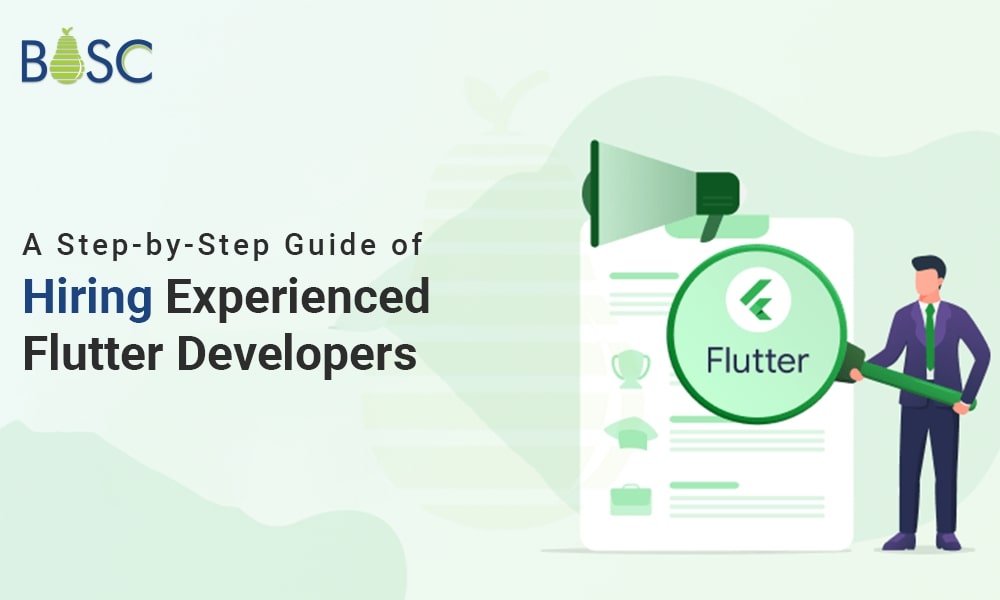 How To Hire Experienced Flutter Developers?
Flutter is the mobile app development platform that helps you develop cross-platform web, desktop, and mobile app development. Although relatively new to the tech industry, Flutter has established itself as an essential tool for developing cutting-edge interactive mobility solutions. Its ease of use, affordability compared to the development of native apps, speed, safety, and other advantages are the main reasons for its popularity.
Since more businesses are looking to develop Flutter apps, we decided to offer a few tips on how to hire experienced Flutter developers. If you need to strengthen your team with Flutter experts, we'll also provide some facts that can be helpful, such as why you selected Flutter engineers, what their responsibilities are, and what costs you can expect.
Flutter Developers: Who Are They?
An engineer with competence in cross-platform application development using the Flutter framework is known as a Flutter developer. Though they can change, their responsibilities and roles are generally determined by the following:
1. Coding for apps
With the Flutter SDK, programmers can create imaginative applications while concentrating on code.
2. App testing
The mobile app testing phase is crucial because developers need to ensure that the application works flawlessly, doesn't crash, and interfaces with other parts of the system seamlessly. Testing will also ensure that the application adequately meets all requirements and standards.
3. Delivery of apps
Engineers can swiftly deploy their apps to numerous platforms with Flutter's platform-specific code generation, minimizing the need to write separate code for each platform.
Responsibilities of a Flutter developer
Because of the high degree of customization in the SDK, hiring a Flutter app developer would be an excellent addition to your team. Due to this technology, creating an app with an engaging user interface is extremely easy. It also makes it possible to build personalized Flutter widgets and experiment with new ways to interact with users, like gamification and augmented reality. A professional like this, with practical knowledge in mobile development, may turn things around for you by developing a functional Flutter MVP in less than two months.
Thus, here's what to anticipate from Flutter developers if you decide to hire them:
Knowing the benefits of an Agile methodology and how it might enhance team productivity;
Writing understandable, clear code;
Following to the essential values of your business;
Maintaining reliability;
It is understanding how to optimize code for the end user. This enhances the usability of an application for devices with low-performance CPUs, short battery lives, etc. Reliable code attracts a wide range of users to your application.
Make sure to review a Flutter developer's portfolio before hiring them. Try using their applications and see how they function. Their apps must be quick and responsive, function flawlessly, and have an easy-to-use UI. Only after you have thoroughly examined the projects they have worked on can you hire Flutter developers.
How do you hire experienced Flutter developers?
Companies can work with outsourcing providers, hire freelancers, or work with in-house developers. These two are competent in providing top-notch Flutter app development services. Based on your job descriptions, a Flutter app development company like Bosc Tech Labs should be able to set up interviews for the team if you're looking for it immediately. Whichever scenario you decide on, review the portfolio, get client recommendations, and, if possible, then give them a test task.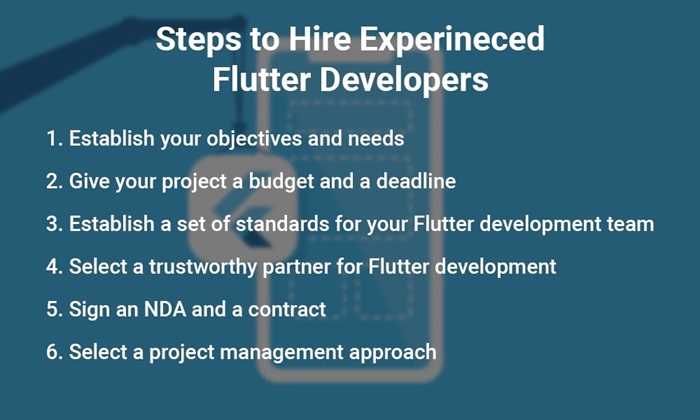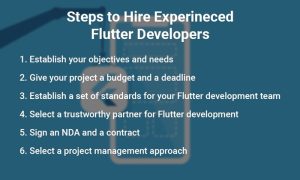 1. Establish your objectives and needs:
Before looking for Flutter developers, you should have your requirements set as specific as possible, given the stage you're at. If you require assistance, clearly define your goals and expectations.
2. Give your project a budget and a deadline:
Consider your spending limit, budget, and approximate completion date. You are keeping an eye on potential risks and obstacles. Ask an expert to estimate the project from a technical point of view if you need clarification on the timelines. If you contact Bosc Tech Labs using the form below, we would be pleased to deal with you.
3. Establish a set of standards for your Flutter development team:
What precise tech stack are they going to require? How old should they be? Talent in your area of expertise? Does the time zone matter? Do you have any financial restrictions? Will they require knowledge of other languages in addition to English? Try to keep your list realistic and your mind open to new ideas and facts.
4. Select a trustworthy partner for Flutter development:
Ask a lot of questions about their process, experience, communication preferences, security and quality guarantees, employee vetting practices, portfolios, customer references, and anything else that is associated with your needs and will help you confirm that you've selected the best possible price vs. quality ratio. You can also check client review sites like Clutch or Goodfirms.
5. Sign an NDA and a contract:
When searching for a Flutter developer, both sides should sign an NDA agreement, irrespective of the engagement arrangement. This is to secure your IT and protect sensitive information. It would be ideal if you could have a lawyer to supervise the document signing process through an outsourced company. Verify that your priorities, needs, and requirements have been considered and given the appropriate consideration and care.
6. Select a project management approach:
Your project will be managed by who? Will you require assistance from your vendor, or do you have an Agile PM or Scrum master on board who can handle it? Assist the PM in selecting the best approach and set of procedures. Determine the amount of time and techniques for reporting on the current state of the project.
How Much Does Hiring a Flutter Developer Cost?
As with almost anything else, several variables affect the cost of hiring Flutter app developers, like your project's complexity, amount of experience, and geographic location.
North America
Flutter developers in the US and Canada typically charge $100-$250 per hour. The cost of Flutter developers might vary based on several variables, including geography and experience.
South America
It is more affordable to outsource your Flutter development to South America, where you can easily find senior mobile developers with Flutter competence in Mexico or Bolivia for about $60/hour; more junior engineers will start at $40/hour.
Hence, the country in which a Flutter developer resides, the engagement models used, and even the project's complexity can all affect their standard salary.
Sum up
A framework called Flutter makes it easier to create cross-platform apps. As it saves businesses a lot of time and money on development, skilled Flutter engineers are in high demand. However, it's critical to use extreme caution in the selection procedure while seeking for Flutter-experienced developers. We provided some hiring advice for Flutter developers to consider in this article. We provided an outline of their responsibilities and even pay. With any luck, this will enable your company to hire the Flutter team member most suited for the position at hand quickly.
But Bosc Tech Labs can offer a free consultation on the many kinds of engagement models, industry trends, and outsourced locations if you still need to figure out how to move forward and need help. To give you an idea of the timeframes, possible expenses, and team size required to develop a Flutter product that meets your company's goals, we can also provide a free estimate for your Flutter project. Please use the form below to contact us with anything you need help with, and we will get back to you as soon as possible.