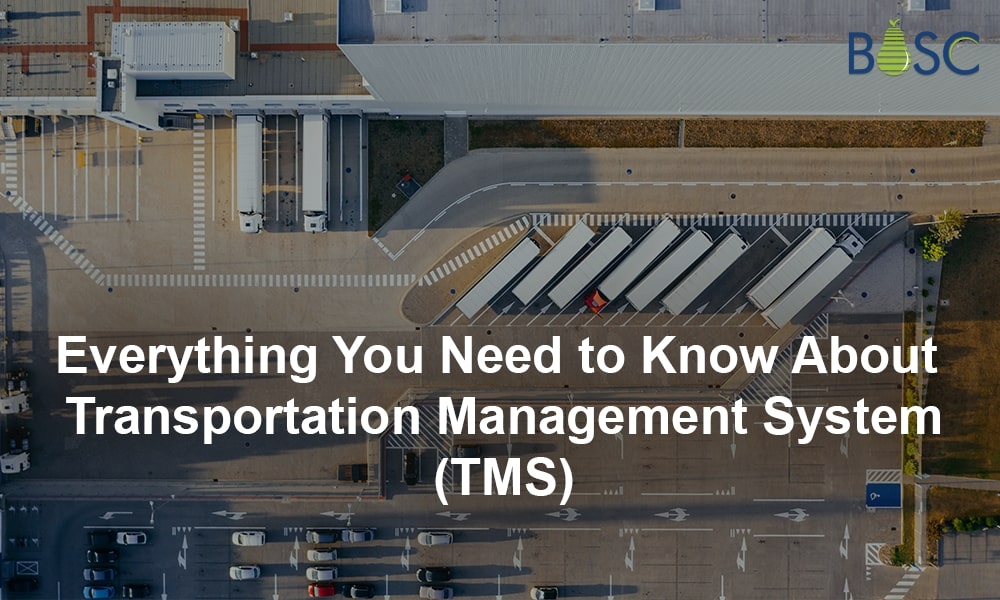 Transportation Management System (TMS): A Comprehensive Guide
Nowadays, effective supply chain management has become one of the topmost priorities for all industries and serves a great role in strengthening international trade. But the one question that arises in your mind is, where does the transportation management system play a role in the global logistic market? But, as a business owner, you must know the supply chain and exercise control over the flow of incoming and outgoing products.
However, a valuable and useful TMS solution can help you to address the needs for planning, organizing, analyzing, and monitoring every moment of incoming and outgoing goods. In this blog, let's see the end-to-end information of transportation management systems with their features and so on.
What is Transportation Management System?
The transportation and logistics market has been undergoing massive changes recently, with unprecedented bottlenecks and challenges. On the other hand, consumer expectations related to the speed of delivery are continuously growing. However, businesses have to use a logistic management system to adapt to changes in the logistics and transportation market.
A typical description of the TMS solution is that it has a group of apps that will help you plan and execute the movement of the goods via the supply chain. It is one of the latest software development trends and an integral part of modern supply chain transportation management systems. However, distributors, manufacturers, retailers, and third-party logistic organizations use TMS software for various advantages.
For example, truck management software can deliver insights into the benefits of TMS solutions. In the case of trucking, TMS can support planning, execution, and the optimization of transportation via a fleet of trucks. However, many industries leverage TMS software to identify the best routes and optimize the usage of resources. At the same time, automation of administrative tasks, assurance of legal compliance of shipments, and documentation management prove to be the significance of TMS solutions.
How Does a Transportation Management System Work?
A transportation management system has a comprehensive database of data related to carriers. The active platform facilitates transactions and communications and empowers users to execute, plan and track shipments. However, TMS will work with another software component in the more extensive supply chain management system, which has ERP and VMS integration. Each software system is tailored to do certain functions, and when it is combined, it will make the digital tripod that supports an end-to-end delivery process.
1. Supply Chain Management System (SCMS):
It supports businesses in managing their whole supply chain by streamlining processes, optimizing inventory levels, and its moves to collaborate with clients and suppliers.
2. Warehouse Management System (WMS):
It manages inventory, monitors products, enhances shipping, and receives the procedure to optimize and automate warehouse tasks.
3. Enterprise Resource Planning (ERP) System:
It merges all crucial business processes, including accounting, human resources, sales, and procurement, into an independent, centralized system, enabling organizations to operate more swiftly and efficiently.
Importance of Transportation Management System
A TMS is a significant tool for any organization that regularly transports massive goods. However, its importance lies in its role in supply chain management, which impacts all the process aspects, from planning and procurement to logistics and lifecycle management. Due to the complicated nature of transportation modes and regulations, managing the tasks manually without a computer was almost impossible. But by leveraging the power of automation, industries can efficiently plan and execute the transportation procedure, which results in increased ROI and consumer satisfaction.
Advantages of Transportation Management System
1. Efficient operations
A benefit of the advanced and latest analytics and custom software solutions with TMS is that it helps obtain accurate predictions related to transportation demand and expenses. However, businesses are using advanced analytics with a transportation management system to identify expected order delivery times. Hence, TMS solutions can help businesses obtain accurate AI-dependent recommendations for optimal transportation carriers and routines.
2. Legal compliance and documentation
The ease of legal compliance and documentation is another significant advantage of the transportation management software solution. Technological advancement like integrated electronic gadgets helps to monitor the rest timing of the drivers. Businesses also maintain documentation of services that records the in-house fleets that ensure compliance.
Additionally, the possibility of linking to shipping carriers and the shipment data platform system are benefits of TMS for freight brothers. Therefore, it can give the exchange of transportation and shipment tracing documentation.
3. Safety of Goods
Businesses are utilising RFID technology to check private vehicles for critical commodities with the use of TMS logistics software. The real-time tracking of shipments, alongside monitoring the status of products in the case of highly regulated items, can deliver the safety of items.
What are the features of a Transportation Management System?
Here are some of the main features you want to look for in a trustworthy transportation management software solution.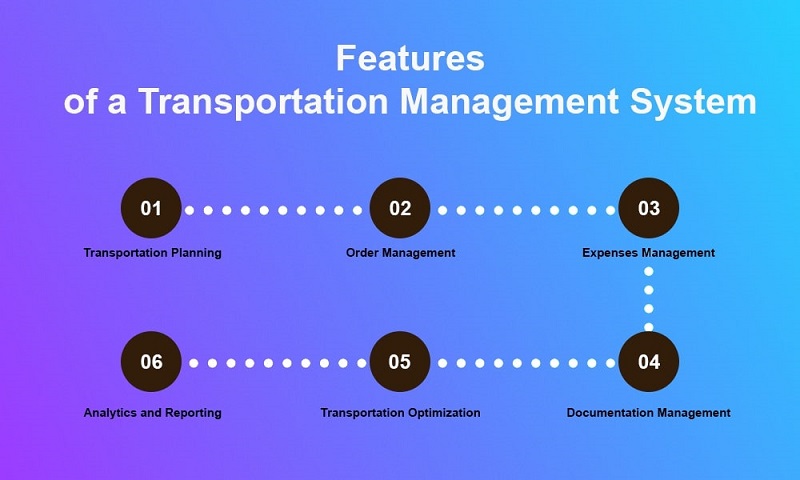 1. Transportation Planning
The effective TMS integration will help you highlight transportation planning functionalities. However, custom software development for transportation management will utilize historical data on outgoing and incoming orders to plan transportation demand. Therefore, TMS should assist in determining the best routes, types of transportation, and shipment scheduling with thoroughly organized milestones.
2. Order Management
By producing templates for transport orders, TMS solutions can streamline the order management procedure. The TMS solutions also use rule-based compliance to organize transport orders across numerous departments and corporate organizations. Real-time tracking of the status of transport orders has the advantage of increasing transportation management effectiveness.
3. Expenses Management
Transportation management systems have the features needed for automated assessment of transportation costs. TMS wants to clarify how it utilizes automation to increase the effectiveness of the actual transportation of products. Users of TMS can benefit from automated transportation cost allocation strategies that use artificial intelligence to evaluate transportation costs.
4. Documentation Management
Documentation management is the next crucial element of a transportation management system. It needs to have the capability of enabling seamless document interchange across various supply chain management process stakeholders. A TMS solution should provide a comprehensive platform for tracking crucial transportation-related documentation, from shipping documents to transportation contracts.
5. Transportation Optimization
Features for transportation optimization are also highlighted in the overview of an implementation guide for a transportation management system. Users might specify the guidelines for transportation optimization to guarantee benefits like shortened shipping times and lower transportation expenses. Systems for managing transportation must provide total control over both domestic and international shipments using a variety of transportation methods. Transportation management is improved through real-time monitoring of transport locations, driving speeds, road conditions, and shipment health.
6. Analytics and Reporting
The analytics and reporting capabilities of transportation management software will influence how effective it is. TMS solutions should also allow tracking of the necessary transportation KPIs, like transportation orders, number of claims, and average costs. TMS has an advanced fleet management system that includes estimates for transportation demand that are depending on trends. Transport Management System also leverages the granular analysis of transportation plans to identify transport planning bugs.
Industries that utilize TMS
Manufacturing: Industries are frequently required to transport raw materials and finished goods between suppliers, clients, and factories.
Chemicals: Needs specialized transportation for hazardous materials and other chemicals.
Food and Beverage: A firm with unique transportation challenges like temperature control and regulatory compliance.
Automotive Industry: Relies largely on transportation to migrate the parts and finished vehicles between the dealerships, factories, and suppliers.
Retail and eCommerce: These industries depend on transportation to shift goods from warehouses to distribution centers and consumers.
Pharmaceutical and Healthcare: Industries have stringent requirements for transporting medical supplies, products, and equipment.
Conclusion
The thorough insights on the advantages and features of transportation management system providers highlight TMS solutions. You may acquire control over the shipping process with effective solutions like transportation management systems. You can keep an eye on the items and vehicles that transport them to their final destinations. Utilizing TMS solutions is essential when the company environment changes due to new consumer behavior trends.
At Bosc Tech Labs, we can assist you in creating transport management system with feature-rich to update your business procedures. Connect with us to learn more about how to use transport management software for your business.
Frequently Asked Questions (FAQs)
1. What is a transportation management system (TMS)?
Using technology, TMS, a logistics platform, enables companies to organize, execute out, and optimize the physical movement of assets, including incoming and disposing of goods. It ensures that a shipment is compliant and the proper documentation is available.
2. Define supply chain transportation management.
As materials travel from one location to another at the start of the supply chain, transportation is the movement of items from one point to another way to a warehouse and continue to an end user with the consumer's order delivered to the doorstep.
3. Why do shippers require TMS?
Companies may quickly pay carriers using a TMS and automatically audit each carrier invoice. Benefit: By giving shippers and carriers access to freight audits, invoices, payments, and cost performance statistics, a TMS simplifies and streamlines the payment process for both parties.
4. How much does a transportation management system cost
The cost of TMS development is calculated depending on project length, features and the complexity involved. Usually, it cost around $200-$300K for development.
Book your appointment now