Mobile app development is a crucial aspect that many companies focus on to increase customer reach and profit. The scope of enterprise application development is high in the current market, prompting companies to focus on it. However, building mobile software from scratch is not an easy process and requires a lot of consideration.
BOSC Tech Labs specialize in building Android, iOS & cross-platform applications using technologies like Flutter & React Native. We have a team of the best smartphone app developers who can handle the development part to the best possible outcome. Let us assist you with your application development project.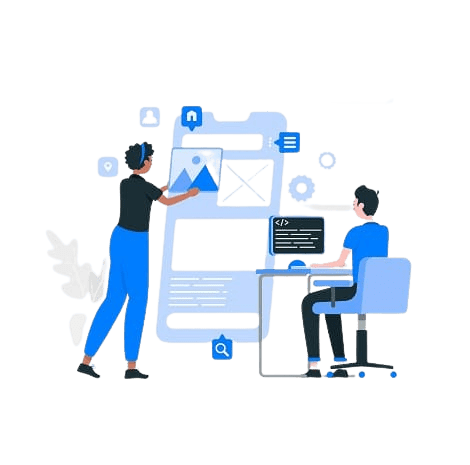 Our Android & iOS App Development Services
In terms of mobile app development, we, as a premier app development company, focus our services on customer-centric development. You can expect well-designed high-fidelity easy-to-use cross-platform apps at the end of our teamwork. Overall, we offer a wide range of services to our clients.

UI/UX Design
UI & UX in application development is a significant component that requires specialized attention, which our app experts can provide. Our primary focal points in our app UI/UX designing process are:
Responsive design
Design prototyping
User Interface designing
Maintaining app uniformity
User journey analysis
Navigation & input optimization
Screen orientation optimization

Flutter App Development
We have a team of Flutter experts who can successfully use one codebase to build complete MVPs from scratch. Our primary services in Flutter application development are:
Building sustainable Flutter apps
API integration services
Payment gateway integration
Augmented Reality
Location based services

Web App Development
BOSC Tech Labs is committed to providing highly scalable and feature-heavy web solutions to our clients. We incorporate Agile methodologies to build flexible and user-friendly website applications with efficient performance. Our robust team of developers specialize in:
Web applications development planning
Quality Assurance
Progressive web apps
Frontend & Backend development

Android App Development
Bosc mobile app engineers are well-trained in all aspects of Android app development, and this knowledge is crucial for creating highly intuitive and scalable Android applications. Our Android specialists have a solid understanding of Java concurrency and source control concepts. Following are the technologies we are using:
React Native
Flutter
Java

iOS App Development
Our talented iOS app developers have vast experience in building iOS applications. Moreover, our iOS app development specialists are very committed to providing you with the best iOS app as per your requirements e.g.
iPad & iPhone app development
Strategy & Consulting
App QA optimization
Version compatibility
Cross-platform compatibility

Enterprise Application Development
We create robust enterprise software to keep up the enterprise revenue. We dedicatedly worked towards building a strong enterprise architecture. Although we drive an enterprise with our various enterprise software development services:
Enterprise Application Development
Enterprise Mobility
Application Migration
Cross-platform enterprise solution
Software integration
Support & Maintenance

App Migration & Support
Our professional app programmers are trained to give you successful App migration support. Bosc Tech app experts are proficient in:
Database migration
App Migration and Optimization
Operating System migration
Data integrity

Testing and QA Solutions
BOSC Tech does not compromise app quality as a mobile application development services providing company. So, we conduct continuous and end-of-the-line testing steps, focusing on:
Cross-Platform testing
Features & Functionality testing
Front-end & backend testing
Multiple networks testing
Our App Development Technologies
In terms of app design and development services, our professionals utilize top-range technologies to ensure high-quality and functional app solutions for all projects.

Flutter
Flutter is the cross-platform app development-centric framework available for quick iOS and Android app creation with one code. We utilize this technology to facilitate an agile and efficient app development process with multi-platform adaptability.
Hot-Reload
Cross-Platform app development
Minimal coding
Rich plugins and widgets
Native like feel and features

Twilio
With Twilio, our developers focus on innovating the customer experience and improving engagement. Multiple scalable APIs are available under this platform with built-in intelligence support, personalized for different apps.
Programmable Messaging
Programmable Voice API
Programmable video
Multi-factor user verification
Twilio studio

Agora.io
We at BOSC Tech focus on using Agora.io in our custom mobile app solutions to optimize video and voice feature qualities. With this technology integration, we can access and use various building blocks and SDKs to improve real-time engagement platforms, like:
Collabaration tool
Voice Calling
Video Calling
Interactive Live Streaming
Real-time Messaging

Flutter Bloc
Our developers utilize the Flutter Bloc pattern for app development, utilizing business logic after data modifications. Also, capable of adequately managing the app widgets with zero tight coupling between sense and view. We work with the flutter_bloc, compatible with both Bloc and Cubit instances.
Improve coding standard
UI improvement
Seperate business logic & component
High coding structure
Our Mobile App Development Process
For mobile app development, the developers at our mobile app development agency follow specific steps carefully.

Project Research
Understanding client requirement
Gathering market and consumer insights
Technology requirement research

App Development
Wireframe design
Frontend and Backend development
API integration
Application testing

Delivery & Support
App launch and monitoring
Keeping note of customer feedback and requests
Support & Maintenance
Why Choose BOSC Tech Labs?
Companies that take the support of BOSC Tech get a wide range of benefits. If you use our service, you can expect such benefits and expect quick turnaround time and improved business performance.
Better business value
01
Advanced mobile app development strategies
Insight market reach
creating solutions that portray the company values.
Total transparency
02
Best support & honest development services
Transparent and clear development process
Complete development progress update
Customer satisfaction focus
03
Priority in client's total satisfaction
Complete testing before launching
After sales support
Dedicated support
04
Our professionals focus on the solutions and target goals for each project
We want to provide the best service possible
We employ top-range technologies and frameworks that always offer valuable results
Performance integrity
05
Deliver the best of our capabilities
Prioritize customer's requirements
Maintain Code quality
Agile process
06
Use Agile methodology in project management and app development
Scrum methodology and tools like Asana for project management
On time project delivery
Flexibility
07
We do not stay limited to what we can offer. We can extend our services
Customize services as per the client needs
Our developers do not stay within defined parameters; they are open to experimentation
Strict compliance
08
Strict follow of NDA-compliants
Ensure high quality coding standards
Strict confidentiality in complete development process
Solved the issue in literally 5 mins. Awesome contractor !!!!! Excellent Contractor. Complete work in a couple of hours. I Will definitely hire again.
Sabah Owais
BOSC Tech Labs Team is extremely knowledgeable and responsive. They finished the work very quickly – and patiently worked with us as we tested each piece as suitable. The end product is high quality – all thanks to the time and effort from BOSC Tech Labs.
Frive
Awesome experience working with BOSC Tech Labs. Would highly recommend their services!
Isaac Westenra
BOSC Tech Labs has very good developers. they have a very broad knowledge. they understood exactly my concept and helped to make it mature. BOSC Tech Labs supported me all the way to production. You can see the final product in the App Store HipMeal.com.
I will keep working with BOSC Tech Labs in the future.
Said Zejjari
I'm very satisfied With the support une the great job, perfect collaboration until the production. Happy to work with BOSC Tech Labs again 🙂
Said Zejjari
Get Your Project Estimate
Get expert software engineers on demand.