iOS development is a sustainable technology needed for upgraded technology and app performance. We provide top-notch iOS app development services to attain a sustainable technology stack with high-end customization scope in the application.
We are one of the leading app developer iOS companies with top-rated clients and experience building a profitable enterprise with our effective solutions. We work with an expert and professional team that deliver the next-gen iOS app solutions and development services.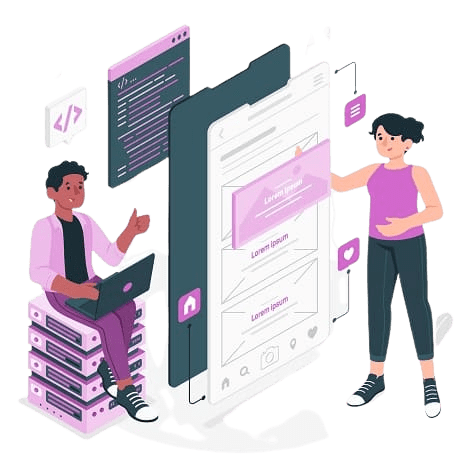 Our iOS Application Development Services

iOS UI / UX Design
We offer expressive and trending UX/UI designs in our iOS services with high-end customization and beautiful patterns and colours. We have UX/UI developers with years of experience delivering alluring designs, customized widgets, and intriguing outputs to our top-rated clients.
Formatting content
Alignment
High-end resolution
Advanced touch controls
Accurate contrasts

iOS Application Development
Our team provides high-end customization app development with specific features according to customers' needs and requirements. We offer our iPhone app development services with a top-notch technology interface and flexible accessibility.
Geolocators
Airdrop and screen sharing
Augmented reality
Haptics, animation & sound
Bluetooth based apps

iOS multi-Platform Deployment
We are one of the top-rated app development companies offering the best iOS multi-platform deployment service in our iPhone app development services. We offer the best deployment tools with flexible frameworks to customize your applications.

iOS App Update & Optimization
We offer our clients extended app update and optimization features in iOS mobile app development with simplified algorithms and accessible features. Our team provides high-end optimization to manage the constant updates and optimization on multiple Apple devices.
Building apps on multiple VMs
Automated app deployment on app stores
Mobile focused CD/CI tools
Cache app dependencies
Featured Flag updates

iOS App Consultation
We work with the potent team for consultation and understand the client's requirements to build the app according to the client's needs and requirements. We maintain smooth communication with the client to suggest the best technology solution and iOS app development services.
App idea validation
Efficient user on-boarding
App marketing
Cost and risk mitigation
Competitive analysis

iOS Software Testing
We have the advanced app testing team in our iOS app development company which analyses each aspect of the app before deployment. Our experts test the app on different levels to rectify the errors and bugs and check the run quality before deployment.
iOS App Beta testing
Prototype user testing
Post-launch Live app testing
iOS automation testing
iOS simulator testing

React Native

Flutter
Our iOS App Development Process

Project Planning & Strategy
Deep evaluation of the app in our custom iOS app development services.
Extensive research about the market niche.
Strategizing about the subsequent requirement for app design.

iOS App Development & testing
Creating the functional app according to the design of our swift app development services.
Testing the workflow and run quality of the app.
Rectifying the bugs and errors.

Deployment and Delivery
Releasing the app designed by our iOS mobile app development services.
Reviewing the live usage.
Continuous maintenance according to the customer's requirement.
Why Choose BOSC Tech IOS app development Services
Robust Development Method
01
Futuristic development techniques
Unique coding methods
Rapid development process
Advanced planning and strategy building
Agile Approach
02
High-end technology approach
Advanced and flexible user-interface
Catchy UX/UI designs and patterns
Software development tools
Better Value
03
Best development solution
Personal dedication toward client requirement
Focus on building a long-term relationship
Extended approach to creativity and innovation
App Store Deployment Assistance
04
Profitable app store deployment
Constant reviewing of the app run performance
Extended customization for variation
according to the customer's requirement.
Continuous maintenance
Open & Transparent Clients Engagement
05
Excellent client engagement for ideas and requirements while planning
Customizable design to make futuristic variations
Consultation team to listen and understand the requirement
Extended transparency while app development and deployment
Competitive Pricing Models
06
Cost-effective services
Follow proven procedures for deployment
Post-development services
Continuous maintenance services
Solved the issue in literally 5 mins. Awesome contractor !!!!! Excellent Contractor. Complete work in a couple of hours. I Will definitely hire again.
Sabah Owais
BOSC Tech Labs Team is extremely knowledgeable and responsive. They finished the work very quickly – and patiently worked with us as we tested each piece as suitable. The end product is high quality – all thanks to the time and effort from BOSC Tech Labs.
Frive
Awesome experience working with BOSC Tech Labs. Would highly recommend their services!
Isaac Westenra
BOSC Tech Labs has very good developers. they have a very broad knowledge. they understood exactly my concept and helped to make it mature. BOSC Tech Labs supported me all the way to production. You can see the final product in the App Store HipMeal.com.
I will keep working with BOSC Tech Labs in the future.
Said Zejjari
I'm very satisfied With the support une the great job, perfect collaboration until the production. Happy to work with BOSC Tech Labs again 🙂
Said Zejjari
Get Your Project Estimate
Get expert software engineers on demand.