Fintech app development: All you need to know about
Bitcoins, Cryptocurrencies, and Ethereum are common words you have heard from those involved in the finance sector. The finance industry is advancing at an unimaginable speed with the help of technology and will give such growth. In simple words, Fintech means an evolution of the financial sector, propelled by technology to upgrade its daily procedure with Fintech app development.
The Fintech app development is exploring rapidly and is estimated to generate $123.4 billion by the end of 2025 at a CAGR of 23.84%. Undoubtedly, Fintech represents ample investment opportunities, and if you plan to develop a Fintech app, then it's the perfect time.
Whether you are a startup founder, developer, or product manager, this Guide will give you the knowledge and tools to create a successful Fintech app.
What is a Fintech app?
A Fintech mobile application development delivers financial services such as investment management, digital payments, online banking, and budgeting tools. These apps also use the latest technology and innovation to give a convenient and accessible way for individuals and business owners to manage their finances, as these apps can be accessed via smartphones, tablets, or mobile devices. It also gives the features such as real-time account balances, transaction history, and financial insights. Fintech apps have been gaining popularity due to their user-friendly interfaces and ability that saves time and money for users.
What is Fintech app development?
It is the process of developing mobile apps that give financial services to users. It also has the combination of software engineering, user experience design, and financial expertise to develop a user-friendly and functional app that meets user needs. Typically, a development process involves the following:
Define the app's objectives
Design user interface
Develop backend infrastructure
Do Testing for functionality and security
Fintech app development involves various trending technologies like AI, ML, and blockchain to give secure and efficient financial transactions. It requests to provide an application that offers a simple, convenient user experience while protecting the security and privacy of the user's financial information.
Advantages of Fintech applications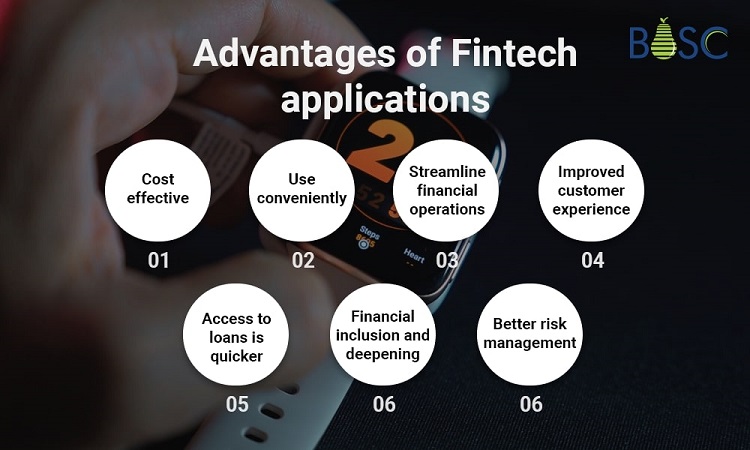 1. Cost-effective
Reusable code is the most vital of Fintech apps as it saves resources by reducing development costs. Because of the automation of many tasks, Fintech apps are effective in the areas like credit risk that do not need as much human interaction, and it saves money by lowering the cost of hiring and training staff.
2. Use conveniently
These apps are convenient, have increased efficiency, and have facilitated transactions using mobile connectivity, which translates to better user experience, better business transparency, and making information more accessible.
3. Streamline financial operations
Digital banking platform makes it easier for businesses to manage and automate financial operations.
4. Improved customer experience
Streamlining an investment process of an organization with the help of Fintech products will enhance growth and proficiency. Advanced technologies like Big Data and Artificial Intelligence in finance apps give consumers a personalized experience and services via their past purchases and financial standing.
5. Access to loans is quicker
The Fintech app with multiple online lenders gives prompt assistance. Fintech services are efficient and immediate and can customize apps.
6. Financial inclusion and deepening
Fintech apps will promote inclusion and financial services by enhancing the consumer experience while delivering top-notch financial services. Financial inclusion may strengthen individuals, which gives them access to banking services, assisting them in reducing costs and delivering an improved experience.
7. Better risk management
With the help of automation, machine learning and big data, Fintech apps will analyze significant quantities of information and give insights in seconds to make decisions.
Different types of Fintech apps
Fintech compromises technologies and financial sectors such as banking platforms, budgeting apps, and blockchain. If you wish your development must understand your idea, then you have to describe the value of the goods to consumers. Let's see various types of Fintech apps below:
1. Digital Banking
Nowadays, online banking is the go-to option for anyone who requires to manage financial transactions and bank accounts rapidly. As with this, customers do not have to leave their homes and be physically present in traditional banks to open an account or deposit/withdraw funds.
2. Mobile Banking
Online banking and mobile banking seem similar, but both have different meanings. As worldwide transactions are done with online banking, mobile banking is software that helps you to perform all your banking tasks.
With mobile banking, customers enjoy various services, from expense trackers to location ATMs, and do quicker money transfers; in this, everything clients do without needing to visit the bank. Hence, mobile banking has developed many business advantages, enhancing customer experience, promoting services, and many more.
3. Payment
With improved payment gateways, online payment has become a well-known category in Fintech app development. Now, consumers and businesses worldwide will enjoy services like e-wallets, cardless transactions, and so on.
However, people of all generations are using these apps to receive and transfer money to each other, crowdfunding, raising collective money, and so on.
4. Cryptocurrency
With the rise of blockchain technology, many financial institutions are excited to invest in cryptocurrency technology. Crypto transactions are swift, anonymous, and, most importantly, not under government rules.
Cryptocurrency apps greatly benefit us, from tracking the crypto market and investment opportunities to accessing the mobile wallet.
5. Budgeting and Finance
Budgeting apps and financial planning help consumers to have better control over their finances. Although, by forecasting investments and analyzing expenses, a Fintech app has much attraction toward a user.
Rather than that, these apps enable your customer to manage, track, and budget their funds without changing the interfaces.
6. Regtech
Deals with advanced, latest, and innovative technologies to resolve regulatory policies. This software solution empowers organizations to assess regional policies and will analyze a recent procedure to ensure complete compliance with the needs.
Hence, regtech apps facilitate a monitoring procedure by eliminating possible human errors.
7. Lending apps
A lending application permits you to lend money without interacting with a bank or credit union. Simply by sitting on your chair, you can lend the money. This lending app has no intermediaries such as brokers, banks, or financial institutions. And because of this, the interest rate is not so high, and investors can profit more. Also, they have the features like credit score, billing, payment, etc.
8. Investment
The stock trading and investment management platform enable your clients to analyze various financial assets and invest for the best profitability. However, the stock market is a complex domain, and investment services apps bring an excellent opportunity for those who want to set about in this domain.
Customers can improve their investment performance by getting investment recommendations and accessing vital data and analytics.
Features of Fintech app development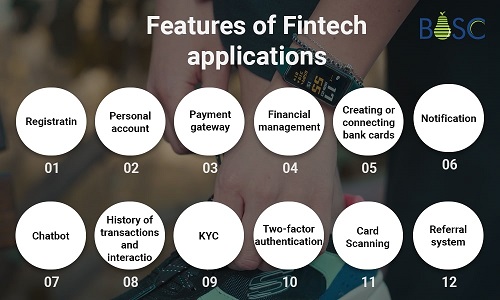 1. Registration
It is an essential component of Fintech apps because it enables users to create accounts and use the functionality of the apps and services. Also, the registration process must be simple and user-friendly, enabling security and compliance with financial regulations.
2. Personal account
This functionality is the most significant component of Fintech apps, which grants users to manage their finances, track transactions, and access other financial services.
3. A payment gateway
Enables users to do a secure and safe transaction. It will act as an intermediary between the user and the payment processor, allowing them to transfer funds from its bank account to the recipient's account.
4. Financial management
By implementing this feature in your Fintech application, you can give users a comprehensive financial management solution that empowers them to take control of their finances and will achieve their financial goals.
5. Creating or connecting bank cards
With this functionality, users can link their existing debit or credit cards to their Fintech account, allowing them to access all their account data in a single place.
6. Notification
To provide users with real-time updates and alerts regarding their financial transactions and account activities, fintech apps provide this function. Users can receive instant pop-up and in-app notifications regarding transactions like withdrawals, deposits, purchases, and payments on their mobile devices.
7. Chatbot
In a Fintech app, this feature helps financial organizations give better consumer support, reduce cost, and improve an understanding of customer needs and behaviour.
8. History of transactions and interactions
This feature will give you a complete picture of your financial history. It lets users view past transactions, including deposits, purchases, payments, and withdrawals. You can see each transaction's date, time, amount, and account balance before or after a transaction.
9. KYC
Helps fitness companies to understand their client's needs and preferences better and also enables them to offer personalized services and products.
10. Two-factor authentication
This feature can be integrated via various methods, allowing users to opt best as per their project preferences.
11. Card Scanning
Card scanning is the most helpful tool for developing Fintech apps that enable consumers to quickly add payment cards to their accounts.
12. The referral system
It increases customer engagement and retention, as it builds a sense of community among the users and encourages them to use the app frequently.
Fintech app development trends in 2023
Let's see some of the leading Fintech mobile app development trends that will shape the future of the development phase.
1. Personalized and AI-Driven features
With the help of AI-driven features like chatbots and virtual assistants that may provide individualised financial advice, fintech apps are anticipated to become more personalised.
2. Increased use of Biometrics
Biometric authentication methods like facial recognition and fingerprint scanning are prevalent in financial apps as they give users improved security and convenience.
3. Focus on Sustainability
Fintech apps are expected to include sustainability into their business strategies and services as environmental concerns continue to rise.
4. Integration with Blockchain Technology
Blockchain technology improves security and transparency in Fintech apps, and more apps are expected to implement the blockchain.
5. Expansion of Open Banking
Open banking grants third-party programmers access to financial data. Many Fintech apps are expected to utilize open banking APIs to provide more value-added services.
6. Decentralized Finance (DeFi)
This trend aims to give financial services without intermediaries, and many Fintech apps are expected to embrace DeFi soon.
7. Expansion of Neo-Banks
Neo-banks is the only digital bank expected to continue to rise in popularity, giving clients more convenient and accessible banking services.
Therefore, with the help of these latest Fintech trends, mobile app developers will help you stay ahead of the competition and deliver innovative solutions that will meet users' evolving needs.
Cost of Fintech app development
Fintech app development costs vary based on features like the app's complexity, functionality, developer experience, development platform, and team location.
Fintech applications might cost up to $500,000 or even more. Simple apps cost less with basic features, while complicated apps with advanced features cost will be significantly high.
It's important to keep in mind that creating an app involves several different costs. However, other costs should be considered, like ongoing maintenance and updates, customer support, and marketing.
To get an accurate and precise cost of app development, then it is suggested to consult with an experienced developer of our team and get the timeline, scope, and costs needed for your project to invest.
Step-by-Step Guide on how to develop Fintech app
App niche: Choose an app niche like personal finance, online banking, money lending or investment.
Determine the features: Make the list of features you need to implement into admin, end-user, and merchant panels.
MVP strategy: Develop a minimal viable product (MVP) to get an idea of its demand in the market.
UI/UX process: Once an MVP is approved, you can design a user-friendly interface.
Development: A technical development procedure takes time to implement everything on one platform.
Testing: Ensure that the app is bug-free, and each function works smoothly, and the QA expert team test the app to fix any problems before its launch.
Launch: This is the final stage, where a mobile app is ready to launch in the market and is perfectly fine-tuned to match the needs of the business.
Conclusion
A gradually expanding sector called Fintech is working to replace the traditional financial system with a platform for digitally operated funds. By creating a Fintech app development solution, the financial industry can map out the distance accurately and attentively.
Bosc Tech Labs, a leading and top-notch mobile app development company in the USA, has experience developing mobile apps of 10+ years. We always sign a well-structured NDA with our clients and, therefore, can't share the details of our existing projects. Our experienced mobile app development team will aid you in developing Fintech apps.
Frequently Asked Questions (FAQs)
1. Who is the target audience for Fintech apps?
Millennials are the most significant target market for Fintech apps, and it's an ample opportunity to educate them about its finances. When you focus your Fintech marketing strategies on educating your customers, they will discover new ways to use your app and stay devoted to it.
2. How do Fintech applications generate revenue?
Fintech applications generate revenue in various ways, including transaction fees, monthly or annual subscription fees, advertising, and commission-based models. Some Fintech companies may also offer premium or upgraded services for an additional cost.
3. What is the cost to develop a Fintech app?
Acost of Fintech mobile app development or web development services varies with an app's complexity and type. For instance, a loan lending app can cost as low as $60,000, whereas an investment app charges atleast $120,000.
Book your appointment now