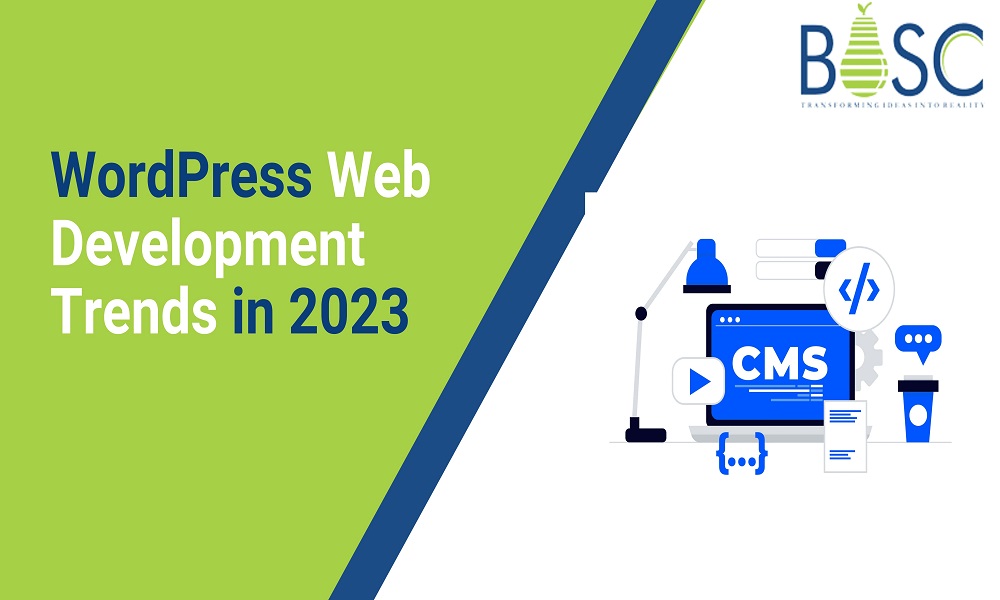 WordPress Web Development Trends in 2023: A Detailed Guide
WordPress is the most popular and leading content management system because of its easy use, flexibility and scalability. It is the ideal platform for creating websites of all types and sizes.
However, the latest web development technologies and user expectations continue evolving, as do how we approach WordPress development.
In this blog, you will find the latest WordPress web development trends in 2023 and see how they transform the platform's future. Hence, these WordPress trends are shifting towards a more personalized, efficient, and user-friendly web development experience.
Some crucial innovations are set to transform WordPress website design development. You must read this article if you are a business owner looking to redesign a website or develop it from scratch.
WordPress Web Development Market
WordPress is the most successful CMS all around the globe, and it also continues to evolve in 2023. As per the survey, WordPress is utilized by 43.1% of the websites on the web. Hence, WordPress has become a vital element of the Internet with its vast popularity and existence for several years.
WordPress is an open-source CMS that gives n developers to create an extensive assortment of themes, plug-ins and widgets. As an easy-to-use CMS, it is the choice over the millions of sites. Hence, no challenge incorporates the latest trends and features on your website using the WordPress CMS in the year 2023, and it will keep you active in the competition.
WordPress website development provides a feature to quickly and conveniently update, edit, change, or modify the website's content simply and conveniently. It is the perfect choice for the backend system, enabling flexibility, expandability, and customization in website management.
WordPress is the perfect CMS for your website, whether you are a content creator, business owner, or blogger. With different open-source plug-ins, WP development is cost-effective. Hence, WordPress will enable a broad range of market companies to deliver cost-effective website development solutions.
Why is WordPress considered the perfect platform for your business?
Nowadays, smartphones and PCs have become the most incredible part of our lifestyle. However, from shopping to finding the best company, we spend all our time finding the right searches. However, it is an ample opportunity for enterprises and startups to make a unique presence on the Internet. WordPress website development is a practical choice for non-technical people in business.
Also Read: Which are the Leading Web App Development Trends For 2023?
Benefits of Choosing WordPress
Many people have begun utilizing the WordPress development platform to build custom websites. But, if you need clarification about selecting WordPress for your site, let's see some of its benefits to help you make the right decision.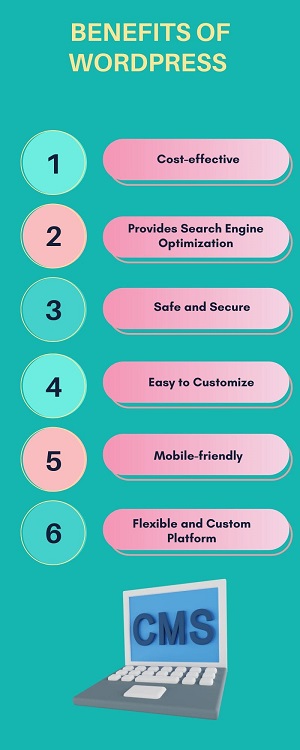 1. Cost-effective
If you have a low budget to start a new project, then the ideal solution for you is WordPress. In WordPress, you will get free or paid themes and can select as per your project needs. These themes can be downloaded from an official WordPress website. Hence, these attractive themes are created to fit into the distinctive display screen sizes.
2. Provides Search Engine Optimization
WordPress lets you easily create an internet presence in your niche or industry. Many free SEO plug-ins are available on WordPress, which is easy to use. Hence, the highly recommended plug-in is Yoast SEO for content optimization in WordPress.
It usually accompanies the SEO strategies, adding the benchmark to the site and improving your website page ordering. Thus, adding the focus keyword and metadata is much more uncomplicated in using this framework.
3. Safe and Secure
It is also among the most widely trusted and successful CMS due to its ability to behave as a robust platform and its highest website development credibility. Hence, it states that you do not have to worry about hacking or unwanted website attacks. It becomes possible with a first-class security framework that WordPress utilizes and can panhandle and control any safety track like a pro. Hence, millions of websites are using WordPress.
Also Read: Why Does a Small Business Require a Website to Grow its Business?
4. Easy to Customize
WordPress has many communities that will usually help out the other WordPress engineers. Working on other CMS platforms may stick you to search the third-Party plug-ins and add-ons. But, with WordPress, you will get packed into the fledge toolbox and features, which is simple to utilize.
5. Mobile-friendly
It is a feature-rich and mobile-friendly platform. It is responsive on any web browser. Mobile usability is growing day by day. For this reason, websites need to develop mobile-friendly sites so that you can easily access them. Thus, start building your website and get a chance to convey your user to consumers.
6. Flexible and Custom Platform
With the WordPress platform, you can make incredible simple themes and plug-ins to install and utilize. It is open-source software that gives you complete flexibility and simplifies to modify it as per your project needs. Hence, these features assist you with creating a website, and it is the ideal choice for all ways of website development.
Also Read: Travel App Development: Market Size, Benefits, Features and Cost
Popular WordPress Web Development Trends in 2023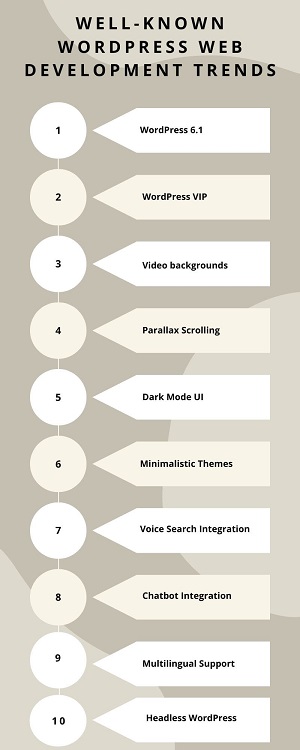 1. WordPress 6.1
WordPress is continuously evolving with one of its best qualities. WordPress 6.1 has impressive features in web development, and it will become available at the end of 2022.
In Phase 2 Gutenberg Page Builder initiative is version 6.1. Over 400 changes and bug fixes include new features and block editor upgrades. There is also available a new default theme. Also, WordPress has been accelerating ADA accessibility improvements.
2. WordPress VIP
The latest trend in WordPress is VIP in 2023. It is now accessible to industries of all sizes and categories. However, it is a vital choice for large-scale corporations who wish to create advanced and complex websites.
WordPress VIP is an effectively-manged WP hosting platform with massive traffic for big firms and websites. It is the best option for WordPress web application development since it is the fastest, most secure and has strict coding standards.
Utilizing WordPress web trends will meet the demand of businesses looking to revolutionize and scale their operations.
3. Video Backgrounds
Adding videos to websites is a familiar idea. Although, embedding video backgrounds and headers has emerged as a significant trend and will continue in 2023. By using attractive visuals and videos on your site, you can make your website more engaging. Hence, the video headers and backgrounds also help to boost user engagement.
Graphical illustrations give a unique way to deliver quality content. The graphic mode also plays a vital role in website designing, a trend that will be explored in the future.
4. Parallax Scrolling
The other emerging WordPress trend in 2023 is parallax scrolling. It is the web design trends and technique where background elements move slower than foreground elements, building the 3D illusion as a user scrolls down the page.
In WordPress, there are different methods t make the parallax scrolling effects. Many of the latest and modern web themes feature built-in support for the parallax effect and provide customization options.
With the assistance of a web development company, you can easily add the parallax effect to your website.
5. Dark Mode UI
Use the website's dark mode UI design to improve the user experience. The website visitors will benefit from the ability to read the content at their convenience.
Although, this feature is helpful as it reduces blue light and preserves the battery life. Incorporate the dark mode functionality into your website with the help of a leading app development company, enabling users to lessen eye strain and improve website visibility in hazardous environments.
6. Minimalistic Themes
It provides smooth navigation with a wide array of white space and flat graphics. Exerting minimalistic themes will become the standard, emphasizing superb usability and mobile friendliness environment.
Entrepreneurs can hire WordPress developers to build clutter-free websites using clean and minimalistic WordPress themes.
7. Voice Search Integration
Customers can use valuable tools to make browsing websites easier in this digital age. The fastest-growing trend in mobile app development is voice search, which allows users to get the answers by speaking simple commands and typing their inquiries.
It is most useful in online stores where consumers can browse and search for products by simplifying voice queries.
Consult the leading web development service provider to adopt the extensive website and online application trend.
8. Chatbot Integration
Chatbot is an excellent invention for the accessible mode of communication between machines and human beings. It provides seamless communication among the users and service providers. It will also recognize the text or voice-dependent user queries and respond to them in real-time.
Besides the CRM and ERP implementation, business users also opt for chatbot integration with custom WordPress development services. It also provides quick and efficient customer support. Hence, business websites enable them t efficiently resolve consumer issues.
9. Multilingual Support
WordPress permits a website to view its content in various languages and allows users to switch between languages. It is one of the methods to use the plug-in as WPML or Polylang. It will manage and create the translation for pages, posts and custom post types.
It's worth it that a multilingual website needs to be translated into all languages it supports, and it is best to have an experienced translator to handle this task.
10. Headless WordPress
Headless WordPress is the latest and most advanced web development trend, which will use a content management system as a backend for the front-end or headless.
However, the increasing demand for headless WordPress can be attributed to multiple factors, such as headless architecture, which gives greater flexibility and results in a faster and more responsive website. Moreover, the headless WordPress will handle the enormous traffic and make it perfect for massive and complicated web applications.
In short, headless WordPress is the way to develop modern, high-performing and scalable web applications. Hire the best web development services to integrate headless commerce with other technologies.
Also Read: Top 10 Benefits of ChatGPT In Customer Service in 2023
Conclusion
WordPress is popular because it creates highly customized and robust websites. The new ideas and concepts are implemented into the CMS, and the agile website development process has made it a more effective tool for developing feature-rich websites.
WordPress web development trends in 2023 will enable us to make robust WP websites. Selecting the WP for your business will reduce website development time and cost and give high functionalities and features. I hope this blog has clarified your confusion about web development in WordPress.
We are a reputed web and mobile app development company in the USA providing unrivaled services to a global clientele. Our experienced and certified developers team will provide cutting-edge solutions to our valuable clients.
Our website designing service will make the most sophisticated WordPress solutions.
Frequently Asked Questions (FAQs)
1. What is the objective of WordPress?
WordPress is a content management system (CMS) that permits you to host and develop websites. It consists of plug-in architecture and a template system; hence, you can customize any websites that fit your business or organization.
2. Where is WordPress content stored?
WordPress pages are saved in the MySQL database that WordPress relies on. Inside that, "Pages" are stored in the wp_posts database table. You can typically access these with the phpMyAdmin tool.
3. What is hosting in WordPress?
WordPress hosting is the sub-category that provides servers and resources optimized for WordPress websites. You do not have to host a WordPress website on a WordPress hosting plan. Hence, regular hosting tyes is also suitable for WordPress sites, and it comes down to preferences.
Book your appointment now