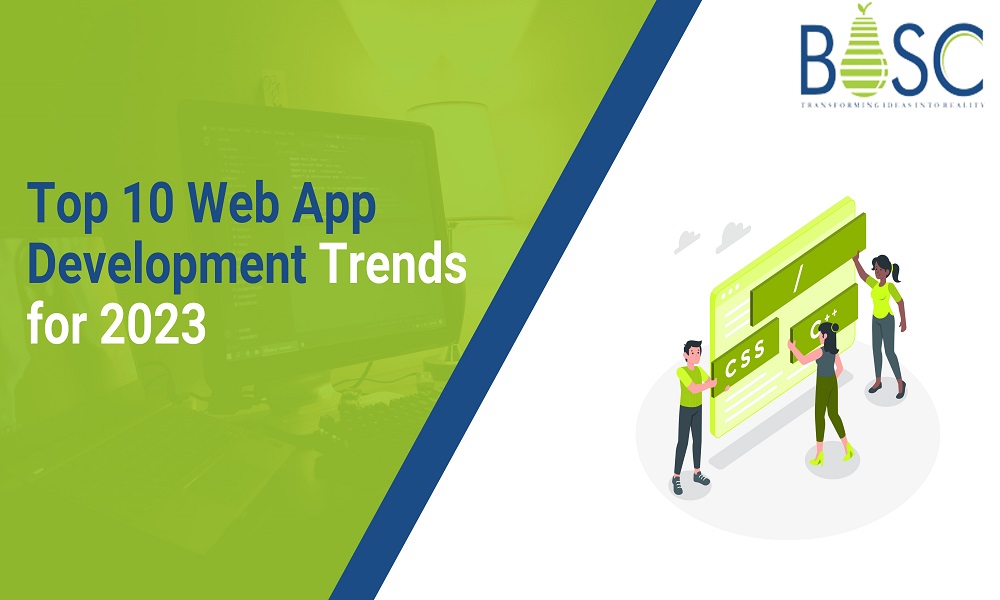 Which are the Leading Web App Development Trends For 2023?
It takes a lot of work to grab the consumers' attention towards the offerings. It happens because the digital landscape is rapidly evolving, making it very complicated for companies to stay in this rapidly changing market. Moreover, the latest technologies and trends are continuously emerging, making it difficult for businesses to keep up. However, with the support of skilled developers, companies are still prospering.
By 2023, how we utilize the internet will be different from how we use it today. We are using it to interconnect with the world in a way we couldn't have imagined. We will be able to do things we could only hope for and imagine. Hence, you can use the presented trends that might happen.
Now, every web app development company uses the latest trends to get the edge over the existing solution to mark a difference.
What is web application development?
Web app development is a highly complex procedure of designing, developing, testing, and deploying a web-based application. Businesses may select to build a custom web application whenever they wish to create an online presence. Web apps are interactive pages that enable user input and run on the web server. The web application is unique, and it is stored on the internet and can be accessed via a browser. They are secure and easy to back up your data.
What are the benefits of web application development?
Web apps come along with several benefits for the business and its users.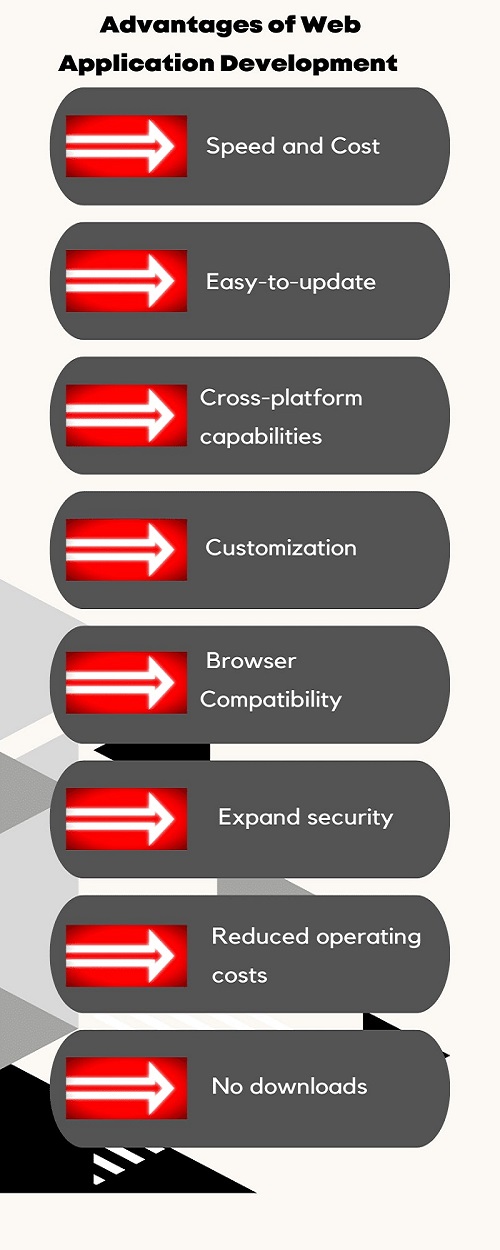 1. Speed and cost
Web application development is faster, and it is economical in comparison to the creation of native applications. Hence, their primary goal is to accelerate the time-to-market, and web app development is an excellent choice for enterprises.
2. Easy-to-update
Updating the web application is more accessible because the server needs upgrades.
3. Cross-platform capabilities
Web apps are developed as they can run on any operating system. Due to their cross-platform framework, web apps run on Android, iOS, Windows, and macOS phones. The device responsiveness of the web apps will help you eliminate the OS dependencies.
4. Customization
Custom web application development gives a vast number of benefits, such as the tailored features of users. These apps are easily accessible via browsers with a stable internet connection. Custom web apps help you cut unnecessary expenses and save time as the necessary features are to be integrated. It will help you improve business traction and awareness, communicate with your brand ideology, and help you to gain a competitive edge in the selected target market.
5. Browser compatibility
A web app will run on the device's browser by using an accessible URL. Modern web apps are compatible with all the browsers like Google Chrome, Firefox, Bing, and Internet Explorer. Therefore, software compatibility challenges have never been roadblocks to enterprise app development.
6. Expand Security
Web apps are usually deployed on dedicated servers with constant monitoring and managed by experienced server administrators. It is more effective rather than monitoring the thousands of client computers. It gives tight security and will identify potential breaches that could slip off.
7. Reduced the operating costs
Web app development is the best way to cut down OS costs. It will eliminate unnecessary expenses like hardware purchases, maintenance of the various systems, and frequent device updates.
8. No downloads
The web application does not require to be downloaded from the app store of any device. It helps you to save money by having a direct link via the web app, which is free to use.
Also Read: Best Cross-platform Mobile App Development Tools In 2022
Which are the well-known web app development trends for 2023?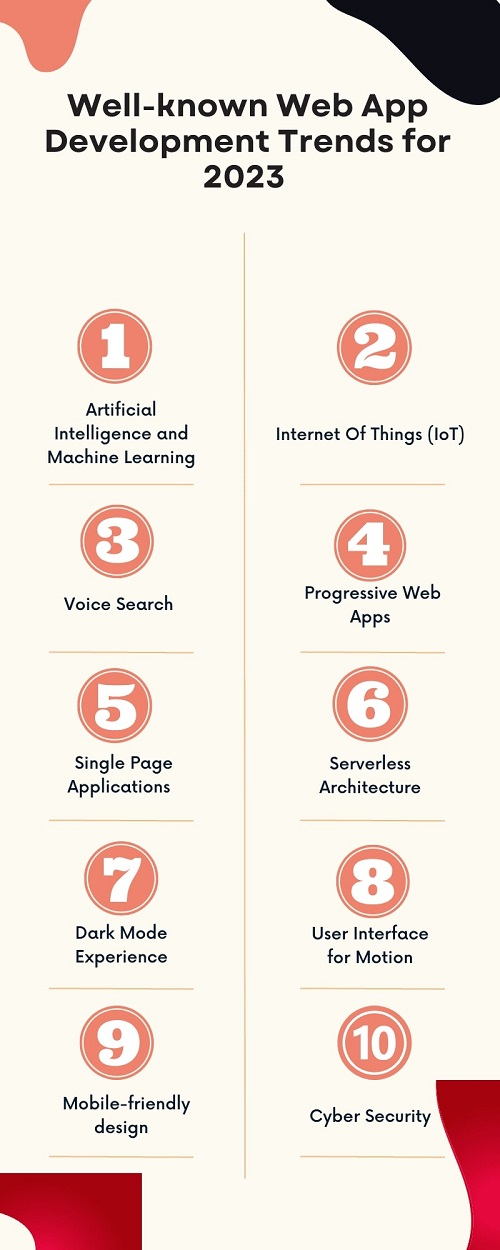 1. Artificial Intelligence and Machine learning
AI has already started to influence web applications and how people interact with their services and products. Many companies are still investing in technology due to its future potential.
Consumers want services and products that are more relevant, and that AI plays a huge role in improving interaction, driving engagement, and offering a great customer experience.
Furthermore, AI is supported by ML and NLP; all these emerged over time and will act as a catalyst in the back-end systems of businesses.
2. Internet of Things (IoT)
IoT has filled many things, from intelligent and innovative appliances to phones, security systems, and vehicles. This technology will sustain to grow in 2023.
However, many firms are now concentrating on rapid IoT development and leveraging a trend to increase their business.
It will play an essential role with sensors, processing ability, software, and other technologies which will connect and exchange information with the various devices and systems over the internet and other communication networks.
3. Voice search
Nowadays, voice search has been utilized by most people effectively. It is because of tech giants' development of digital assistants such as Alexa, Siri, and Google Assistant.
Voice interfaces will usually change web applications. However, voice technology has wholly changed web applications and is considered during the development process and will create the content of the websites.
4. Progressive Web Apps (PWA)
PWAs allow web pages to run offline, boost website loading speed, and enhance the user experience in the in-app browser.
These apps will be created using web technologies like CSS, JavaScript, HTML, React, or Angular by 2022.
5. Single Page Applications
Single Page Applications are in the JavaScript-based framework and have only a single page in the browser. However, updating the content as required without refreshing an entire page is one of the essential benefits of web development.
These apps reduce bounce rates and work well with slow internet connections. It can also be used offline and uses cached data loaded when a user launches the site.
6. Serverless architecture
This architecture is created on cloud technology and permits the users to run the code partially for any application without any requirement for server setup and management.
Amazon, Google, and Microsoft offer serverless architecture.
7. Dark Mode experience
An experience of the darkness in websites has achieved popularity in recent years. It is expected to become higher in the future, and it's because of a visual design.
Dark mode initially began with Android and Apple, and now many other tech giants have incorporated it into their products.
However, some apps have made this procedure optional so that an app user can quickly turn on or off dark mode with the toggle button or the ion on the gadget's screen, menu, or application.
8. A user interface for Motion
Moton is the front-end framework that helps developers create responsive web pages and mobile apps and uses re-programmed motions within the native apps. It makes the elements slide, pin, and perform various other functions.
Nowadays, consumers want more prosperous and more interesting digital experiences. It also offers visually appealing, aesthetically pleasing development.
Motion design emphasizes simple, friendly animations, improving the user experience and keeping them engaged.
9. Mobile-friendly design
As the name says, a mobile-friendly web application means website data that appears correctly on desktop computers and small mobile devices.
Your web app should be responsive and has an adaptive design. It is easily and readily accessible on all the different platforms, specifically on the smaller screen of tablets and smartphones.
10. Cyber security
Cyber security secures data, servers, and networks from unauthorized access and malicious attacks.
Security testing of a web application practices will reduce the risk of attack and development.

Conclusion
The field of web development will see latest and trending advancements in 2023. We have defined the list of the leading trends for 2023. These trends will influence how we will deliver web experiences in the future. To give the best experience, staying updated with these latest trends is necessary. These trends will help boost your business and remain in the competition.
If you still have any queries, remember to connect with Bosc Tech Labs, a leading web app development company in the USA.
Frequently Asked Questions (FAQs)
1. What are the stages of the web development life cycle?
Usually, there are seven states of the SDLC, including planning, analysis, designing, development, testing, integration, and maintenance.
2. Which is an essential step in web development?
Project planning refers to determining the overall objectives and goals of the web development project. It is a vital stage in the whole development process.
`
3. What is the future of full-stack web development?
Full stack developers will create the functional databases to offer support that enhances the back-end user experience by designing the visually appealing front end. They should take responsibility for end-to-end web architecture. A programmer should be able to maintain and upgrade software when needed.
Book your appointment now