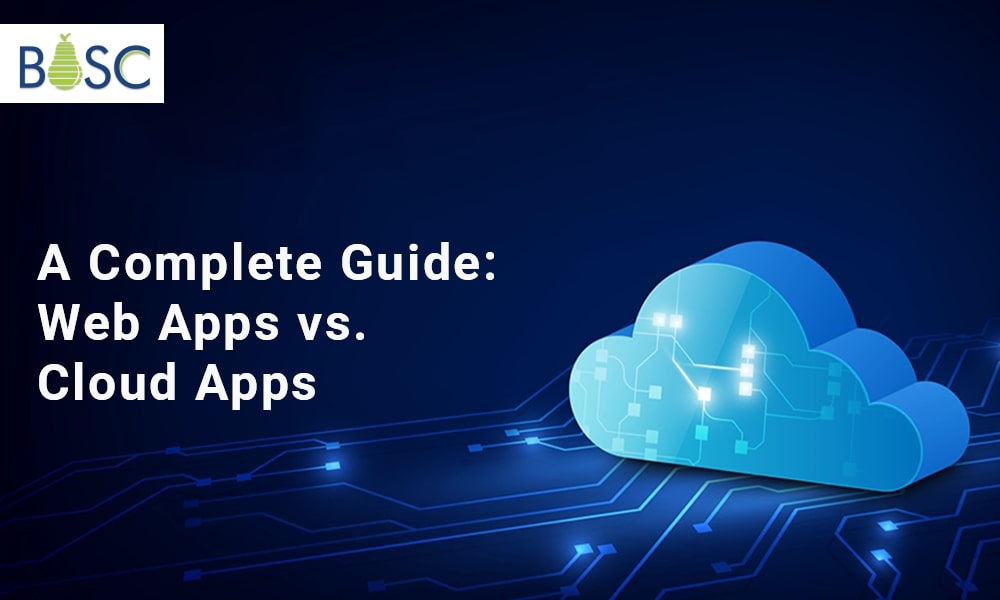 A Complete Guide to the Differences Between Web Apps and Cloud Apps
Modern businesses would find it difficult to stay ahead without employing various technologies and continuously upgrading them. Numerous apps are now a simple method to access the advantages of the digital society. Companies may need to decide between web and cloud applications due to the increasing popularity of different applications.
Both present lucrative possibilities. According to research, market revenues for public cloud services surged to $126 billion in Q1 2022, a 26 percent rise from Q1 2021. The last few years have seen an ongoing rise in web app income.
If each choice has advantages and disadvantages, which should you pick for the business requirements? It would be best if you thoroughly examined these solutions to find an answer to the following question.
Bosc Tech Labs has years of experience developing websites and cloud-based applications. As a result, we have offered our in-depth information to make the distinction between both concepts easier for you. After reading this article, You can select an effective strategy for your particular business needs. So keep reading!
Overview of Web Application
What if we told you that you utilize web applications daily? You might be stunned. A web app is developed for web browsers on smartphones, laptops, and computers. Since these pages are usually used to acquire a service, a web application includes specific information and some buttons or windows.
Because they emerged and developed differently, the conflict between cloud application development and web application development begins there. For many years, the phrase server-based computing has been in use. The basic goal of developing web applications is to host data on an individual computer, sometimes a server. Clients could thus use their laptops or smartphones to share their resources with others.
High-quality web app development requires a high level of subject knowledge. Thus, feel free to contact Bosc Tech Labs if you have a solution idea and need a technological partner to make it a reality. To fulfill the constantly changing needs of modern businesses, we thoroughly examine your company's needs before offering a variety of acceptable options, developing an MVP and testing it, and then creating a finished product. We also offer maintenance services in this process.
To choose between a cloud application and a web application, it is important to consider the benefits and drawbacks of web technology. Web apps are, therefore, popular among users for the reasons listed below:
Benefits of Web Apps
1. Adaptivity:
It is well known that web apps don't require a particular operating system. They can therefore operate on any operating system and are accessible to all users. Additionally, it is less expensive because there is no need to create programs, particularly for every operating system or browser.
2. Nothing needs to be downloaded or installed:
Furthermore, because all updates take effect when the page is reloaded, you may quickly optimize and modernize an interface at any moment.
3. High-security level:
The main advantage is that there is just one entry point for the web application, indicating a high level of security. Because everything can be set up easily and with a high level of security, web-based and cloud-based apps have a clear advantage.
4. Security of data:
All client information is stored in the cloud so that the hosting company can guarantee its security. Clients need not worry about their data spreading as a result. Web applications also provide security against data loss.
5. Availability:
The accessibility of web applications has its pros. We can all agree that using applications on various gadgets, including PCs, laptops, tablets, and smartphones is convenient.
Drawbacks of Web Apps
Complicated UX building processes and browser compatibility issues. As a result, while developing a product roadmap, you must gather much information on usage patterns and performance metrics.
Decreased performance of Web application functions with less efficient and less responsive than other applications.
Introduction of Cloud Application
An online connection is necessary for cloud applications to operate properly. By using a browser, customers may also have further access to them. When a machine or application, sometimes called a server, is created to handle network resources, that technology is called server computing. Another application, sometimes known as a client, submits requests to servers, which accept and respond to such requests. The cloud is used to store, analyze, and access the data used by these programs.
Let's look at cloud apps' major benefits and drawbacks to understand better their unique characteristics and why 94% of businesses already use cloud solutions.
Benefits of Cloud-Based Applications
1. Improved collaboration:
Users may collaborate effortlessly, and access shared storage when all the crucial data is kept in the cloud.
2. Lower expenditures for maintenance:
Cloud apps cost less money to maintain in terms of software and hardware, hence requiring less funding.
3. Storage capacity is virtually infinite:
Cloud apps are fantastic for businesses that need to safely store and conveniently access large volumes of data, including documents, music, video, and photos.
4. Huge potential for scaling:
Cloud apps are what you need if you want your app to scale quickly without compromising speed and security.
Drawbacks of Cloud Apps
The drawbacks of vendor lock-ins for cloud applications. When switching cloud service providers, businesses could experience issues.
It is necessary to disclose private information to third parties. You should know that even if most cloud service providers use modern security measures, you still share sensitive information with cloud vendors.
Cloud service providers entirely own cloud infrastructure. As a result, you will not have total control over how services are delivered within a cloud architecture.
The main difference between Web applications and Cloud applications
Let's explore the main differences between cloud and web applications to determine which kind suits your unique business requirements.
Differentiations
Factors
Cloud apps
Web apps
Technology
Performance-focused JavaScript-based frameworks like Nodes, React.JS, and Angular are used to create applications.
To build web apps, you'll need to use back-end programming languages like PHP, Python,.NET, and Ruby, as well as web technologies. Additionally, you'll need to use remote databases like PostgreSQL, MySQL, and SQL Server.
Security
All cloud service providers encrypt all the data in the cloud using various security methods. Businesses must remember that they share sensitive data with cloud service providers.
You have complete control over how all data is stored and processed, and all client information is verified on the authentication servers of web apps.
Scalability
Cloud applications are excellent for businesses that require a lot of scalability.
The scalability possibilities of web apps are limited and expensive.
Categories
Solutions for team communication and file sharing are a few examples. Several well-known cloud applications include Evernote, Salesforce, Dropbox, Zoho, and Yahoo.
Some examples of web apps are WebEx solutions, banking, social media, and e-commerce. One well-known web application is eBay.
Internet
Cloud applications don't always require an internet connection.
Web apps can only be used with an internet connection and a web browser.
Development cost
Although designing a cloud app is more expensive, storing large amounts of data in the cloud instead of on servers is less expensive.
The cost to design a web app is lower. However, you'll need to make large investments in growing the number of servers if you want your solution to share and process a lot of data.
Availability
Cloud apps provide simple user collaboration because they can be used from any device or browser
Only a web browser with an internet connection is required to access web apps, and there are few possibilities for teamwork available.
Solution
Cloud apps are multi-tenant and easily customizable to meet the varying needs of users and businesses.
There aren't many multi-tenancy alternatives available in web apps.
Cloud vs. Web Application: Which Should You Select?
It's time to decide which would be most beneficial for your organization once you grasp the differences between cloud applications and web apps:
Smaller businesses typically choose web solutions when they want full control over the functionality, usability, and security of the data owned. However, by keeping everything on your servers, you risk facing downtimes if something goes wrong with your servers. You also reduce your ability to scale, as it gets more expensive to set up, run, and maintain all the servers as the amount of data increases.
Big enterprises committed to quick growth and desiring infinite scalability frequently select cloud apps. This strategy guarantees that you can develop at any reasonable pace, always have access to all the data, and that the likelihood of app crashes is nearly minimized. However, while adopting this strategy, you keep all the sensitive data with a third-party vendor. Therefore, you must be very careful when choosing a cloud service provider.
Since selecting between web-based and cloud-based applications can be challenging, plenty of companies opt for a hybrid strategy. For procedures that demand the highest level of security, you can use web-based applications, whereas cloud applications are best for those that would suffer greatly from app crashes.
Conclusion
Customers are interested in the cloud computing vs. web application debate because both apps perform well.
Web applications and cloud applications have few significant differences. The distinction results from the many functional similarities between web applications and the cloud. There are, however, also important differences, particularly when using cloud applications for redundancy rather than computational power.
Web apps would therefore be a smart alternative for smaller tasks. Cloud applications are typically made for more complicated tasks. Ultimately, most businesses combine them, so your choice should align with your objectives.
Bosc Tech Labs has extensive experience developing cloud and web applications for various industries and has been in the bespoke software development business since 2010. As a result, we can quickly determine what kind of application you need to create to achieve your long-term company objectives and the quickest and most affordable way to carry out the development process.
You can see a complete list of the projects we've worked on and learn how we address the toughest difficulties by looking through our portfolio.
Frequently Asked Questions (FAQs)
1. What are the top 3 reasons for using the cloud?
The top 3 reasons for utilizing the cloud are
File storage: You can save any data and information on the cloud, including emails and files.
File sharing: In cloud computing, sharing any file with several users is simpler.
Backup of data: If your system is lost, damaged, or stolen, you can still protect your data and files because of cloud storage.
2. What distinguishes a web application and cloud application?
Cloud and web apps have quite different architecture.. A web application or web-based program must be continuously connected to the internet to operate. On the other hand, a cloud application or cloud-based program handles processing on a local workstation or computer.
3. Why do we need web apps?
It helps organizations to provide their customers with a personalized experience, which may increase consumer satisfaction and loyalty. The future of web development lies in adaptable web apps. They allow consumers to alter the website's appearance and feel according to their preferences.
Book your appointment now