Even though Java is a pretty old programming language, it is still prevalent in the IT industry. Many MNCs still use Java as the core language for developing different types of software with varying features. There are many reasons why it is always the number one choice for developing software. For instance, Java codes are light and easier to modify as different functions are written in modules that can be scaled without impacting any other functional module.
This is why we have ensured that our team members are skilled enough to cater to your needs and develop the best Java development solutions. Our services range from website designing and development to mobile app development. After thorough research and studies, we learned how crucial Java is and how it can revolutionize the market for betterment. Owing to this reason, we have formed a team of experts who have years of experience and can deliver their work on time without help.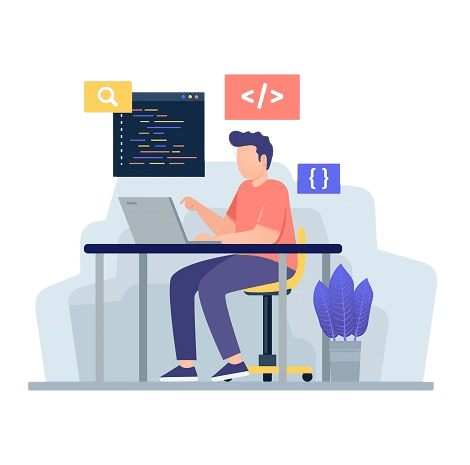 Our Java development services

Custom Java Development
Custom software plays a crucial role in taking a business to new heights. This is why we offer custom Java development to ensure that the final product can meet all your business requirements criteria. The developed software will be a complete replica of your business values and stands (for the same). Therefore, you won't have to worry about not having the right software that your neediness needs.
With custom software, you can represent your business in the best possible manner.
It becomes much easier to project thoughts and goals with custom-designed software.
Custom software can be scaled as per the demand of the client.
It proves to be a worthy investment in the future.

Java Web App Development
From web applications to websites, our expert team can handle different types of web development based on the Java language. It allows us to develop fast-paced, high-performing web solutions that will take your business to new heights. Some of the significant areas we target through Java web development are:
Developing new APIs for third-party integrations.
Website development.
Web application development.
Development of new web pages for a particular website.

Java Mobile App Development
With the growing number of mobile users, it has become crucial for every company to launch a mobile app version, a national bank, or an eCommerce retail chain of business. Launching mobile apps is not an easy task because the software solution needs to be responsive, scalable, and adaptable. This is why our experts pay special attention to the mobile app development services so that we can meet the client requirements optimally with the best solutions.
Java is an object-oriented program with different snippets that can be broken down, into separate modules for easier code handling.
It is an open-source programming language, and thus, our developers are in constant touch with other professionals.
We can develop high-performance and secured mobile applications easily in no time.

Java Enterprise App Development
Enterprise development with Java language has always proven to be a feasible solution. Java can help develop state-of-the-art enterprise applications that will take your company to a new height and help process different business ops quickly, from warehouse management software to payroll management software.

Java Migration & Integration
With the help of the Java language, we can work on data migration from legacy systems to new developing environments. Apart from this, we also work on integrating several third-party apps with the developed software to ensure that you can have a complete package.

Java/ J2EE Development
The J2EE development process is implemented to develop enterprise software, that will run over onsite servers and can be accessed, through jump servers from offshore locations. Since this development process is so tricky and complex, we have a unique team of experts who have, decades of experience developing onsite server apps and websites.

Maintenance & Support
Java software development is not the final step of the process. Instead, we offer maintenance and support services post-deployment of the software. This helps us ensure that the development software is working as per expectations and yield outstanding results for our clients.

Java

Mongo DB
Our Java Development Process

Java project requirement and analysis
The first thing we do to develop the best Java software is to understand what our client requires and whether we will be able to meet those expectations or not. We run an end-to-end analysis to check that we understand the requirements.

Java full-stack development and testing
From backend to frontend, we are capable of Java full-stack development. Once we are done with code development and they are deployed, our testers perform a series of tests to ensure that no error is present in the functionalities.

Project delivery and additional support
We ensure to deliver the project on time and offer additional support for post-production deployment.
Why BOSC Tech for Java development services?
Experienced and skilled Java developers
01
Our team has experienced Java developers who are not only skilled in different Java solutions but can come up with trending solutions.
Reliable & Fast Java Applications
02
Our advanced Java applications are fast and can deliver high-paced performance that will be reliable and trustworthy.
Progressive & Result-Driven Approach
03
To meet the performance of the app as per the client's expectations, we take a result-driven approach to our Java solutions.
Fast Delivery
04
We make sure to deliver our work on time without compromising the delivery time or quality of the developed software applications and websites.
Flexible Hiring Models
05
You can hire our skilled professionals as per your flexibility. This way, you can work on team augmentation for faster and better results.
Maximum Scalability & Security
06
Our advanced Java solutions are scalable and have a high level of security features integrated within the codes.
Solved the issue in literally 5 mins. Awesome contractor !!!!! Excellent Contractor. Complete work in a couple of hours. I Will definitely hire again.
Sabah Owais
BOSC Tech Labs Team is extremely knowledgeable and responsive. They finished the work very quickly – and patiently worked with us as we tested each piece as suitable. The end product is high quality – all thanks to the time and effort from BOSC Tech Labs.
Frive
Awesome experience working with BOSC Tech Labs. Would highly recommend their services!
Isaac Westenra
BOSC Tech Labs has very good developers. they have a very broad knowledge. they understood exactly my concept and helped to make it mature. BOSC Tech Labs supported me all the way to production. You can see the final product in the App Store HipMeal.com.
I will keep working with BOSC Tech Labs in the future.
Said Zejjari
I'm very satisfied With the support une the great job, perfect collaboration until the production. Happy to work with BOSC Tech Labs again 🙂
Said Zejjari
Get Your Project Estimate
Get expert software engineers on demand.