On Demand App Development Solution
Because Of the Covid-19 Global pandemic outbreak, people like to get everything delivered to their doorstep if possible. And prefer to stay at home rather than roaming around. So it becomes a golden opportunity for us to design and develop a mobile application that suits user requirements.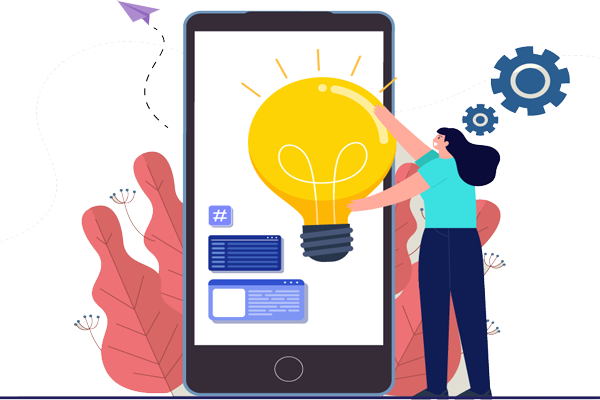 In 2017, information technology and its various subsectors represented almost eight percent of the nation's overall GDP. In the financial year 2019, this industry in India generated annual revenue of close to 180 billion U.S. dollars, a significant increase from the generated revenue ten years ago. A majority of this revenue was generated in exports while domestic revenue totaled less than 50 billion U.S. dollars for the mentioned period. In other words, we can say that mobile apps not only uplift the economy but, also generates goodwill for the same.
Here we have a list of on-demand app ideas to trends in the upcoming year
1

On-Demand Taxi/Cab Booking App

In recent times due to Covid -19 Global Pandemic, people are avoiding traveling outside and prefer to stay at home. But yet, sometimes people need to make a move from one place to another place, so there is Hugh demand for Demand Taxi Booking AppService. Nobody wants to spend more time than is needed. People can book a cab/taxi at the convenience of a mobile app without the worry of traffic, parking space, and cost.

A popular example of a Demand Taxi Booking App is Uber, Ola, etc. where they connect the customer with a Taxi Driver to fulfill the client's requirement.

2

On-Demand Food Delivery App

Human Beings survive on food. It is a primary and basic need for everyone. We see an online food delivery business booming nowadays and will continue to have a huge demand.
On-Demand food delivery applications like Zomato, Swiggy, and Ubereats are already witnessing high demand across the world. These days most restaurant owners and street vendors come online to fulfill their food business requirements. On-Demand Food Delivery App Services are a great hit and offer a long-lasting opportunity to the provider as well as the customers.

3

On-Demand Heath/Fitness App

In recent times health has become the biggest wealth. Just because of the Covid Pandemic, people have become more aware and conscious about their health which has made the healthcare and fitness industry the most extensive domain at the moment.
On-Demand Heath/Fitness App service will help healthcare professionals, Family Members with direct and indirect suggestions and guidance about their health.

4

On-Demand Grocery App

Nowadays, life has become so hard and fast that people don't have time to go to a market and purchase a grocery. And so people purchase their groceries from an online grocery provider who will deliver the bought groceries to their doorstep within a day or two days after placing an order.

Some popular examples of On-Demand Grocery Apps are as below:

Big Basket
Grofers
Nature's Basket

5

On-Demand Fashion App

Earlier, our ancestors stuck to traditions, but now the time has changed. People like to keep themselves updated with current and latest trends. On-Demand Fashion App will help users to get an idea about the current fashion trends as well as upcoming trends. As the Fashion industry is the most versatile, there would be a huge demand for Fashion providers.

Some popular examples of On-Demand Fashion Apps are as below:

6

On-Demand Beauty App

On-Demand Beauty App allows several businesses to meet the beautifying and the most appropriate salon options for the users that are nearby and accessible. Men and women can avail of the desired services and can book a beauty care professional at their date and time rather than visiting a beauty salon.

Some popular examples of On-Demand Beauty Apps are as below:

BeautyPlus
Makeup Plus
Beauty Cam

7

On-Demand Home Service App

Those days are in the past when people used to check the Phone contact directory or will consult neighbors to give a reference for home services. So there will be an immense demand for Home Service App.
All we need to do is an open app, enter your address and start looking for a service provider with specific expertise and book the appointment, and within a fraction of a minute, someone will be assigned for the task.

Some trending examples of On-Demand Beauty Apps are as below:

UrbanClap
HouseJoy
Zimmber

8

On-Demand Laundry App

As per the current statistics, laundry care segments will generate a revenue of $76,300 million in 2020. And it is expected to grow by 4% annually. Who thought that a simple laundry service could generate this high revenue? One cannot simply ignore the contribution of laundry facilities and dry cleaning services.

Laundry services are becoming our need because no one wants to sit on a weekend to do this monotonous work when they can utilize their time on some important task. These simple ideas have influenced the invention of on-demand laundry apps.

9

On-Demand Learning App

The increased use of the eLearning application can help teachers and students to overcome challenges at all stages. These problems apply to a variety of degrees in developed and developing countries. While most underdeveloped nations focus on accessing and improving primary education, developed regions strive to enhance student engagement and personalize each student's education. The e-learning application could offer concrete solutions to these problems.

Some trending eLearning apps are:

Udemy
Byju's Learning App
Vedantu Live Learning App