Web application development is an advanced approach toward tech-savvy and futuristic design-based web development. We work with a professional team of web developers and designers who are potent and experienced in designing and developing top-rated web applications with cutting-edge technology interfaces for building a web app.
Our web application development lets you get impactful, advanced, and customized web-based software with a high-end user interface and flexibility. We offer you the top quality, budget-friendly, and robust web development service with extensive market research and an effective strategy to capture niche markets.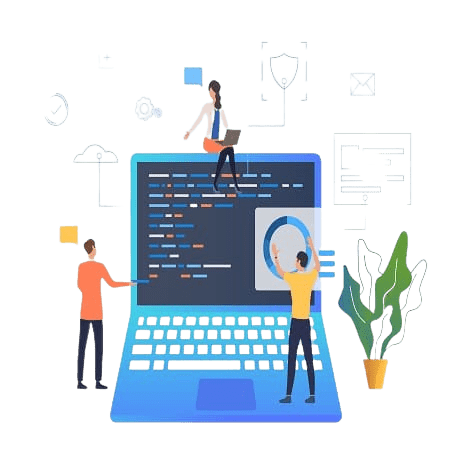 Our Custom Web Application Development Services

UI / UX Design
Our team offers you trendy, catchy, and flexible UX/UI designs with a high-end customizable approach. We provide a web application development service with a smooth and sleek digital interface and a specific design guarantee.
Appealing and attractive interface
Trending patterns and segments
Flexible widgets
Extended conversion and customization ratio
Flexible widgets
Advanced touch controls and alignment

Cross-Platform App Development
Our team develops web applications with advanced functioning on cross-platform applications. Our cross-platform web application development attains simplified portability and a single coding approach for multiple platforms, advanced hardware compatibility, and robust performance to develop a web application.
Extended cloud integration
Reusable coding technology
Efficient UI components
Simple hosting
Advanced communication platform
Agile marketing

Front-End & Back-End Development
Our expert web application developer offers robust and secure front-end and back-end development services. Our front-end developers use advanced JS frameworks to improve the speed. Back-end programmers use several languages for extensive support.
Angular (Front-end)
Javascript (Front-end)
React (Front-end)
PHP Laravel (Back-end)
Node JS (Back-end)
C# on .Net (Back-end)

Progressive Web Application Development
We build a web app with optimal software development techniques and technology stack. We offer the best (PWA) progressive web app development solutions to improve the native and web application to provide a quick and flexible user interface.
Quick installation
Pivotal speed experience
Increased traffic
Improved user interface and experience
High-end compatibility with devices
Advanced accessibility in the absence of internet

Web Portals & Enterprise App Development
Customized approach for variable portals
Robust back-end application
Tailored branding technology
Supportive promotion base
Enhanced security
Wide range of portal compatibility

Single Page Application Development
Our team offers website application development with the best single-page application development solutions. This development aspect provides you with robust, seamless, and flexible integration with the server with an engaging and fascinating user interface.
Simplified app-building technology
Seamless customer interface
Advanced working on low bandwidth
Agile functioning approach
Best technology framework
Excellent resource management
Technologies & Languages we are using

React.js

Node.js

Java
Next.js

Python

vue.js

NestJS
Our Web App Development Process

Project Planning & Strategy
Analyzing project requirement
Outlining the web design
Preparing the project plan
Evaluating the Budget estimate

Web App Development & Testing
Advanced UX/UI components and tools
Trendy haptics controls and integrated alignments
Frontend and Backend testing
web app beta testing

App Delivery And Support
Develop a web application and releasing on the app store
Constant review of the live app
Regular maintenance as per the customer reviews.
Why Choose BOSC Tech for web application development Services?
Robust Development Method
01
Advanced technology interface
Special coding implementation
Personalized approach to development
Fast development process
Agile Approach
02
Advanced UX/UI components
Futuristic development tools
Robust and fast development method
Smart, innovative solutions
Better Value
03
Dedicated team of web developers
Special consultation sessions with clients
Building trustworthy and long-term relationship
Transparent services
Open & Transparent Clients Engagement
04
High-end customization scope
Special team for market research and consultation
Regular discussion and consulting sessions with the client to understand the requirement.
Transparent development, designing, and deployment process
Competitive Pricing Models
05
Budget-friendly services and development tools
Implementing proven and standard development procedures
Regular maintenance
Post-development services
Solved the issue in literally 5 mins. Awesome contractor !!!!! Excellent Contractor. Complete work in a couple of hours. I Will definitely hire again.
Sabah Owais
BOSC Tech Labs Team is extremely knowledgeable and responsive. They finished the work very quickly – and patiently worked with us as we tested each piece as suitable. The end product is high quality – all thanks to the time and effort from BOSC Tech Labs.
Frive
Awesome experience working with BOSC Tech Labs. Would highly recommend their services!
Isaac Westenra
BOSC Tech Labs has very good developers. they have a very broad knowledge. they understood exactly my concept and helped to make it mature. BOSC Tech Labs supported me all the way to production. You can see the final product in the App Store HipMeal.com.
I will keep working with BOSC Tech Labs in the future.
Said Zejjari
I'm very satisfied With the support une the great job, perfect collaboration until the production. Happy to work with BOSC Tech Labs again 🙂
Said Zejjari
Get Your Project Estimate
Get expert software engineers on demand.