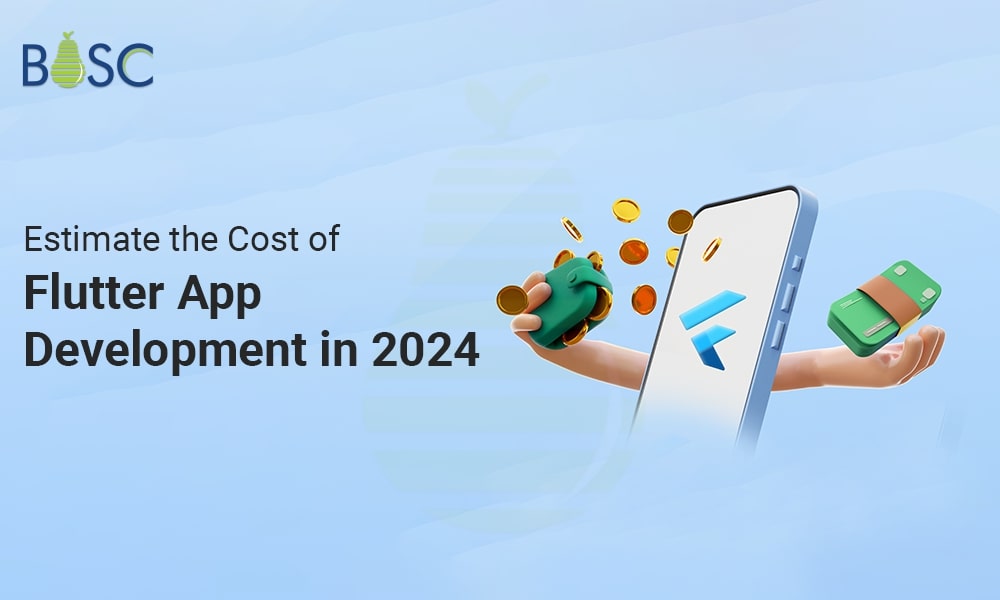 How to Estimate the Cost of Developing a Flutter App in 2024?
Flutter, an open-source platform, has completely transformed how businesses create mobile applications. Many companies are using Flutter to get the most out of their app development efforts.
The key factors influencing its success are its quick development process and flexible user interface. The question of how much it costs to develop a Flutter app comes up as Flutter gains popularity.
We will cover all the information you require regarding the Flutter development team and project complexity, which will be helpful to you in determining the budget of your project.
This blog post will look at all the factors that affect the cost of developing a Flutter application.
Find out how much the Flutter app costs by reading on, no matter your level of experience with tech.
Key Factors Affecting Flutter App Development Costs
One of the main benefits of Flutter is its cost-effective development cost, but there are a lot of other things to take into consideration. The cost to develop an application for Flutter is dependent on several variables.
This is an outline of the primary factors that affect how much a Flutter app development project will cost:
1. Features complexity
Your mobile app's advanced feature set will have a significant impact on the overall development cost. The time in the development process will increase with the features' complexity. Features are an essential part of mobile application development, and the cost of a feature directly affects how well it performs.
A simple feature takes four to five days to develop. However, services like chat, video calls, payment integrations, and others can take up to a month or more to complete. The number of experts needed will depend on your features. The price of developing apps rises as an outcome.
2. UI/UX Design
The second important factor that affects how much Flutter app development services cost is UI/UX design. Improving the wireframes created during the disclosure phase with additional data or screens is a crucial step for designers. They continue to create mockups.
You can look at the client flow with wireframes and see if any improvements might be implemented. Displaying the entire visual design is one of the main goals of prototypes.
3. Flutter vs. Native App Development
The development time for each platform must be considered independently, leading to an estimate of the overall project expenditures. Flutter's single codebase lowers development expenses and effort in this way.
Flutter's inability to support all smart television platforms and wearable technology is its only drawback. For example, Flutter only uses mouse cursor motions or touchscreens, so it does not utilize the remote-control features of smart TV platforms.
4. Location of Developer
Flutter developer rates are influenced by experience and location. Developers with more experience and expertise typically charge higher rates, regardless of location. Additionally, developers in countries with a higher cost of living tend to charge more than developers in countries with a lower cost of living. This is because they need to factor in the higher cost of living when setting their rates.
The type of hire you make while looking for experts has an impact on the cost of the Flutter project as well:
Freelancers:
As you can save development costs, there is a lot of interest in this choice. As a result, there needs to be an assurance of the quality and expertise of independent contractors providing Flutter app development services. Moreover, they affect the development, upgrading, and maintenance sector because they constantly switch up projects and make it impossible to build long-term relationships.
In-house teams:
Depending on the talents, an in-house team is the most typical team to work on a development project. You are in the position of organizing the project development, looking for prospective employers, and confirming their qualifications using this team at your fingertips. Additional costs are associated with managing an internal workforce, including hardware purchases, office rental, sick leave, salaries, etc. As a result, costs are significantly raised in such circumstances.
Outsourced businesses:
A project that is outsourced is managed by a third-party team of professionals who have previously been assembled and proven their qualifications. You can save money on development costs and maintain the quality of your product by choosing this choice.
5. Application Type
Another essential factor to take into account while estimating the cost of developing a Flutter app is the app category that your app will fit into the best. While thousands of applications exist in specific highly competitive app categories, others are more accessible and less competitive.
The Apple Category Page provides information about the categories of apps in the iOS app store. In contrast, the Android App Category Page includes information about the types of apps on the Android platform.
Specific app categories—gaming, watchOS apps, augmented reality, and so forth—need sophisticated talents to develop, while others—tools, productivity, and weather—don't.
Additional Costs for Flutter App Development
1. Third-Party Implementation
Tools and APIs that offer external functionality are included in third-party integrations. Numerous digital payment methods, forms that automatically fill up, choices for biometric verification, and two-factor authentication are available.
These integrations are usually pay-per-use or subscription-based. Your cost will depend on how frequently you utilize it. Increasing your target audience will eventually drive-up prices.
2. App maintenance and updates
It is essential for keeping your app performing well and engaging users. With them, your app will grow and retain users. The best part is to maintain your mobile app by the original development team, but if that's not possible, detailed documentation can help new developers. While updates can cost more than the initial development over time, they are a worthwhile investment if the app continues to generate revenue.
Conclusion
It can take time to estimate the correct cost for your Flutter app development project. However, it's an essential step that ensures your project's success.
The cost of developing a Flutter app can be influenced by several of the blog's listed features. Therefore, before seeking assistance from a flutter app development service, you must plan your idea. This is because, since each concept has a unique schedule, the process will go much more smoothly once you know what you want.
With careful evaluation, you can guarantee that your project is finished within the budget that was set. You will receive the highest return on your investment in this way. For more information, you can get in touch with us now!