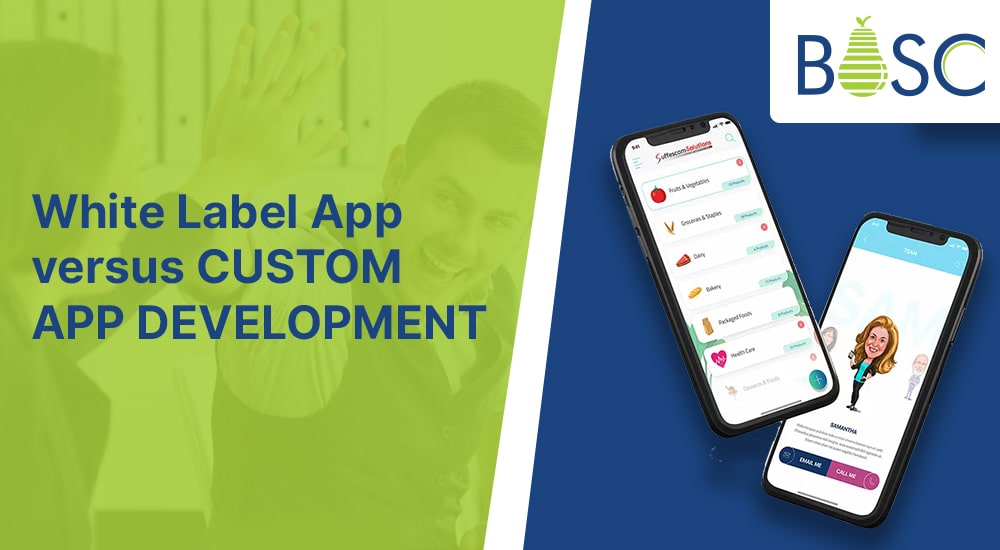 White Label App vs. Custom App Development: Which is Best for You?
Every enterprise has goals to explore its brand popularity, sales, revenue, and reach to the audience. Some businesses depend on websites to achieve that, while some use Progressive web applications. Besides that, mobile app development services is the most beneficial way to gain business objectives.
Mostly, two options are available for the development of the app, i.e., a custom app and a white label app. Custom app development is time-consuming and high in cost. Due to this, small businesses consider ready-made solutions of white label app development that need only minimum investment.
Now the issue is that before making any selection, every firm wishes to know everything about all the options that are accessible to them. Here, in this article, we will introduce the custom and white label app development and compare its features, which will be helpful for you to select the best for your business.
Define Custom App Development
The name custom mobile app development suggests that the application is developed from scratch and addresses all the client's requirements.
It is the better option for midsize and large businesses with no budget restrictions and who want to implement something new and unique.
The best thing about custom software development is that it offers you absolute freedom in every stage of app development. You have the opportunity to customize the application design, features, or another part of the application as per the requirement of the market.
Let's see the approach of the custom app development with the case of the online food delivery app DoorDash.
The American on-demand food delivery service provider usually focuses on interconnecting restaurants and food delivery. This brand is offering its food delivery service in more than 500 cities across the USA. During the Covid-19 pandemic, it establishes its contactless delivery to help drivers and consumers experience secure and safe delivery.
What is White Label App Development?
White label apps are generic solutions that app development companies design, and after that, it is rebranded or resold to some other businesses.
The definition seems to be incomplete, but not fret. Now, let's understand the view of a white label app with an illustration:
I think you want to integrate the food delivery app similar to DoorDash. Likewise, DoorDash has an objective to create a bridge between the people and restaurants. In that case, you weren't required to translate your vision into reality from scratch.
You can instantly deploy your food delivery app with your brand name, opting for the white label app development solutions for food delivery. These solutions are integrated by taking inspiration from DoorDash and following the recent market trends. These solutions limit the app's features, design, and layout customization.
White label application development is an attempt that helps businesses save time, money, and resources by providing them with pre-made solutions that are perfectly good for their intended purposes.
White Label App vs. Custom App
Let's see the comparison of the white-label and the custom mobile application development
Differentiations
Components
White Label
Custom App
Cost
As it is a premade solution, it is cost-effective
It needs a huge amount of investment as every element of the app is being developed from the scratch
Time
You can launch your app within 4-5 days
It is dependent on the features and functionalities of the application. On average, it will take around 3-4 months or more
Customization
Limited customization options are avail in terms of functionality, design, and features
In this development, the app is customized per the particular business demands
Sustainability
An app developed in white label with the use of existing codes, and it is tested correctly. There are very few chances of errors and bugs
Apps are developed with the use of new code, and it demands testing before it goes live. Therefore, there is a huge chance of errors and bugs
Source code ownership
It offers less or no access to the source code of the application
It gives complete ownership of the source code
App Store Publications
It offers less or no access to the source code of the application
Numerous white-label apps share similarities. There are very high chances of rejection on the Play store and App store
When you go for custom app development, there are minimal chances of getting rejected on the App Store and Play Store.
Maintenance
Whitelabel apps are being tested various times. If there are any problems, developers have previously fixed them. It is said that you are free from maintenance
In custom app development, there is a very high possibility of bugs. So, every element is tested whenever modifications are made in the application code
User experience and design
In this, you have to stick with the app developers' premade design
In this, you have the freedom to design the user experience according to your customer's taste.
Upgradability
Adding or removing the functionalities is very complicated. You may require the approval of the source code owner to update the application
You can easily upgrade the app because you have full control over the source code
Security
White-label apps are more vulnerable to security threats as numerous businesses utilize them
Custom apps are less prone to hacking as they come up with the possibility to include an extra level of security per your business needs
White Label App vs. Custom App: Which is your leading alternative?
Now, I think you clearly know the benefits and drawbacks of white-label and custom app development.
The selection of the technology is dependent on your business needs.
When should you go for the White Label App Development?
Let's see some cases when selecting the white label app development that will bring the optimum results for you:
Having a limited budget:
As all firms have a very limited budget which makes the profit from the white label app development.
Launch your app instantly:
If you require to launch the app rapidly, then nothing stands as profitable as a bespoke solution stand. If you have selected the leading white label app development company, you can launch your mobile app within 4-5 days.
You didn't require the complicated functionalities:
When you think this simple mobile application is enough for your business to achieve its goals.
Most of your business is offline:
When most of your business is coming from the offline market, you require an application to assure you about the digital presence.
Want to know how your market responds:
White label apps will work well with the MVP. Instead of making a hefty investment in custom app development, you can go for the white label and see how the market responds.
When should you select Custom App Development?
Let's see some of the examples of custom app development:
Implementing the complicated functionality with your application:
Custom development will enable you to translate your complex business needs into feasible solutions. If you have different app ideas, custom mobile application development is a great option.
Performance is the top-most priority:
Poor performance is very disastrous for your requirements of the business application. With custom app development, you can create your app with great architecture and technologies to achieve great performance.
You intend to grow in the highly competitive market:
When competing in the market, you must construct a unique experience for your users to create your presence in the market.
The mobile app is the only source of income:
Most of your business comes from online platforms, so you must opt for custom mobile application development to maximize your ROI.
Conclusion
Bosc Tech Labs is one of the reliable and leading mobile app development companies that cater to all client needs and try to implement them. The company is proven in its successful track record, offering app development companies for all sizes of businesses.
Frequently Asked Questions (FAQs)
1. Who can make use of white-labeled apps?
Many white-label app development organizations provide solutions mostly for all enterprises; here is the list of some of the businesses which make the use of white-label apps:
Medical shops
Restaurants and cafes
Retailers
Business support portals
Student gateway for universities
2. What is the cost of custom-label app development?
Depending on your app features, design, and complexity, there is no fixed amount for custom app development. Get a consultation with our app developers and know the estimated cost of your application.