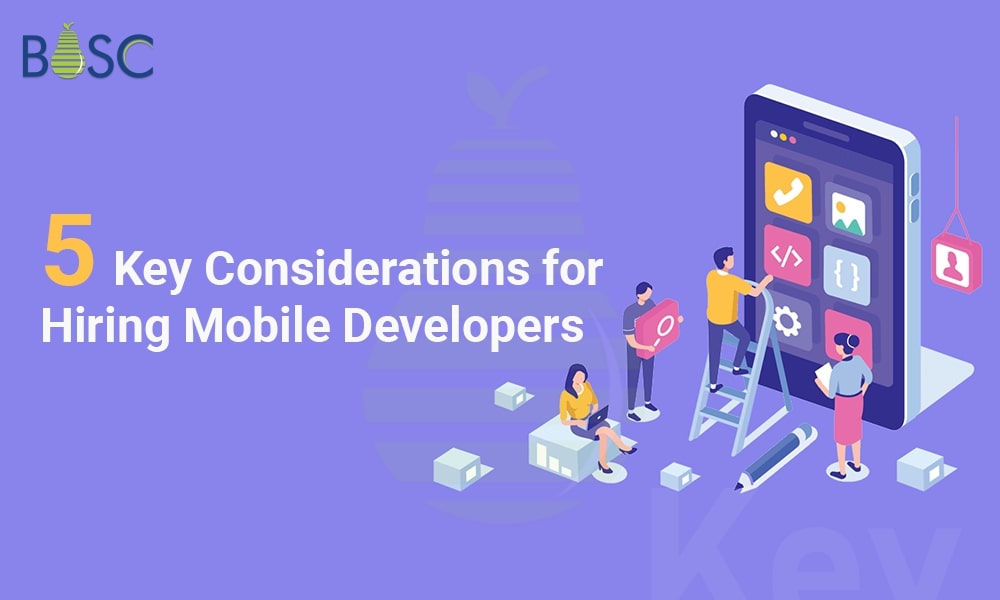 5 Essential Factors to Consider When Hiring Mobile Developers
In delivering services at your consumers' fingertips via mobile applications, you may add value to their experience. Mobile apps are also a great approach to grabbing users' attention. Companies are looking for mobile app developers after understanding this phase. Browsing this blog indicates that you are also considering hiring mobile developers for your project. Finding the top talent is a difficult task that requires careful evaluation of several factors. This blog gives an in-depth guide to assist you in selecting the best developer. Let's discuss topics to consider and how to find a mobile app developer who effectively suits your team before you begin hiring.
Important things to consider when hiring mobile developers
Before choosing to hire mobile developers, you should carefully evaluate the following criteria and aspects:
1. Understand the requirements
The requirements of the project, which differ depending on the industry, must be understood before you start your talent search. For example, An e-commerce app and a banking app require separate technologies and expertise. You must decide what features and functionalities to add to the app and how to differentiate it from those of competitors. It will enable you to select an experienced developer to deliver the desired results.
In this industry, qualified talent is in demand because there are millions of software developers worldwide. The fact that talented developers provide results puts them in high demand. The user experience may be negatively impacted by app bugs, which will cost time and money to fix. Therefore, ensure the cost is your primary consideration while hiring mobile developers.
2. Analyze the developer's portfolio
Before recruiting, you should check a mobile developer's portfolio to see their body of work. Testing their expertise and experience to know if they have created comparable applications is a good idea. To examine the features and functions of the apps they have produced, you can also ask them to share the URLs to the examples. By doing this, you can determine whether they are a good fit for your project and comprehensively understand their skills.
Consider whether their skills apply to your project by looking at them. For instance, if you're seeking to hire an Android app developer, you must seek their experience with Android Studio, Android SDK, Java, XML, and databases. In the same way, you must make sure the candidate is skilled in Objective C, Swift, the Xcode IDE, RESTful APIs, UI/UX design standards, Metal, and other relevant technologies if you need to develop an app for Apple devices. Check the developers' familiarity with both platforms' technology to create an app for both.
3. Consult their previous employers
Hiring mobile app developers is more than just the expertise and experience. Before selecting a candidate, you need to learn more about them. To find out more detailed information about them, it is a good idea to contact their previous employer. Interview applicants may be selected mainly based on opinions regarding their current position history, character, integrity, and behaviours.
4. Open to learning new technology
Mobile applications are changing at a rapid pace with technology. For your clients' convenience and ease of use, you must constantly update them with new technology. Programmers must continuously update themselves to match this demand. Candidates for mobile development positions should be willing to learn new skills and upgrade their knowledge to fit their needs; if you do, you will regularly need to acquire new staff, which is undesirable.
5. Overall Performance
Meeting the requirements while developing a mobile application requires more than just writing code. Designing, testing, maintaining, and usability are all necessary; they all come together to provide an effective result. The company needs to satisfy customers and thrive in the market. This is only possible if the developer has the skills to finish each job in a single pass.
6. English communication skills
For mobile app developers, strong English communication skills are as critical as technical expertise. They have to collaborate with cross-functional teams and other project stakeholders. Furthermore, they could need to collaborate with someone worldwide, and English might be their common communication medium. For this reason, before hiring a candidate, you have to look at their communication skills.
Conclusion
The success of your mobile applications will depend on your decision to collaborate with a mobile app development company. Mobile applications have made life easier. To make an outstanding mobile application, you need to assemble the best development team. The perfect company will include its employees and clients and update them on the project's progress.
Bosc Tech Labs, a top mobile app development company in the USA, offers the best services for developing mobile apps. Therefore, whether you're looking to hire an Android developer or use iPhone app development services, share your needs with us, and we'll help you make your idea a reality.
Frequently Asked Questions (FAQs)
1. What should you look for in a developer hiring process?
Seek developers capable of handling clients with a track record of delivering projects. People having practical experience with related technology should also be taken into consideration. A person's capacity to possess all these qualities will be crucial to their success in their role throughout the future.
2. How are mobile apps developed?
Ideation and research, UX/UI design, programming, testing, deployment, and post-launch optimization are vital steps in the mobile app development process. Each step is crucial to creating a dependable, high-performing application within delivery schedules and costs.
3. What qualities identify a skilled mobile developer?
To produce high-quality, compelling applications that meet the changing needs of today's mobile clients, mobile developers need to thoroughly understand hardware limits, user experience concepts, and mobile operating system rules (Android & iOS).