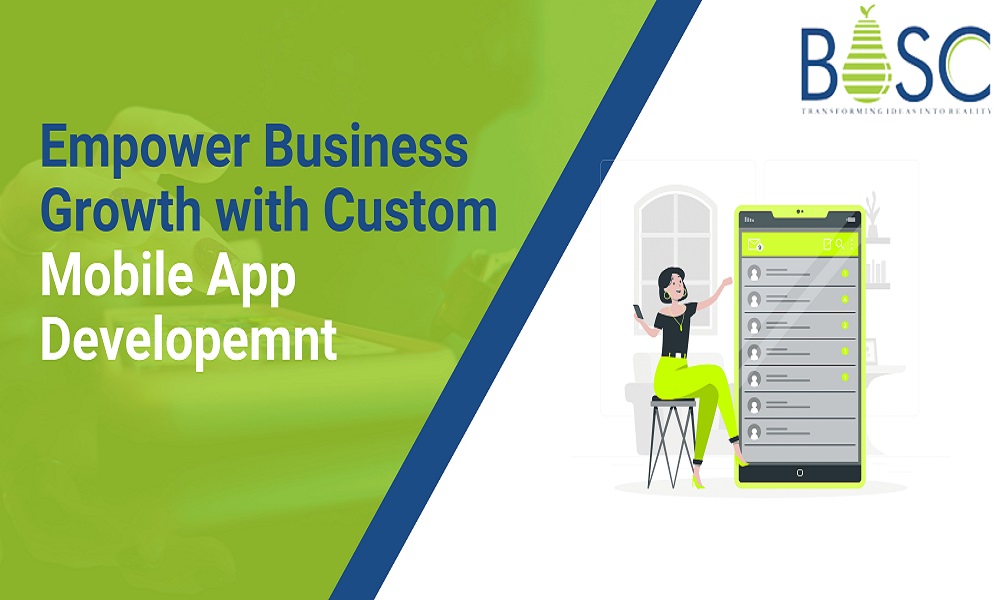 How will the custom mobile app development will boost the growth of your business?
The strength and power of custom mobile app development services make your business a lot of profit. Any of the business ideas is the solution to cater to a requirement and ease out the complicated work in significantly less effort. But also, the question that comes to mind is why it takes much time and cost, as well as the techniques of traditional human resources, to check out tasks.
The average person spends probably half a day staring at their screens and doing almost every task on their cell phones. However, human beings are dependent on mobiles. Hence, the most straightforward way to get users is by creating your brand or product mobile-friendly.
The user indirectly or directly spends valuable time on the applications as it gives a better user experience, immediate solutions to queries, etc. On the other hand, web services depend on the server's speed, and people may lose interest because of the page reloading.
If an entire custom mobile application development is easy, it usually attracts more users. The people only need their desired result or output its minimal effort. Fewer clicks will make the user happier and prefer to return to the app again. This article discusses the custom mobile application development method that empowers business growth.
What is custom mobile app development?
Custom mobile app development is the procedure of creating apps that meet the requirements of your business, whether wholly or partially customized, as this app is made that addresses a requirement of a specific target audience instead of any group. However, custom-developed apps will deliver the functionality and features that a simple application does not provide.
What are the advantages of Custom App development?
In comparison to the others, custom development has some ready-made solutions. Let's see some benefits below:
1. Enhances security
Sometimes the business app may lack particular security features, which will generate a threat to data safety. Creating customized applications help you to integrate the security measures for your business and will eliminate the threats and the danger through data encryption. Moreover, the customized approach will meet the need for multiple OS and APIs.
2. High Scalability
Usually, the app is developed with the use of limited resources. But at a certain point, when your business expands, the available apps fail to handle the massive data load.
At that time, resolved this issue via custom app development. It is possible because a bespoke app is made with these parameters from the beginning. So, it can be easily scaled if this type of need arises.
3. Easy in maintenance
By developing the customized app, you will get complete control over the development phase and maintenance process, as you do not have to remain dependent on others for anything.
How will custom app development empower the growth of the business?
If you generate positive output via minimal effort and hard work, then it is a great move, and your method guarantees the growth of your business. The features and functionalities of mobile apps are achieved per user behavior that defines the users who are coming towards your services. Let's see why selecting the mobile app service is better and superior: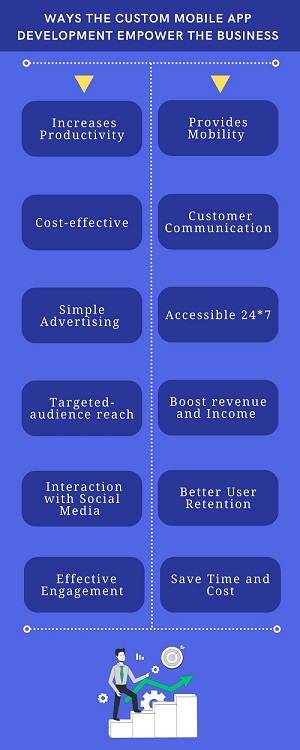 1. Increases Productivity
To select the custom mobile app development services, we work on enhancing the efficiency and productivity of the enterprise to get better results.
Rather than utilizing an effort on the various platforms and applications, if all the employees work on a similar application, then it will give better results and create better working mechanisms.
2. Provides Mobility
If you have the idea, but your service could be more adaptable for customers, then you won't be able to convince people to believe in and utilize your service.
Mobile app development grants mobility, where a user has no difficulties using it. A smooth and easy edge will aid in making the users habitual of utilizing mobile apps.
3. Cost-effective
The latest and most advanced ideas and technologies are only the results of being cost-effective for both business services and consumers.
Custom mobile app development will save time and effort at each phase; it will erase the need for dependency and imply automation of tasks.
It will permit the entire ownership and save the workforce costs that can use anywhere else.
A mobile app development guide will ensure the automation of the various tasks simultaneously, stimulating productivity at a significantly lower cost.
4. Customer communication
Resolving user concerns and disputes over a simplified enterprise mobile app development medium will help grow.
The application is an accessible medium for consumers to connect and resolve their issues on time. Including these services will help you gather more information about users.

5. Simple Advertising
The role of push notifications will help you get better engagement and a user's conversion to make available services.
Customized mobile app development will help you to get the customer's attention via the different mediums after a user has installed an app service.
6. Accessible 24*7
Better flexibility of the application allows the users to navigate via any service anytime and anywhere, which helps you to get better user dependence. And modified programs permit accessibility and direct business growth.
7. Targeted-audience reach
One of the best methods to evaluate your business productivity is by analyzing the reach of the business. Once a user gets connected with your application, they will get more insight into the services and products, which will aid in getting a mass interaction. The enhanced custom app development will help you to reach a large audience.
8. Boost revenue and income
Mobile app development will help your business target its consumers per their consumption. A better understanding of user behavior will draw engagement and raise conversions.
9. Interaction with the social media
Implementing the social media platform will support you in creating brand awareness among consumers. And redirecting users via the different platforms will draw new users.
Many premium brands are optimizing its platform to be aware and remain informed via entertainment. People are using their content, and they view several ideas for its use.
Brands are engaged in several social media platforms, generate content, and use application links to involve the customers.
10. Better user retention
Mobile applications need a user's device permission like GPS, camera, etc. For its flexible functioning and excellent user experience. The customized mobile app development will help to retain users by upgrading the functionalities and dedicating them to the customer needs.
11. Effective engagement
Businesses can construct a great interactive platform for the users and will distribute ideas according to a user's interests via customized mobile applications.
It is seen that the application has the most influence on users as the services which you offer.
Feedback is vital in the business to interact with the services as per users. And also, users value that their demands are established on time and give effective engagement for your mobile application.
12. Save cost and time
The conversion towards an approach of digital marketing has made the mechanism of trial and evaluation. Businesses can track the latest ideas that work smoothly and effectively in app development.
Now, it's simple and convenient to analyze but also modify and try various approaches faster, which will frequently save time and cost.
Conclusion
We have listed all the core points that emphasize the importance and effectiveness of custom mobile app development. Please write to us if you still need clarification about which method to adopt for promoting your firm and how to reach your audience.
We have added all the necessary factors while creating a business growth analysis from the point of custom mobile app development. If you still have any latest ideas or methods that will raise the growth of your business, then please connect with custom application development company like Bosc Tech Labs.
Frequently Asked Questions (FAQs)
1. How can mobile applications grow your business?
The client will interact with your brand through the mobile application, make purchases, and explore your services and offerings. These digital engagements will help your businesses better understand our audience and build strategies that fulfill the needs of consumers.
2. What is the primary objective of developing mobile applications?
Typically, there are three primary goals for developing the mobile app: Engagement, User Growth, and brand awareness.
3. Why is mobile app development beneficial to business needs?
With the help of mobile apps, we can get various benefits, as it increases repeat business opportunities and will improve referral rates. It bost the new product and service adoption rates. The mobile app is the two-way conversation between an SMB and its customers.
Book your appointment now