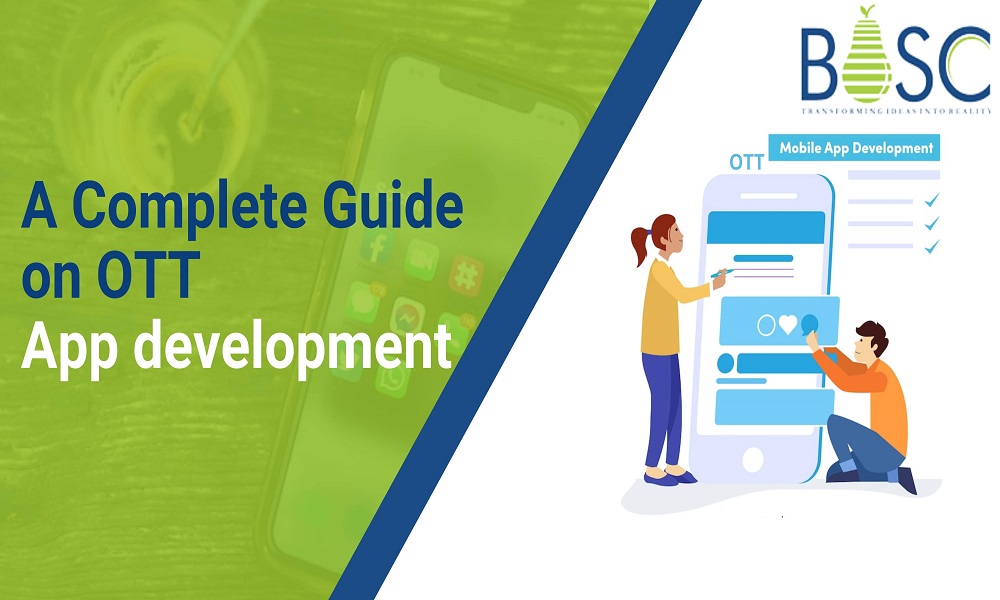 OTT App Development: Advantages, Functionality, Process and Cost
OTT is the trending platform which people use to consume content. Most humans rely on OTT to view content anywhere and anytime with the help of an internet connection. In the olden days, people used to watch on T.V. and later, they shifted to YouTube.
Now, many well-known companies and media are moving towards OTT app development. Various apps are available in the market, such as ESPN, Prime video, etc.
If you decide to develop the OTT app, you have come to the right place.
In this blog, we will give you some basic ideas about OTT apps, and after that, we will tell you the procedure for OTT app development.
What are OTT apps?
OTT is referred to as over the top. It is the most helpful platform that permits you to access any content via the internet; without needing a satellite or cable connection. It also allows the users to access any content on their laptop, desktop, smartphone or television through the internet. Some of the well-known apps are Netflix, SlingTV, HotStar, etc. in the USA.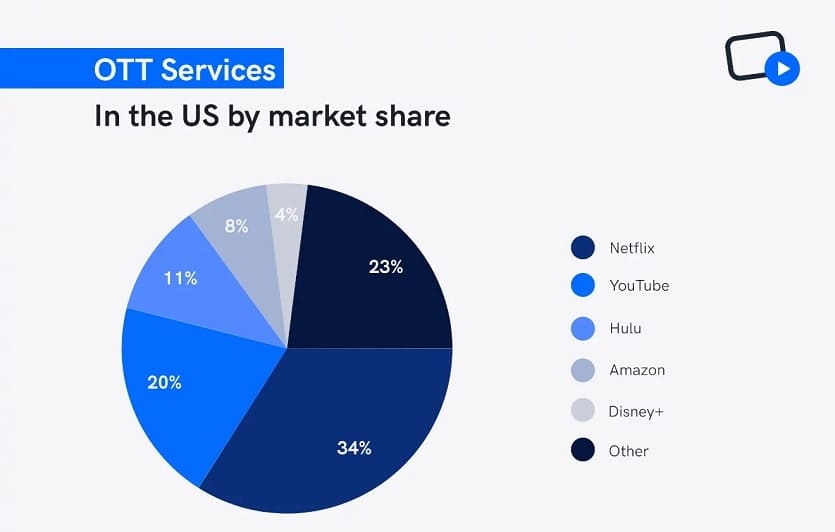 Image source :uscreen.tv
If you are confused about whether OTT platforms are reliable, we will give some reasons to invest in OTT apps below.
Why spend money on OTT app development?
Let's see some critical reasons you should consider while developing the OTT application.
1. OTT platforms grow progressively
Over the years, it has been noticed that overall consumption of videos has been growing even more than before. It means that people like to view videos on their devices whenever they are free from work.
In other words, it can say that it is another source of consuming content among users worldwide. Some of the famous OTT platforms are Netflix, HBO Max, etc. It means that the individual loves the content from the various apps per their needs.
Furthermore, by developing a new and unique OTT platform with an OTT app development, you can catch the app users' attention by delivering content that satisfies their requirements.
2. Generates Huge Revenue
In the last few years, OTT apps have generated tremendous revenue. During the pandemic, many end-users have begun to consume content from OTT apps. Therefore, these apps have gained tremendous growth in user base and revenue.
By creating an OTT app, you have a great chance to earn revenue by integrating multiple methods like ads, subscriptions, etc. OTT apps will allow you to generate superb revenue in the long run.
Who can take advantage of OTT app development?
Here are some people who can take a significant advantage by creating the OTT application:
Corporate Business
Health and Fitness coaches
Educational institutes
Non-profit organizations
Personal Trainers
Content creators
Marketers and Advertisers
Essential Features of OTT apps
There are many functionalities available in OTT applications. Here, we will define some significant features you should add to your OTT Application.
1. Sign up and sign in
A user can make an account by using an email or phone number. You can grant access to users to sign up through third-party platforms like Google or Facebook. Moreover, they can store the essential details in their profiles and customize them accordingly.
2. Smart search
It is an essential feature in an OTT application. This functionality allows users to find several kinds of content in the search option. To increase engagement, you can implement analytics and offer precise results and recommendations.
3. Multilingual Content
If you desire to reach out to users worldwide, giving content in multiple languages is vital. You can gain this by providing the content with various subtitles and audio tracks.
4. Payment Integration
Users love to carry out payments with multiple methods. You should make a secure and effective payment gateway which grants users to pay via the credit/debit card, ewallet, etc.
5. Push notifications
It is the most essential in an OTT streaming app. It is crucial to alert an app user about the subscription renewal, new season, etc.
6. Watchlist
It is still another important feature of an OTT video streaming application. It enables the users to include the series, movies, etc., that they wish to watch later.
Moreover, you can notify the users to view the specific content after a particular time.
7. Screencasting
To enhance engagement on your OTT application, you should permit users to view the content on other compatible devices along with their smartphones. In short, you should also give the users an option to cast the information on desktops, televisions, etc.
8. Content Category
Proper categorization of all the content, which relies on the genre and the potential audience, allows the users to discover the content efficiently.
Steps to create an OTT application
Many things are included in the creation of the OTT application. We have streamlined the procedure for building an OTT app to make your work easy.
a. Select a niche
OTT app development is a broad concept, so it is necessary to opt for a niche. Knowing the targeted audience would give you more clarity about the application and deliver more value to users. Searching for the answers to some questions to find a niche would be best.
Which type of content do you wish to provide to users?
What is the age and location of users?
Which genre is well-known in the region?
After finding an answer, you can decide on a niche and its targeted audience. Beyond that, you can also describe unique selling propositions (USP) to reach a wider audience.
b. Build the content inventory
It is the most crucial part of an OTT streaming application.
It would be best if you exemplified the content inventory by considering the niche. In other words, you should create a list of all the content you desire to stream before launching your app. But, make sure that the content is unique, fresh and relevant to increase engagement in your OTT app.
c. Select the suitable business model
There are four various types of business models which you can examine for the OTT streaming application. Let us see below:
SVOD (Subscription Video on Demand)

Users have to pay a separate fee monthly/quarterly or annually in exchange for accessing the whole content library. The well-known apps following the SVOD model are Netflix, Disney Plus and Amazon Prime.

TVOD (Transactional Video on Demand)

It will work as the pay-per-view model. Here, the users can log into the app for free. Moreover, app users must spend money to watch and download the app's content. A well-known app using the TVOD model is Apple's iTunes.

AVOD (Ad-Supported Video on Demand)

It is a marvellous model for a platform that has a massive viewership. Users can access most of any content free by watching some of the advertisements. The top-most app following AVOD is Tubi.

Hybrid models
It combines all the three models which are defined above. If you wish to cater to the requirements of various segments of the users, you can consider his model. Users like to access an entire library of free content; some will pay for the content they desire to watch.
By recognizing your budget and the users you want to target, you can gather any of these models for developing the OTT application.
d. Select a Tech Stack
Many OTT platform app development technologies and tools are available in the market.
A technology stack selection depends on the idea and the goal you want to achieve.
You can reach out to an OTT app development company. They will understand an idea and suggest the perfect technology stack for your app development project.
e. Create the custom OTT application
It is time to develop an OTT streaming application from scratch. Many things are needed for the modern and unique OTT application.
You must hire a highly skilled team of OTT mobile app development who understand your needs and will deliver a suitable OTT application.
Cost to develop an OTT application
There is no fixed cost for creating an OTT application, and it is utterly dependent on some factors like:
Functionalities and Features of the application
App development company location and experience
The platform on which you launch your app
Technology stack
Total time needed to create an app
Depending on your budget and the future goals of your project, you can create an OTT application. To know the estimated cost of an OTT app, you can reach us.
Conclusion
OTT apps are famous worldwide. Now, people are entirely based on the various OTT apps for watching several kinds of content. However, the craze for OTT apps will increase year by year.
Bosc Tech Labs is a reputed and award-winning mobile app development company. We have developed several mobile apps for many industries across the globe. If you wish to build an OTT application, connect with us!
Frequently Asked Questions
1. What are the objectives of the OTT platform?
It serves users with content quality. OTT offers users various options to watch the content of their preference.
Objectives of OTT
Ad-free or Commercial-free Tv viewing experience
No limit to entertainment
Broadcast live content
2. How will I manage the OTT platforms?
Create a separate file which will aid you to personalize an experience by achieving the correct recommendations of the movies and T.V. shows, maintaining the watch list, and many more. Amazon, Netflix, etc., give the benefit of creating different profiles.
3. How does an OTT ad work?
OTT ads, also refer as streaming T.V. ads are the advertisements delivered to viewers within this video content. OTT, or streaming T.V., ads provide you with an opportunity for the advertisers to reach a new audience at scale as more viewers can line up to the streaming video content instead of the broadcast T.V. or satellite.
Get a free consultation