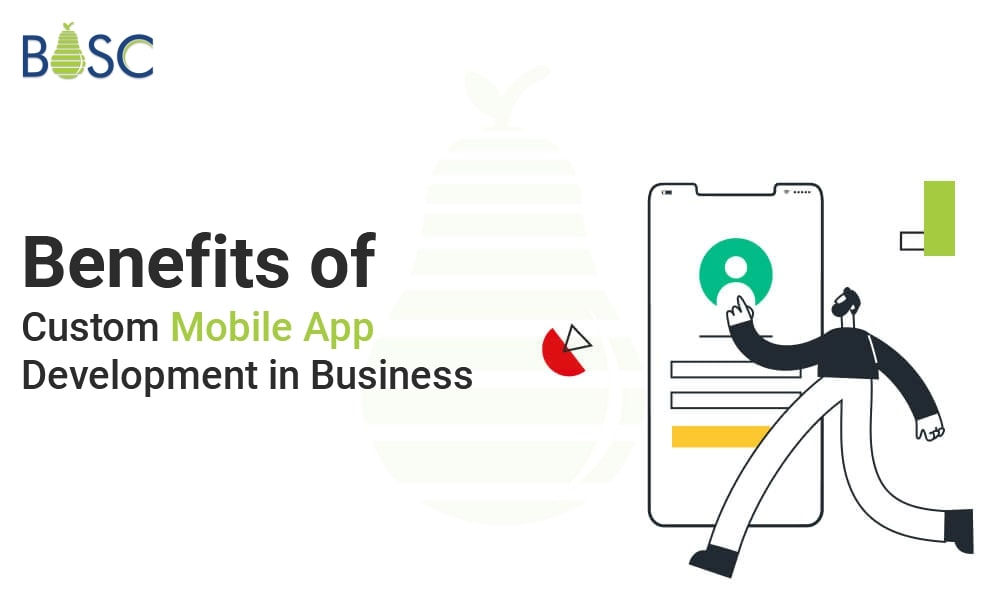 Why You Should Invest in Custom Mobile App Development?
The behavior of your customers is changing every day. They have transformed the way they communicate and interact with businesses and retailers. Consumers are incredibly technologically sophisticated and have significantly modified digital technology! Worldwide internet users reached 5.18 billion in 2023, which indicates that over two-thirds of the world's population is already on the internet.
The implementation of digital technology in business still needs to be more consistent. However, technology has significantly impacted the nation's economy and how millions of companies operate in the app development industry due to the quick growth of digital capacities and the widespread accessibility of high-speed internet.
The statistics show that app developers have seen a significant growth in revenue from their mobile apps over the past few years, both on the Google Play Store and the Apple App Store. Leading companies stay one step ahead of the competition by creating comprehensive experiences while considering mobile's distinctive features.
Who is able? This article will teach you a few significant benefits of custom mobile app development services. Before moving further, let's define "custom mobile app development."
What does "custom mobile app development" mean?
The term "custom mobile app development" describes the process of developing a mobile app from the ground up to meet the needs of a specific business or organization. The widespread usage of software designed especially for smartphones and tablets by consumers is necessary for companies and industries to embrace digital transformation fully.
Developing a particular mobile application may benefit a business in several ways. These include improved client interactions, more productive processes, and greater output. Mobile app developers have an excellent opportunity to satisfy the organization's and its users' needs by incorporating suggestions from both groups into the finished product.
Developing a mobile app involves several stages: planning, designing, coding, testing, and user release. During the planning phase, the business and development teams choose the app's goals, features, and target audience. While the app's functionality is created and integrated during the development phase, the user interface and other aesthetic elements are produced during the design phase. By submitting the application to the appropriate app stores and assuring it passes all essential testing, deployment makes the program accessible to users.
Businesses may create an effective tool to help them achieve their goals and stand out in a competitive market by developing a distinctive mobile app with an appropriate development team and project management. Businesses should collaborate with reputable and trustworthy mobile application development companies like Bosc Tech Labs to ensure successful custom mobile application development. Businesses can produce top-notch software that meets their goals, boosts growth, and contributes to success by partnering with a skilled team of developers.
What are the advantages of investing money in custom mobile app development?
Now that you know what custom mobile app development is, here are some advantages for your business to consider.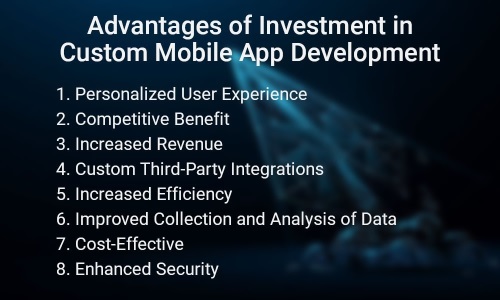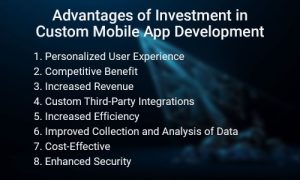 1. Personalized User Experience
You may improve your users' overall experience by tailoring your product or service to their unique demands. With custom development, you can be sure that the app is being made with your audience's needs and preferences in mind, delivering a more specialized outcome.
Additionally, custom development allows companies to provide functionality that OTS systems might not offer. Businesses can offer more innovative and distinctive offers that ultimately benefit consumers by customizing solutions to user preferences and even addressing them by name.
2. Competitive Benefit
In today's competitive corporate world, staying on top of developments is essential. Businesses may stand out from competitors and provide unique advantages to clients by investing in developing trained mobile apps. A mobile app can be an effective marketing tool that benefits businesses and raises brand awareness.
3. Increased Revenue
Over time, custom mobile apps could help organizations establish new revenue streams. Businesses can monetize their app and boost overall income by providing in-app purchases, subscriptions, or other premium features. Giving clients a simple and convenient option to make purchases can also increase sales.
4. Custom Third-Party Integrations
A mobile app's success may depend on its ability to integrate with other apps. While ready-made development offers integration capability, its generic APIs might only be suitable for particular use cases, which could cause compatibility problems and delays. On the other hand, developing a mobile app from scratch can result in APIs explicitly created to meet your demands for integration, facilitating seamless and smooth app transitions. This level of customized features may significantly alter the user experience.
5. Increased Efficiency
Improved efficiency is another benefit of a custom mobile app. Businesses can save time and costs by automating particular processes, allowing employees to concentrate on more critical aspects of their work. Furthermore, customized mobile apps can improve productivity and reduce errors by streamlining team member collaboration and communication.
6. Improved Collection and Analysis of Data
Businesses may more efficiently collect and analyze data with a customized mobile application. Companies can learn more about client preferences and usage trends by tracking user interactions and behavior within the app. This information can be utilized to direct product development, marketing strategies, and other business choices.
7. Cost-Effective
Contrary to common belief, businesses can save money by developing their particular mobile apps. When compared to adopting off-the-shelf software, the initial costs could be higher. A custom mobile app, however, can result in long-term savings. Additionally, you can have a custom mobile app designed specifically for your company's requirements, which can increase return on investment.
8. Enhanced Security
Due to security concerns, users frequently refuse to give their personal information to apps. Data breaches can devastate businesses due to the continuous threat of hackers. With a custom mobile app, you can choose the best security measures for your app, reducing its attack vulnerability. Additionally, custom development enables you to select the most cutting-edge and relevant security tools to safeguard your users' data. As a result, it gives you and your users enhanced security and peace of mind.
Bottom Lines
Custom mobile app development offers businesses a wide range of benefits, including increased efficiency, enhanced customer experience, improved data collection and analysis, competitive advantage, increased revenue, and cost-effectiveness. You must partner with a trusted and experienced mobile app development company to ensure that you realize these benefits.
Bosc Tech Labs is a leading mobile app development company in the USA with a proven track record of delivering its clients high-quality, innovative, and secure mobile solutions. They have a team of experienced developers and designers who use the latest technologies and tools to create custom mobile apps that meet each client's needs.
Frequently Asked Questions (FAQs)
1. What does the term "custom mobile app development" mean?
Creating apps tailored to your company's requirements is called custom app development. Such an application, whether wholly or partially customized, is made to cater to the demands of certain users rather than the needs of all people.
2. What will be the cost to build a custom mobile app?
The cost of developing a custom mobile app will vary depending on its complexity, the features it includes, and the development team you choose to work with. However, you can expect to pay anywhere from a few thousand to tens of thousands for a custom mobile app.
3. How do I launch my custom mobile app?
Once your custom mobile app is tested and ready for launch, please submit it to the appropriate app stores. This process will vary depending on the app store platform.