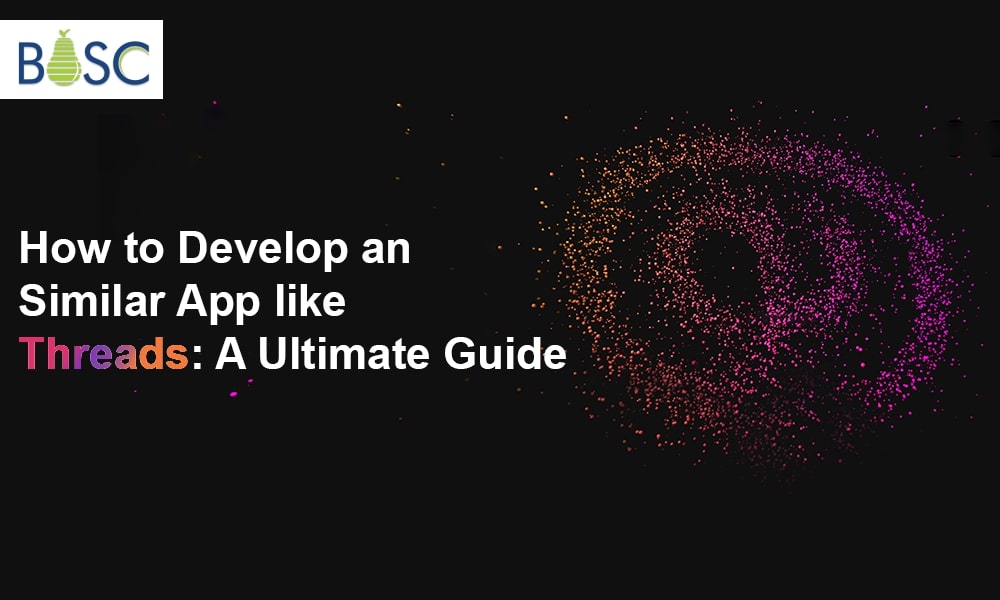 How To Create A Threads-Like App: Everything You Need To Know
Want to learn how to create a Threads-like app? Threads, a just-launched application, seems like Twitter. Users can interact, collaborate, and share information on current trends using the app. Threads, an app that will revolutionize how we communicate in today's fast-paced digital world, is being released by Meta, the parent company of Instagram.
Publishing text updates, having open discussions, and communicating with people who have similar interests are all made possible through Threads. Threads are a way to take advantage of the instant messaging revolution and improve online communication and interaction.
This blog will discuss the Threads application's features and functionalities. We explain in-depth how Threads differs from Twitter and other social media platforms. We will also examine how much it costs to create Threads and how effective the new platform is.
Worldwide number of new Threads subscribers as of July 10, 2023
On July 5, 2023, the meta platform Threads was introduced. Within the first two hours of Threads' introduction, 2 million users signed up, and 30 million people now utilize the new social site, according to Statista. The website allows users to send posts longer than 500 characters, and it has numerous Twitter-like features and capabilities verified by users' Instagram profiles.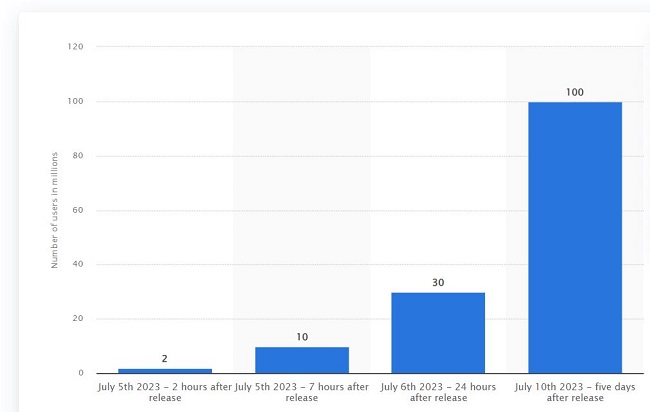 Instagram Threads: What Are They?
Instagram just released Threads, a text-based social media application. It is a brand-new mobile application created by Meta with features comparable to those of Twitter. A text-based and microblogging platform is how the Threads app functions. Along with the flexibility to publish images, videos, and links, users can share updates up to 500 characters long.
The general functionality of it parallels that of Twitter. On the other hand, the Threads app stands out in several unique ways. This application is more than just a text-based one. Users can express their thoughts and participate in conversations with its help. Users receive an intuitive interface that enables them to interact with an extensive audience through short text-based communication.
Critical Features for Developing a Thread-like Application
Due to its distinct features and focus on establishing interactions between individuals, Thread is a platform that stands out alone. Through its innovative approach to interaction online, Threads allows users to create communities around shared interests. When creating a text-based application like Threads, the following significant characteristics can be implemented right away: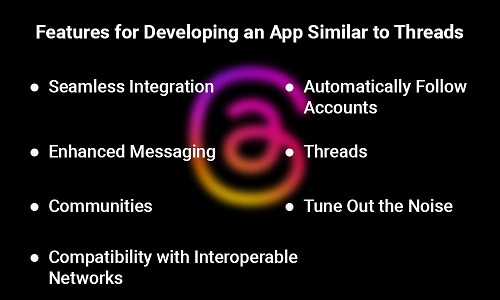 1. Seamless Integration:
Users can sign up for Threads using an existing Instagram account, making it simple to connect with Instagram friends and followers inside the app.
2. Automatically Follow Accounts:
When you're on Threads, you can set the app to automatically follow all the accounts you already follow on Instagram as soon as they sign up, ensuring that you stay in touch with the people that matter to you. On the home page, you can look for other accounts to follow and browse their posts and content.
3. Enhanced Messaging:
You can share texts, quotes with a maximum of 500 characters, images, links, and videos up to five minutes long with Threads. You can link your Threads account to other apps while using the app to share content on Instagram stories.
4. Threads:
The app's user interface is recognizable and similar to Twitter's. It includes short text-based content, like and repost buttons, and a thread-quoting feature that works like retweeting but with quotes.
5. Communities:
Thread is a platform that aims to establish vibrant communities where users can engage in meaningful conversations and meet others with similar interests. Users of social media apps can gain a loyal following and communicate their thoughts, opinions, and creativity to a global audience.
6. Tune Out the Noise:
Threads' "Turn Out the Noise" function allows users to take command of their chats. One of the Threads app's most popular aspects is letting users personalize their experience by choosing who can mention or reply to them, filtering out comments containing specific phrases, and keeping track of profiles by blocking, limiting, unfollowing, or reporting. Any accounts blocked on Instagram will also automatically block Threads, ensuring users only engage in positive and targeted conversations.
7. Interoperability with Compatible Networks:
The ActivityPub protocol, an open social networking standard created by the World Wide Web Consortium (W3C), will be supported by Threads. Threads can connect to other ActivityPub-using systems like Mastodon and WordPress as a result of this interoperability. Threads create additional opportunities for connections and interactions that are usually impossible on most social apps because of their interoperability. As a result, users can interact with a more extensive network across many platforms, promoting a more inclusive and expanding social experience. To create applications like Threads, interoperability across several networks is necessary.
Steps to Make a Profile and More
When developing an app like Instagram Threads, it's crucial to know the essential features and functionalities to provide users with a seamless and engaging experience and influence the threads app development cost. Processes for developing social media apps are crucial to building completely functional applications. Let's look at making a profile, following and unfollowing users, and starting a new discussion.
1. Profile Creation
Creating a profile is the first step in establishing a user's presence within the app. Allow users to create individual profiles by allowing them to add vital information such as username, profile photo, and bio. You may encourage personalization by enabling users to upload cover photos, themes, or stickers that reflect their unique personalities to their profiles. A person can interact and express themselves in a stimulating environment when they have a visually appealing profile page.
2. Follow and Unfollow functionality
A follow/unfollow option is necessary for promoting connections and providing users control over their network. People should have the choice to follow or unfollow other individuals to manage their feeds and the content they view. Ascertain that the user interface is easy to navigate and provides options for searching for specific people or browsing suggested accounts based on shared interests.
3. Develop Thread
Users can start new Threads on Instagram Threads and share them with followers using the New Thread option. These posts could have text, links, videos, and pictures. By changing the privacy settings, users can limit who has access to their postings. They can choose whether they want to be able to engage with simply the profiles they follow or only the mentioned profiles. It gives a tailored and controlled approach to communicating with others.
4. Select a search option
Users can enter search terms to locate any user profiles and postings using the search feature available in the Threads application's navigation bar.
5. Emoji reactions to Threads
In order to respond to specific messages within a thread, use a choice of emojis. Let your friends know your feelings about their communications without interrupting the conversation.
6. Feature for Thread Mentions
In a packed thread, how do you get someone's attention? Use the @mention tool to notify specific individuals. They will receive a in-app notification, ensuring they get all the essential messages.
7. Discuss Third-Party Applications
On Instagram's most popular platform, users can share Threads directly. This feature allows users to connect the two applications easily and share conversations and experiences with a broader audience.
You should hire iOS or Android app developers from a reputable app development company with a skilled team of designers and developers who can create social media apps if you want to acquire highly functional social media applications similar to Threads.
How is Twitter different from Threads?
A comparison between Twitter and Threads, along with a list of significant differences:
Differentiations
Twitter
Threads
Users of Twitter are only allowed 280 characters per post. In addition, Twitter offers extra services for $8 a month. After subscribing, users can have up to 25000 characters.
According to Meta, Thbreads will let users share posts that are longer than 500 characters. There is no possibility to subscribe for additional features with Meta.
Without a desired blue badge, Twitter users can submit two minutes and 20 seconds long videos.
Five-minute videos can be published by users on Threads.
There are recommendations and current trends on Twitter's homepage, but one way to explore Threads is by navigating through the home feed.
Threads don't have a post-draft feature at launch like Twitter.
Sixteen years ago, Twitter made its website launch. It also gained popularity in this way. However, smartphones' quick adaptability made the app available on both iOS and Android.
Only a mobile app from the iOS and Android app stores is now available for Threads. As a result, it can only be used on mobile devices. Given the popularity of Instagram as an app, Meta is following your steps; thus, the Threads website might be unavailable for a while.
Users can sign in to Twitter using their username, email address, or mobile number.
Other than using your Instagram account, there is no other way to access Threads. Your personal Instagram account must be deactivated to delete Threads.
How to Develop an App Similar to Threads?
Finding mobile app developers who provide end-to-end development solutions will help you compete for the unique features that others are still looking for when developing a social media app similar to Threads.
Now, we examine the thorough procedure to develop social media applications that are reliable and scalable, comparable to Threads.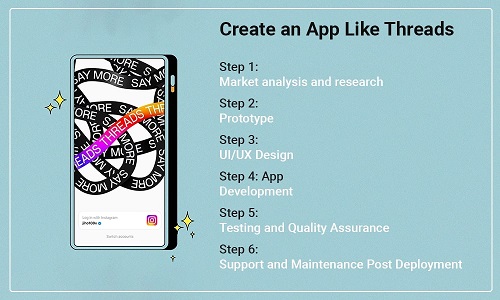 Step 1: Market analysis and research
Understanding the market analysis and noting the essential volume and value figures is crucial before developing an application such as Instagram's Threads. Try to gain knowledge of important elements like target markets, regulations, entry barriers, trends, user preferences, market competition, engagement patterns, and more.
Step 2: Prototype
After completing the research process, create a blueprint for your text-based app, taking into account the visual layout and storyboarding. Clearly describe the app's screen features, navigation, and feasibility to develop the user experience and interface.
Step 3: Designing UI/UX
After deeply understanding all the critical app components, the talented design team begins by offering an appealing and user-friendly layout and appearance to assist in attracting clients. Two crucial design considerations are the app's usability and incorporating the brand's voice to make it aesthetically appealing. You can work with a mobile app development company with a team of experts dedicated to developing outstanding applications.
Step 4: Application Development
After the design component has been clarified, the project is given to the developers, who next select the crucial tech stack, which consists of programming languages and development frameworks. Engineers offer the elements required and integrate APIs, server databases, and other technologies to increase usability, scalability, performance, and compatibility. Numerous app development companies provide highly scalable solutions that respond to client needs.
Step 5: Testing & Quality Assurance
Numerous tests must be done before a new application is released to achieve high quality at an affordable price. The functionality, user interface, performance, bugs, and other issues that may prevent the app from offering a flawless user experience are all evaluated during testing. The best mobile app development companies have a skilled QA team who test every application feature to see if it can be used and fix any additional bugs.
Step 6: Support & Maintenance Post Deployment
The app is now ready to launch on several platforms according to proper app titles, descriptions, categories, keywords, launch icons, and app store images. Experts monitor the app's functionality across all platforms, user feedback, problems, and relevant updates after its release. Engage devoted developers from top app development businesses to monitor and assist your application after deployment.
How Can an App Like Threads Earn Money?
In this quickly growing social media environment, text-based messaging apps like Threads and Twitter are becoming increasingly popular, earning millions of dollars just hours after their releases. But how can you monetize a platform like Twitter or Threads? Let's move on to it now:
Since Threads' release, Meta hasn't added any revenue-generating features. Here are some of the several monetization options you can explore if you want to release a text-based social media app:
1. Advertising: You might start earning money right immediately by using the app's tailored advertisements, sponsored content, and paid partnerships with enterprises.
2. In-app Purchases: Premium features, exclusive material, etc., can be made available to users as in-app purchases.
3. Premium model: It allows you to provide a free basic version of an app similar to Threads while charging a monthly fee for premium features like verified tagging and expanded functionality.
4. Collaborations with Influencers and Sponsored Content: Work with businesses or influencers to promote content on the app through sponsored posts.
How much does it cost to create an app similar to Threads?
An app like Threads might cost anything from $60,000 to $400,000. However, the features and other factors play a significant role. Large-scale mobile app Threads has advanced security procedures and API integration. So, it would be best to contact a mobile app development company or firm to get a better idea of how much it would cost to create an app similar to Threads. They would provide an estimate based on your budget and the app's needs.
Conclusion
Meta's Threads app can revolutionize live-streamed discussions by giving users a distinctive platform for engagement and connection. This page extensively covers the Threads' characteristics, advantages, and capabilities. As a leading mobile app development company, Bosc Tech Labs has a team of professionals who develop cutting-edge social media apps like Threads tailored to particular sectors' needs. You can use the expertise of experience to generate top-notch app development solutions by hiring app developers from social media app development companies. We provide user-friendly, highly scalable, and cost-effective app development solutions.
Frequently Asked Questions (FAQs)
1. How do meta-threads work?
News and politics have been minimized on Meta's Threads, a Twitter clone. By downplaying news and politics, Meta's new app Threads hopes to be a kinder alternative to Twitter. However, partisan disputes on Twitter are a significant draw for many users.
2. What is the thread app for Instagram?
A text-based chat app called Instagram Threads was introduced on July 5, 2023. I first found the Threads experience to be very similar to Twitter. Both platforms provide users with a feed of text-based updates that let them keep up with the news and create their conversations.
3. Who is Threads' owner?
Meta Platforms owns and runs the American social media and networking site Threads. Users of the app can post and share text, photographs, and videos and respond to and like the posts of other users.
4. Are there any particular marketing strategies or methods that might be used to promote a Threads-like app?
Yes, of course! Text-based software like Threads can be promoted in various ways, including application Store Optimization (ASO), social media marketing, content marketing, public relations, app preview videos, partnerships, and many other strategies. You can also look at our digital marketing services to learn more about how we can help you.
Book your appointment now