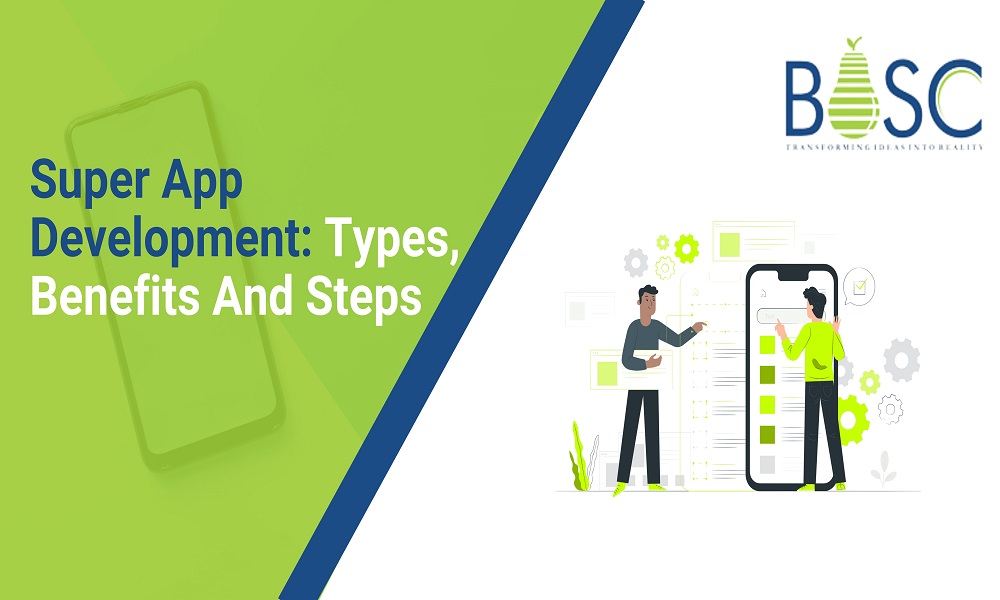 Super App Development: A Step-by-Step Guide
The digital era revolves around smartphones, meaning people use mobile apps to fulfill their needs and demands. However, referring to multiple apps for various purposes is hectic for people. Hence, to overcome this problem, the concept of super app development came into existence.
Super app is a mobile application development services that provides several services under one roof. It saves time and proves to be a cost-effective solution for all kinds of businesses, as there is no doubt that enterprises wish to stay ahead of the competition with innovative and unique super apps. Therefore, more companies are planning to create a super app for selling their products and services. Hence, this blog sheds light on everything about supper app development, including what super apps are. Its features, development steps, and more.
What is a Super App?
Super app is the platform where multiple unrelated services are given via a single mobile interface, whether a third-party or in-house. In other words, super app development software gives you different services that range from ordering food and drinks payments through social media accounts and the shopping experience. Rather than using various apps for these tasks, you can get the super app that will take charge of them.
What is Super app market statistics?
A super app delivers a user interface via which customers can order food, shop, make banking transactions, and so on with only a single solution. Due to this, developing countries such as South America and many more are moving through a super app development process with a primary user base attention. It will conquer a specific region and will achieve international success.
Although, the concept of super apps has 72% of demand globally. About 72% of the US, 70% of Germany, and 64% of Australian residents are interested in the super apps for usage conveniences.
How many kinds of Super Apps?
Although super apps vary in use, there are two leading super apps: Customer-facing apps and employee-facing apps.
1. Customer-facing apps
The trend of customer-facing super applications started in China with WeChat, where an application offered mind-blowing features which customers loved to use. Hence, a customer-facing app that permits users to have conversations with friends receive or send money from anywhere, order groceries or food, and do many things.
2. Employee-facing super apps
It is known as B2E super apps; employee-facing super applications typically enable enterprises to get included with their employees and staff via integral operations. However, super app development company helps to give excellent productivity. The main aim of these apps is to avoid getting into monetization as targeted users are within the organization.
What are the advantages of Super Apps?
Let's see some of the benefits it follows:
It can be used as a marketing tool for enterprises and Business.
It permits the users to stay engaged and entertained for a long time. Many super apps also work on social media platforms, allowing users to communicate with others.
It also gives efficiency and convenience, allows the users to function at their best capabilities, and gives them more time to concentrate on their various personal tasks.
It also permits users to do work more efficiently as it is easily accessible via various apps at once without being forced to switch between them continuously.
A super app also delivers the platform for users looking for a good opportunity and needing help knowing where to view it, allowing them to share and post their content.
It is also different from regular apps as it gives entertainment value which keeps a user hooked for an extended period. As it means there are high chances of becoming very well-known.
Super apps are often developed by coders with a great understanding of market needs, making them more likely to create something that significantly impacts the industry.
What types of services does super app development provide?
Usually, super apps are considered to be powerful and robust apps. Hence, it has to offer most of the following services: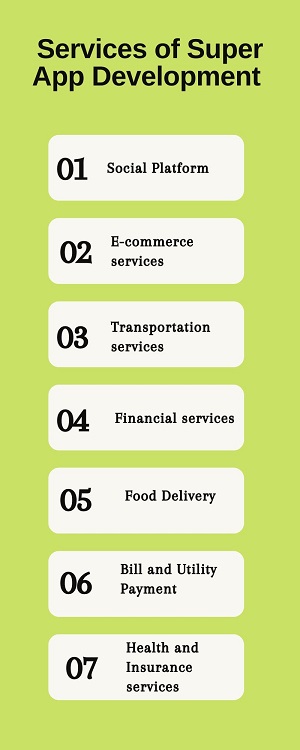 1. Social Platform
A super app is a messaging platform to share, chat and interact with other users. It helps to make a community around an application.
2. E-commerce services
Nowadays, shopping is done online by a majority of people. Super apps include the mobile marketplace where users can buy and sell goods and services in their app services.
3. Transportation services
Getting it from one location to another involves ride-hailing services, specifically in large cities. These super apps include ride-hailing and car-sharing services, giving users another helpful feature.
4. Financial services
The super app needs a banking feature, from online transfers to financial payments. Additionally, super apps must include built-in finance services, allowing an end user to pay for complete services without leaving an app.
5. Food Delivery
Food is necessary, and super apps must include the delivery of meals and online grocery shopping functionality.
6. Bill and Utility Payment
It deepens the engagement in super apps is the ability to pay for all the bills in a single place.
7. Health and Insurance Services
Users can access the health and insurance features in the super apps that add health services like telehealth. Also, the super app analyzes user data in bulk and suggests optimal insurance coverage options.
Also Read: Which is the best Payment Gateway in the USA in 2022
How to create a super app development?
You must follow a step-by-step app development guide to get business benefits and stay in the market. Although super app development is a complicated process, here are some steps to develop this super app: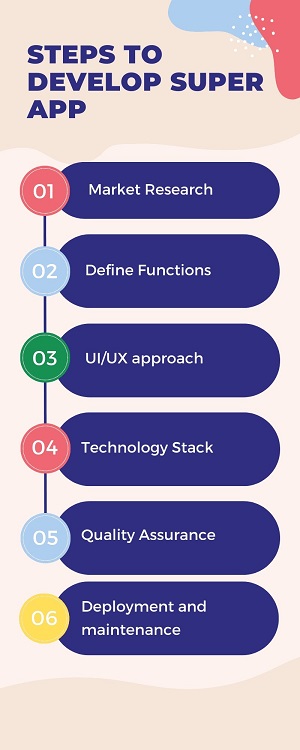 Step1: Market research
The aspiring entrepreneur will do intense market research and trends to ensure the best mobile app development practices in the Business. App developers have the latest updates of super app market trends, which include features in demand. Hence, researchers will help business owners to make their apps modern with advanced trends.
Step 2: Define functions
After some research, note down the functions and features that you need. It must be aligned with your business objectives and goals and should be given to programmers for developing the super apps. Hence, an MVP model helps to save cost and time as you first list the only needed app features.
Step 3: UI/UX approach
An UI/UX design is a pillar of any mobile application's success. A super app with unique functionalities will give a terrible user experience, and hence chances of success are high.
Step 4: Technology stack
Based on business needs and targeted audience, the technology stack is selected. Licensed software and tools are used to create prototypes, wireframes, and many more. A business consultant and service provider will give you a clear idea about it.
Step 5: Quality assurance
In the process of super app development, if you do not offer quality, it will end in vain. The development complications of super apps have yet to be discovered, so you require the experts of super app developers for a quality check.
Step 6: Deployment and maintenance
The final stage of the procedure is to get the correct deployment and maintenance of the mobile applications. The app's quality is maintained via regular audits and to add health checks via tools and technologies. Hence, the super app providers will assure you that your app is thriving and running perfectly.
What are the challenges faced by Businesses during Super App Development?
Super apps will work best for vast brands as the development and implementation procedure is quite challenging. This development procedure is time-consuming and needs a lot of effort and money. If you are thinking of developing a super app, then be prepared with a lot of investment and capital.
Also Read: Enterprise mobile app development complete guide 2022
1. Expensive
Big brands are involved in making super apps. That means the capital investment is also huge. You require a proficient team to develop super apps, handle the legal complications and create the super customized app to give competition to super applications. So, super apps are super expensive too.
2. Needs an efficient IT infrastructure
It is simple to jump into this domain with an excellent IT infrastructure and mark your presence. It needs a lot of concentration via market research and a massive skilled IT infrastructure. Hence, an investment of time and money is also significant.
3. API integrations
As we know, super apps are large, which means they accommodate many apps of various functionality. In this, API implementation plays a massive role in the development phase. An experienced team needs to manage and handle APIs and third-party integration tools.
4. Skilled and proficient Development Team
The mobile app development team selection will determine your super app's success. The highly competent and skilled development team will handle this gigantic task of designing and creating the super app while keeping the legal complications in mind. Hence, be careful while selecting an app development company.
5. Robust User authentication
Super apps are large, so one should give importance to creating robust user authentication. The app's security is dependent on user authentication functionality.
6. UI/UX Design is Challenging
Many apps exist in a single platform, so the development design of UI/UX can be tricky. Hire an experienced UI/UX mobile app developer for your super app who can handle all the extensive tasks of designing the super app for you.
7. Legal Complication
While developing the super apps, many businesses come under one roof, so your Business has to face legal complications with a government regulatory body. By hiring the expertise, this process will go smoothly and step-by-step with proper guidance.
How To Monetize Super App Development?
With the trend of using multiple apps, you must be wondering about ways to monetize these apps.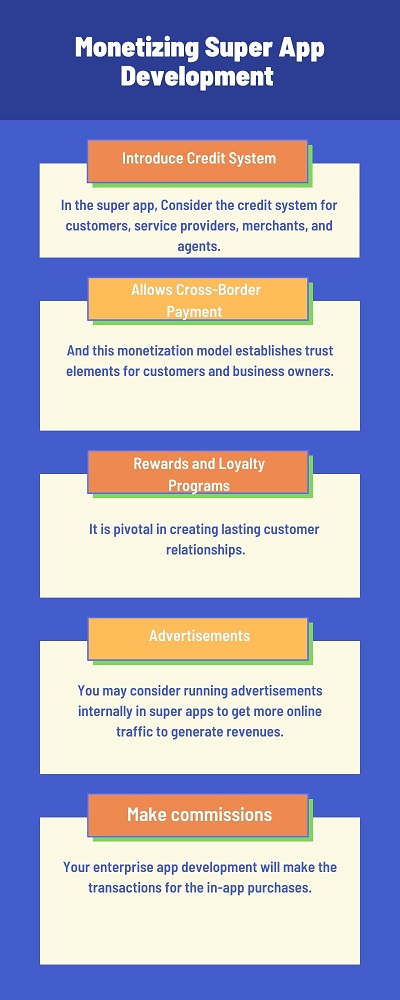 Which are the leading Super Apps in the USA and UK?
USA
Amazon: It is a well-known worldwide e-commerce, e-wallet, and online payment app which gives food delivery services in the USA.
Facebook: The global communication and online marketplace for worldwide Business.
Revolt: Banking and Finance management platform which will do online transactions and trading with a crypto exchange.
UK
Yandex Go: It is Europe's first super app and offers on-deport transactions and food delivery services as it is the supply chain super app.
Uber: On-demand transportation services are giving the super app, allowing users to book cab and train tickets in one click.
Alipay: A super app is clubbed with payment, finance management, food ordering, and many other on-demand services.
What is the future of Super Apps?
The future of super apps is very bright, and you must be well-armored before starting a journey of super app development. As super apps give multiple services, and it is not a compulsion that a single manufacturer provides all these services, it most probably comes from third parties. Therefore, you must give proper attention to delivering a seamless servicing platform. Hence, it would be best if you made compelling value propositions for the consumers and partners, and once it is achieved, long-term success is guaranteed.
Conclusion
Super app architecture is one of the simple and easy ways to get user acquisition and engagement platforms. It delivers an effortless experience that moves between multiple platforms while utilizing the all-in-one app with the required features and functionalities. However, make the app simple by including unnecessary features; instead of that, focus on the people's demand which they want in your app services.
At Bosc Tech Labs, we have assisted multiple businesses in effectively executing their vision and developing market-leading applications and software.
Frequently Asked Questions (FAQs)
1. How much does it cost to develop a super app?
The cost of super app development can be defined in various numbers. Since a mobile app development process is very complicated, and multiple factors affect the cost of creating a successful application.
2. How are super apps transforming the future of the finance industry?
Super apps integrated financial services from banks to digital wallets across international currencies and banks. It will make the transaction smooth by eliminating the high fees, permits, and consumers to interact with you and explore your Business.
3. What makes an application a super app?
A super app is one mobile application that delivers customers and partners with core features and gives them access to create the mini apps independently.
Book your appointment now