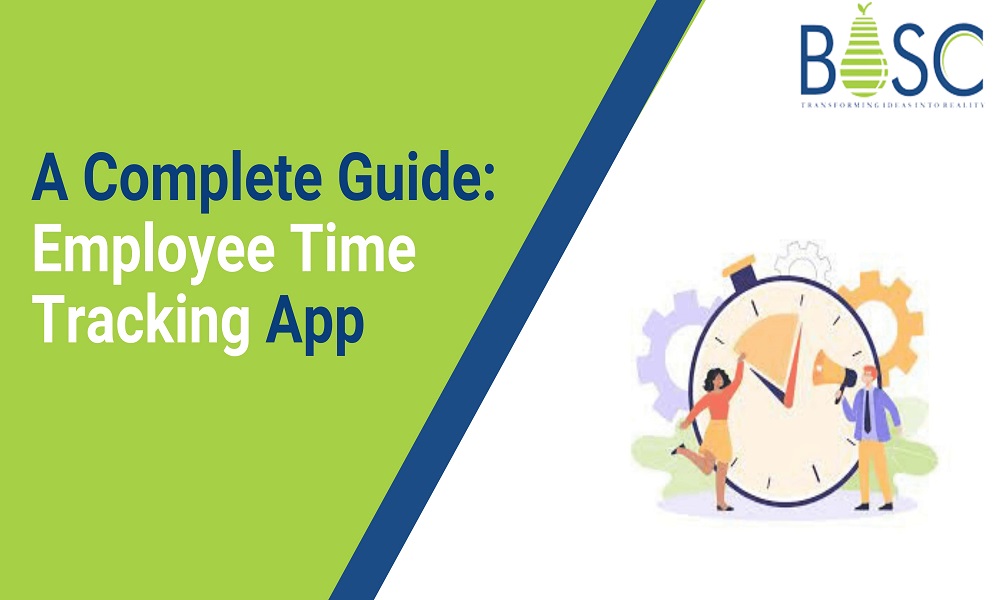 A Comprehensive Guide: Employee Time Tracking App
Whether running a small-scale business or the owner of a big enterprise, keeping track of employees is essential to ensure their efficiency and productivity.
However, this job becomes much more complicated when you have hundreds of employees to track. The offline tracking through excel sheets and documents is time-consuming, but the automated employee time tracking app can take your business to the next level.
Because of flexibility and ease, more businesses are moving forward to develop employee time-tracking apps. With the feature-rich app for employee time tracking, companies can easily monitor every employee's activity and ensure work efficiency without making them burdened or tracked.
Hence, if you are looking for employee time-tracking app development, this blog will help you. Let's see how to develop a time-tracking app for employees for the business. Get started.
What is an Employee Time Tracking App?
Employee time tracking software or app is a tool that aids organizations in tracking and managing their employees' time, which they spend on multiple tasks. This tracking app development allows employees to clock in and out, record their hours worked, and track their team, which they have spent on a particular task or project.
The best app for employee time tracking permits and manages to review and monitor employee time sheets and generate reports on employee productivity and attendance.
However, besides these time-tracking apps, they have features like leave management, payroll implementation, and a project management system.
Hence, this time tracking tool will be useful for organizations that want to improve time management and increase their employees' productivity. Therefore, due to this, more business owners are planning to make an employee time-tracking app.
How Does the Employee Time Tracker App Works?
Usually, all the employee time-tracking apps work the same as other mobile application development and software types. Below is the step-by-step process.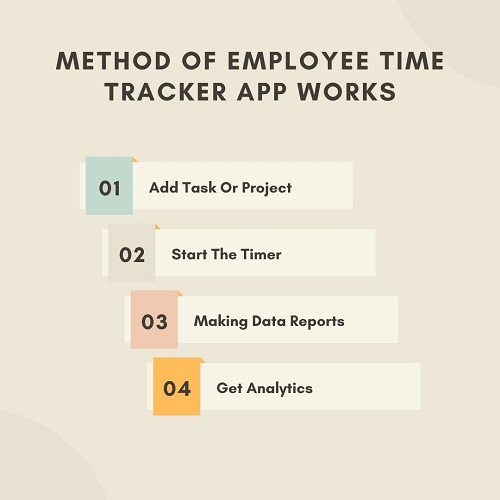 Step 1: Add Task or Project
First, the user has to add a task or do the project before beginning an employee time-tracking timer. Only the admin has the authority to change the tasks allotted, and no employee can modify any activity.
Step 2: Start the Timer
As soon as employees log into their system, they have to start their timer and begin working. Also, users can start and stop the timer anytime they wish.
Although there are two ways to use time-tracking software, the first is by clicking the start button and the other by manually entering the time. Therefore, the users can leave notes if needed.
Step 3: Making Data Reports
As soon as users end the time of the employee time tracking app, the software will automatically generate data reports that showcase the number of working hours.
Those reports or data further track the employee progress and generate the invoices. But only a few apps have this automation functionality integrated with it.
So, when you hire the development team, ask them to add this feature to your employee productivity tracking app.
Step 4: Get Analytics
Lastly, the business managers or owners can get the business reports and analytics if needed. It helps the experts to get an overview of the whole analytics of the employee time tracking app.
However, by looking at these reports, businesses can analyze whether this app is giving profit to their business. Hence, this is the most important thing companies should consider while building mobile app development with the latest trends.
So, this was the whole app development of employee time tracking. It helps the business and employees to increase productivity. Hence, this process is simple and hassle-free, and every business owner can access it with little knowledge.
Also Read: Why Are Startups Investing In Mobile App Development?
Which are the top 3 Employee Time Tracking Apps in 2023?
Well, great employee time tracking applications are available on the PlayStore, and the business needs clarification and wonders. Here, we have listed the top 3 employee time-tracking apps from which companies can choose.
1. ConnectTeam
ConnectTeam is the all-in-one employee time tracking app that allows you to track the team's working hours and manage accurate timesheets efficiently and easily. Additionally, this app offers exceptional customer service, a user-friendly interface, and a highly customizable platform that is adjusted and suits the needs of your business.
The time tracking capabilities go above and beyond with the only one-touch clock in and out, job-specific time tracking options, payroll integration, and more.
2.Timecamp
Timecamp is an easy-to-use, automatic employee hours tracker that is being used by both teams and freelancers. The desktop app tracks the time in the background so that you can remain focused on the task. With only a few clicks, Timecamp will complete and fill the timesheets with hours worked and computer activities. Thus, the tracked time can be turned into an invoice with the billing rates and is ready to send directly to clients.
3.TogglTrack
Toggl Track's app for employee timekeeping is easy to use as it needs only a few clicks to clock in or to pick up where you have left off if you do not remember to begin a timer, then the toggle button and desktop apps will then send you a reminder. If tracking in real-time is not convenient, you can manually enter the hours or implement a calendar.
The TogglTrack functionality allows you to trigger time entry suggestions depending on the software you use. Additionally, their plans permit you to select between time tracking, project planning, and candidate screening and hiring.
The process to Develop Employee Time Tracking App
It is not easy to cater to the employee time tracking app. If you want to develop an employee productivity-tracking app, follow these steps.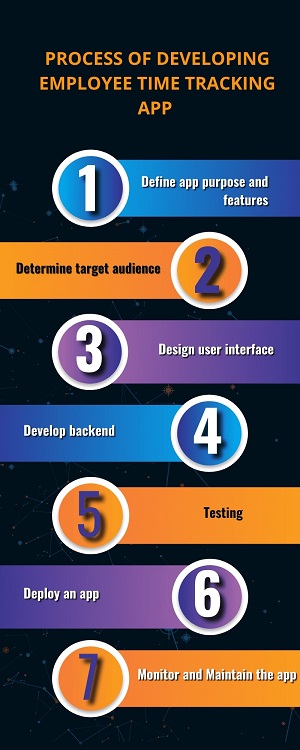 1. Define app purpose and features
Identify your employee time-tracking app's specific needs and goals and the features you want to include.
2. Determine target audience
Consider who will be using your applications, like employees or managers. Then consider any devices your target audience will use, like smartphones or computers. It will aid you in deciding whether to go for an android or iOS app development.
3. Design user interface
Like a mobile application development, the design of the employee time-tracking app is necessary to make a user-friendly and intuitive user interface. It will make it easy for employees to track the time, increasing business productivity.
4. Develop backend
This phase of employee time tracking app development has the developing database and server-side logic to save and retrieve the data from an app. Hence, the actual process of developing the employee time-tracking app starts.
5. Testing
Conducting the mobile app testing to ensure that an app is functioning properly and will meet the targeted audience's needs. Ensure that an employee time tracking app is error-free and that in-depth testing is needed. So, hire QA experts to test an app.
6. Deploy an app
Once the app has been developed and tested properly, you can deploy it on the App Store or Google Play Store based on the platform's availability. Hence, the mobile app development cost varies from one platform to another.
7. Monitor and Maintain the app
Daily check the app for any issues and bugs and update as required to improve its functionality. App support and maintenance are also critical to keep an app running for the long term.
Hence, these were the steps to make an employee time-tracking app that will boost your business in no time. The well-defined and well-developed business software has feature-rich apps.
Also Read: Impact Of Voice Search Technology In Mobile App Development
Features of Employee Time Tracking Apps
The application will be useful when it has the desired features and functionalities. Thus, if you wish your employee time tracking app to earn success and keep an employee engaged, add these important features.
Clock In/Out: Allows the employees to track their working hours by logging when they start and end their shifts.
Time Off Request: If the employees require time off, they can request a similar request from the managers, which can either be approved or rejected.
Overtime Tracking: It enables a transparent tracking of the overtime hours a staff has worked, and then the managers will count a dedicated time for the specific project.
Scheduling: In some cases, the managers or owners want to allot various shifts to multiple employees. In that scenario, this employee time-tracking app feature comes into the picture.
Project Tracking: It will simplify track and the employee's time on a particular project. On the contrary, managers can also track the progress and productivity of the employees on the project or task.
Push Notifications: This will keep managers and employees updated on the ongoing work activities through push notifications and daily reminders.
Reporting and Analytics: It is useful for admin and managers to get the monthly reports and analytics of employee time tracking. It helps them analyze whether an app is making a profit.
Also Read: Impact of 5G on Mobile App Development
Advantages of Developing Time Tracking App
With app development, it is easy to monitor every activity of their employee performance. And it becomes possible with custom mobile app development, and it has its benefits which are followed.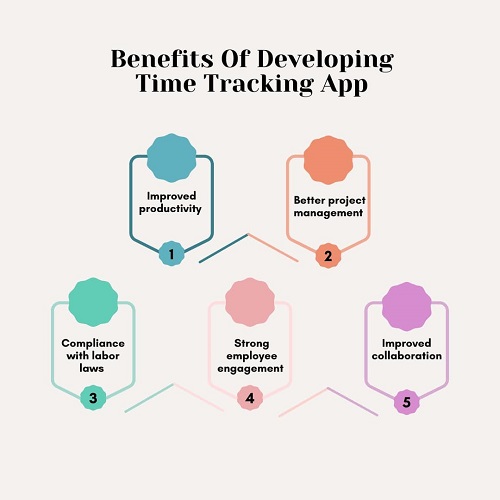 1. Improved Productivity
By tracking employee time, organizations can identify the inefficiencies in their procedure and will take action to improve them. Hence, it leads to increased productivity and better use of company resources.
2. Better Project Management
The Time tracking apps support the managers on how long the particular tasks and projects have consumed, which helps in project planning and budgeting. Thus, businesses can make the planning of projects accordingly.
3. Compliance with Labor Laws
In some scenarios, these organizations are needed to track employee timings for compliance with labor laws and regulations. The employee time tracking apps help ensure that these will meet needs and that employees work efficiently without feeling burdened.
4. Strong Employee Engagement
Various mobile apps have multiple features that grab a user's attention. This tracking app has unique features and functionalities that keep employees engaged with the software and ensure work efficiency.
5. Improved Collaboration
Time-tracking apps facilitate collaboration, allowing team members to view each other's progress and work together to meet deadlines.
Conclusion
Developing the perfect app for tracking an employee's productivity takes work, and many well-known time-tracking apps are available in the market.
Hence, if you have the expertise and the well-versed app development process, then things become more accessible and flexible. Now, you get the complete guide to employee tracking app development, then move ahead with this process.
Looking for a reliable and trusted mobile app development company? Share your business requirements and hire the expertise from Bosc Tech Labs, who will help you to make the time-tracking app within your budget.
Frequently Asked Questions (FAQs)
1. What is the importance of tracking employees' development in a work process?
Employee performance tracking is necessary to meet an organization's strategic goals without complications. Additionally, measuring employee performance will help you to keep a tab on its growth and development is required to evaluate its capabilities and skills.
2. Does teamwork have time tracking?
Within teamwork, the time tracing functionality lets you view how long the specific work or project is taking, helps you manage your own time, and will plan the job for your team. Therefore while tracking the time, you can log the entry either to the particular task on the project or to the project itself.
3. Why is tracking in real-time reporting essential?
It's necessary to have current reports, which can be available at the notice, to support a decision-making process. With real-time reporting, organizations have immediate access to accurate, up-to-date data, which will increase the leader's confidence in their decisions.
Consult Our Experts