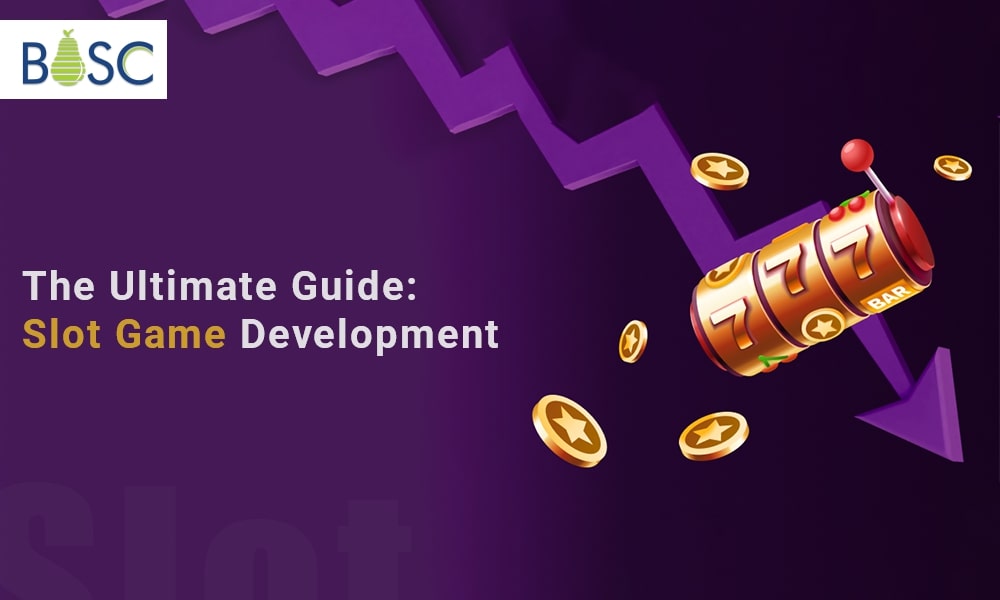 Slot Game Development: A Step-by-Step Guide
Casinos and gambling have been around for centuries across the entire world. Mesopotamian and Egyptian people were once involved, but today it is a worldwide industry that provides gamers with various games and entertainment.
The category of slot games includes a wide range of games, including blackjack, bingo, poker, roulette, and sloth games. These games were played physically at the casinos until a few years ago. However, due to technological advancements, anyone from anywhere worldwide may now play gambling games with their friends and other players worldwide on their smartphone or other comparable device.
Online casino games are more popular than ever. In this blog, we'll discuss a specific category of casino game called the slot game that has rapidly grown in popularity.
Businesses worldwide are investing in the development of slot games since they are quickly becoming the talk of the town. But first, let's look at some of the most recent data concerning the casino gaming sector before going on to the specifics of slot game development.
Online Gambling Market Size
The market for online gaming was valued at USD 63.53 billion in 2022, and from 2023 to 2030, it is anticipated to increase at a CAGR of 11.7%. The demand for online gambling is rising due to increased internet usage and users' use of mobile devices to play games on the Internet. For example, 92% of the United States population had Internet access in 2022. Additionally, cultural and legalization approval, simple access to online gaming, celebrity endorsements, and corporate sponsorships are aided market growth. The market is expanding due to the increasing use of smartphones and 5G internet technologies.
Developers of online casinos put a lot of effort into creating tools that help and support players, guarantee the reliability of gambling, and stop fraud. Several online gambling sites provide a free-play version of the games, attracting new players. The free-to-play versions rely on websites or in-app adverts to make money. For instance, gambling websites and apps offer advertisements for their websites and in-app content. Since customers can play whenever it fits them, the internet gambling sector is expanding and in high demand.
Introduction of Slot Game Development
The process of developing a mobile application for slot machine games with spinning reels similar to the slot machines found in casinos is known as "slot game development."
After players place a bet and spin the reels, symbols on them appear randomly. Users receive rewards if these symbols align correctly, according to which symbols appear on that "payline."What is the development of slot games?
The process of mobile application development for slot machine games with spinning reels similar to the slot machines found in casinos is known as "slot game development."
Six features to use while developing a slot game
The most important factor in a slot game's success is its features. Consequently, in this section, you will learn about some of the features you may include in your slot game.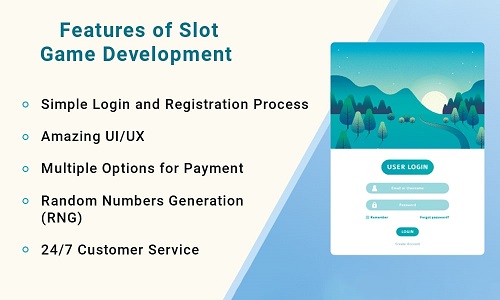 1. Simple Login and Registration Process
Users must sign up using the Sign-Up option to create their profile and play their slot game. Users can access their accounts on many devices via their profiles.
It would help if you offered a simple mechanism for creating an account and logging in. You may also look into having users sign up using social media accounts.
2. Amazing UI/UX
You must concentrate on designing an appealing user interface and providing an exceptional user experience to draw in more players and succeed with your slot game.
According to the game development services provider, if your users find your game fascinating and engaging, they will play it for hours and promote it to others.
3. Multiple Options for Payment
All slot games involve gambling money. As a result, you must provide your consumers with various payment gateways to deposit or withdraw money, including mobile wallets, debit or credit cards, and even cryptocurrencies.
4. Free Spins
Players can play for a set period without spending money due to free spins features. Free Spins will keep your users playing the casino game for a long time. As a result, you can include the Free Spin function when creating a slot game.
5. Random Numbers Generation (RNG)
A random number generator (RNG) is a computer software with a base in mathematics that selects the symbols in a slot machine to determine whether a spin will result in a win or a loss.
You must therefore develop a reliable and impartial RNG system. More players will be drawn to your slot game if you provide them with a fair game.
6. 24/7 customer service
If your users are active all the time, there is a good likelihood that they will require support at some point. You can assist them with their queries and complaints by offering them customer assistance around the clock.
Additionally, you can incorporate an AI-powered chatbot to respond to FAQs, which will streamline the customer care process.
Advantages of Slot Game Development
You may read about the benefits of creating slot games in this article.
By developing slot games, you may allow your players to play slots anytime, anywhere, without having to go to a casino physically.
Additionally, you can give your users the freedom to compete with gamers from any nation without regard to borders.
Additionally, with the introduction of slot games, your users will access higher rewards and a wider variety of payment options, such as e-wallets and cryptocurrencies.
You can generate extra revenue by creating a popular slot game through in-app purchases and adverts or by charging a charge to the winners of your slot game.
Finally, building a slot game is the finest approach to improving your brand's name and image through partnerships, cross-promotion, and collaborations within the gaming sector. You will be able to reach new audiences thanks to technology quickly.
Utilizing Emerging Technologies for Slot Game Development
It is crucial to use cutting-edge technologies while developing your slot game to make it more engaging and user-friendly because new technologies are always being introduced to the gaming industry. In this part, you will learn about certain cutting-edge technologies that you could apply to develop your slot game.
1. Virtual Reality
Virtual reality slots may greatly enhance the user experience. Users can simulate playing on a genuine slot machine at a real casino by wearing VR specs. This will boost player interest in your slot game.
2. Blockchain
Due to the requirement for money deposits and withdrawals in slot games, blockchain technology can make user transactions safer. Also, players will be able to play slot games using a variety of cryptocurrencies, including Bitcoin, Ethereum, Dogecoin, and more.
3. Gamification
Gamification is adding elements to a game that motivate players to play it repeatedly. Many games with slots already contain time-limited promotions like "Play Again in 2 Hours to Unlock 100 Coins." This increases user engagement by encouraging users to return to the game in two hours.
The Step-by-Step Process for Slot Game Development
You will now read the detailed steps to develop your slot game: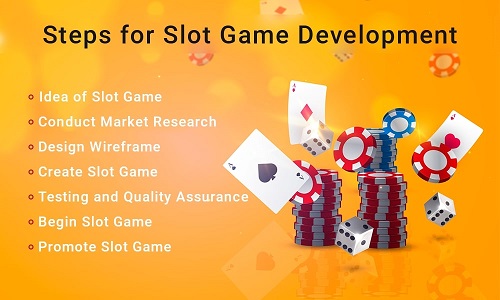 1. Thinking of a slot game idea
You need to consider the theme of your slot game first. Consider the design, graphs, appearance, features, and other elements to build your slot game properly.
2. Conduct Market Research
Slot games are widely available on the market already. To compete with them, you must offer your users something special that no one else does. You must conduct market research to come up with anything distinctive.
Learn about competitors' features, business models, and USP (unique selling proposition) before developing something unique.
3. Design a WireFrame
Developing a wireframe for your Slot Game is the next step after deciding what you want to make. Make a development plan for your slot games. You can also get assistance from a reputable game development company for this.
4. Create a slot game
Now that the wireframe has been created, it's time to develop your slot game. You might hire game developers who have first-hand knowledge of developing slot games. For game development, identify people knowledgeable about recent developments and cutting-edge technology, including blockchain, virtual reality, and artificial intelligence.
5. Testing and quality assurance
Test your slot game now to ensure it runs well across all platforms.There is always a potential for a few bugs or UI inconsistencies when game developers develop Slot Games. Therefore, test your game before it's made available to your players.
6. Start your slot game
It's time to release your slot game to the public after testing it. Your slot game can be published on various platforms, including Google Play and the App Store.
If you have one, you may publish it on your website so people can download it there.
7. Promote Your Slot Game
After you launch your slot game, your work is not done. You must also market your game if you want it to be played by millions of people.
You can employ various strategies to market your app to consumers, including adverts, influencer marketing, SEO, and app store optimization. You may also give those who start playing certain discounts to encourage more individuals to play your slot game.
Latest Slot Game Development Trends
Since going online, slot machines have significantly changed. In this very competitive market, innovation is crucial. As a result, the casino game gameplay is continually changing to provide new elements to the market. Then, what are the latest design trends for slot games?
1. Personalized Slot Games are Popular
Branded and licensed slots are quite popular due to the rise of story-based slot games. Slots games based on well-known films, TV series, and musicians are hugely popular. For instance, the board game Monopoly has a slot gaming version. WWE, a well-known entertainment program, also offers a famous slot game with five reels, three rows, and twenty paylines.
2. Slot games with Megaways are very popular
Online casinos are now increasingly providing Megaways slots. It is based on the random reel modifier mechanism found in Megaways. Thus, extra winning opportunities are provided by changing the way symbols appear on a reel.
Six reels are available on the Megaways slot machine, and the number of symbols on each reel varies with each spin. There could be up to 117,649 ways to win as a consequence!
This novel slot-playing approach has gained favor among players. Due to the popularity of Megaways slots, other multi-reel, high-risk slots have also become quite popular.
3. Websites for slot games on mobile
Google gives mobile-friendly websites a higher SERP ranking. Due to this latest mobile app development trend, slot gaming websites have responded by providing mobile-friendly versions of their websites. The necessity to publish games on Google and Apple App stores, which frequently have strict restrictions, has thus decreased.
Cost of Developing a Slot Game
After reading about its overall features, development methodology, and advantages, you must be wondering how much it would cost to develop a slot game. The price of developing a slot game cannot be determined precisely because it depends on several factors, including.
The elements which you include in your slot game
Your slot games user interface
Game development team size
The software you utilize and the game development tools
Your development team's additional services, etc.
So, to give you an idea of how much your slot game may cost, it could range from $25000 to $200000. You can contact the leading game production company to get the exact amount.
Conclusion
One of the most played casino games in the world is the slot game. According to studies, the future of slot games is bright. Utilizing modern technologies will help your slot game stand out from the competition and disrupt the gaming market.
Therefore, it is strongly encouraged to take advantage of the chance to develop a slot game to draw in a sizable user base, improve the visibility of your business, and enhance revenue. So, for professional help with your Slot Game creation, contact a well-known mobile app development company in USA.
Frequently Asked Questions (FAQs)
1. How much does it cost to make a slot game?
The typical cost of a casino game can range from $25,000 to $200,000, depending on its type, complexity, and features.
2. How are games for slots created?
A slot game development company can go into action to make slot games available on gaming platforms. Three crucial steps make up the development of slot devices: Slot machine art includes the game's design, visual aesthetic, special symbols, and overall theme. Slot Mechanics: level development, bonus rewards, and user-friendly interface.
3. What are the different types of slot games?
There are numerous varieties of slot games, including classic slots, progressive slots, multi-reel slots, penny slots, 3D slots, and virtual reality slots.
4. How does a slot game player win?
Players win when the symbols on a player's reels fall into the winning combination.
Book your appointment now